Willem Dafoe stayed 'fluid' for Oscar-nominated 'Florida Project' role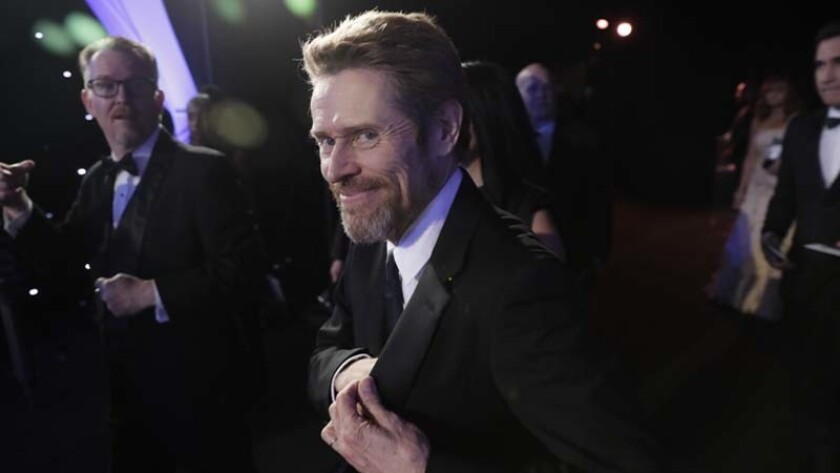 Willem Dafoe snagged his third Oscar nomination Tuesday morning and his first in 17 years, this time for "The Florida Project" in the supporting actor category. He's been tapped in the category before, in 2001 and 1987, for roles in "Shadow of the Vampire" and "Platoon," respectively.
"The Florida Project," however, is about a 6-year-old girl, her mother and her friends living in the Magic Castle, a motel in the shadow of Disney World. Dafoe plays Bobby, the manager of that motel. And making a movie with kids always makes things interesting.
The Times got to hear more about it when we got him on the phone Tuesday morning after the nominations were announced.
Full coverage of the 2018 Oscar nominations»
How did you get the news?
My assistant called me. Of course, I was very aware the noms were being announced. I didn't quite have it in me to listen directly, so I just waited for a phone call and then once I knew we got good news, I rushed to see what the other nominations were…
What struck you about writer-director Sean Baker's approach to filmmaking?
He has a kind of documentary approach to research. He's a writer, an editor and director — so he's the full package. He's very good at mixing real elements with fictional elements. When he told me we were going to be shooting at a working motel, that was very important to me, because that would root it, that would give us an education, an understanding that would help us treat the material with respect, not just an idea of who we thought these people were. It's a good combination of guerrilla filmmaking. It's fluid. But at the same time, he has a strong film culture. He really knows films, he loves film. He just has all the craft and the heart.
What did you learn about yourself as an actor from this experience?
I learned that it's a good idea sometimes to … it's something that I always believe in: see what we're doing and try to dissolve into it, try to be transformed by the experience and try to submit to the world and be changed. I was working with people with very mixed backgrounds, in terms of filmmaking. It was really a process of finding a way to make it together, which is challenging when most of your partners are 6 and 7 years old.
How was it to work with kids?
It was good. A lot of thanks goes to Sean and also Samantha Quan, who was the acting coach for the kids. But the important thing is the kids were allowed to be kids. There wasn't pressure for them to be actors … the most important thing was not to make them self conscious, [but] to make them feel free.
How did it enhance you as an actor?
They can't be controlled. And they can't repeat things, generally; they don't want to repeat things. They aren't so interested in craft, they're interested in sensation. To be with them, you have to be fluid and you have to tap into that chaos.
Why do you think the film has resonated with viewers?
I think because it's a human story and it represents a community and it deals with some issues of family and human relations, in a very direct, unsentimental and, sometimes, joyous way.
How will you celebrate?
Probably by working today and celebrating later.
yvonne.villarreal@latimes.com
---
Get the Indie Focus newsletter, Mark Olsen's weekly guide to the world of cinema.
You may occasionally receive promotional content from the Los Angeles Times.