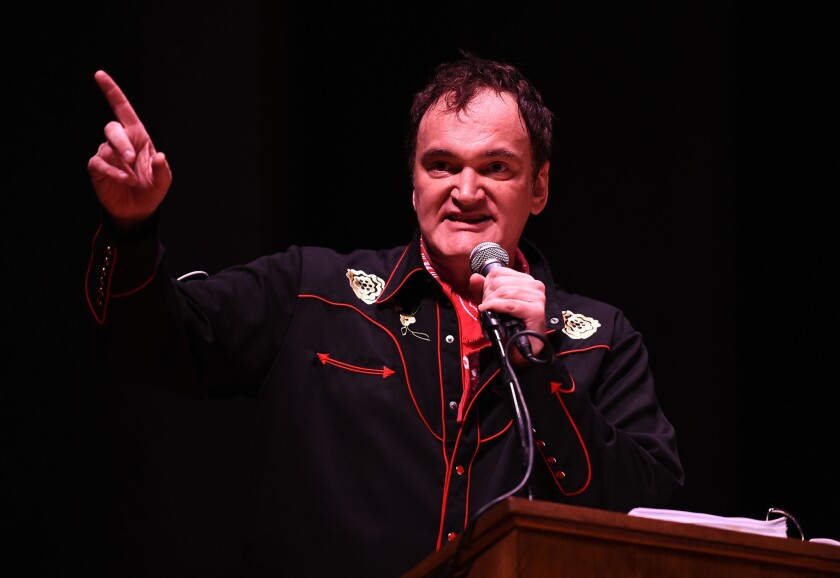 Not long after an irate Quentin Tarantino let it be known in January that he wouldn't be making his planned ensemble western "The Hateful Eight" due to the script leaking online, the director began to hedge on that vow. The comments reinforced many observers' belief that he intended to make the film after all once his anger had passed.
Now Tarantino has given the strongest indication yet that he still wants to bring the story to the big screen.
On Saturday evening at the Ace Hotel in downtown Los Angeles, Tarantino directed a staged reading of the first draft of "The Hateful Eight" and revealed that he's still working on the script.
CRITIC: Quentin Tarantino's 'Hateful Eight' deserves to get made
"I'm working on a second draft; there will probably be a third," Tarantino told the audience of 1,200 while wearing a black-and-red cowboy outfit.
The director also said that he and his cast for the reading -- including Samuel L. Jackson, Kurt Russell, Amber Tamblyn and Walton Goggins, among others -- had been practicing for three days. "And we're not bad," he added.
Tarantino has been fiercely protective of "The Hateful Eight" since it first leaked, suing Gawker Media after its Defamer blog posted download links to copies of the script. Gawker replied, "We'll be fighting this one," and a trial is set for January.
Aside from any new developments as a result of the case, though, there's nothing stopping Tarantino from making the movie other than Tarantino himself.
He may be convinced by reactions to the reading, which were generally positive. Times film critic Betsy Sharkey described the event as "raw, ragged, raucous, riveting" and "truly one of a kind." Tarantino's "typical mix of high camp and moral quandaries peppered by gun spray" also earned "a roaring standing ovation" from the audience.
PHOTOS: Stars who turned down, or were turned down for, famous roles
Indiewire's Charlie Schmidlin wrote that "Tarantino constructs several top-tier sequences with his characters, especially while using the post-Civil War setting as a prime source of discomfort," and he "repeatedly proved he hasn't slowed in defying his critics since 'Django Unchained.' "
The Hollywood Reporter's Todd McCarthy felt "something of a collective audience sag through this middle section" but said the script, "with its slangy, smart ... dialogue, surprising associations, extended digressions and tangy flavor, is recognizably Tarantino all the way."
And as Sharkey pointed out, frequent Tarantino collaborators Bob and Harvey Weinstein were in attendance, lending "credence to the idea that 'Hateful' might well live another day."
If Tarantino was indeed taking the temperature of "Hateful's" big-screen prospects, the responses sound encouraging. That he's still toiling away at the script and dedicated three days to rehearsal also underscores how he just can't seem to quit the movie. And all the behind-the-scenes-drama? It might just serve as a nifty backdoor marketing campaign.
ALSO:
Oscars: Academy brings back Craig Zadan, Neil Meron as producers
Cannes 2014: Watch trailers for 'Homesman,' 'Foxcatcher' and more
Tribeca: Joss Whedon will make new movie available immediately online
---