Revealing the complexities of Ray Harryhausen's special effects
Ray Harryhausen, the visual effects pioneer who inspired a generation of filmmakers with his stop-motion animated creatures, died of natural causes on Tuesday at age 92. The method of animation he created to bring his creatures to life was called "Dynamation."
(Kevin Winter / Getty Images)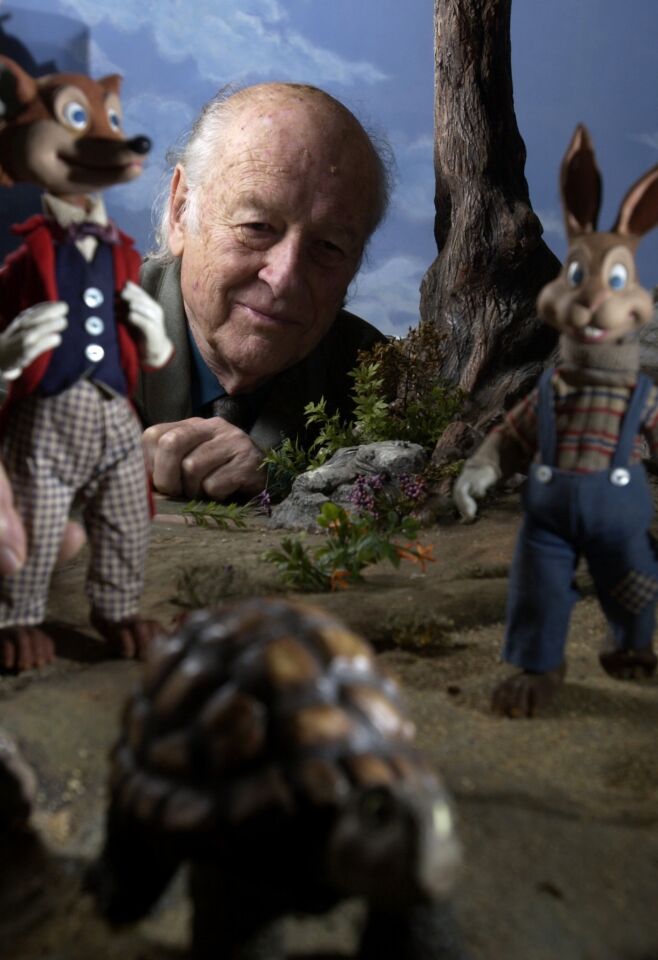 Harryhausen produced a series of films based on fairy tales in the 1950s. However, one, "The Story of the Tortoise and the Hare," was never finished. Fifty years later, two animators, Seamus Walsh and Mark Caballero, dusted off Harryhausen's old props and, under Harryhausen's guidance, finished the film, which won an Annie Award for short film.
(Myung J. Chun / Los Angeles Times)
The work of special-effects pioneer Ray Harryhausen, who died Tuesday at 92, was chronicled in a 2004 memoir he wrote with British film historian Tony Dalton titled "Ray Harryhausen: An Animated Life."
In the book, Harryhausen noted that he was especially proud of the skeleton sword fight in the 1963 film "Jason and the Argonauts." The complex sequence illustrates the time, patience and concentration such work entailed.
PHOTOS: Ray Harryhausen - Career in pictures
"I had three men fighting seven skeletons and each skeleton had five appendages to move in each separate frame of film," he wrote in his book. "This meant at least 35 animation movements, each synchronized to the actors' movements. Some days I was producing just 13 or 14 frames a day; or to put another way, less than one second of screen time per a day, and in the end the whole sequence took a record four and a half months to capture on film."
In his review of the book for the Los Angeles Times, film critic Richard Schickel wrote that Harryhausen "is the last, therefore completely treasurable, master of an admittedly minor, entirely enjoyable, almost lost art."
"After him, there's nothing but pixels," Schickel wrote. "Which means we're all a little bit poorer when we go to the movies. Or should I say a little less lucky?"
ALSO:
Film clips: The best of Harryhausen
Obituary: Ray Harryhausen dies at 92
---
Get our L.A. Goes Out newsletter, with the week's best events, to help you explore and experience our city.
You may occasionally receive promotional content from the Los Angeles Times.