Review: 'Raze' hits its mark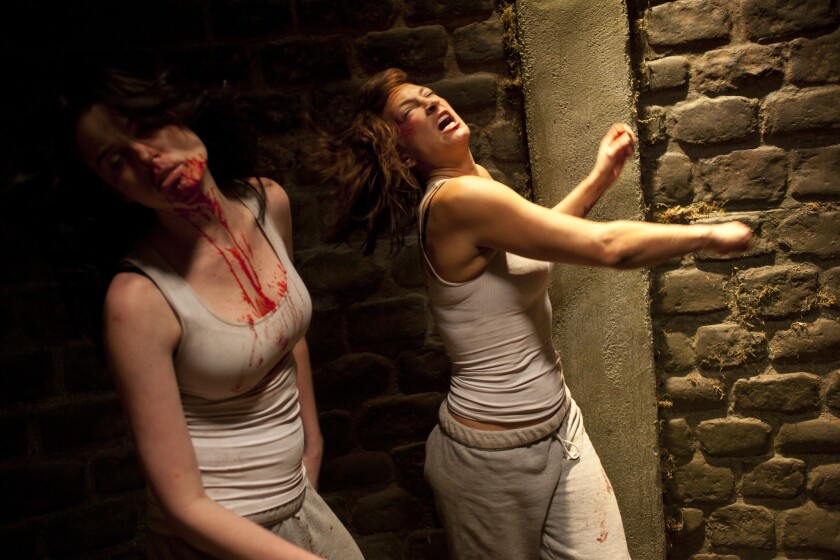 The idea of treating murder as entertainment isn't at all new. Roman coliseums and Aztec ball courts witnessed plenty of blood.
But the horror-action film "Raze" makes the idea feel rather modern, even urgent. Perhaps that's because director Josh C. Waller's self-assured debut coincides with the reign of the "Hunger Games" franchise. In fact, the unrelenting, fist-into-skull violence in "Raze" boasts all the realism missing from the PG-13 series while featuring a slew of young, athletic women, any of whom could be a cousin of Katniss.
RELATED: More movie reviews by The Times
After a flirty first date, kickboxer Sabrina (stuntwoman-turned-actress Zoe Bell) wakes up in a concrete cell. She's forced to kill the first woman she sees — a stranger dressed exactly like her, in a white tank top and gray sweatpants — then kill more at unpredictable intervals. The game organizers (Doug Jones and Sherilyn Fenn), united in a fetish for female aggression, turn their kidnapping victims into violent femmes by threatening to kill the women's loved ones should they refuse to participate.
"Raze" is a sweaty, queasy, bruising experience — and a superbly crafted film. With a few short brushstrokes, Robert Beaucage's unsentimental script makes people out of its female characters while building to a satisfying, somewhat surprising climax. A few gestures toward a larger point about biblical misogyny ring false, but the film evinces a tragic, well-observed truth about female disposability.
------------------
'Raze'
MPAA rating: None
Running time: 1 hours, 27 minutes.
Playing: At Sundance Sunset Cinema, West Hollywood. Also on VOD.
---
The complete guide to home viewing
Get Screen Gab for weekly recommendations, analysis, interviews and irreverent discussion of the TV and streaming movies everyone's talking about.
You may occasionally receive promotional content from the Los Angeles Times.