SAG Awards 2014: Julia Roberts, Oprah get supporting actress nods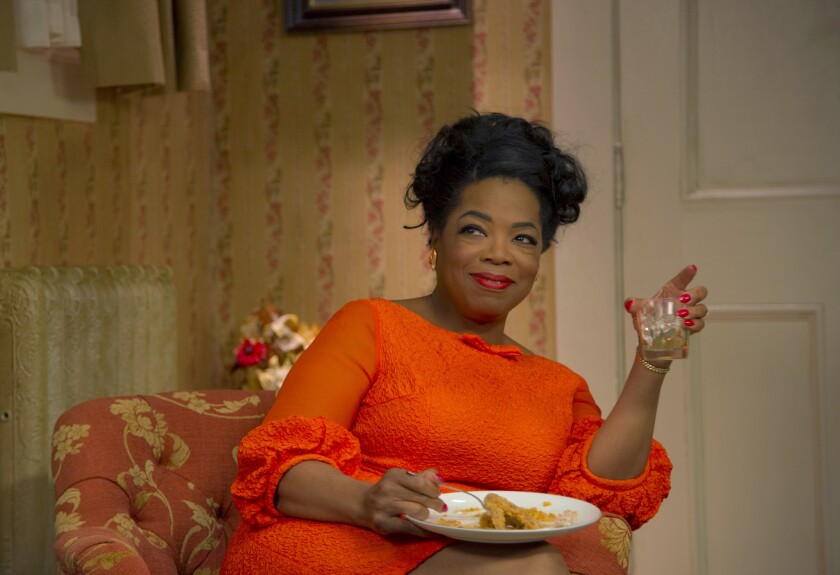 The Screen Actors Guild Awards nominations for outstanding female actor in a supporting role boil down to a five-way battle royale between a total unknown (Lupita Nyong'o), two of pop culture's most widely loved presences (Julia Roberts and Oprah Winfrey), last year's Oscar prom queen (Jennifer Lawrence) and an octogenarian actress known more as a bit player than a marquee name (June Squibb).
Squibb's credits include the recurring role of "Grandma" on TV's "The Ghost Whisperer" and a two-year run on "The Young and the Restless," making her not only the SAG Awards' dark-horse candidate, but, at 84, the oldest nominee. In writer-director Alexander Payne's "Nebraska," she steals scenes as Kate, the alternately tough-talking and tender wife of Bruce Dern's disheveled drunkard lead.
Squibb was in Los Angeles shooting a Comcast commercial in which she portrays a "gentle grandmother" when she learned of her nomination Wednesday. The actress took the news in stride.
PHOTOS: SAG Awards nominations snubs and surprises
"I've sort of done this many times in my life. This is new because it's film," she said. "We all loved doing it; it was a great experience. So no matter what happens, we have that. And people are seeing it. So I'm thrilled."
Before her "12 Years a Slave" turn as Patsey, the abused plantation worker, few outside the insular worlds of film production and regional theater had heard of Nyong'o, 30, who was born in Mexico City and raised primarily in Kenya.
An actress and filmmaker, she has worked on the production crews of numerous films, including Fernando Meirelles' "The Constant Gardner" and the 2006 drama "The Namesake." Nyong'o was three weeks shy of graduating from Yale Drama School when she was cast by director Steve McQueen in her breakout "12 Years a Slave" role.
Furthering a hot streak that began with her Academy Award for actress in a leading role in last year's "Silver Linings Playbook" and continued with the blockbuster success of her starring role in last month's "Hunger Games: Catching Fire," Lawrence scored a SAG Award nomination for her turn in director David O. Russell's "American Hustle." All Farrah Fawcett curls and red lipstick in the 1970s-set corruption caper, Lawrence portrays the fiery yet long-suffering wife of Christian Bale's greedy loan-deal swindler character.
SAG Awards 2014: Complete list of nominees
When Winfrey agreed to take a supporting part as the wife of Forest Whitaker's witness-to-history White House servant character in "Lee Daniels' The Butler," the talk-show queen hadn't appeared in a movie since 1998's "Beloved." Oscar-nominated for her role in 1985's "The Color Purple" (with a number of vocal performances in animated movies to her credit), Winfrey has said she didn't want to embarrass herself in her return to film. But she gave up her reservations to portray a character who battles a drinking problem while attempting to raise the couple's sons almost single-handedly as her husband serves president after president in the sweeping historical epic.
Long a leading lady who collected a best actress Oscar for her brassy performance in 2000's "Erin Brockovich," Roberts landed a SAG nod for her supporting turn as the daughter of a domineering matriarch (played by Meryl Streep) in writer-director John Wells' adaption of Tracy Letts' Pulitzer Prize- and Tony Award-winning play "August: Osage County."
ALSO:
Casting directors play a starring role
Miss Golden Globe: Hollywood's daughters through the years
Twitter: @__chrislee
---
Get the Indie Focus newsletter, Mark Olsen's weekly guide to the world of cinema.
You may occasionally receive promotional content from the Los Angeles Times.