Seth Rogen brings a bawdy, work-in-progress animated 'Sausage Party' to SXSW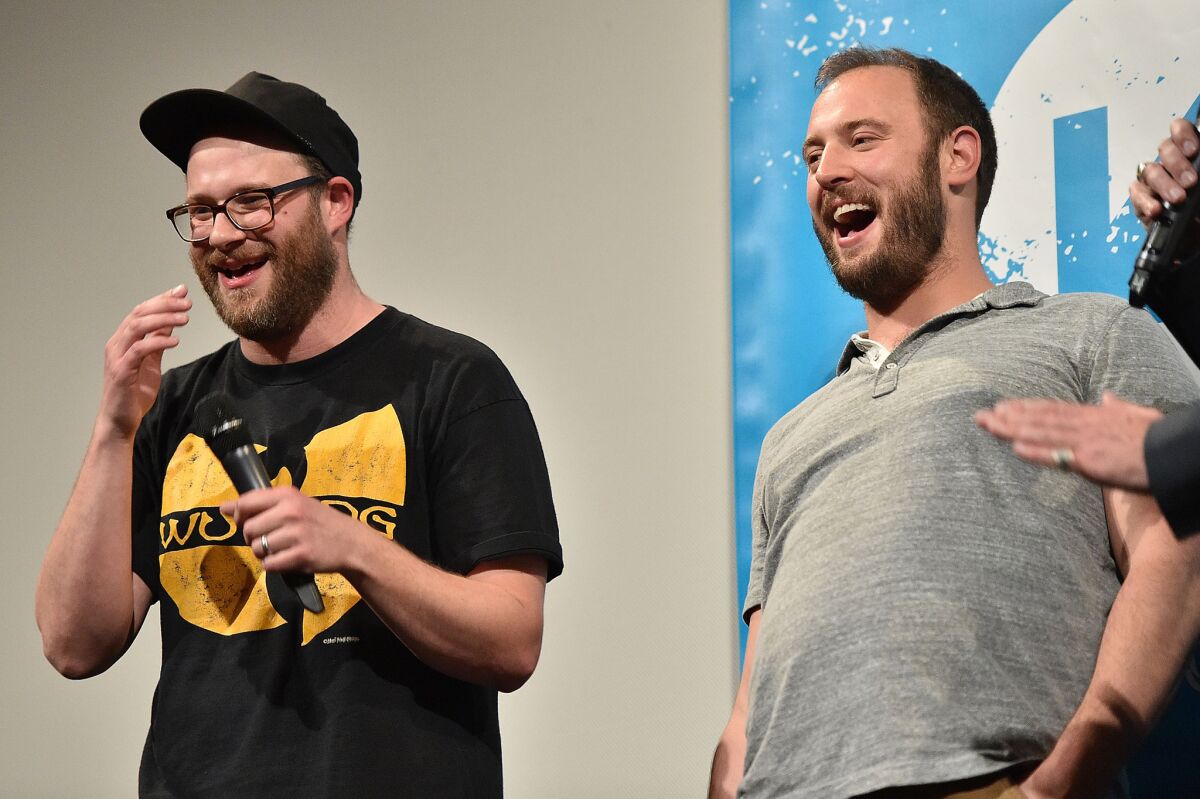 "I can't stress enough how work-in-progress parts of it are. You will very quickly see that this is not semantical trickery. It's not … done yet."
On Monday night Seth Rogen was addressing a packed, electrictified audience at Austin's Paramount Theatre before a screening of the R-rated animated comedy "Sausage Party." The screening was billed as a "work in progress," as was Saturday night's screening of "Keanu" or last year's showing of "Trainwreck."
But one would be hard-pressed to find a previous high-profile "work-in-progress" screening that was as much still in the process of being made as this one. The animation was in various states of resolution in the rendering of its images, some figures were essentially static, and other moments were little more than hand-drawn sketches.
"You are truly seeing something no one else will ever get to see, ever, in the world," Rogen said in his introduction. "I'm really excited about the idea of bringing this movie to South By Southwest even though it's not done. It's the only festival that treats comedy remotely equal to other genres. I'm thrilled to be showing this to you guys. I literally can't believe this is happening."
See more updated SXSW coverage >>
With a screenplay credited to Rogen, Evan Goldberg, Kyle Hunter and Ariel Shaffir from a story by Rogen, Goldberg and Jonah Hill, the film is directed by animation veterans Conrad Vernon and Greg Tiernan. The voice cast is an impressive lineup that includes Rogen and Hill, Kristen Wiig, James Franco, Michael Cera, Craig Robinson, Paul Rudd, Danny McBride, Nick Kroll, Bill Hader, David Krumholtz, Edward Norton and Salma Hayek.
The film is set largely in the world of a giant supermarket, where the items we purchase all have lives and personalities of their own that humans are not privy to. The food believes people to be gods who are taking them off to a glorious life when they leave the store. Circumstances lead a sausage, a bun and assorted other products to begin to doubt this.
The film is first and foremost a very bawdy comedy that delights in just how far it can push the envelope, in the incongruity of the dialogue and action and the cute figures on the screen. (The villain is a douche -- the actual feminine-hygiene product.) There are nods towards thoughts on theology, the afterlife and what the characters tell themselves to get through the day, but that is a fringe interest in relation to the film's main drive. A "Caligula"-level store-wide food bacchanal will most certainly be the most talked-about moment when the film opens this summer.
If the riotous laughter in the theater Monday was any indication -- and SXSW has given some notorious false-positive readings in the past -- "Sausage Party" could be a beneficiary of the predicted "Deadpool" effect. Following that R-rated film's box-office success and the general rough mood of the moment, audiences could be primed for similar naughty/dirty good times.
When the film was over, Rogen returned to the the stage with Goldberg, Hunter, Shaffir, Vernon and Tiernan. Rogen exclaimed, "I'm even shocked, and we made it."
Asked how he got involved in the project, Conrad, who directed "Shrek 2" and "Monsters vs. Aliens," said, "I got a call and I went over to Seth's house and they put me in the right state of mind and they pitched to me 'We want to make an R-rated animated movie about sausage that want to … buns.' I said I'm in."
As to where the initial idea came from, Rogen said, "It honestly came from a very innocent place. We really love animated movies and we would look at what animated movies did. And people kind of like to project emotions onto the things around them, onto their toys, onto their cars, onto their pets -- that's kind of what Pixar has done basically from the last 20 years. So we thought, what would it like if our food had feelings. And we quickly realized, that would be … up."
The film took some eight years to bring to fruition, in part because it was difficult to finance. (Producer Megan Ellison, also involved in this year's SXSW opening night film "Everybody Wants Some," was in the audience Monday night.)
As Rogen pointed out, "The less precedent there is for something, the less they probably want to spend money on it. They can't point to anything and say you're not wasting their money. That's why there was really no other animated movie we could point to and say 'look, theirs did well, so ours will.' That is what ultimately was hard, because there is no other one."
Follow on Twitter: @IndieFocus
---
Get our L.A. Goes Out newsletter, with the week's best events, to help you explore and experience our city.
You may occasionally receive promotional content from the Los Angeles Times.