Shirley Temple Black dies: Five of her most memorable movies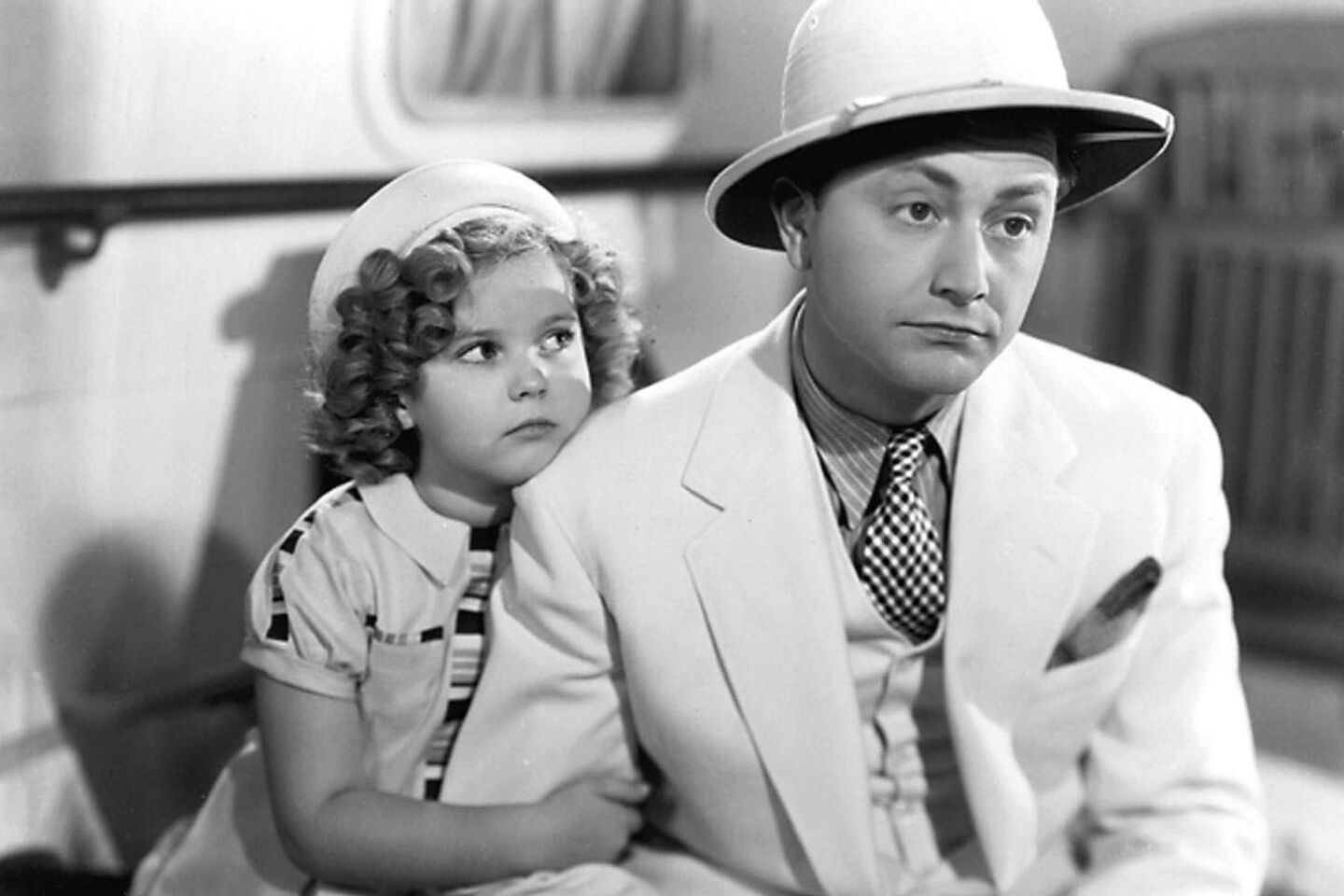 Shirley Temple in "Stowaway" with Robert Young.
(AFP/Getty Images)
The iconic child star Shirley Temple Black accomplished more on screen as a precocious, curly-haired youngster than most actors do in a lifetime, receiving a special Academy Award at age 6 and making more than 40 movies before she turned 12. Here are five of her most memorable roles.
"Bright Eyes." The first film designed specifically for Temple, 1934's "Bright Eyes" propelled her to international stardom. In the movie, she played an orphan girl (a recurring setup in her work) who's taken in by a family of snobs who get more than they bargained for. "Bright Eyes" also introduced what would become Temple's signature song, "Good Ship Lollipop." In the wake of the film's success, Temple was honored with a Juvenile Oscar and added her hand- and footprints to Grauman's Chinese Theatre.
"Curly Top." A year later, in "Curly Top," Temple once again portrayed a plucky orphan with a flair for a catchy tune: "Animal Crackers in My Soup." As in "Bright Eyes," Temple's relentless cheer and optimism resonated with Depression-era audiences, and the film was one of 1935's top box-office draws.
PHOTOS: Shirley Temple's film roles
"Poor Little Rich Girl." In 1936, Temple starred in the trading-places musical "Poor Little Rich Girl," this time playing a spoiled only child who suddenly finds herself living on the streets and then taken in by a vaudevillian couple (Alice Faye and Jack Haley). In a review for the New York Times, Frank S. Nugent wrote of the film, "as a display window for the ever-expanding Temple talents, it is entirely satisfying."
"Wee Willie Winkie." One of Temple's favorites was 1937's "Wee Willie Winkie," directed by John Ford. Based on the Rudyard Kipling story, the film starred Temple as a young girl traveling with her widowed mother to join her grandfather, a crusty British army colonel, in northern India. Movie critic Leonard Maltin declared the film "one of Shirley's best vehicles."
"The Little Princess." In 1939's "The Little Princess," loosely based on the Frances Hodgson Burnett novel, Temple played a pampered girl in boarding school whose soldier father is reported missing, leaving her at the mercy of a cruel headmistress. Writing about the film's VHS release decades later, New York Times critic Janet Maslin noted, "The movie's music, its corny but likable histrionics and its rousing patriotism (it was made in 1939, just a few years before the U.S. would become involved in World War II) culminate in a happy ending sure to make even grown-up viewers cry." The lavish film marked Temple's first Technicolor piece, but also her last major success as a child star.
ALSO:
Shia LaBeouf quits news conference, wears paper bag in Berlin
Oscars 2014: Luncheon a 'giant gumbo' of nominees famous and anonymous
Oscar luncheon: Sandra Bullock, Steve McQueen make the case for grown-up films
Get our L.A. Goes Out newsletter, with the week's best events, to help you explore and experience our city.
You may occasionally receive promotional content from the Los Angeles Times.