Review: 'Stranded' somewhere between good and not bad enough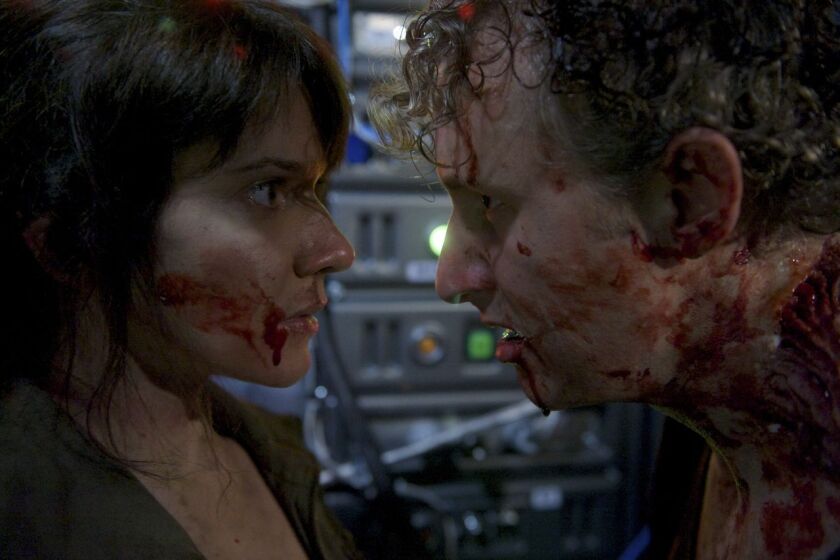 There are pockets of bad-cinema fans who might conceivably be excited at what Roger Christian, director of the notoriously awful L. Ron Hubbard adaptation "Battlefield Earth," might have in store. The wait is over with the low-budget space horror flick "Stranded," co-written by Christian.
It's about a four-person military moon station — led by a barking Christian Slater — that suffers "Alien"-like consequences after a crippling meteor shower brings a visit from a strange life form. The disappointment is twofold, however. It's neither good nor spectacularly bad enough to give junkies a fiasco fix. Aside from the refreshingly antiquated sight of puppet work and miniature sets being pounded by rocks — take that, CGI! — it's a tiresome retread of every other closed-quarters, dastardly contagion, body-snatching scenario, only more dimly lit, lifeless and incomprehensible.
In other words, "Stranded" stops at being merely seriously dull and trite, rather than tipping into train-wreck silliness. The actors aren't even bad, with Slater, Brendan Fehr, Amy Matysio and Michael Therriault evoking plenty of expected fear, distress and heroic initiative. But they're not exactly memorable, either. It raises the question, does creating an unremarkable time-waster after birthing an iconic bomb signal some form of progress?
-----------------------

"Stranded."
MPAA rating: None
Running time: 1 hour, 28 minutes.
Playing: At AMC Burbank Town Center 8.
---
Inside the business of entertainment
The Wide Shot brings you news, analysis and insights on everything from streaming wars to production — and what it all means for the future.
You may occasionally receive promotional content from the Los Angeles Times.