Sundance: For Don Johnson, a new movie, and a Texas-style redemption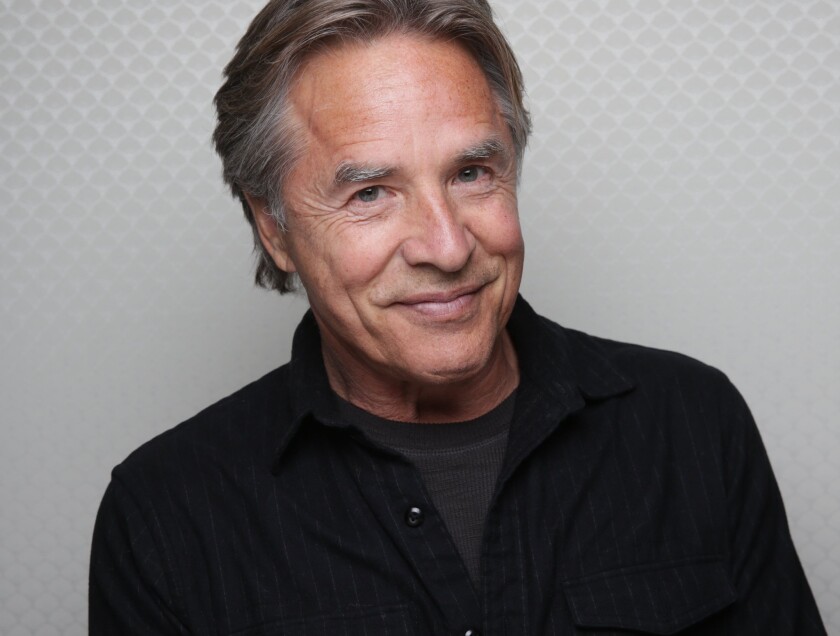 PARK CITY, Utah -- Let's say you've starred in not one but two long-running pulp TV hits. And let's say you have little to prove yet an abundant desire to work.
Let's say, in other words, you're Don Johnson, who lately has been eager to roll up his sleeves (figuratively, not like he did on "Miami Vice" in the '80s). You want to be selective -- turning down the roles offered to you, because, well, they're the roles offered to you, and they're not very interesting. But you still want to be in the game. So you wait, and wait, and wait, until something meaty comes along.
"Up until now there's been a lot of dad parts. And dads are usually written in one note. Maybe two notes — if he kills the whole family," Johnson said. "So I've been in exile, a half-self-imposed exile and a half-exile because of a dearth of material."
For Johnson, who will turn 65 (!) this year, it's been more than a decade since he was a regular screen presence, since his "Nash Bridges" went off the air in 2001 after a surprisingly sturdy six-season run. It's been a somewhat fallow period since.
But fortune has recently turned. He's had small parts in "Eastbound and Down" and "Machete." And a year ago Johnson had a scene-stealing part as Big Daddy, a free-speaking slave owner with a mustache to make Rollie Fingers jealous, in Quentin Tarantino's "Django Unchained."
Now he has a bigger, even juicier part in Jim Mickle's Sundance premiere "Cold in July," a 1989-set, Texas-based dramatic-thriller-turned-manhunt-picture-turned-gun-opera in which Johnson plays Jim Bob, a man who's much like you'd expect a character named Jim Bob to be.
Based on Joe R. Lansdale's crime novel of the same name and acquired at the festival by IFC Films for likely release later this year, "Cold in July" is directed by Mickle, the garrulous genre director behind past festival darlings "We Are What We Are" and "Stake Land." His new movie centers on a family man (Michael C. Hall) who finds himself pursued by the father (Sam Shepard) of a home invader he killed in self-defense, before the plot takes a turn to corruption and violence and Jim Bob, who comes in midway through to take the reins and save the day, or at least practice his particular Jim Bob style of problem-solving.
PHOTOS: Sundance Film Festival 2014 | Photo booth
A pig farmer quick to offer his guests bacon, Johnson's good ol' boy is a cowboy-hat-wearing, boot-kicking, whip- and quip-cracking Texan who drives a vintage car with a profane vanity license plate and has a nickname for pretty much everyone. As he makes a joke and a plan and a ruckus all at the same time, Jim Bob wouldn't be out of place in a Coen brothers movie.
Johnson calls the tonal balance of the character "like walking a tightrope over the Grand Canyon," then says there was a more literal inspiration for the man he plays.
"He's a compendium of a lot of people I've known in my life that were either from Texas, or pretended to be from Texas," he said.
Johnson is having ice coffee at a mountain resort here, having just completed a day of skiing with his family. His ski boots, which are still on, and weathered good looks make him appear like any of a number of coolly outfitted, well-off all-American ski dads that dot the lodges of this ski town. Though a few of the restaurant servers seem to know him, reverently calling him Mr. Johnson, he is largely anonymous as he sips his beverage.
Indeed, when the fact that many people under 35 don't know "Miami Vice" comes up, Johnson says laughing (mostly), "Don't I know it," then (mostly) joking proceeds to tell a story involving Starbucks baristas that features the phrase "Name? Name?" and ends with an emphasized swear word and the line "Sonny ... Crockett, how's that?"
PHOTOS: Sundance Film Festival 2014 | The Scene
For someone who is entering his fourth decade in the public eye, there is still a sharply private side to Johnson; he declines, for instance, to comment on the career of his 24-year-old daughter Dakota (her mother is of course ex Melanie Griffith), who is shooting "Fifty Shades of Grey," saying that the two have an agreement not to talk about each other. He does point out his son Jesse Johnson (with another ex, Patti D'Arbanville), who was a star of the hit cable miniseries "Killing Lincoln." (And speaking of those exes, he does, incidentally, like to play on his Lothario image; at the screening the day prior he answered a question about how he got Texas so right by deadpanning, "I dated a lot of Texas women.")
Johnson is occasionally prone to an earnest New Age-y turn of phrase. Words like "journey" and phrases about the "bliss of being in the moment" recur, and he talks about reading books on "the qualities and properties of happiness" — which, to many minds, would in fact entail being the guy from "Miami Vice."
But he's willing to take a more direct look at his life too, particularly the 1980s period when his playboy status and outspoken set manner got him a bit of a reputation.
"What happens to a lot of people, and it certainly happened to me, is that ambition can make you an ...," he said, using a profane pejorative. He added, "The weird thing about the business is in order to get decent material you have to get to a certain point. There are different ways to get there. I certainly didn't pick the most complimentary one sometimes." (Some habits die hard, though: he remains a big-time blackjack player and globetrotting casino denizen.)
LIST OF SUNDANCE SELECTIONS: U.S. and World Cinema dramatic competition
Johnson's outspokenness was shared with a friend and role model of sorts. Johnson had a close relationship with the late Hunter S. Thompson -- so close that when the two lived in Aspen, Colo., Thompson would tend to the sick animals on Johnson's farm when the actor was out of town. Thompson, who had several nicknames for Johnson -- including the rather unexpected "Boris" -- would often send him handwritten faxes in the middle of the night when an observation struck.
"I still have a stack of those faxes," Johnson said. "They're some of the craziest things you'll ever read."
Johnson has begun writing himself, and has a potential new series in the works with David Gordon Green that he says he will star in and will likely be on a multiplatform provider like Netflix, Amazon or XBox instead of on traditional TV. It's set in Miami in the 1980s and has "power, sex, greed and everything else you'd expect from Miami in the 1980s," which sounds like it would have a certain appeal in these "Scandal"-ish days even if it wasn't, you know, a Don Johnson series set in the '80s. (There's even an Easter egg to Crockett, the actor says, when the character he plays gruffly makes reference to that "TV guy in the turquoise shirts.")
Johnson said he's yet to commit to the next film part, and talks a lot about family. (In addition to Dakota and Jesse, he has three children with wife Kelley Phleger, the youngest just 7.)
"When you've been around as long as I have, you're grateful to still be relevant," Johnson said. "I feel like I've lived 20 lifetimes. But it's no thing. It's joyful to me to do something where a young person discovers me, and once they start peeling the layers of an onion they go, 'Oh my God.' And I say 'I know what you mean.'"
ALSO:
His 'Boyhood' screens at Sundance to rave reviews
Sundance: George Takei just wants peace with William Shatner
Sundance: Anne Hathaway says 'Song One' most 'understated' role yet
---
From the Emmys to the Oscars.
Get our revamped Envelope newsletter, sent twice a week, for exclusive awards season coverage, behind-the-scenes insights and columnist Glenn Whipp's commentary.
You may occasionally receive promotional content from the Los Angeles Times.