Sundance 2015: After tragedy, Tig Notaro finds love in new documentary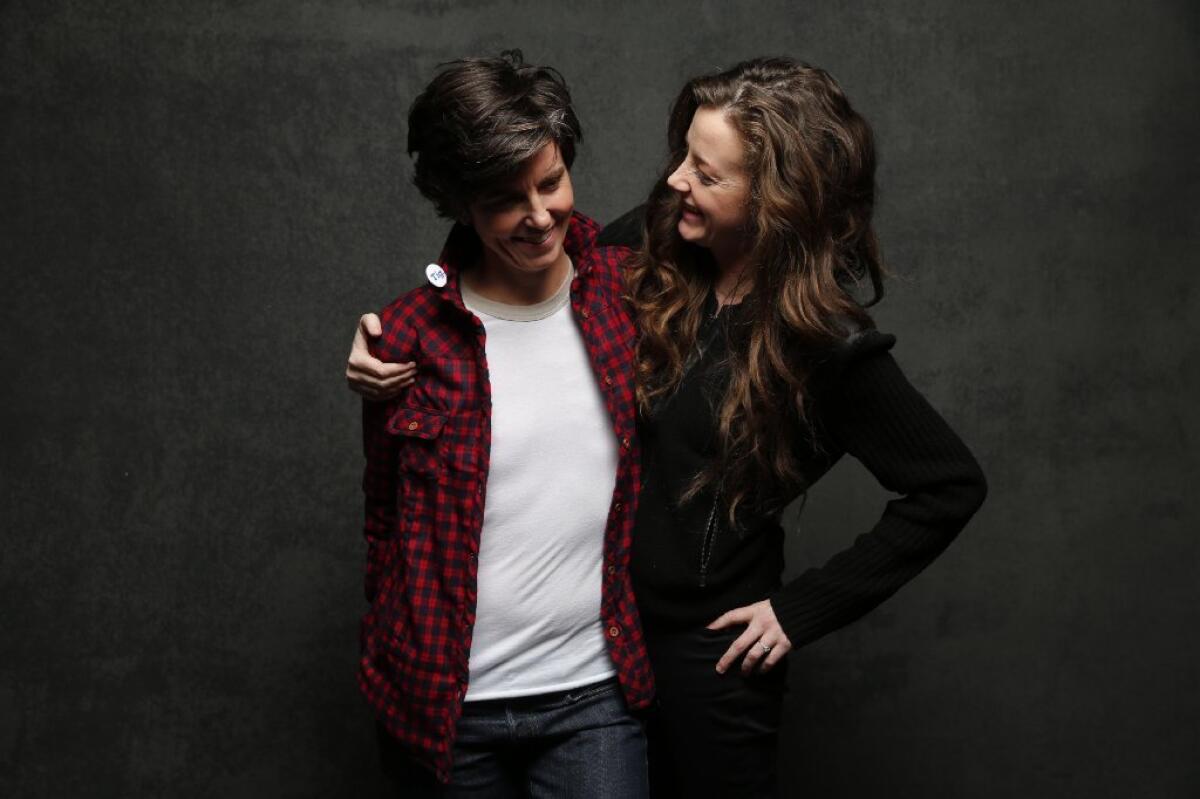 Reporting from Park City, Utah —
You probably think you know all of the bad stuff Tig Notaro has been through.
After all, she laid it all bare in her now-famous, Louis C.K-heralded set at Largo in 2012. To recap: In the span of four months, she was hospitalized with a rare bacterial infection called Clostridium difficile colitis, her mother died suddenly, she and her girlfriend broke up and then she was diagnosed with bilateral breast cancer.
As it turns out, the bad news didn't end there. Eager to have a child of her own — and extend the bloodline of her late mother — Notaro began investigating fertility treatments. But doctors told her that if she underwent the hormone therapy necessary for in vitro fertilization, there was a chance her cancer might return. And if it did, this time it would be incurable.
FULL COVERAGE: Sundance Film Festival 2015
Oh, and Notaro, now 43, was also falling in love. With a woman who said she was only interested in men.
The latest turns in Notaro's life are revealed in a new documentary, "Tig," which premiered this week at the Sundance Film Festival. Shot over the course of two years, the movie offers an intimate portrayal of a woman whose career is exploding while everything else seems to be imploding. Known for deadpan delivery, Notaro takes viewers on a bluntly honest journey through her travails. She may not shed any tears, but the stuff she's talking about feels scary and raw and important.
That's especially true of her budding relationship with Stephanie Allynne, a 29-year-old actress whom Notaro met on the set of the film "In A World" a couple of years ago. The pair was immediately drawn to each other, texting jokes back and forth for hours on end, getting kicked out of restaurants because they'd stay so late talking. But Allynne made it clear she was straight. So it was difficult — even for the filmmakers — to see Notaro setting herself up for what seemed like more heartbreak.
"I thought Stephanie was straight, so I was actually sad when I saw Tig falling for her," said Kristina Goolsby, Notaro's friend of two decades who codirected the movie with Ashley York. "But sure enough, her heart spoke the truth to her. And when Stephanie said she was in it, it was as pure and unquestionable as anything I'd ever seen."
Yes (spoiler alert!) against all odds, Notaro and Allynne end up together. In fact, they actually got engaged this past New Year's. And at Sundance this week, they each had a big film premiering, Notaro with the documentary and Allynne with "People, Places, Things," a family dramedy costarring "Flight of the Conchord's" Jemaine Clement.
"I haven't had any hesitation in my feelings for her in two years," said Notaro, looking at her fiancee as they sat together for an interview this week. "I've always had red flags in relationships. And I don't want to make it sound annoyingly perfect or anything, but it's really good. We can't wait to get married. I can't wait to have one-to-five children."
Watching Notaro and Allynne interact makes you feel tingly and kind of jealous, like when you witness a couple exchange vows or see their baby for the first time. When Allynne speaks, you can see Notaro hanging on every word. There's a huge grin, a twinkle in her eye, an ease with laughter. Occasionally, she reaches out to stroke Allynne's Rapunzel-esque mane of red curls.
It would seem that their relationship should have been complicated by the fact that it was all being documented on film. Initially, Notaro told Allynne that she didn't have to be a part of "Tig." Notaro told Allynne she was "nuts" about her, and "didn't want to jeopardize anything. If it meant leaving that part out, that was fine."
Notaro also felt comfortable with Goolsby, whom she met 20 years ago while Notaro was working as a barista at the now-defunct famed West Hollywood lesbian coffeehouse Little Frida's. After hearing about her friend's travails in 2012, Goolsby — who'd spent the last five years working on the addiction reality show "Intervention" — proposed she and Notaro team up on a documentary.
"I couldn't believe she was going through all of this devastation, and I thought, 'This is a person who is on the verge of extraordinary change. This is going to be an amazing story,'" recalled the filmmaker, whose movie has yet to be picked up for distribution. "So I wrote her an email and said: 'Crazy thought. Would you be interested in doing a documentary?' And she wrote back: 'Yeah, sure.'"
The pair met on a Saturday and by the following Tuesday filming was already underway, just a few months after Notaro's double mastectomy. Allynne, too, eventually agreed to be a part of the project, which would ultimately serve as a record to help her examine her own sexuality.
"Almost like being a vegetarian, I used to think, 'This is who I am, and that's that,'" Allynne said. "But I couldn't deny myself this feeling. Every time we hung out, we would stand in the parking lot and talk or close down the restaurant. And I came from a liberal family. I felt like I was [a believer in] equal rights, but I still had all the labels — bisexual, straight, gay — you're one of those things."
"Those labels are so boring, I think," Notaro said.
"They trip you up," Allynne agreed.
"They don't allow you to experience what you're feeling," Notaro said.
Of course, for Allynne, entering into a relationship with Notaro didn't only signify a shift in her sexual preference, but it also meant she might be signing up to have a child. By the time the two became a couple, Notaro had already decided she was going to risk the possible health repercussions that in vitro fertilization entailed. Which was difficult for Allynne to swallow.
"Every time I see that in the documentary I just think, why?" Allynne said. "But I guess if you feel like they really got [the cancer] and you want to have kids — I don't know. I would never do that. I can't believe you did that.
Notaro still doesn't know if the fertility procedures will have an adverse affect on her. In November, she had a big health scare when she began bleeding internally and doctors found something on her liver. It turned out to be benign, but it was frightening.
"I'm OK, for now," Notaro said.
"You have this weird ability — no matter what happens — to keep moving forward," Allynne said to Notaro. "She's never a victim. People after shows listen to your album and now feel a life force in them, like, 'It's not over for me.' What other thing can you give to someone when they're going through tragedy?"
That forward movement, Notaro said, often meant concentrating on tiny things. Breathing -- the air going in and out. That was something. Brushing her teeth. Getting out of bed. And really holding on to the good things that have finally come -- like Allynne.
"We wake up and we're like 'Yay! Another day!'" Allynne said with a laugh.
"I didn't know I was a risk-taker before this film," Notaro said. "And I'm not encouraging people to take risks with their lives. But life is truly — it's so cliche — but it's just so exciting. My life has proven to me over and over that you have no idea what's around the corner. Whether it's a cancer diagnosis or the love of your life or not being able to have kids or your career exploding or you think everything's all right and then you're bleeding internally for three days. But it's all worth it, you know? As unlucky as I've been, I feel very, very lucky."
Follow @AmyKinLA for more from the Sundance Film Festival
Get the Indie Focus newsletter, Mark Olsen's weekly guide to the world of cinema.
You may occasionally receive promotional content from the Los Angeles Times.