Warner Bros. to refund dissatisfied 'Veronica Mars' contributors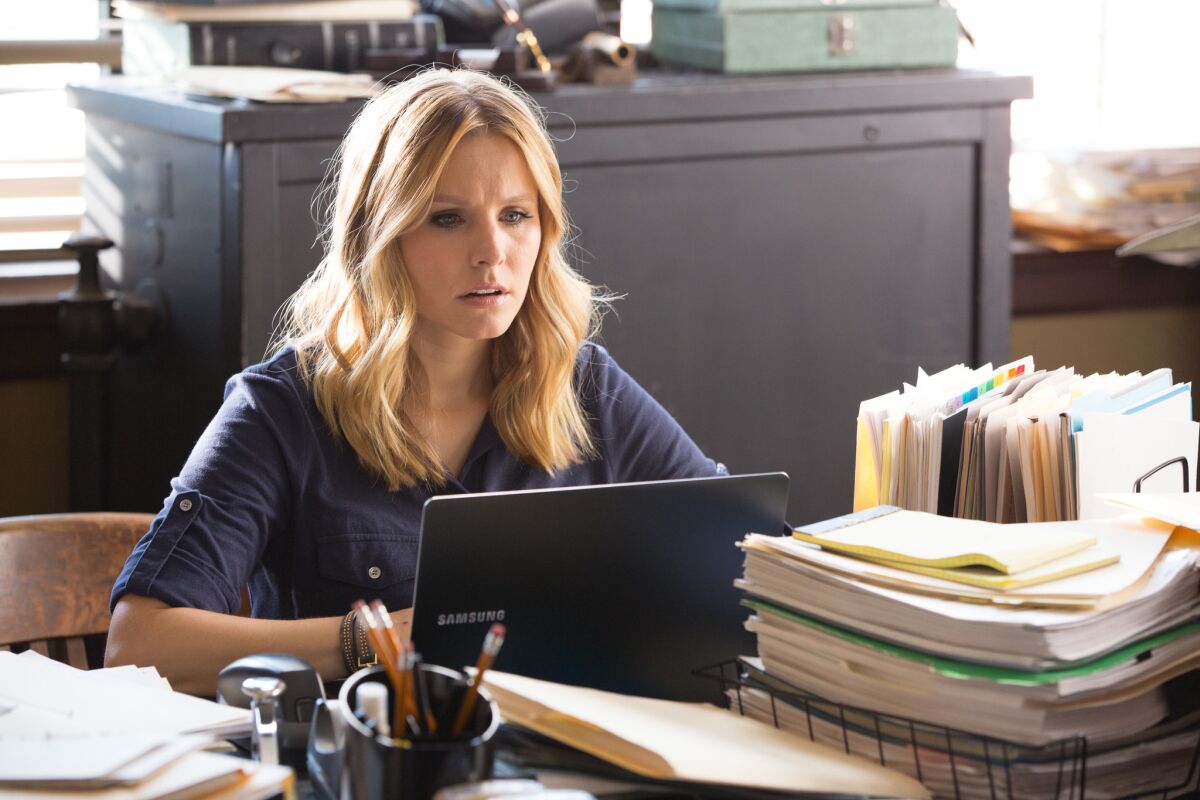 Some of the Marshmallows behind "Veronica Mars" are getting heated.
A pocket of contributors who helped bankroll the movie through Kickstarter are not exactly pleased customers, taking to the fundraising site to lament about their struggles in downloading their digital copy of the movie.
Warner Bros., the studio behind the film, will provide refunds to frustrated funders who seek it, a representative confirmed.
REVIEW: 'Veronica Mars' welcomes the old gang back for familiar fun
Contributors were provided codes for downloading the film via Flixter, the studio's Ultraviolet-connected movie site. Though fans could already be considered patient, having waited practically seven years for the flick, some learned Friday that they'd have to wait a bit longer.
Complaints trickled in throughout the day on the movie's Kickstarter page and Twitter, with issues such as not receiving a code, problems signing up with Ultraviolet, challenges with the Flixter software and accessing a copy outside the U.S.
"It really feels like backers got taken advantage of," read part of Jessica Goldberg's comment. "We provided the momentum and basis for publicity, to say nothing of the initial capital. But non-backers got to see the movie first, for the same or lower price."
Fellow contributor Stacy Mullins wrote on Twitter: "Going to bed angry. Have been trying to watch @veronicamars for going on 2.5 hours now. Flixster is TERRIBLE"
But judging from ratings on Flixter-operated Rotten Tomatoes, once fans finally do get to watch it, they'll probably enjoy it. The film has a 97% audience rating, with a 76% overall.
PHOTOS: Our favorite funny women and why we love 'em
The film, based on the modest-performing TV series, got off to a solid start with its rollout of midnight screenings Thursday night, taking in $260,000 at 95 locations. It expanded to 291 theaters this weekend, mostly AMC locations, with a simultaneous launch on video-on-demand, and has so far brought in just over $1 million.
While the shut-out wasn't widespread, with some able to download with no complications, the man behind the whole project, Rob Thomas, the show's creator and director of the movie, knew he had to do some damage control to placate those who helped the film's budget reach $5.7 million.
In a statement posted Friday on Kickstarter, Thomas wrote:
"We know that some of you have strong opinions about the decision to provide digital versions of the movie through Flixster. As you'll see in the original FAQ on our Kickstarter page, we've always planned to include Flixster as a digital distribution platform. But I also know that many of you use iTunes, Amazon or other platforms, and would prefer to claim your digital copies on your favorite service, so we hoped we'd also be able to arrange for more options. Unfortunately, it just wasn't possible. In the end, Flixster was the best option for getting the digital movie reward out to all of you, worldwide, at the same time."
PHOTOS: Behind the scenes of movies and TV
Of course, the film is also available for downloading on iTunes and Amazon, but at the cost $19.99. So a compromise was offered:
Refund-seekers, who received a notice about their options, could either receive $10 back, the amount they pledged that was used for the digital download, or they could get a full refund after purchasing the movie on another service, such as Amazon or iTunes (pending proof of receipt).
A Warner Bros. representative offered a statement from the studio that acknowledged the technical problems, noting that the "vast majority" of backers had a "successful experience," and closed with: "We are, of course, working diligently to ensure that all the Veronica Mars backers have a great experience.
ALSO:
Louis C.K.'s 'Louie' set to return to FX in May
Netflix announces three new animated series, sets 'Turbo' return
Stephen Colbert channels pundit outrage over Obama's viral video
Get our L.A. Goes Out newsletter, with the week's best events, to help you explore and experience our city.
You may occasionally receive promotional content from the Los Angeles Times.