Best movies of 2012: 'Argo,' 'Lincoln,' 'Dark Knight Rises,' more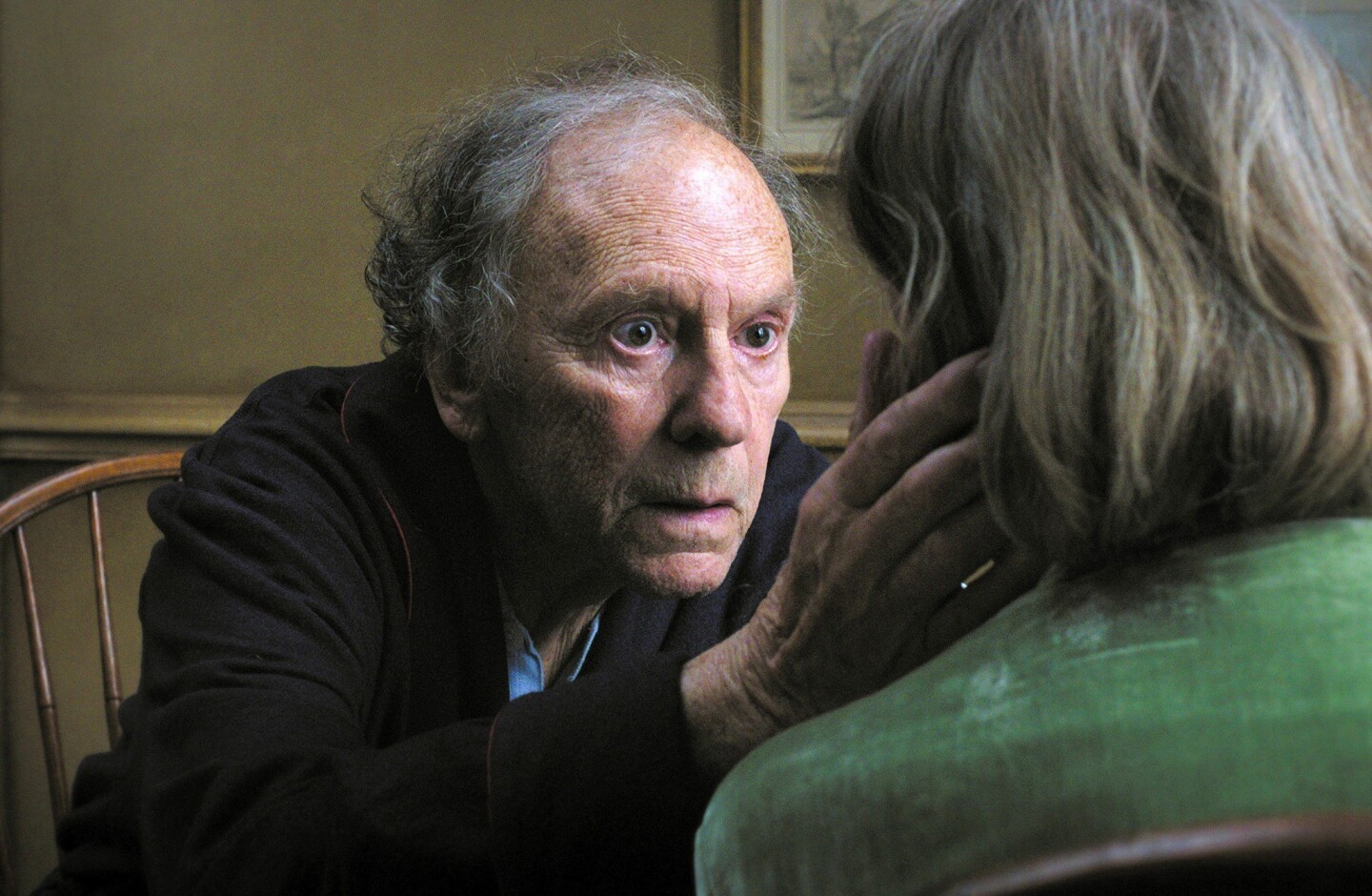 Ten-best lists are, among other things, educated guesses about what will last, a sanctioned way of taking a stab at recognizing work that will endure despite the inevitable changes in cinematic taste and style. Of all the films that fit that criteria in 2012, and there are several, the one I am surest about is the one I'm making my top film: Michael Haneke's "Amour."
"Amour," the devastating winner of the Palme d'Or at Cannes as well as the top four European film awards, uses shattering performances by Jean-Louis Trintignant and Emmanuelle Riva to show what happens to a long and harmonious marriage when the wife suffers a series of debilitating strokes. No film moved me more or made me think harder about the vicissitudes of the human experience. You can't ask for more than that.
The rest of my list, expanded when necessary, is listed in alphabetical order:
(Sony Pictures Classics / AP)
If the movies are a feast or famine business — and they are — we are in the heart of the feast at the moment. Both the studios and the smaller distributors, having hidden away their strongest films like squirrels hoarding especially tasty nuts, release them all in a rush in the last months of the year.
Ordinarily I would decry this situation, because it means that excellent films will fall between the cracks and get neglected in the mad rush to put quality on the screen in October, November and December. With but a few exceptions, notably Christopher Nolan's "The Dark Knight Rises," a film with enough of a fan base to make its own rules, almost all the films on my 10 best list came out during the year's final quarter.
The studios do things this way because of an industry-wide mind-set, and nothing strikes more terror in executive hearts than the notion of breaking from the norm. Though the nominal reason for backloading the schedule — the desire to have your film front and center when awards nominations take place — is less relevant now that voters can refresh their memories with DVD re-viewings, no one wants to risk rocking the boat.
LIST: Best films of 2012 | Kenneth Turan
In any case, at this moment in this particular year, the quality of year-end films has been so much stronger than usual that I am loath to begrudge them their chosen moment in the sun.
I'm especially pleased this year because a good number of these last-quarter successes turn out to be contemporary versions of classic Hollywood scenarios. It's great, for instance, to see how well "Argo" maneuvers back and forth from inside-the-Beltway espionage thriller to inside Hollywood dark comedy. Few thing are as satisfying as seeing how resilient those old forms are, how well they suit the needs of modern filmmakers with modern ideas.
Steven Spielberg's "Lincoln" is another case in point. The man from Illinois has been a cinematic presence any number of times, and the presidential biopic has been Oscar bait as far back as 1944's "Wilson," which took home five statuettes.
But Spielberg's version feels completely up to date, thanks to Daniel Day-Lewis' immersive acting and a Tony Kushner script that doesn't hesitate to delicately point out lessons that are applicable to the here and now.
Similarly, musical stage shows have been regularly transferred to film since the dawn of sound (and if you count the wonderful Vitagraph shorts, even before sound came to features). But by using the latest technology to record the singing live, "Les Misérables" has brought a previously unheard immediacy to this most venerable of sound genres.
Even more interesting are films that at first glance seem to have no connection to the past. "Zero Dark Thirty's" procedural look at the chase for Osama bin Laden thrusts you immediately into the middle of the story in a way that would've been anathema back in the day, but the dramatic techniques used to build Jessica Chastain's CIA agent into a hero would have brought a smile to Louis B. Mayer's face, even if some of the character's language would not.
Best of 2012: Movies | TV | Pop music | Jazz | Video Games | Art | Theater | Dance | Classical music
Similarly, "Silver Linings Playbook" demonstrates how far you can depart from traditional norms and still return to them. Writer-director David O. Russell's gift for smart, honest and unexpected dialogue and situations brings an unsettling reality to the film's world of damaged, uncertain strivers that is as distant as possible from the classic world of romantic comedy. Yet Russell, who has talked about his passion for Frank Capra as well as Martin Scorsese, is especially adroit at bringing it all back home when he needs to.
With all these films, it's good to see filmmakers recognizing that the old forms continue to have validity and figuring out how to mold them to their particular tastes. It's a job well worth doing, not only at Oscar time but always.
---
The complete guide to home viewing
Get Screen Gab for weekly recommendations, analysis, interviews and irreverent discussion of the TV and streaming movies everyone's talking about.
You may occasionally receive promotional content from the Los Angeles Times.