From the Archives: Christopher Lee dies at 93; screen star of 'Dracula' and 'Lord of the Rings'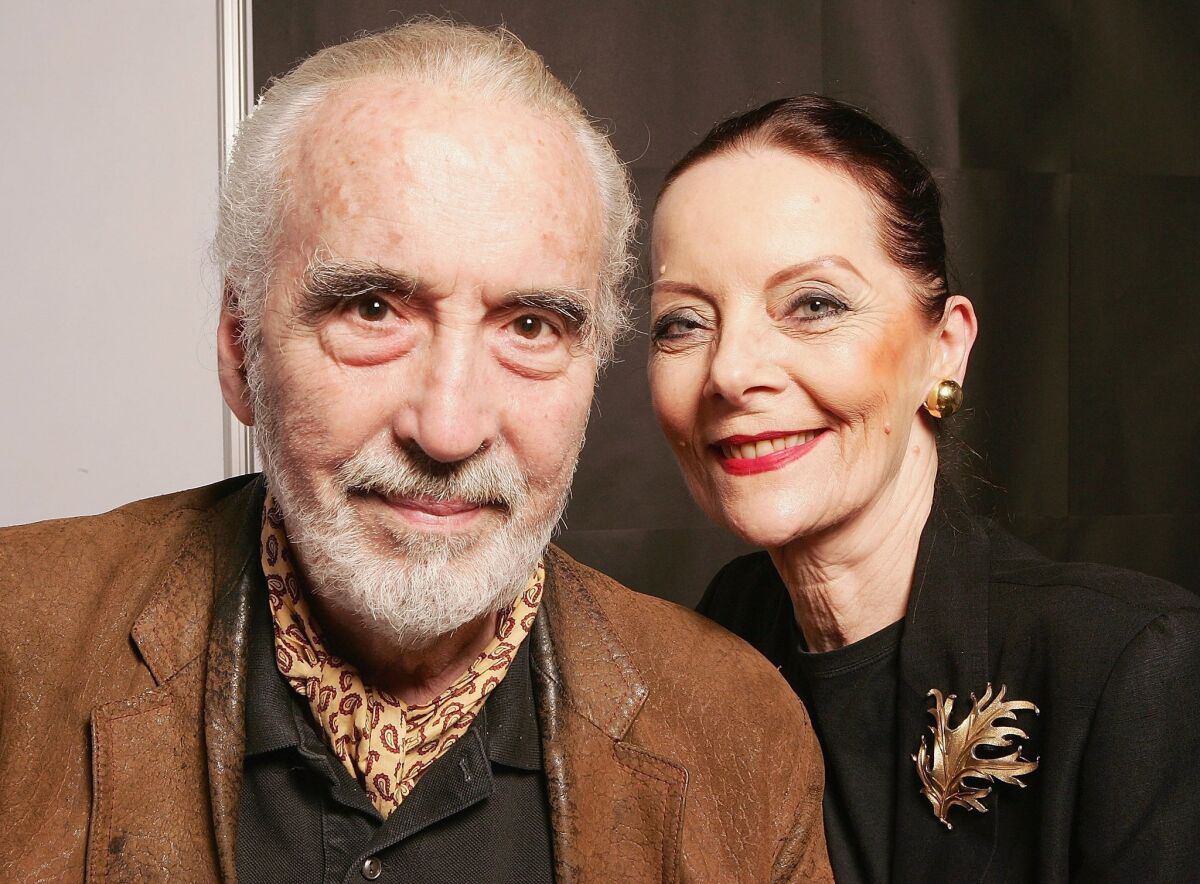 Christopher Lee, the English actor who emerged as a British horror movie icon in the 1950s with his memorable portrayal of Count Dracula and later appeared in the blockbuster "Star Wars" and "The Lord of the Rings" films, has died. He was 93.
Lee died in London of undisclosed causes, according to an official with the Royal Borough of Kensington and Chelsea in London, who spoke on condition of anonymity in keeping with the policies of the borough. A death certificate was given June 8, the official said.
In a career that spanned more than 60 years, beginning with bit parts in England in the late 1940s, Lee was known by the mid-'60s as "one of the screen's foremost purveyors of evil and terror," having played roles such as Frankenstein's monster, the Mummy and Rasputin, the Mad Monk.
Director Tim Burton, who cast Lee in several films, once described him as "one of the last real icons, a figure out of another age, not just another movie age. To my generation, he was Dracula and all of them."
Lee was still a relatively unknown character actor in Britain when he played his first horror role for Hammer Film Productions: the gruesome creature in "The Curse of Frankenstein," a 1957 film starring Peter Cushing, who would become Lee's frequent co-star.
A year later, the towering 6-foot-4 actor with a voice that has been described as a "solemn, aristocratic baritone" gained international fame as the blood-sucking vampire in Hammer Films' "Horror of Dracula."
Billed as "THE TERRIFYING LOVER WHO DIED … YET LIVED!" the film presented Dracula as a sex symbol, a nocturnal predator who awakened his female victims' sexual desires.
"With his eyes ablaze and eyeteeth bared, his aristocratic nostrils flaring, and his cloak clutched tight about him like the wings of a giant bat trapped in midflight, Lee made Dracula his own as no actor had before him," Denis Meikle wrote in his book "A History of Horrors: The Rise and Fall of the House of Hammer."
Lee once credited three films "for bringing me to the fore" as an actor, all of them remakes of classic films: "A Tale of Two Cities" (1958), in which he played the villainous marquis; "The Curse of Frankenstein" and "Horror of Dracula."
But "Horror of Dracula," titled "Dracula" in Britain, was "the one that made the difference."
"It brought me a name, a fan club and a secondhand car [a Mercedes-Benz], for all of which I was grateful," he wrote in "Tall, Dark and Gruesome," his 1977 autobiography. "It also, if I may be forgiven for saying so, brought me the blessing of Lucifer, the third and final nail in my coffin.
"Count Dracula might escape, but not the actors who play him."
Lee went on to co-star with Boris Karloff in "Corridors of Blood" in 1958 and to star in films such as "The Mummy," "The Face of Fu Manchu," "Castle of the Living Dead," "Crypt of the Vampire" and "I, Monster."
He also played the 1962 title role in "Sherlock Holmes and the Deadly Necklace."
But he remained closely identified with Dracula, a character he reprised in 1966 with "Dracula: Prince of Darkness," and in a string of other films, including "Taste the Blood of Dracula" (1970) and "The Satanic Rites of Dracula" (1973).
"They had really disintegrated by then," Lee said in a 2000 interview with the Star-Ledger of Newark, N.J. "I did the last four under protest."
But, he said, "every time I turned one down, I'd get a hysterical call from Jimmy Carreras, the producer, saying he'd already sold the American rights by telling them I'd do it. And when I'd say no … he'd say, 'Think of all the people you're putting out of work!' Now that was truly disgraceful — emotional blackmail, really. But it worked."
Not that he wanted to "knock horror films," Lee said in a 1988 interview with the Orange County Register.
"They typecast me for a while, but they also made me known," he said. "They were a great launching pad. This is a business of faces and names, and those movies gave me a face and a name. I had been playing nothing but heavies until then, and the horror films put me out front."
He credited director Billy Wilder with opening the door to other roles when Wilder cast him as Sherlock Holmes' brother, Mycroft, in the 1970 film "The Private Life of Sherlock Holmes."
Lee played the leader of a pagan community in his most frequently cited favorite film, "The Wicker Man," an offbeat 1973 thriller set on a remote Scottish island.
A role as a one-eyed villain in director Richard Lester's "The Three Musketeers" (1973) led to his being cast as the ruthless assassin Francisco Scaramanga in the 1974 James Bond movie "The Man with the Golden Gun."
Lee, who spent 10 years living in Los Angeles in the 1970s and early '80s, appeared in "Airport '77" and played a gay biker in "Serial," a 1980 New Age comedy set in Marin County.
Hosting "Saturday Night Live" in 1978 was a professional turning point.
"That was the single most important thing I ever did in my career," he said in the 2000 Star-Ledger interview. "Suddenly people realized — this actor, we've seen him playing some mysterious characters over the years, but he can be funny too."
Lee's legion of fans included directors who cast him in their films, including Joe Dante ("Gremlins II"), Steven Spielberg ("1941"), and Burton ("Sleepy Hollow," "Charlie and the Chocolate Factory," "Alice in Wonderland" — as the voice of the Jabberwocky — and "Dark Shadows.")
In a media book interview for "Sleepy Hollow," Burton said that "Christopher is hypnotic. He just looks at you with his eyes, and you are compelled."
"Sleepy Hollow" star Johnny Depp said: "Christopher is truly a force to be reckoned with. Doing a scene with him and having him peering down at you, screaming into your face, all you can think of is 'My God, that's Dracula!' "
The son of a lieutenant colonel in the 60th King's Royal Rifle Corps and an Italian countess, he was born Christopher Frank Carandini Lee in London on May 27, 1922.
His parents separated when he was 4 and divorced two years later. His mother later married a banker, who went bankrupt when Lee was a teenager.
At 10, he became a boarder at Summer Fields prep school in Oxford, where he acted in school productions with Patrick Macnee, who later gained fame as the star of the British TV series "The Avengers."
A classical scholar in Greek and Latin at Wellington College, Lee worked as a shipping company office boy and messenger in London before serving in the Royal Air Force and spending time as an intelligence officer during World War II.
Back home after the war, he followed the suggestion of his mother's second cousin — the Italian ambassador to Britain — that he become an actor. He quickly found himself among a group of amateurs under contract with the Rank Organization, which provided acting training in the film company's so-called "Charm School."
Lee made his film debut in 1948 with a one-line bit part in director Terence Young's "Corridor of Mirrors."
Over the decades, he amassed more than 275 film and TV credits. After being knighted by Prince Charles at a ceremony in Buckingham Palace in 2009, Lee told Britain's The Telegraph that a "whole new career opened" for him in the new century when he appeared as the wizard Saruman in director Peter Jackson's "The Lord of the Rings" and as Count Dooku in George Lucas' "Star Wars" films.
"What's really important for me is, as an old man, I'm known by own generation, and the next generation know me too," he said.
In 1961, Lee married Danish model Birgit "Gitte" Kroencke, with whom he had a daughter, Christina.
Information from the Associated Press was used in this report
MORE:
Christopher Lee dies: Six of his sinister villain roles
R.I.P., Christopher Lee, actor and heavy metal hero
Troubled Thursday: Christopher Lee is among a trio of film legends to die
Get our L.A. Goes Out newsletter, with the week's best events, to help you explore and experience our city.
You may occasionally receive promotional content from the Los Angeles Times.