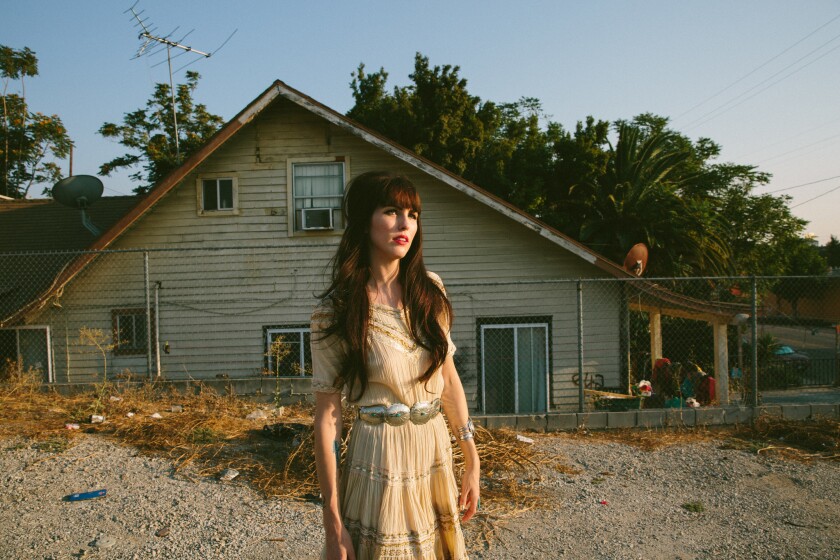 A little bit of twang, some wild jazz fusion and a touch of introspective electronic music: Below, a few tips on forthcoming albums from Los Angeles-based artists scheduled to drop in the first quarter of 2017.
Jaime Wyatt, "Felony Blues" (Forty Below Records). The first track from the Los Angeles-based country singer and songwriter's forthcoming album, "Felony Blues," is fueled by electric twang-rock that hints at a countrified Tom Petty and a hardened Lucinda Williams. That is, if either had spent time in prison as Wyatt has.
"Don't make a mistake, I'm a pirate, I'm a thief from way back," Wyatt sings on "Stone Hotel," about a drug-addicted past that, according to her press notes, prompted her arrest for robbing her dealer. Wyatt spent eight months in the clink, got three years' felony probation and used that time writing songs with the goal of rebuilding her music career.
Like her avowed influence David Allan Coe, Wyatt sings from experience about her legal woes during the first single, "Wishing Well." "Bought my ticket for the rainbow but it just hasn't come through," she bemoans as a band featuring expert session players on loan from Ryan Adams, the Punch Brothers, Shooter Jennings and others rolls along gracefully. On Feb. 7, Wyatt and band will celebrate the Feb. 24 release of "Felony Blues" with a set at the Bootleg Theater.
Ronald Bruner Jr., "Triumph" (World Galaxy/Alpha Pup). And the jams just keep on coming for the Bruner family. Brothers Ronald Jr., Stephen "Thundercat" and Jameel (of the R&B group the Internet), along with their father, drummer Ronald Sr., continue to dent L.A.'s funk-jazz psyche with heavy recordings.
Ronald Jr. is the drummer-son of the family, and he has earned ears touring the world with L.A. saxophone king Kamasi Washington. In fact, Ronald Jr.'s first solo album, "Triumph," shares a lineage with Washington's work.
Like the latter's breakout album, "The Epic," "Triumph" was recorded during an extended set of sessions that saw the same group of players contributing to their peers' projects. (Another product of those sessions, upright bassist Miles Mosley's "Uprising," came out Jan. 27.)
The first issued song from the album, "Take the Time," is a kind of new-beat fusion record, with the drummer going wild to open before juggling time signatures and tempos with bassist-brother Thundercat and band. Despite clocking in at just under five minutes, the track covers more ground than many albums, moving from outburst to contemplation to groove with whirlwind maneuvers.
Geotic, "Abysma" (Ghostly International). With its humming synth tones and frequencies that feel as warm as a down comforter, the new track from Los Angeles producer Will Wiesenfeld's project Geotic, called "Actually Smiling," is somehow both dense and fluffy.
Wiesenfeld, who was born and raised in the San Fernando Valley, is best known for his introspective synth-pop project Baths. As Geotic, the producer makes gentler music, mostly instrumental, that recalls the contemplative work of Scottish duo Boards of Canada and avant-electronic mastermind Aphex Twin.
"Actually Smiling" is the first track from Geotic's forthcoming album, "Abysma," to be issued March 31 on the respected Ghostly International imprint. It shows Wiesenfeld's increasingly sophisticated way around melody and rhythm. Bleeps and bloops propel the song, which Wiesenfeld couples with the wordless, echoed utterances of his malleable falsetto.
For tips, records, snapshots and stories on Los Angeles music culture, follow Randall Roberts on Twitter and Instagram: @liledit. Email: randall.roberts@latimes.com.
---