Exclusive: How the Weeknd got his revenge and became one of the biggest pop stars
"There's a lot of weird ... in here," Abel Tesfaye says about his new home, a high-rise condo in Westwood he just moved into a few days prior.
Tesfaye, better known as the Weeknd, is pointing toward an intricate and ancient-looking drawing of a man and woman midcoitus hanging near his bathroom. The graphicness of the old-world artwork makes him laugh.
Tesfaye has a towel draped over his shoulders, having just had his face groomed, his signature Jean-Michel Basquiat-inspired locks bouncing as he walks. The singer's thick mane — tsunami, rooster's comb and double mullet come to mind when describing its peculiar style — is arguably the most famous hairstyle in all of pop.
FULL COVERAGE: Grammy Awards 2016
The place is serene, airy and stylishly decorated — not entirely what you'd expect of a singer whose music is dark, heady and hedonistic. It's a sprawling maze of rooms, the result of combining two units that give him the entire floor. Every room offers a sweeping view of the city, a fitting vantage point, considering the 25-year-old's rise over the past year from Internet sensation to the top of the world as pop radio king.
The Weeknd's blockbuster sophomore album, "Beauty Behind the Madness," yielded seven Grammy nominations, including record and album of the year, along with an Academy Award nod for "Earned It," which appeared on the soundtrack for the 2015 hit "Fifty Shades of Grey."
Tesfaye's breakout year is that much more remarkable given how unlikely a pop star he was.
The Ethiopian Canadian singer (Amharic, his first language, can be heard on his smash "The Hills") debuted in 2011 with a trilogy of mixtapes that helped usher in a wave of artists who eschewed conventional R&B boundaries in favor of edgier productions. Lush, hazy tales of sex and drugs paired with his brooding, anonymous persona — his real identity went unknown, and he declined all interviews — gained him a cult following.
"I wanted to drop three albums in a year because no one had done it. It was bold, unheard of. Back then I didn't even want to get onstage," Tesfaye said of his anonymous start.
Tesfaye's first major appearance, at Coachella in 2012, failed to deliver on the hype that made him an Internet star ("It was a nightmare for me," he admitted). And although his 2013 major label debut, "Kiss Land," opened at No. 2, it didn't push him to mainstream status.
All of that changed last year.
After notching his first top 10 single with "Love Me Harder," a fiery duet with Ariana Grande from her 2014 album, "My Everything," he released "Earned It." The smoky bedroom number became a breakout hit, reaching No. 1 on the Top 40 chart and further exposing him even more widely to mainstream audiences.
It set the tone for "Beauty Behind the Madness," which showed Tesfaye making a major play for pop stardom.
Released in August, "Beauty Behind the Madness" combined the alternative R&B he was known for with expertly crafted pop tunes. It gave him his first No. 1 and is inching toward the 1-million sales mark behind hits like the surprising Max Martin collaboration "Can't Feel My Face" and "The Hills," a hypnotic jam as unsettling as the Wes Craven classic its title references.
Despite the madness that comes with pop superstardom, the scene at his house on a recent Friday afternoon is low-key.
FULL COVERAGE: Oscars 2016
One of Tesfaye's two managers, who goes by "Cash" (real name Amir Esmailian) and his high school best friend turned creative director, La Mar C. Taylor, are stretched out on one of the cream-colored couches that frame the living room. Taylor is rattling off the list of A-list designers they can choose from for the singer's upcoming appearances at the Grammys and the Oscars (he's performing at both). Esmailian quietly nods and checks his phone.
Tesfaye, whose soft-spokenness and affable demeanor would surprise anyone who listens to his records, is nearby, swaying gently in the dining room to a Lauryn Hill record next to the rack of clothes his stylist brought. He settled on an all black ensemble – jacket, T-shirt and jeans for the photoshoot that awaited him.
Afterwards he moved to a room adorned with Native American art and thick padded walls — he plans on turning it into a studio — for a wide-ranging conversation about his massive year.
You never know what the impact is going to be after the Oscars or the Grammys. There are people who don't even know who sings 'Can't Feel My Face.'
The Weeknd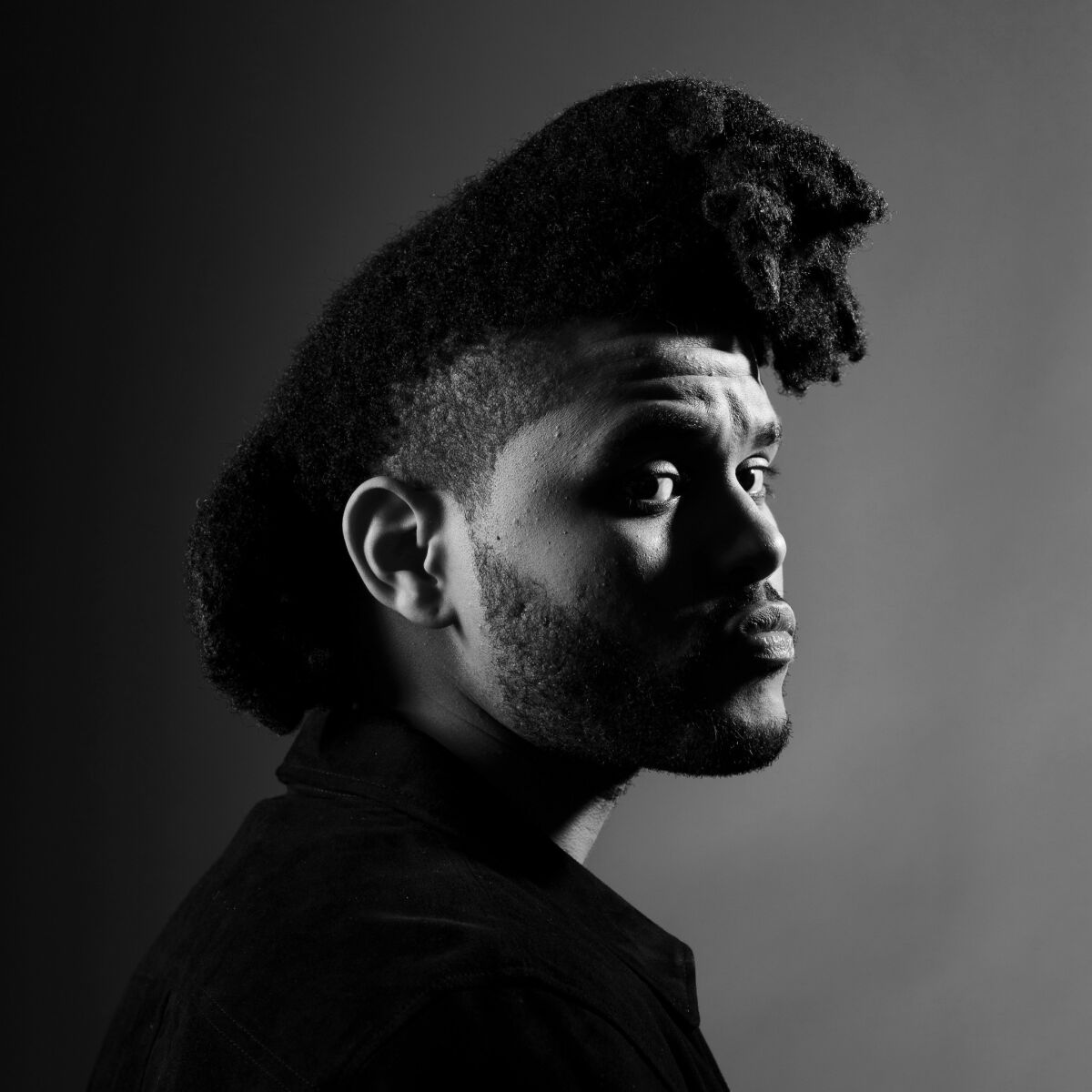 I imagine things are nonstop these days.
It's crazy, I took January off. Well kinda, I can't really take a day off, I'm always working. But I took the month off and I went back home to Toronto which is a safe haven -- nobody knows where you are, no paps, no anything. I just slept for a week straight. I didn't speak for like two weeks to get my voice back because we were singing so much last year, especially the last half of the year. It was just so relaxing.
Recently you were here for two sold-out nights at the Forum. An arena packed with screaming fans is such a massive leap from when you debuted at Coachella a few years ago.
It was probably my third or fourth real show. I had the Mod Club [in Toronto, his first performance], a few shows in Ontario and then boom. It wasn't just Coachella, it was the second biggest stage, the best hour. We're hype now, but the hype was crazy back then too. It was a different kind of hype.
It's a dream come true to be on that stage, but it was a nightmare. I didn't know how to control my voice. ... I was scared. I watched the tape back and I said, 'This is not right. I can do this, but I'm not going to do it like this." I told my agent to book more shows. I didn't want to put out another album until I was good enough to perform and kill the nerves that I have. I just kept touring and touring until it became second nature to go onstage, perform and sing. I'm much more comfortable on stage now than I was back then and it feels great.
It really felt like your coming out as a rockstar.
Nothing feels better than going on stage and everybody is singing every word -- and actually wanting to see you. I've opened up for people, and it's not the best feeling.
It must have felt great going back to Coachella last year and getting rave reviews.
Yeah, that was my revenge.
The late-night slot made you an official headliner, which must have been an added bonus.
That was the best feeling. It was a big moment. That was like my revenant, pretty much. I came back from the dead. It was revenge in the best way possible. And I hope to do it again.
When you first started and you were releasing your music online without showing your face or revealing your real name, was this moment, now, the end goal for you? Were you thinking this far ahead?
I was very in the moment, to be honest. Of course I always wanted to be the best that I could be. I had my own agenda. I wanted to drop three albums in a year because no one had done it. It was bold, unheard of. And the music no one had really done either. My agenda to be where I am now, came from after touring. Back then I didn't even want to get on stage.
Really?
Yeah, but as soon as I got onstage and I saw people [it changed]. After I started touring I watched Live Aid with Queen, Phil Collins and Elton John and that's when I said I want to do this: Big stadiums, bigger than life [records]. But back then, no. Back then it was just about the three albums.
What was the vision for "Beauty Behind the Madness"?
When I was performing the songs on "Kiss Land," it was a great singalong. But there were moments where I realized some parts were catchier than the others. There's maybe two choruses on all of "Kiss Land." I wanted that feeling more for this album so that when I went back on tour I wanted people singing everything. The next album might not even be anything like this. It might be me whistling the whole thing. I get bored easily. Even when I write songs, sometimes I'll start writing and I won't even finish it, I'll just go to the next.
There certainly has been a major shift in R&B between "Kiss Land" and "Beauty." You turn on radio and even when it's not you, it is you. To inspire a sound has to be flattering.
Oh it's flattering, of course. It means what we're doing is connecting with people. I mean you don't want people to listen to your music and go, 'I don't want to do this.' But only I can do what I do. It doesn't feel like a threat or anything, it's flattering. I would actually love to collaborate with a lot of the young artists coming out.
When did you first notice your style was catching on?
Believe it or not, around "House of Balloons" and "Thursday" [mixtapes]. I felt like elements of it was starting to be used in mainstream. Again, flattering. I've never listened to anyone and went, 'Oh this guy is jacking my [expletive].' It's a great feeling. It means what we're doing is right.
A big leap toward pop audiences started with the Ariana Grande duet. At the time it felt a little like a left turn for you.
It did. A lot of people say that what I do is experimental, but to me it was the norm. Going into that world really felt experimental for me. It was more of me wanting to work with someone like Max Martin. I'm a sponge, I really wanted to work with someone like him and his team. It was kind of my ticket into that room — and it worked.
And of course Ariana is so great. It was a smash no matter what music you listen to, there's such a great vibe to it. It was great for my career. It was a great alley-oop for "Earned It" and everything else. it worked really well. I didn't think anybody knew who I was on that side of the world.
"Fifty Shades of Grey" was an obvious fit for your music, "Earned It" pushed you further into a new audience. Was knowing what the film could be — the massive built-in audience, the anticipation — the selling point for you?
I knew exactly what that movie was going to be. "Fifty Shades," you certainly knew about it before the film. I did like five records for it actually. It wasn't like, "OK, this is the one." ["Earned It"] was a mix of the sexy, dark music I was doing and the Ariana Grande record. It connected as soon as you heard it. I had never done anything like that before. I don't think anyone had heard anything like it before and getting nominated for it is just … wow.
It really drove the movie.
It's very cinematic.
It was a highlight at Coachella.
At that time it was the biggest singalong record I had. "The Hills," I had performed it but nobody knew what it was yet. I love moments like that.
Between "Earned It," "The Hills" and "Can't Feel My Face," you were the king of pop radio this summer. "Can't Feel My Face" really lit up in the zeitgeist — the covers, the parodies, you couldn't escape it.
Tom Cruise lip-synced it! Seeing that, it did something to me. I mean, I had never done a record like that. It was a risk. You want to do risks. Will I do another song like it? I don't think so, because I did it.
You made history with "The Hills," when you replaced your own song at No. 1. Were you surprised at all that the less obvious hit was the bigger smash?
That's probably the most important song in my career because it is the Weeknd and the irony being it was the most successful song that I had ever done. But would it have been as successful if "Earned It" and "Can't Feel My Face" hadn't come out? Maybe not. The stars just aligned.
Before you released "Can't Feel My Face," it leaked online. How do you deal with things like that?
Yeah, that was a nightmare. It ended up being some 16-year-old kid from Germany. It's terrorism. They hack into your thing and then they ask for money. We worked fast. On top of that [happening] we were finishing the album. It was a stressful moment. But well worth it. What an experience, man. Every album is a great experience, a learning experience. And to now have a record and album of the year nomination.
This is a year where everyone has mostly agreed on the nominations. Is there one where you say to yourself, 'I want this over any of the others'?
Of course. Puff [Sean "Puffy" Combs] once told me, once you taste a hit you want more. It's blood. There's no real answer to it other than yes. But you have to just sit down and enjoy the moment.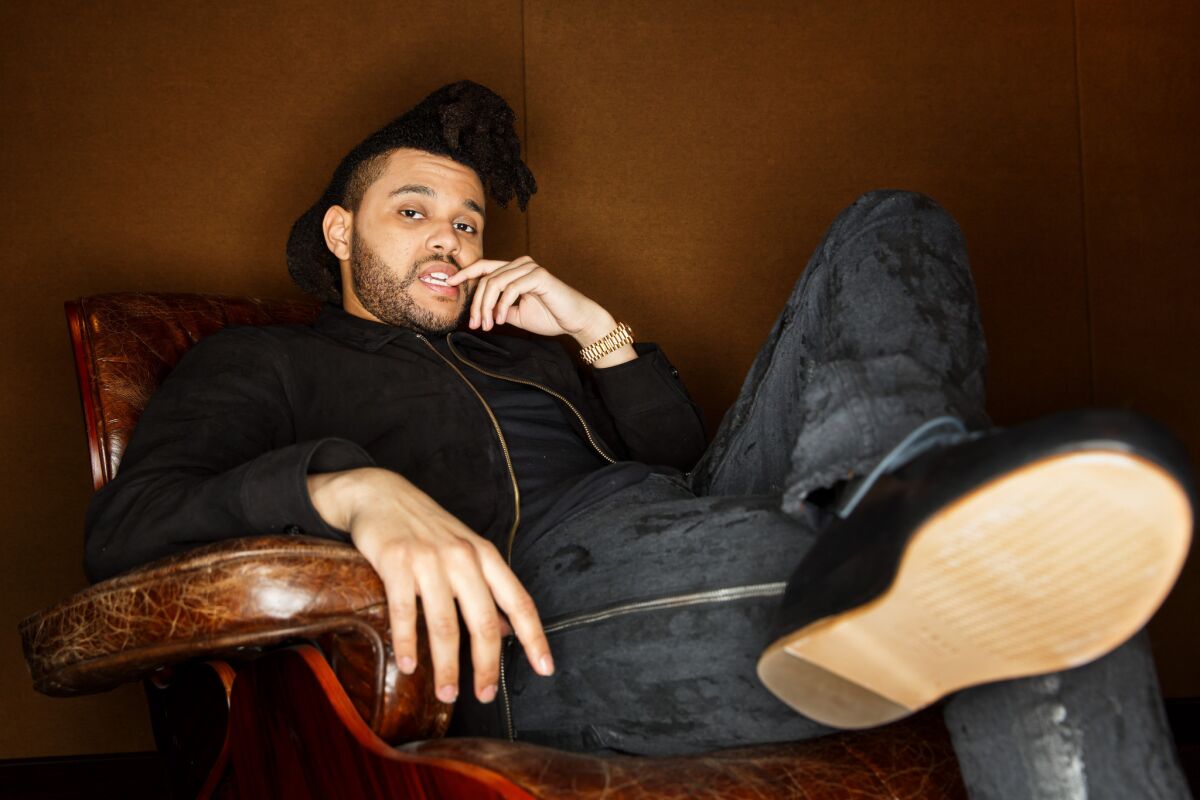 You're also nominated for an Academy Award. The controversy about diversity among the nominees this year has been widespread, and you're the only major person of color nominated.
I didn't even realize it. When I got nominated I wasn't really looking at any other nominations. I was ecstatic, I was so happy. What an overwhelming feeling, it's the Academy Awards. It's like your hard work is finally getting recognized.
You know, music is so diverse. My fans couldn't even put a face or color or anything to my music. The same with film, it's such a diverse thing. Every movie you see now is inspired by diversity. So it's unfortunate.... but I think it's much deeper than the academy or deeper than the film or music industry. It's an issue that the nation has been dealing with, and I'm glad this has sparked a conversation ... it needed to happen. And good for the academy for trying to make the new changes.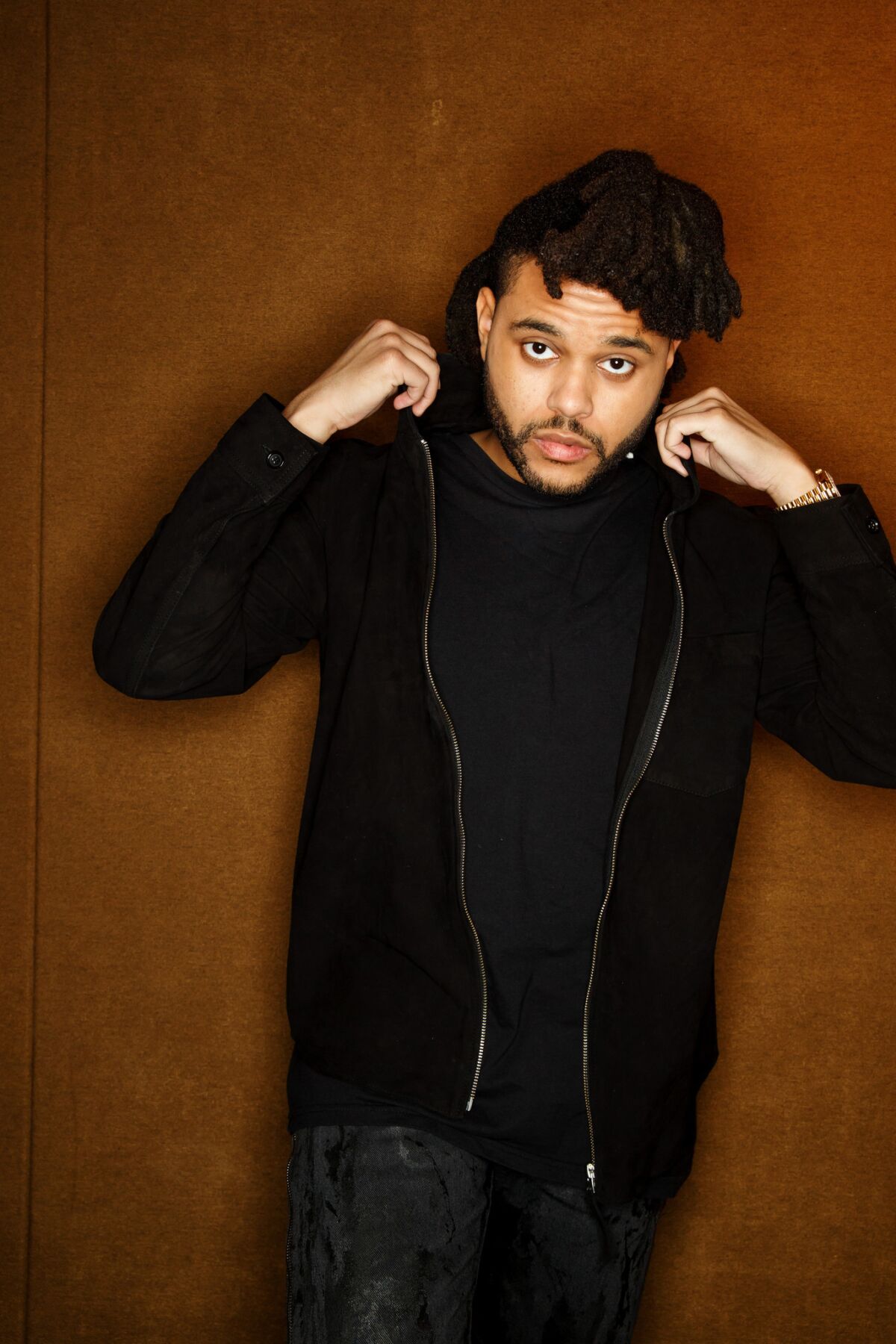 Do you feel any extra or added pressure stepping into that room because of that fact?
Oh, yeah. If Chris Rock pulled out it would have been like holy ... I definitely can't show up. [Laughs]
What's next after this? A break? Back to the studio?
I've already started. What am I supposed to do? I'm a studio rat. All I do is make music. I'm thinking about music right now. How do I reinvent myself, of course. I'm not cutting my hair though. [Laughs]
How many times do you get asked that?
I used to get asked that a lot. But now they are saying, "Don't cut your hair." People asked what I wanted to do with it. It was really me being, not lazy, but me focusing more on what I'm doing in front of me versus how I look.
The album still has legs too.
I've got at least three more singles [to come]. I'm shooting a video in a few days for "Acquainted." I kinda want to sit back. I don't want to oversaturate the market quite yet.
You never know what the impact is going to be after the Oscars or the Grammys. That's a whole new America. There are people who don't even know who sings "Can't Feel My Face."
"Can't Feel My Face" is obviously a nod toward Michael Jackson, and you spoke at length about his influence in a recent documentary about "Off the Wall." Tell me more about his influence on you.
Michael, man, that guy was the star. He invented the star. There will never be another Michael. I want to make it very clear that I'm not trying to be Michael. He's everything to me, so you're going to hear it in my music. "Off the Wall" was the album that inspired me to sing. It helped me find my [voice]. I didn't understand what songwriting was before "Off the Wall." "Don't Stop Till You Get Enough," I kept singing that, and I found my falsetto.
It wasn't until "Bad" when I wanted to be a songwriter. "Dirty Diana" is my favorite song of all time, it is literally my No. 1. It takes all these genres and it puts it into one song — rock, experimental, hip-hop, R&B. It's why I wanted to write these dope songs.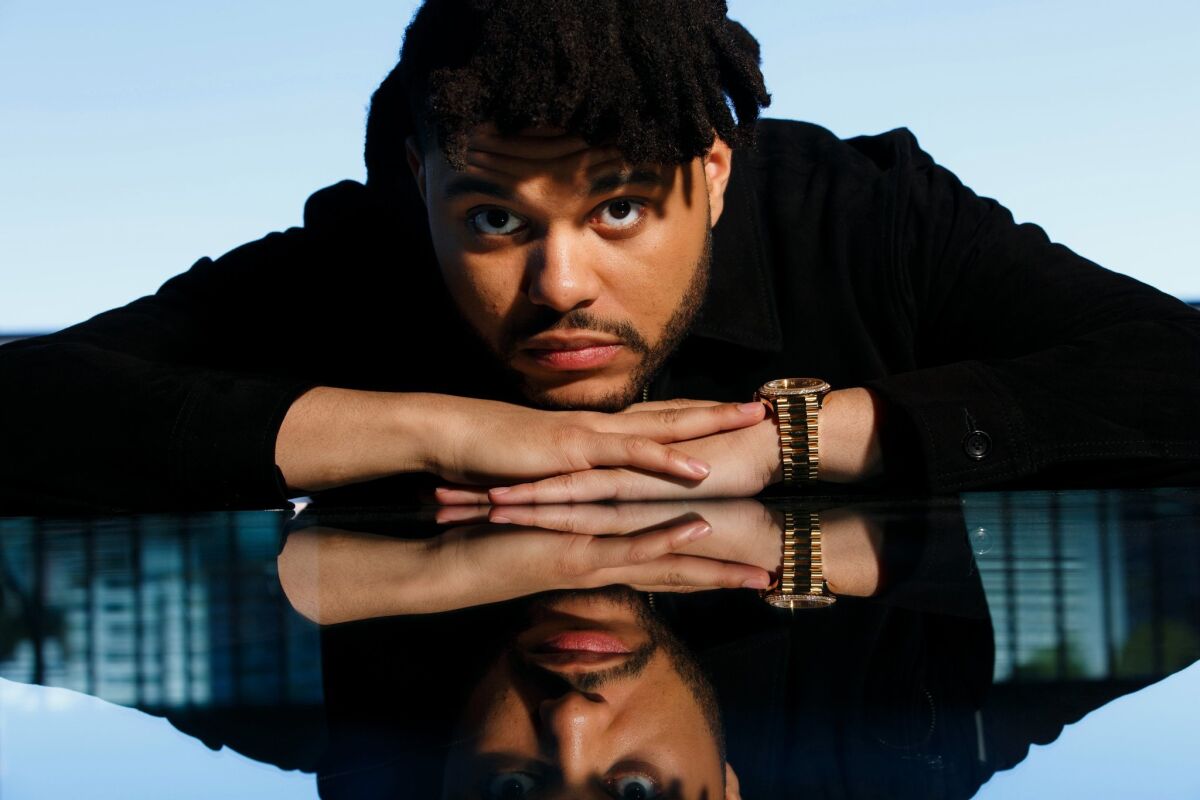 You sounded more comfortable as a vocalist on "Beauty Behind the Madness." Is that an accurate observation?
Yeah, my singing is of course much more — I don't know the word to say, experienced. I toured my ass off so naturally you're going to become a stronger singer. But I also, in the mix, made sure that my voice was very upfront as opposed to my past work where I tucked in the back and used my voice as an instrument as opposed to a lead character in the song.
This album is different from anything I had ever done. I'm just so proud of it. And nominated for best album? The last time a solo black artist won was Lauryn Hill and then OutKast. This year you have me and you have Kendrick [Lamar]. The Grammys really nailed it this year. You've got Alabama Shakes, which is just great, and Taylor Swift with all of her hit singles. We're on our toes this year.
Anybody could get it, and losing to any of them, I would give them a standing ovation. You can hear all the hard work in those albums. It was a great year for music.
Now that you've found a wider audience, what do you hope to do with this moment?
I don't know, man. You've gotta live for the moment. There's always touring. I never really understand what I want until after touring, after I feel like I've sang my heart out to all of these songs.
What comes next? Great music. Experimenting. Going into territories that I've never been in before. Collaborating with artists that I've never collaborated with and always wanted to collaborate with -- producers, songwriters. With the trilogy I did everything myself alongside the producer that worked on it. I wrote everything by myself. I didn't want to work with anyone. I'm in a different space now. I want to collaborate. I want to learn.
For more music news follow me on Twitter: @gerrickkennedy
MORE:
How the Weeknd went from Internet oddity to Oscar nominee
Chris Rock's walk-on song, Stacey Dash's awkward wave: Here are the night's more memorable moments
Album review: The Weeknd clears away the haze for 'Beauty Behind the Madness'
Oscars 2016: The complete list of winners and nominees
Meet the man behind the Weeknd's Grammy-nominated 'Beauty Behind the Madness'
Get our L.A. Goes Out newsletter, with the week's best events, to help you explore and experience our city.
You may occasionally receive promotional content from the Los Angeles Times.