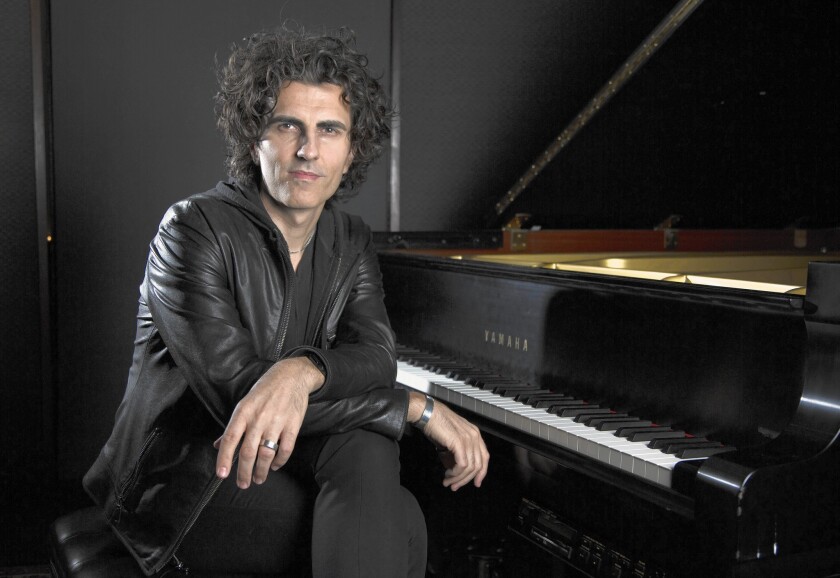 Stephan Moccio is a songwriter and producer who helped create one of last year's edgiest — and most successful — pop albums in "Beauty Behind the Madness" by the Weeknd.
The record, which is nominated for several prizes at next week's Grammy Awards (including album of the year), opens with a blast of scouring guitar fuzz that gives way to a song called "Real Life," in which the R&B singer born Abel Tesfaye warns his listener that "this boy wasn't meant for loving."
See more of Entertainment's top stories on Facebook >>
"Don't waste precious tears on me," he goes on. "I'm not worth the misery."
Pretty dark stuff, and that's before the Weeknd has even descended into his album's sex and drugs demimonde. Yet it wasn't that long ago that the man partly responsible for "Real Life" was mixing with a different crowd as the hired entertainment at the fanciest piano bars in Toronto.
"I was playing, you know, 'Misty' 400 times a night," Moccio said recently, referring to the standard made famous by Johnny Mathis. Seated behind a grand piano inside a Santa Monica recording studio, Moccio, 43, began tinkling the familiar melody. "But watch this," he added, and suddenly "Misty" transformed into a lush, romantic version of "Real Life."
"See, the chords are rich," he said, exposing the handsome structure beneath the Weeknd song's gritty façade. "But you've got to be careful: If you serve up too much of that, it's like overdosing on butter."
Recognizing the right blend of acid and butter — of new-school attitude and old-fashioned razzmatazz — has lifted Moccio to an enviable perch over the last 2 1/2 years. In 2013, he scored a No. 1 hit with "Wrecking Ball," the scarred but exultant power ballad by Miley Cyrus. And in addition to "Real Life," his collaboration with the Weeknd yielded the album's bleakly pretty closer, "Angel," and "Earned It," first heard as the creepy-tender waltz played over the end credits of last year's "Fifty Shades of Grey."
Nominated at the Grammys for R&B song and song written for visual media, "Earned It" is also up for an Academy Award for original song.
"I wanted something that felt powerful yet vulnerable, broken but at the same time yearning," said "Fifty Shades" director Sam Taylor-Johnson of "Earned It." "It had to embody all these contradictions. Hearing Stephan's song with Abel's voice as it comes through the dark — it's one of the things I'm most proud of about the movie."
Growing up studying classical piano near Niagara Falls, Canada, Moccio knew from a young age that he wanted to write and produce songs. During college he sent a demo tape to David Foster, the veteran hitmaker (and fellow Canadian) known for his work with Whitney Houston and Celine Dion, and "by some miracle," Moccio recalled, Foster got in touch and told him to keep it up. Eventually Moccio landed a publishing deal in Toronto and started writing; the piano-bar gigs kept him afloat as he established a reputation.
In 2002, he got a major boost when he co-wrote "A New Day Has Come" for Dion, which led to work with many other Canadian artists as well as a commission to write the country's official theme for the 2010 Vancouver Olympics. He also made two solo-piano albums and did a stint in 2012 as a judge on "Canada's Got Talent."
"I thought being on the show might help the piano records, but all it really got me was a hell of a lot of great scarves from Giorgio Armani," he remembered with a laugh.
The attention at home was gratifying, Moccio said, but it wasn't enough to satisfy his ambition. So in 2013 he moved with his wife and two children to the global pop music hub of Los Angeles. He'd only been here a couple of weeks when he co-wrote "Wrecking Ball," which — like the Weeknd songs — sets an anguished vocal against traces of classical piano.
One fan of the tune was Mike Knobloch, president of film music at Universal Pictures, whom Moccio met by chance at a benefit gala shortly after the song topped Billboard's Hot 100. Impressed by what Moccio had to say about his work, Knobloch quickly recruited him to write for "Fifty Shades," which was then in development. Moccio ended up overseeing "Earned It" and another track, "I Know You," sung by Skylar Grey.
"Stephan knows how to do the goosebumps, hair-on-the-back-of-your-neck thing," Knobloch said. "His songs grab you by the shoulders and pull you in."
Moccio said he has mixed feelings about L.A.'s crowded songwriting scene, which can resemble a "bloodbath," as he described it, with groups of writers vying for limited spots on albums by A-list stars like Rihanna and Katy Perry. The competition can be productive, he said, but the pressure to make a hit can also suck the life out of songs.
"Every great piece of music was created out of experiences — blood, sweat and tears," he said, whereas the system in place here encourages a more clinical approach. "I can't subscribe to that."
Moving forward, Moccio said he's determined to take on only projects to which he feels a strong emotional connection, beginning with the debut album by Maty Noyes, a young female singer featured on the Weeknd's "Angel." At his studio, Moccio played a couple of tracks they've been working on together; one was an elaborately scaled orchestral disco cut à la Barry Manilow's "Copacabana." (Talk about the right amount of butter.)
He's also written with the British singer Jessie Ware, and he's talking with Tesfaye about the next Weeknd album. There are also, of course, two more "Fifty Shades" movies in the pipeline, for which Knobloch said he "can't imagine" not using Moccio.
The songwriter's goal for 2016 is to "move the needle just a bit," he said. "We've been going through a phase saturated with EDM, but sometimes you just need to hear wood." He rapped his knuckles on the piano.
"This is my weapon."
---