Sunday Conversation: Mariah Carey dishes on new music, tour — and that performance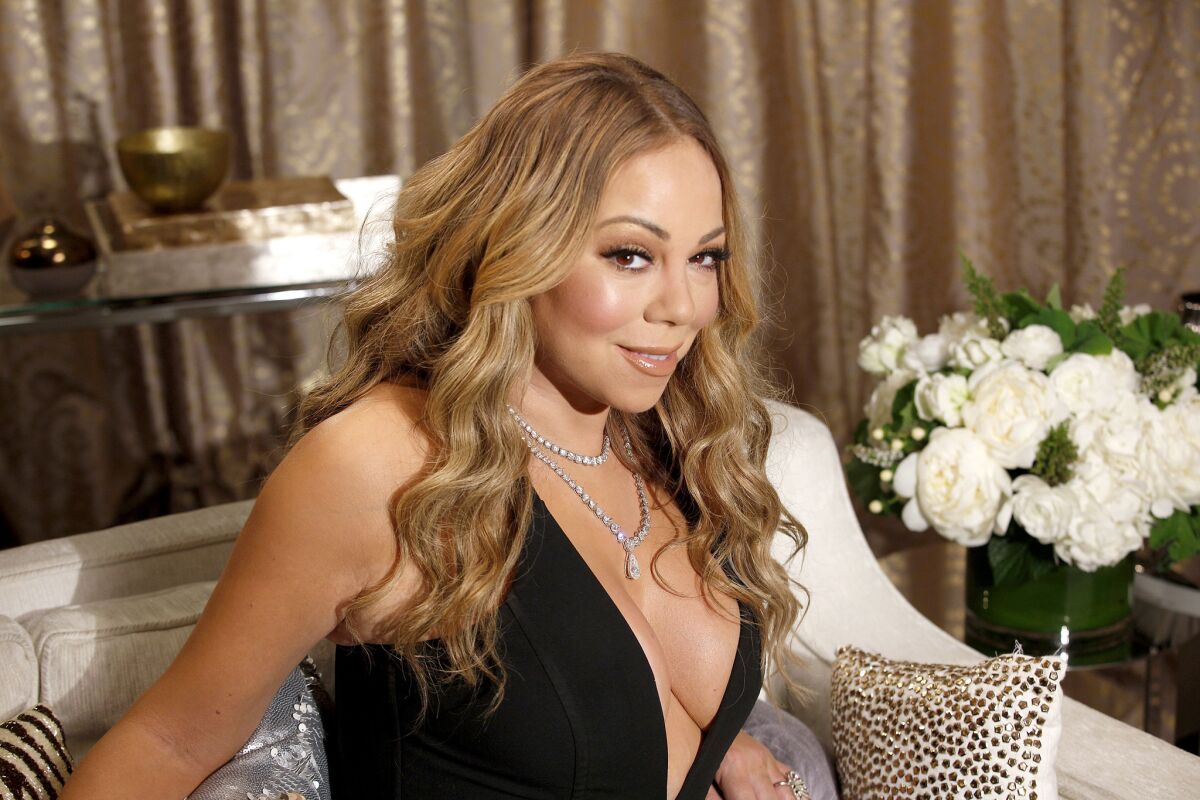 Mariah Carey was unfazed by the chaos that surrounded her inside her secluded Beverly Hills estate.
A warmly decorated sitting room was on a recent afternoon being turned into a set as the singer sat in a plush, oversized chair twirling a diamond butterfly ring while a production crew worked around her.
The 46-year-old singer-songwriter is used to this, having spent a chunk of the past year trailed by cameras for "Mariah's World," her over-the-top documentary series that recently concluded and proved the superstar — one of pop's most successful artists with a career spanning nearly three decades — doesn't take herself too seriously.
But all of the bustle isn't for a show or a new music video. Instead, the star is doing a day of press for an upcoming tour, a trek she's squeezing around her ongoing residency in Las Vegas as well as the release of "I Don't," her first single in two years.
It's the first time she's spoken to reporters since a disastrous technical mishap turned her performance on New Year's Eve into a viral moment that caused the singer to go on a break from media. After sending the crew and her handlers out of the room, Carey is ready to talk.
There was much controversy with your New Year's Eve performance. What happened?
The whole thing was messed up. If I can't hear the music, I can't sing to it. And when there's no monitor in your ear or if they are not working properly and certainly if the mike is off, I can't make it work. I'm not a technician. I can't sit on the bus and figure out all the subtleties of how to make this thing work and also be on the stage. Someone should have walked me off stage and they should have cut to commercial. That would have been the appropriate thing to do. But no, they stood there and let that nonsense happen.
You need to be able to hear yourself. If that's gone, then the only thing you can hear is the audience and they hear it with the delay. So they are hearing it to a different beat than what everyone onstage is hearing it. It's a couple of seconds delay. From my perspective, I can't do anything. There was absolutely nothing I could do at that moment. And no one is coming to save me.
There's always been a great deal of criticism toward you whenever you've had an onstage misstep while other performers are embraced for their mistakes. Why?
I don't want to sound like — to quote my own song — a pity party of the year. But I would like to know.
I have a few theories. I'm just not sure that everybody would understand. I think to some people, I'm a nebulous person -- ambiguous, and they don't know how to categorize me and that scares some people. That's what I feel. And it's always something that's followed me. Also, I may be perceived as somewhat over-the-top. Then again you look at other artists and they do whatever they want — and I would have added two more words to that sentence. But when it comes to me it's, "Oh well, she's not allowed." Maybe it's just too difficult to give me a break for some people.
Tabloids have long been obsessed with your personal life, but you rarely say anything. Your new single "I Don't" is a nod to your now-canceled wedding. What made you take a more personal approach?
Well technically I still said nothing.
The thing is, people don't know who I wrote what songs about. We can retrace the steps for a long time. Some are imagination and some are about real-life situations. It depends on the album. A lot of the more sad songs or some of the love songs and even the festive ones -- the "Honey" type songs in my little world — that approach happens subliminally. I was writing with [songwriter] Crystal Nicole. We worked on "Touch My Body" together and I like working with her because it's cool to write with a female sometimes. I like collaborating. We were sitting there writing and I was subconsciously saying stuff. I don't think that when we wrote that everything was over. So it was definitely inspired by my life, but most of them are.
Is that really your actual wedding dress being torched in the music video?
It was a dress from a bridal store. But it wasn't that dress.
Have you begun work on a new album?
For me, I'm taking it song by song. And I have another song with somebody that I'm very excited about, but can't talk about. I can't pinpoint exactly who it is, but we have collaborated before. I really, really love this song. I feel like people are really focusing on singles these days and I've never had that — it's always been album, album, album.
But I can't be out of the studio anymore. I grew up in the studio. I love it. I did my first demo when I was 12 years old in the studio as a backup singer for someone else, a friend of my mother's son. I just love it. I had been on the road, away from it. But it was so refreshing to get back in. What I like to do is go somewhere tropical or whatever and make an album. I don't mind jumping around right now and doing songs with different people because I feel like it's inspiring.
You're going out on the road with Lionel Richie this summer. That's quite a left-field pairing.
It's a bit of a surprise, I know. Here's the thing. He's a legend. He's been doing this since before I was born and I really respect him. We had a conversation about it. It's interesting because I'm going to be on my own set in the middle of his show. I'm going to do like an hour. And I know you've gotta do the hits, but I want to do some fan favorites. The obscure songs that the real fans will know.
This fall your "Butterfly" album is turning 20. You've called it your magnum opus, any plans on marking the occasion?
I'm going to treat it as my anniversary, so I'm also turning 20 this fall. That album was the real "Emancipation" — that's when I was able to be free. It was the first time I was able to do a video that I like, the "Honey" video. It really was a freeing experience. It was the first time I ever had a good time making a video. And the album itself, I just put everything into it. I really love the album, still. I'm definitely going to try to do something special for the fans for the anniversary.
Let's end with this. What's your favorite guilty pleasure?
Netflix. Right now I'm obsessed with "Revenge," but I'll never let go of "Scandal" — I'm still a Gladiator. I'm not going to get into a critique of the show, but I like that I can binge-watch it. I can't get into another show until I get done with these two. Even though it's driving some people crazy around here.
See the most-read stories in Entertainment this hour »
For more music news follow me on Twitter:@GerrickKennedy
---
Get our L.A. Goes Out newsletter, with the week's best events, to help you explore and experience our city.
You may occasionally receive promotional content from the Los Angeles Times.