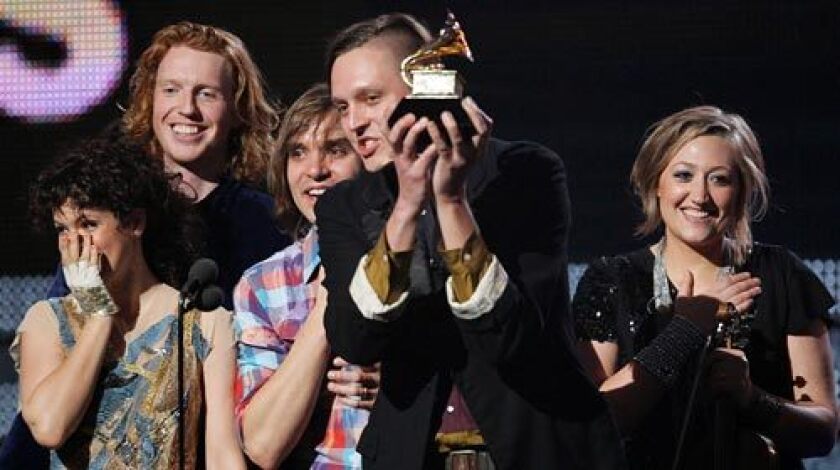 Uprisings have been in the news of late, and here was another one. This year's Grammy Awards ceremony, telecast from Staples Center Sunday night, was a generational takeover and an airing of the widening gap between the traditional corporate music industry and the dynamic, diverse culture that's redefining the very nature of popular music right now.
The long show's defining moment came at the very end, after the Montreal-based indie rock band Arcade Fire claimed a surprise upset for best album. "We're going to play another song because we like music," said a flushed Win Butler before his band commandeered the stage for one last song, making a statement that you'd think would be a given for any musician, but which actually spoke to an ever-intensifying debate within the pop world. Many top acts are now dogged by accusations of not being musical at all – of being all about spectacle, studio trickery, and the execution of exhausted formulas. Yet here was a Grammys show full of bold moves and noisy risks, most taken by young artists, capped by a triumph for the band that, for many serious music fans, defines uncorrupted artistry.
The contrast the night's most notable winners embodied is stark. On the one hand, Lady Antebellum, whose easy-listening country pop typifies the kind of commercial crossover sound that's moved units and won industry awards for at least half a century, took home a startling five gramophone statues and destroyed rap's grim standard-bearer, Eminem chance to leave his outsider past fully behind.
The Nashville trio's success seemed like a victory for the commercial old guard identified with carefully crafted, highly accessible golden hits, an impression reinforced by the group's Nashville affiliation and its weirdly conservative-seeming name, which seems to celebrate the pre-Civil War South. In a field of major nominees including the ever-challenging Lady Gaga, the brash Cee Lo Green, and the playfully innovative Bruno Mars, Lady Antebellum couldn't be more beige in tone.
Then there's Arcade Fire, who took the stage at evening's end and smashed through a cacophonous, jubilant rendition of "Ready to Start" that included chaotic shouting, careening guitars and Regine Chassagne's walloping Creole-flavored drumming. The band's one prize was a huge one not only because its music is so inspiring, but because it records for Merge Records, a longstanding independent label that epitomizes how artists can operate successfully outside the corporate system.
Though in many ways, Arcade Fire's music is actually fairly old-fashioned – this is an arena rock band, heavily influenced by elders like the Talking Heads and U2 — its style is forcefully bohemian and its artistic practice is grounded in progressive values of communal creativity and a grassroots connection with its fans. While the major label-driven industry cowers in fear of the Internet's destruction of old sales models, Arcade Fire stands as a model of how artists can both retain creativity and reach a large and loving audience.
As thrilling as that final award was for anyone who cares about individuality and daring in pop, it was only one moment in a night full of brazenly creative moves. Time and time again during the three-hour telecast, the newer talents moving pop forward showed their willingness to take risks and seize the chance to distinguish themselves from what's come before, even as they paid conscientious respect to the older stars who devised the language they're now rewriting.
The program's formal tributes, including the opening tribute to Aretha Franklin featuring a cross-section of wailing divas and the more subtle nod to Dolly Parton by John Mayer, Norah Jones and Keith Urban, weren't as interesting as the ones that shone through as subtexts within individual performances. Lady Gaga's rendition of her new single "Born This Way," which had her emerging from a giant egg, took her glam persona in a new direction by incorporating the disco flair of artists like Chic and Sylvester.
Cee Lo Green, duetting with Gwyneth Paltrow in a skit that also featured the Muppets, found the wit in what might have been a degrading pose by presenting himself as the love child of Elton John and funk forefather George Clinton. The trio of Janelle Monae, Bruno Mars and B.o.B. gave a retro-futuristic spin to classic R&B style, while two folk-based groups, England's Mumford & Sons and North Carolina's Avett Brothers, survived the daunting challenge of performing with their hero Bob Dylan by feeding punk energy into their traditionalist sounds. And Rihanna came close to the carnal authority of the young Tina Turner performing her hit "What's My Name" with the rapper Drake, in what had to be one of the sexiest performances the Grammys have seen.
The night didn't only belong to the young. Mick Jagger, in particular, came off as miraculously energetic paying tribute to the late Solomon Burke (though it would have been nice if Raphael Saadiq, the living soul man who backed up Jagger, had been publicly acknowledged.) Dylan brayed his way through "Maggie's Farm" with his usual flair, maintaining his position as pop's top old trickster. Barbra Streisand didn't do as well singing "Evergreen"; the great singer was in better voice Friday night at the MusiCares gala that honored her as Person of the Year.
Though the lineup's generational range was impressive, in the end the spirit belonged to the future, as unpredictable and fragmented as it may seem. From Justin Bieber, who outshone his mentor Usher in their martial arts-inspired production number, to best new artist underdog Esperanza Spalding, whose success may throw deserved light on jazz's vital newcomers, to the English band Muse, whose big-concept stage show proved there's still more than one way to fill a rock arena, this was a Grammys that could make viewers believe that pop is anything but dying. It may not be easily categorizable; it may not unite large audiences behind a single still. But music, even in this most mainstream setting, can still set a blaze.
---