Blink-182 is older and, its members think, wiser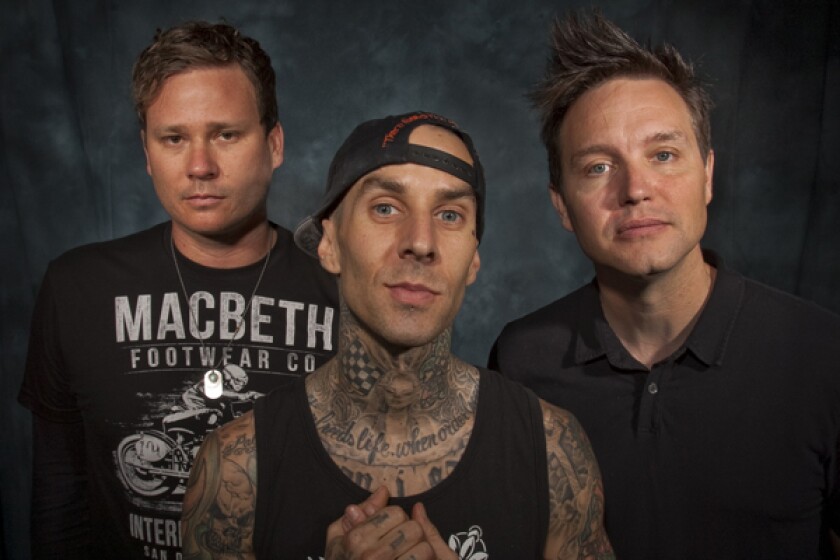 There is an element of calm amid the chaos in Travis Barker's dressing room. It's hours before showtime at Blink-182's concert at the Honda Center in Anaheim, and Barker's three kids are running wild, banging on his drum kit, spinning on a skateboard, playing an unplugged electric guitar, happily tumbling and laughing.
The drummer watches it all with genuine serenity. Even on tour, he keeps the three children close whenever possible. "My kids were very healing for me," he says.
At 35, Barker looks much as he always has, in a backward baseball cap and elaborate tattoos etched across his wiry, muscular body. But a closer look reveals a few tattoos are burned away, and some fingers are scarred, remnants of a 2008 plane crash in South Carolina. Barker and musical collaborator DJ AM were only survivors. (DJ AM later died of an overdose in New York.)
The accident is what directly led to the reunion of Blink-182, which Barker never expected. It wasn't even discussed by band members. Singer-bassist Mark Hoppus and singer-guitarist Tom DeLonge hadn't spoken since the multi-platinum trio's acrimonious breakup in 2005.
Immediately after the crash, DeLonge wrote Barker a personal letter, urging him to get well so they could again play music together. A Blink reunion was a real possibility from that moment forward. A few weeks later, Barker was back home and the trio met at his house for the first time in years.
"It was crazy that it took something like that for us to all come back to earth," Barker says now. "Sitting in the hospital hearing doctors talk about amputating my foot and reading a letter from Tom, it was pretty simple to me: If everything works out right and I'm in one piece when I leave here, I want to do everything again. When you get another shot like that, you've got to seize the moment."
The band has now been fully in action again for the last two years, culminating this week with the release of "Neighborhoods," Blink-182's first new album since 2003. The band's U.S. Honda Civic Tour ends Saturday at the Hollywood Bowl.
The album became a two-year project for the band, which formed in San Diego in 1992, and was an experiment in the mingling of styles. A struggle between Hoppus' straight-ahead punk aesthetic and DeLonge's growing interest in arena rock first began to emerge after 1999's "Enema of the State." As Blink's popularity grew, DeLonge became fascinated with the examples of the Clash, Police and U2 as bands that ultimately expanded beyond the original punk ethos.
The new album's opening track, "Ghost on the Dancefloor," sums up the new album, with synthesizers and crescendos colliding with traditional pop-punk elements. It's a sound DeLonge has explored for years in his other band, Angels & Airwaves.
"We're such different people," says DeLonge, 35, of his Blink partners. "Mark said it best yesterday: We used to really hate those differences in each other, and that's why we broke up. Now we celebrate those differences, and we use them to our advantage."
Much of the album was recorded in two cities: DeLonge at his studio in San Diego, Barker and Hoppus in their Burbank studio. The album was essentially finished earlier this fall, but Barker urged the trio to convene for one final burst of songwriting and recording. What emerged were some of their favorite tracks on the album, including "After Midnight," which came together in just 45 minutes of inspiration.
"When the three of us are in a room together and things are firing, that's one of my favorite times to be alive for sure," says Hoppus, 39.
Early reactions to "Neighborhoods" note a growing darkness amid the sunny punk-pop hooks, not surprising given the circumstance of the band's reunion. There was also the death of longtime Blink producer Jerry Finn, plus other friends and family. DeLonge was also diagnosed with skin cancer (which he says has been beaten back).
Hoppus noticed that darkness only when he began proofreading the lyrics. "These are all really heavy lyrics, and they all talk about loss, death, addiction, anxiety, fear, oppression," he says.
While growing as musicians and songwriters, Blink's members also have embraced the old songs onstage, with no plans to change anything in their original pop-punk recipe. There was a time when Hoppus cringed at the thought of performing the adolescent angst of "What's My Age Again?" and other early hits.
"Toward the end of the first Blink-182 (period), it pained me to play 'All the Small Things,'" Hoppus says. "Travis and I would kind of roll our eyes, knowing that song made our band. That was the first time it really broke through to the mainstream.
"It's a real a simple song, we've played it billion times, everyone's sick of it. But now I just remember how lucky we are to be onstage playing them, when we wrote them, why we wrote them, how I was feeling at the time. And they're fun to play again."
Hours later, Blink-182's set is about to begin at the Honda. One by one, they walk toward the stage from their dressing rooms. First in line is Hoppus, raising a plastic cup with a cheerful, "Yeah, rock show!" Behind him is Barker, now shirtless and holding hands with his 5-year-old daughter.
A woman in catering smiles and raises a fist to the band, and DeLonge waves back. Just as he's about to walk through the door to the stage, he sees someone he knows and pauses. "I just want to say hi," DeLonge says. But one of the crew pleads, "Tom! Tom!" and ushers him into the spotlight. The rock show is on.
---
From the Emmys to the Oscars.
Get our revamped Envelope newsletter, sent twice a week, for exclusive awards season coverage, behind-the-scenes insights and columnist Glenn Whipp's commentary.
You may occasionally receive promotional content from the Los Angeles Times.