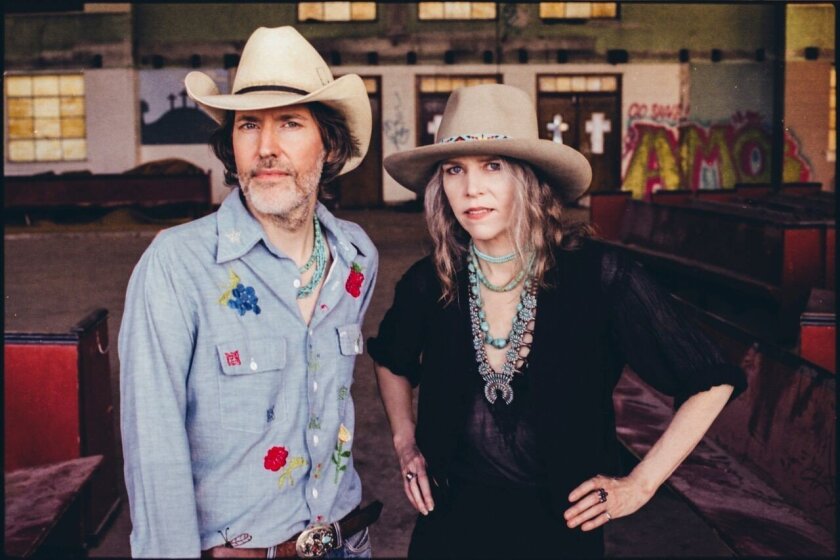 Pop Music Critic
What do roots mean for Gillian Welch?
A nominee for the original song prize at Sunday's 91st Academy Awards, this 51-year-old singer and songwriter is known for working in an old-timey country-music style. (Her 1996 debut was called "Revival.")
But if her tunes seem to look back to a childhood in the Dust Bowl or the mountains of North Carolina, Welch actually grew up in Los Angeles as the daughter of two Hollywood insiders: the late Ken and Mitzie Welch, who for years composed music for "The Carol Burnett Show."
In a way, then, Gillian Welch's Oscar nod — for "When a Cowboy Trades His Spurs for Wings," from Joel and Ethan Coen's "The Ballad of Buster Scruggs" — is the result of more than one type of return: to the wellspring of Americana, sure, but also to the creative method Welch witnessed firsthand as a kid.
"Both my parents had such a great sensitivity for what was needed from a song — for what would be best for a moment," Welch said ahead of Sunday's ceremony, where she and her longtime musical partner, David Rawlings, are expected to perform their nominated tune. "And that specificity was one of the things we really enjoyed about writing for this movie.
"Hitting your marks, satisfying the requirements of a scene — it was almost like a Rubik's Cube."
In "Buster Scruggs," a darkly comic anthology of western vignettes, "When a Cowboy" is sung by Tim Blake Nelson's title character as he ascends to heaven — complete with tiny golden harp — following his defeat in a shootout.
Like much of Welch's music, the song sounds like it could've been written ages ago: strummed acoustic guitar, lonely harmonica, close-harmony vocals that conjure a campfire or a white clapboard church.
Yet it also has a sense of humor that feels tailored to the Coens' movie, with its knowing attitude reflecting the convention of the singing cowboy.
Last week Welch and Rawlings released their own rendition of the song, and Welch said that since then "the No. 1 comment I've heard from people is, 'Oh, it's so much sadder than in the movie.'" She laughed.
"I'm, like, 'Well, yeah — as funny as it is, it's still about death.'"
"Buster Scruggs" isn't the first time Welch has worked with the Coen brothers. She and Rawlings also contributed to the soundtrack of "O Brother, Where Art Thou?" in 2000, which became a surprise commercial hit and went on to win Grammy and Country Music Assn. awards for album of the year.
Not that she took the "Buster Scruggs" gig in hopes of attaching herself to another blockbuster.
"David and I, we're very insular," said Welch, who lives these days in Nashville. "We don't really work for anybody else. But when Joel calls me, what he's basically saying is, 'I'm making this piece of art, and I'm not gonna be able to finish it unless you contribute some of your art.' Suddenly, what we do is needed. That does something in our hearts."
Welch said the Coens' devotion to their craft reminds her of the spirit she saw her parents exercise in their work, which beyond Burnett's show included TV specials for Barbra Streisand, Julie Andrews and Dolly Parton, among others.
"There was a wonderful sense of play around my house," she said. Her close-up view had a "demystifying" effect, she added, "but in the most beautiful way. I grew up behind the scenes, so I was aware that the shiny end product was the result of people who worked really, really hard.
"Fame meant nothing," she said. "I saw whoever I saw — Carol Burnett, Ray Charles, Dolly Parton — in an intimate work environment. I saw them when they showed up at my parents' back door. And so I think I realized at an early age what life looks like for a musician.
"What you do is you sit at the piano, and then you take a break and you make some coffee. You make a piece of toast, and then you go back in and you work."
Did Welch's parents' productivity rub off on her?
"They were writing all the damn time," she said of the schedule required by seven seasons on a weekly variety show. Welch laughed and said the manager she shares with Rawlings had wondered the same thing after they cranked out "When a Cowboy Trades His Spurs for Wings."
"I don't put out records very often," she said — an understatement, perhaps, given that her last studio album, "The Harrow & the Harvest," came out in 2011. "So when I told him that the Coens had said they just needed a song for this moment, he said, 'Could they please ask you for nine more?'"
Twitter: @mikaelwood
---