Review: The all-night, outdoor concert 'Sleep' creates a calming reprieve with a sense of loss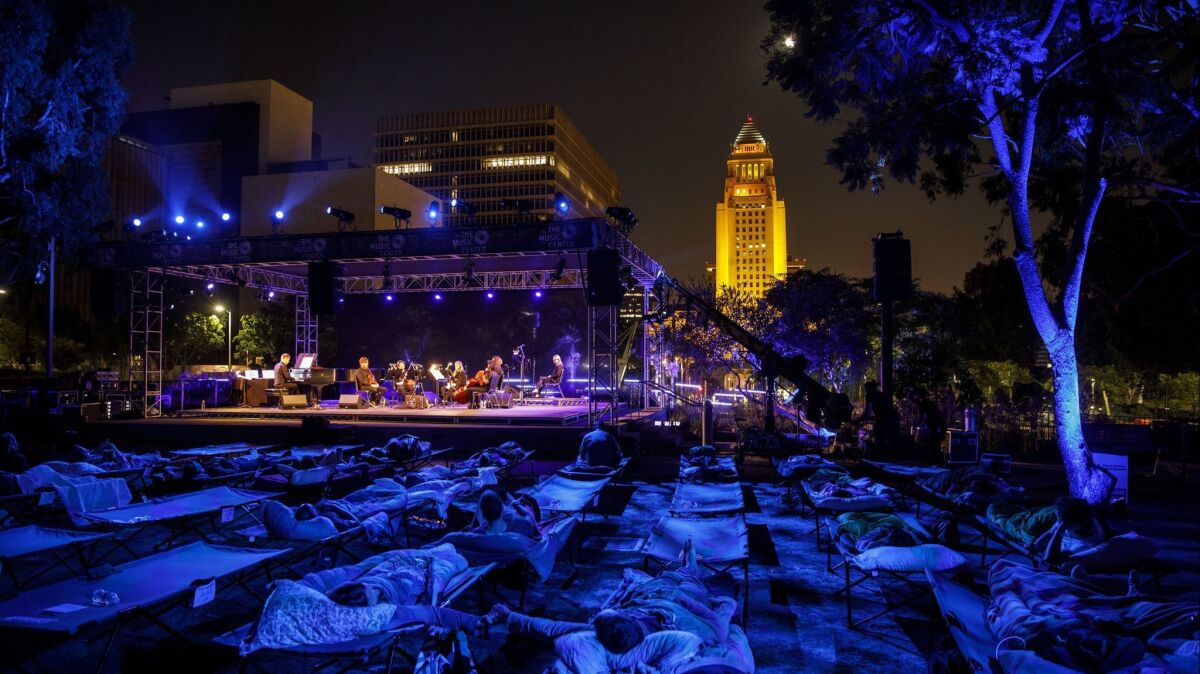 Almost 58,000 homeless people are estimated to bed down on the streets of Los Angeles County on any given night. That fact was hopefully not lost on the 500-plus people who on Friday night took to cots in downtown's Grand Park for one of two eight-hour performances of German composer Max Richter's conceptually vast, intimately emotional work "Sleep."
The title is instructive. Fans were encouraged to bring blankets and pillows to the show to help them drift in and out of consciousness until sunrise. The work — gorgeous, undulating post-minimalism for electronics, piano, voice and strings — was designed to blur the edges of interior and physical life.
Friday's show was the first time Richter performed the piece outdoors, and the site chosen had its own resonances with the music. The mere act of sleeping outside in downtown L.A. has political undertones too.
Each performance, juxtaposed with the sight of City Hall illuminated in gold (a tribute to The Times' late food critic Jonathan Gold, the great connecter and chronicler of our city life), "Sleep" was not just a beautiful, time-bending piece that re-imagined our public spaces.
It was also a reminder of how much we've lost in Los Angeles recently, and how much we've failed to take care of.
The performance of "Sleep" is almost a complete inversion of the concertgoing experience. Usually, a crowd's approval is measured in applause and boisterous reactions. Here, Richter's success was best seen in the fact that, within an hour or two, the audience was truly out cold. Purple ambient lights turned the foliage of Grand Park into an otherworldly monochrome landscape, and City Hall's illumination only added to the surrealism. It was so easy to lose one's sense of space and time.
Sleeping anywhere with anyone is a vulnerable act, even more so in public surrounded by strangers. One's not used to feeling so unguarded in L.A., and there was a fundamental generosity among Richter, the Music Center, Grand Park and the audience to create a space for it. It brought out something primal, to be gathered outdoors with friends drifting off while majestic, unknowable tones rolled over you from across a distant hill.
The music of "Sleep" was monumental, in a literal sense. Its constant, melancholic waves and barely there transitions felt more like a piece of architecture or nature than a work with a beginning and end. Richter's piece was just there, all around you, to be engaged or ignored or pondered as you will. In the hours I was there, I picked up some lovely string harmonies and lulling electronic drones, and pristine vocal slivers from soprano Grace Davidson. But it was hard to tell what was what or when it all came in. For about three hours, I was lights-out myself.
I would have loved to talk with fans about how "Sleep" worked on them. But it seemed not just rude to go around waking people up to chat — it would have been inauthentic to Richter's goal for "Sleep." This was music as a physically communal, but profoundly interior and unknowable experience. The meaning is made when the mind drifts elsewhere.
Anyone who values this kind of shared dreamland in L.A. had to look up at City Hall and know that Gold devoted his life to creating the trust, understanding and community that "Sleep" approached from a different medium. Of course, it was a coincidence that his heartbreaking death and public memorial would coincide with a work like this.
But then, of course, it wasn't. Writers and artists project their visions over scenes and cities, both real and imagined. They have to cross paths sometimes. Whatever Richter's long-planned intention for "Sleep" in Grand Park, the show felt in harmony with the loss of a man who devoted his life to, as he once said, "get people to be less afraid of their neighbors." At "Sleep," no one was afraid at all.
Would that everyone in Los Angeles — music fans, the poor, the homeless and those fearful for the future here — get to rest their heads in similar peace.
For breaking music news, follow @augustbrown on Twitter.
Get our L.A. Goes Out newsletter, with the week's best events, to help you explore and experience our city.
You may occasionally receive promotional content from the Los Angeles Times.