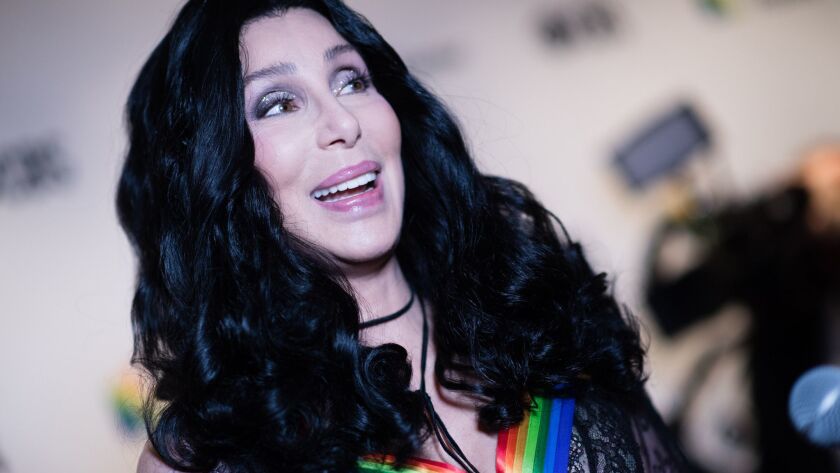 Cher was still feeling the love Thursday morning after Wednesday's CBS broadcast of the 41st Kennedy Center Honors ceremony that took place earlier this month. The pop diva was moved to tears by Adam Lambert's rendition of her hit song "Believe" at the ceremony, which paid tribute to Cher and her fellow honorees, country superstar Reba McEntire, jazz composer and saxophonist Wayne Shorter, composer Philip Glass and Lin-Manuel Miranda and the "Hamilton" team.
On Twitter, the 72-year-old singer said she was having trouble verbalizing how Lambert's soulful performance made her feel because her senses were "overwhelmed" and she could only feel with her heart. She was also "shocked and over the moon" when rock legend Cyndi Lauper surprised her with a performance of "If I Could Turn Back Time" because Lauper had told her she was out of town. Lauper and Lambert closed the show with a duet of "I Got You Babe."
Lambert replied by saying "it was a total honor" and called the Oscar, Emmy and Grammy-winning artist "a goddess."
Lauper also lauded Lambert's performance and recognized some of the evenings other performers, including Kelly Clarkson, Renée Fleming and St. Vincent.
Tried 2 write Feelings About Adam Lambert Singing
Believe In Words,but Cant seem 2.When Your senses are Overwhelmed All Can you feel with your ❤️.
I Was Shocked AND Over The MOON When Cindi (Lauper) came out Rocking the house.
Shocked Because SHE TOLD ME SHE WAS IN LA,

— Cher (@cher) December 27, 2018
& Over The Moon Because
My Friend💋CINDI Is One Of Our"Great"Singers‼️
When ✨Adam✨& Cindi✨ Sang Together It=Heaven 🙌🏻.
"Little Big Town"Were Adorable,& Harmonies✨🌟✨.
Amanda Was Genuine,& Dear🥰,& When Whoopi Came Out In"Cher Outfit"She brought Down House😘.

— Cher (@cher) December 27, 2018
Lambert, the former "American Idol" runner-up, who currently fronts Queen in lieu of the late Freddie Mercury, delivered a slow, tender rendition of Cher's 1998 electric dance track as audience members sang along. It wasn't the first time he performed "Believe" — he sang it during "Idol's" eighth season.
In footage posted online Wednesday, the "Moonstruck" star can be seen wiping away tears from both eyes during Lambert's performance and echoed his last note. This, before she leaped to her feet to join the attendees in a standing ovation.
Follow me: @NardineSaad

---