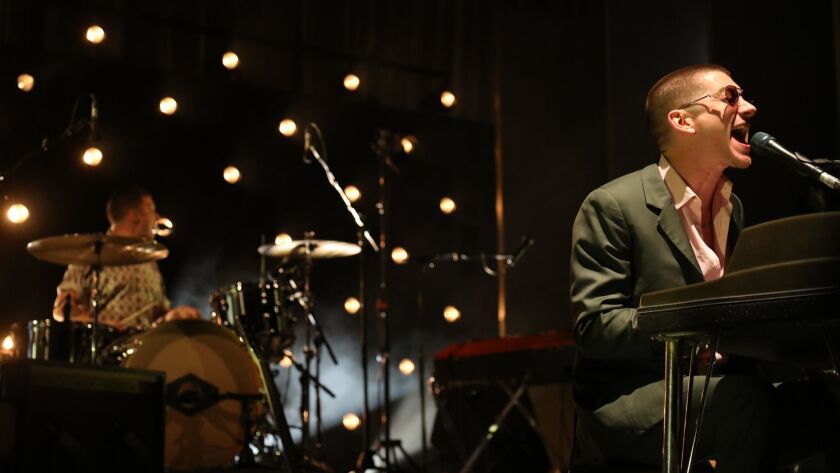 Rock music at the moment is more of a lifestyle aesthetic for rappers than its own force on the pop charts. So Arctic Monkeys picked an interesting time to release their moodiest, weirdest album yet.
The U.K. quartet, which headlined the Hollywood Bowl on Tuesday, is one of the last huge rock acts to have avoided dabbling in the kind of spit-shined, written-by-committee pop that many peers turn to mid-career. It worked out — five years ago, the band upshifted from a witty, restless indie success into arena gods, largely on the strength of the monster guitar riff on the single "Do I Wanna Know?"
But the group, especially singer Alex Turner, is nothing if not self-aware.
It would have been sensible to come back after a half-decade away with a dozen hard-swinging tunes ready for football stadiums. But that's not at all what the Arctic Monkeys did on this year's "Tranquility Base Hotel & Casino," which sprawls like a collection of piano-driven short stories instead of a tight statement piece.
But maybe that's the statement. Arctic Monkeys were no one's saviors when they debuted in 2006, and the band still isn't in 2018. At the Bowl, the act showed that curiosity and introspection are what drives long-term success, even if those riffs get most of the credit.
When the band members, bolstered by an equal number of session players, walked out onto the Bowl stage, they carried themselves with the same arch wariness about rock star-clichés as always. Turner has shaved his head, and now dresses like a gimlet-eyed Miami resort lounge crooner (that's a compliment).
But now that they've stood over a decade as one of rock's most promising — and promise-delivering — bands, they can make even their knottiest material sound compelling on the biggest stages.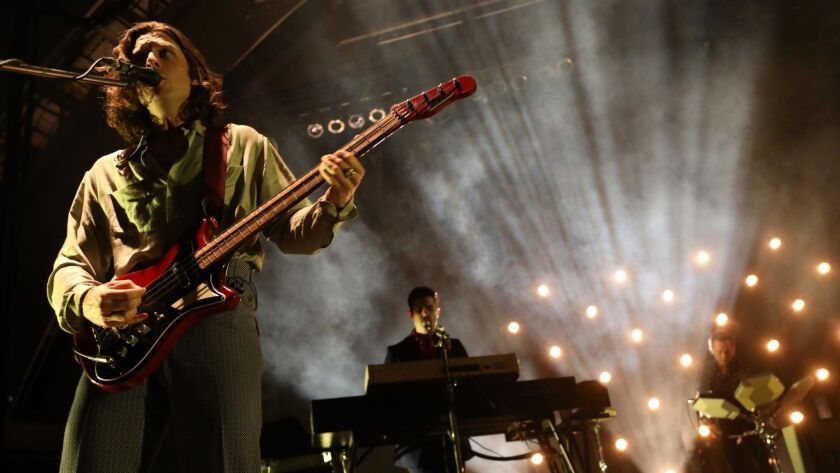 "Tranquility," a sci-fi-inspired, concept-driven album about late capitalism and existential loneliness, would seem like a harder thing to translate here. But it's an album only a band at the peak of its powers would even try to execute, and that showed live. On Tuesday, even when the whole moon-colony lyrical conceit edged up to silliness, the band's airy arrangements and melodies felt right at home on an autumn night.
Writing on piano has brought out something new and vital in the band, and even when it sounds somber it's a lot of fun to watch. Turner looked like he was having a blast playing this kind of casino-lurking character onstage, and he can stretch his legs a bit when he's away from the guitar.
"Four Out of Five" and "She Looks Like Fun" had some of David Bowie's nervous energy and dreamy despair. They played "Tranquility's" title track as a jittery bit of psychedelic R&B. While their early punk-ish material made it all look easy, right now they're clearly a band that's worked hard to turn themselves inside-out.
It's probably not fair to expect any new material to match the rock-radio ubiquity of "Do I Wanna Know?" and to the band's credit, it was obviously not trying to on this album. But Arctic Monkeys know what a tune like that does live, especially as a palate cleanser from all the late-night brooding.
When they did uncork it, along with a smattering of early hits like "Brianstorm" and "I Bet You Look Good On the Dancefloor," it zapped back all the excitement and potency of their debut LP and late-career ascent.
Escapism is a pretty inviting theme these days, and it's easy to see why a massive band would indulge it a bit at this point in its career.
But Arctic Monkeys are perhaps our most skeptical rock stars: forever cockeyed about genre, of fame and of themselves. And like their new low-buttoned lounge shirts and sunglasses at-all-times aesthetic, Arctic Monkeys wear it well.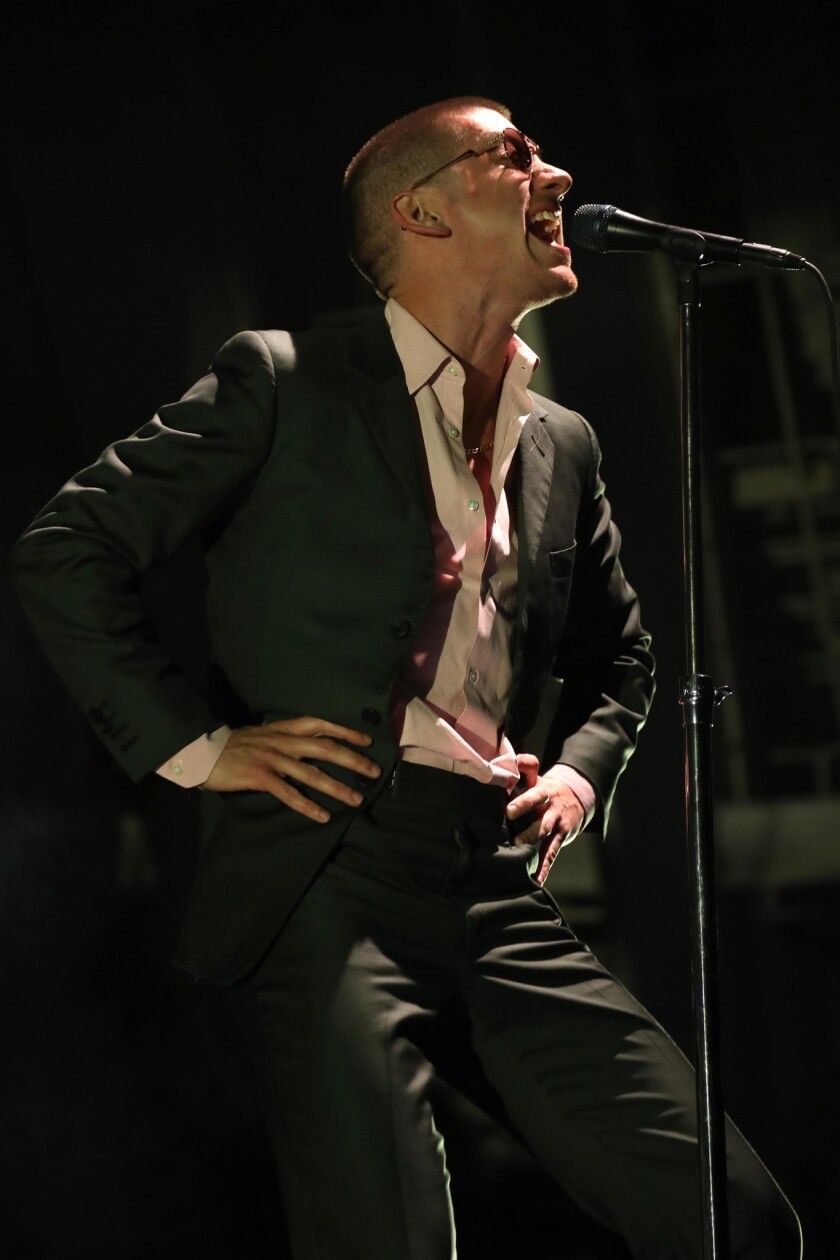 For breaking music news, follow @augustbrown on Twitter.
---