Why Ashley McBryde is making country music without a safety net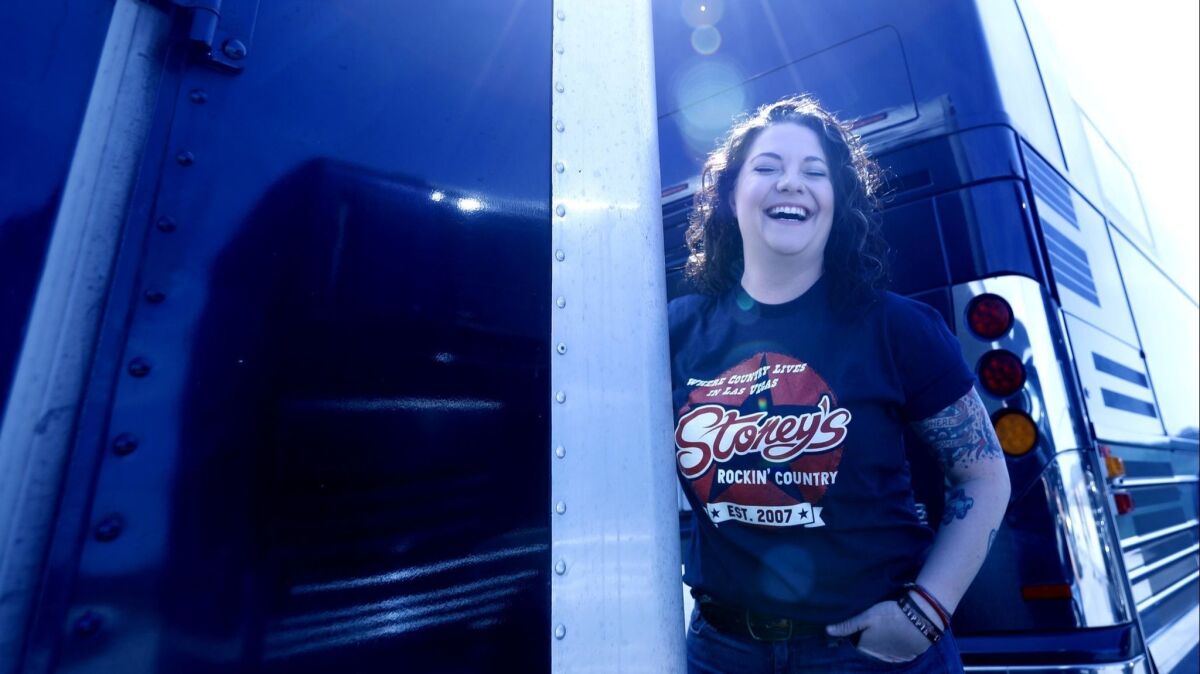 Pop Music Critic
This weekend Ashley McBryde is set to play one of country music's biggest stages — and shortly before one of its biggest stars — at the Stagecoach Festival in Indio, an experience she describes as a "rite of passage" for any country artist looking to make her mark.
"I didn't believe it when they told me I'd gotten the offer," the singer said recently.
She should have: McBryde's booking Sunday at the three-day blowout — which will also feature Keith Urban, Kacey Musgraves and a festival-closing performance by Garth Brooks — is in keeping with the nearly universal acclaim for "Girl Going Nowhere," her major-label debut album.
Critics have praised the emotional acuity of McBryde's songwriting. Fans have pushed her streams into the millions. And not long ago Brooks himself covered the album's title track during an arena concert in Washington.
Yet none of this kept McBryde, 34, from doing her thing this month in the more modest environs of the tiny Camarillo Airport, where she was helping to warm up the crowd gathered to see Luke Combs at an outdoor show sponsored by Ventura County's KHAY-FM.
Backed by her hardy road band, McBryde got folks laughing with a story about "being stuck in the friend zone" and got them hoisting beers with a raunchy, hard-driving rendition of the Eagles' "Heartache Tonight." At one point, a helicopter buzzed by, close enough to the ground that the pilot could be seen waving — a would-be distraction that McBryde happily brought to the attention of the audience.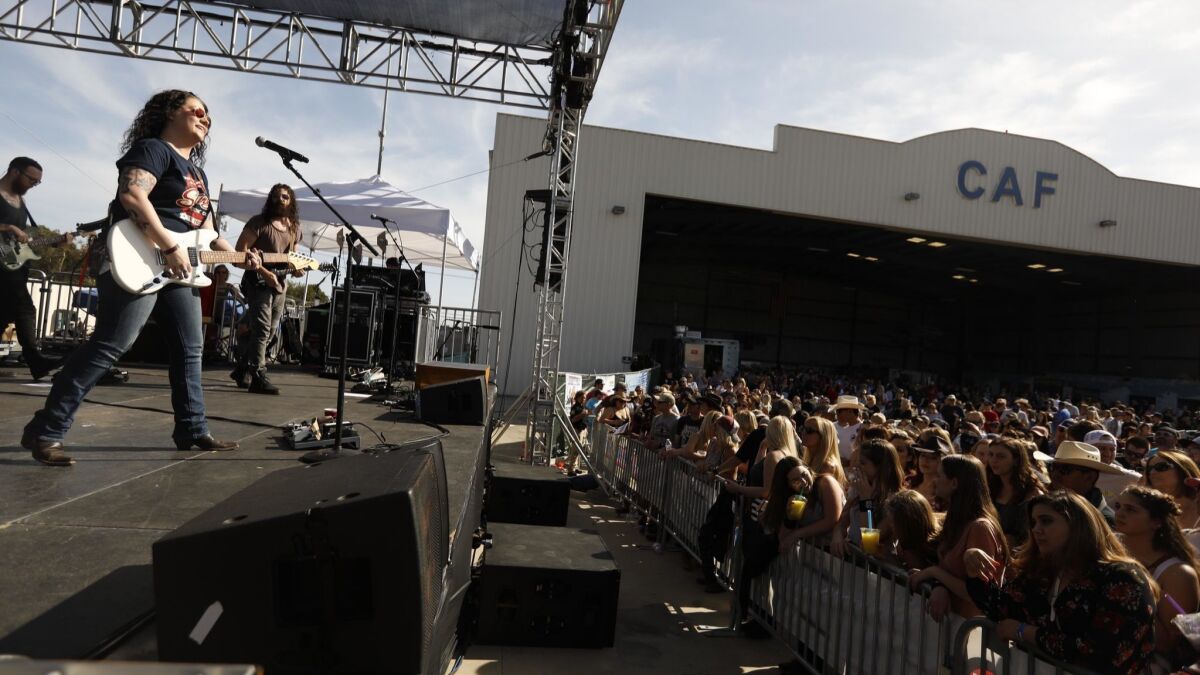 "In a gig like this, we're basically a musical bra," she said after her set. "We're here to make sure everyone is supported. And if you're unable to find joy in that, then you shouldn't be out here doing it."
McBryde's attitude — her willingness, essentially, to resist blowing a lesser headliner off the stage — is a surprise to encounter at a moment when the music industry's digital makeover has led artists and fans alike to expect instant gratification.
But this Arkansas native developed her patience honestly. Before she moved to Nashville in 2006, McBryde spent years playing bars around her home state and in nearby Memphis. And she played plenty more once she got to Music City, toiling as just another of Nashville's countless hopefuls until she was noticed by Eric Church and his well-connected manager.
On tour last year, Church brought her onstage one night to sing a duet — on a tune of hers, no less — and a clip of the performance turned more heads. Soon she had a record deal that didn't call for the creative compromise, or the image-tidying, that she'd started to think Nashville demanded.
Her current embrace doesn't mean she's forgotten the sting of earlier rejections, she acknowledged on her bus as she poured bourbon and ginger ale into a couple of red plastic cups. Yet McBryde can see that it was her long journey that allowed her to hone the skills, as both a singer and a songwriter, she showcases so effectively on "Girl Going Nowhere."
Titled after something a discouraging high-school teacher once told her, the album sets detailed stories of small-town life against sturdy arrangements that reflect an expansive idea of roots music, from the folky title track to the Tom Petty-ish "The Jacket" to the twangy Southern rock of her breakthrough single, "A Little Dive Bar in Dahlonega."
Jay Joyce, who produced "Girl Going Nowhere" (and has also worked with Church and with Little Big Town), said they laid down the bulk of the album in two all-night sessions, which he noted might sound more impressive than it actually is.
"Get somebody who can sing and play, and then record it — it's kind of amazing that that's like a rare thing," Joyce said. "But these days it is." In the age of Auto-Tune, he explained, many artists "can't get through a song without having to fix something.
"But Ashley knows what she's doing. She didn't need a safety net."
As unusual as her chops may be, McBryde's success hasn't happened in a vacuum. She's thriving at the same time as a host of other country acts, including Chris Stapleton and Sturgill Simpson, who've reestablished widespread interest in how country music used to sound; there's no denying that these artists' ascent has been propelled in part by listeners who resent the slick experimentation of Sam Hunt, Taylor Swift and Florida Georgia Line.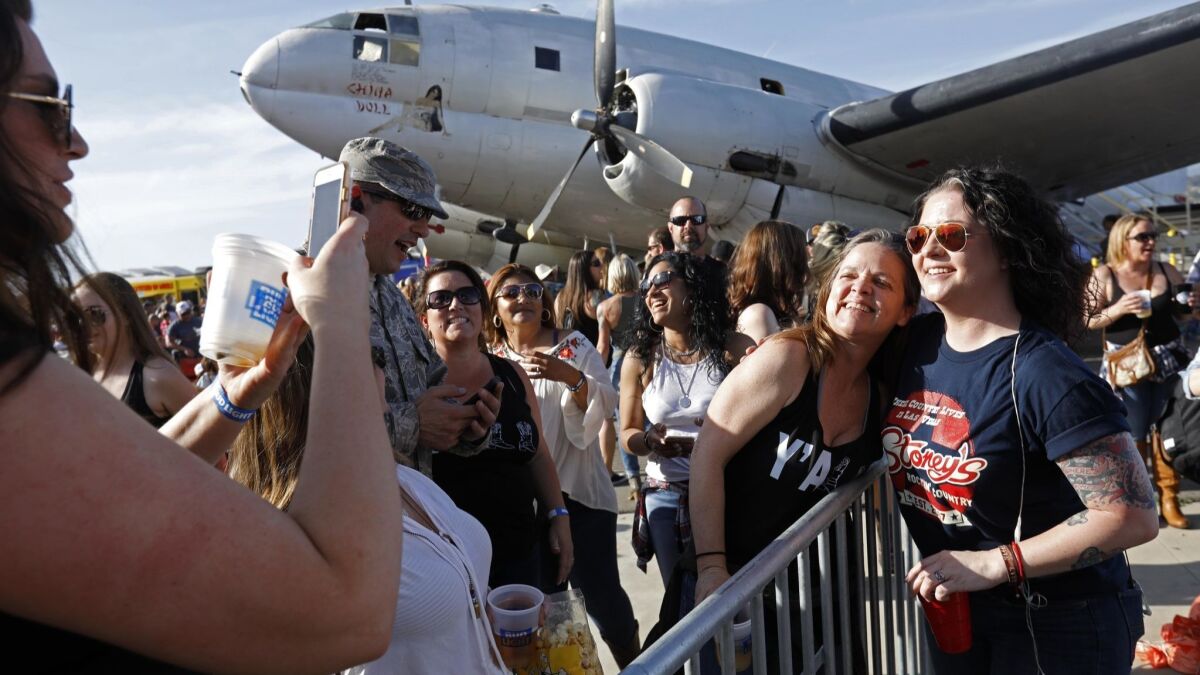 Yet McBryde rejects the notion that her music represents a rejoinder to "hick-hop or pop-country or whatever else," as she put it. "Our version of country music makes no sense without the other kinds."
Can she recognize the desire some have for her to embody a more reactionary impulse?
"Of course," she replied. "Because when you see a chick that's not the skinniest girl in the room, covered in tattoos, you go, 'That girl wants to stick it to the man.'" She laughed. "But we don't give a damn about the man. At all. We just want to make music."
As she refilled our drinks, McBryde said she's equally bummed out by the assumption that she's locked in competition with other female artists. "Girl Going Nowhere" came out the same day that Kacey Musgraves released her latest album, she pointed out, "and people kept saying, 'Which is better?'
"Stop trying to pit us against each other! This isn't a pageant — it's country music."
Going forward, McBryde said that what she's focused on is what she's always been focused on, which is "doing the work and not drinking your own bathwater."
On Sunday the work will be big-time. But there are humbler gigs ahead too — and who knows what they'll bring?
"There was a guy today just off to my right side, and he sang every word to every song we played," she said, shaking her head at the fresh memory. "That blew my mind."
Twitter: @mikaelwood
Get our L.A. Goes Out newsletter, with the week's best events, to help you explore and experience our city.
You may occasionally receive promotional content from the Los Angeles Times.