Barbra Streisand needs you to read this interview right now
Pop Music Critic
Barbra Streisand surged into her living room — well, one of her living rooms — with a stack of papers and an important question: When would this interview be published?
Told the plan was to run the story this week, she looked relieved and said, "Oh, good."
The show-business legend was no doubt aiming for some well-timed promotion for "Walls," her politically charged new album that is Streisand's first in more than a decade with mostly original songs. But she was also hoping to reach readers ahead of Tuesday's midterm election.
Reach them, that is, with the dozens of questions printed on those sheets of paper.
"This is what I think voters should be asking themselves," she said Wednesday afternoon as she settled into a sofa at her sprawling Malibu compound. "Might change a few minds, maybe. People who are on the fence."
Do such people still exist in this hyper-partisan age?
"Probably not," she replied with a little chuckle. "But if I could change one vote, it might change the election.
"Remember, I tied with Katharine Hepburn for best actress," she pointed out, referring to the 1969 Academy Awards, when she and Hepburn famously split the vote for that year's prize.
"Talk to me about the importance of one vote."
It shouldn't surprise anyone to find out where Streisand, 76, lands on many of the polarizing issues that Tuesday's closely watched election has come to embody.
"A staunch Democrat," as she described herself, she thumbed through her papers as she talked about climate change and freedom of the press and whether we're "holding out our arms to embrace people that are feeling oppression or separating children from their parents and locking them in cages."
But more than helping to elect any particular Democrat, Streisand's primary goal seems to be weakening the Republicans' grip on power — especially the Republican in charge in the White House.
"Walls" is suffused with the singer's deep dislike of President Trump. There are songs, co-written with old pros like Desmond Child and Carole Bayer Sager, about what she views as his cruelty and his inability to tell the truth; the title track jumps off the idea of his border wall to lament those barriers "built around the heart and mind … keeping us apart and alone."
At her home, where one member of her retinue wore a T-shirt with Trump's face under the words "American Horror Story," Streisand said Trump "has made it OK to bring out the kind of — how do I say this? — the kind of animal instinct among the populace. And it's translated into nastiness, where you can just insult people." (This was before she called Trump a buffoon.)
"He insults women; he assaults women," she continued. "So the guy on the plane goes, 'Well, the president said it's OK to grope.' You see it happening."
Can she recall a time when the American president represented a more dignified figure?
"Obama," she said in an are-you-kidding-me tone. "The president of the United States in my memory — these men were always elegant, intelligent, compassionate."
Even when she didn't necessarily agree with them.
"Look, when Bush got in, that was hard for me," she said of George W. Bush's controversial election in 2000. "He was selected by the Supreme Court; it was kind of a judicial coup, like this was with [Supreme Court Justice Brett] Kavanaugh. And he went into a war that I didn't think…," she trailed off.
"I wrote something on my website — it's in my archives — 12 reasons not to go into this war."
What does she think of Bush now?
"Oh, he seems quite pleasant in retrospect," she said. "Reasonable."
Though its political message was clearly Streisand's focus, "Walls" contains some characteristically glorious singing from one of music's greatest voices.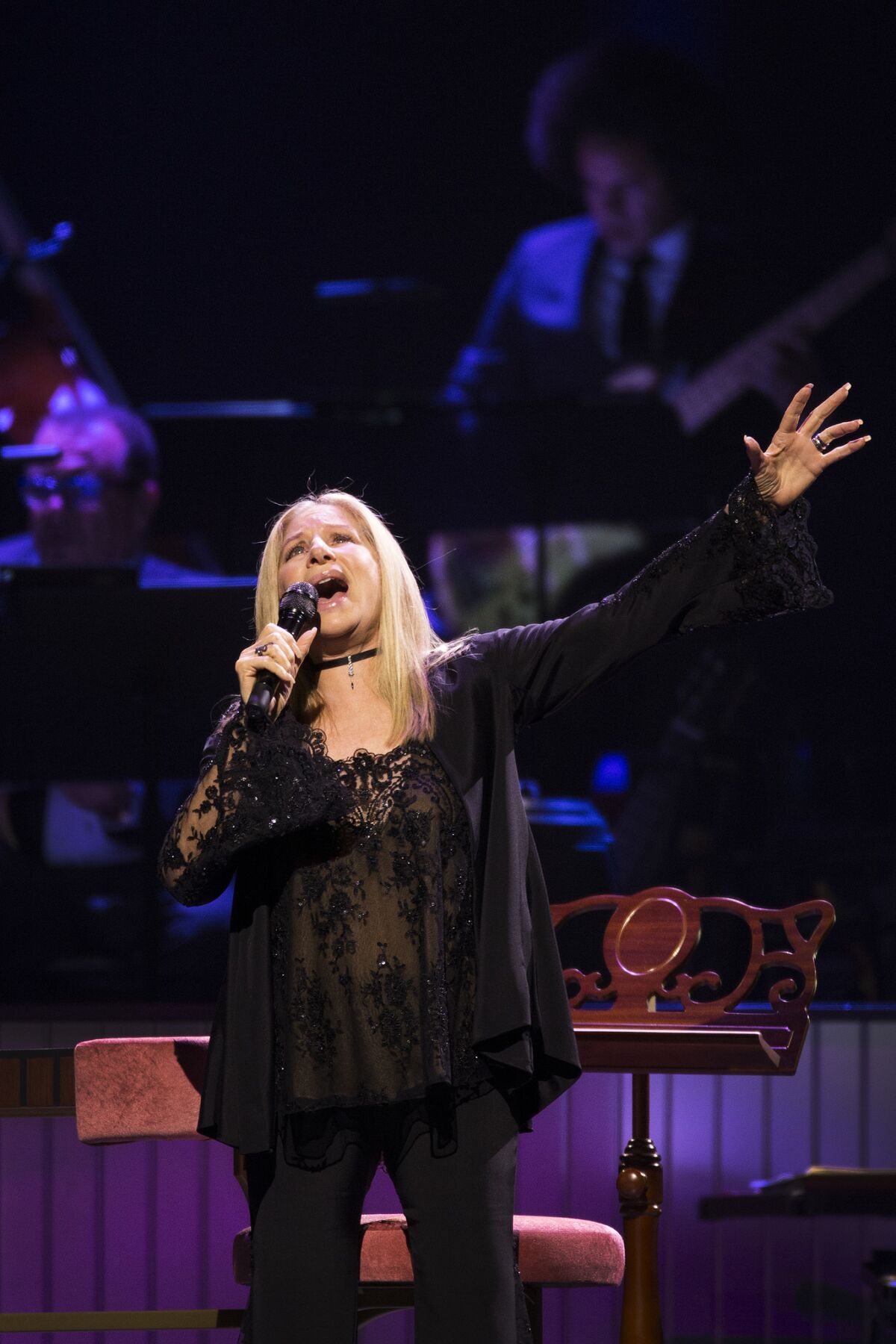 In "Better Angels," a lushly orchestrated ballad about how "hatred only breeds more hate," she handles tricky intervals with ease. And a mash-up of John Lennon's "Imagine" and "What a Wonderful World" moves from a delicate whisper to the type of spine-tingling money note for which Streisand is known.
The album also has a handful of more contemporary-sounding moments in "Don't Lie to Me" and "The Rain Will Fall," with their moody synths and tick-tock rhythms.
Asked about those songs, Streisand singled out a surprising inspiration: the Weeknd, whose throbbing 2016 single "Starboy" she said she'd heard somewhere — "It must have been some awards show" — and later played for one of her producers, John Shanks.
"I didn't even know what the hell he was saying," she said of "Starboy," in which the shadowy R&B star sings about cutting lines of cocaine on an ebony table. "But the vibe was great. I loved the sound of the music — the pattern of it.
"I thought, 'That is really cool.'"
This isn't the first time, of course, that Streisand has dabbled in the styles of the day. In 1979 she recorded "No More Tears (Enough Is Enough)" with disco queen Donna Summer. The next year she and Barry Gibb did the soft-rock classic "Guilty."
And as Streisand pointed out, she made "Stoney End," with its rock-leaning title track by Laura Nyro, way back in 1971.
Beyond the Weeknd, though, she says now she's out of touch with modern pop. The other day she and her assistant were looking at Amazon's list of best-selling albums, where "Walls" was at No. 3 or 4, behind the soundtrack of the new "A Star Is Born" and another record by "this girl — I never heard her name before."
Streisand turned to her assistant, who called up the page on her phone. The album was "Look Up Child" by the popular Christian singer Lauren Daigle.
"I don't know who that person is," Streisand said. "But it's a pretty [cover] shot of her profile."
As her Amazon check-in made clear, Streisand cares about her place in the conversation. But she's happily self-deprecating — if also a bit real-artiste — when describing her commercial sense.
"I stupidly turned down two hit records that Jay brought me," she said, referring to her longtime A&R man, Jay Landers. "The one with the teacup — what's it called?" She thought for a second before the answer came to her: "Beauty and the Beast," Howard Ashman and Alan Menken's theme from the animated Disney film, which Celine Dion and Peabo Bryson took to No. 9 on Billboard's Hot 100 in 1992.
"The melody was beautiful, but do I sing about a teacup?" Streisand asked. "I didn't know how to approach the lyric. Then he brought me one about a carpet," she added. It was "A Whole New World," from "Aladdin" — a No. 1 hit for Bryson and Regina Belle in 1993.
Just then one of Streisand's dogs, a white Coton de Tulear, came scampering into the living room. This was Miss Fanny, not one of the two puppies that Streisand famously cloned from an earlier dog named Samantha.
The puppies, Streisand explained, weren't typically allowed in this room, which was formally decorated in a rather granny-ish style.
"They go everywhere else," she said of Miss Violet and Miss Scarlet as she pulled Miss Fanny onto her lap and nuzzled her fluffy head. "But the other rooms have pee pads. We don't have a pee pad in this room."
The appearance of her beloved pooch made Streisand think of something.
"How does the president not have a dog?" she asked, incredulous. "He's the first president in 120 years that doesn't have a dog in the White House." (William McKinley, who entered office in 1897, is thought to be the last president who went without.)
With Trump on her mind again, she returned to her printed talking points.
"What kind of country do you want to live in?" she read aloud. "Who are we as a nation? Do we honor the principles of the founders who wrote the Constitution — who created three independent branches of government to ensure checks and balances?"
She looked up. "How did we get here, that all three houses of government are Republican? So we have no checks. I mean, the Kavanaugh spectacle was a joke."
Did she watch the hearings?
"Oh, God, yes — every minute of it," she said. "His performance in front of the cameras would make him unfit to me. I'll tell you what I would've liked. I would've liked for him to speak the truth. Say something like, 'I did a lot of drinking when I was young. I don't remember being blacked out, but it could be possible. And I'm so sorry if I caused you any pain.' "
She went on to criticize "that sham of an FBI investigation" into Kavanaugh's background and to say she's troubled that Heidi Heitkamp, the Democratic senator from North Dakota, is at risk of losing her seat after voting against Kavanaugh's confirmation.
"It's a sad state of affairs here," Streisand said. "So that's why I want to tell people…," and here she began reciting questions again.
"I know you'll never use all these," she said after a while, interrupting herself as she read one about whether we shouldn't take steps to rid the air of "tiny infiltrating organisms that get into our lungs."
Eventually her publicist told her it was time to wrap it up; she had other business to attend to.
Yet Streisand seemed to know she wasn't getting out of this without being asked about "A Star Is Born."
She declined to offer her opinion of Bradley Cooper and Lady Gaga's remake — she insists she hasn't seen the whole thing — but she did have some thoughts to share on her version from 1976.
Normally she hates rewatching her old stuff, you see. But she gave "Star" a close look in the course of writing a memoir she said she's been working on for four years.
And guess what? She felt the ending could use another pass, which she undertook for a lightly tweaked edition of the film that was available briefly on Netflix.
All those years ago, she'd been rushed into finishing the movie, she said, adding that she was "blackmailed" into giving the directing credit to Frank Pierson even though she had final cut.
Does she think most viewers understand "A Star Is Born" as her picture, whatever the credits say?
"I guess they do. It's all in my book." She laughed. "My chapter on 'A Star Is Born' is 50 pages long."
Sounds about right.
Twitter: @mikaelwood
---
UPDATES:
1:00 p.m.: This article was updated with additional details regarding Streisand's tweaks to the ending of "A Star Is Born."
---
Get our L.A. Goes Out newsletter, with the week's best events, to help you explore and experience our city.
You may occasionally receive promotional content from the Los Angeles Times.