'Eight Days a Week' unearths new Beatles' footage, including their final show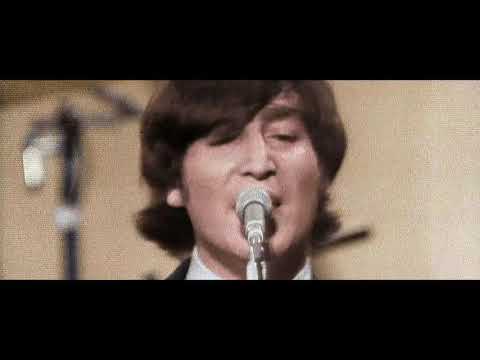 The trailer for Ron Howard's documentary, "The Beatles: Eight Days a Week - The Touring Years."
Their paths don't cross frequently these days, but put Paul McCartney and Ringo Starr into a room together and within a heartbeat they're displaying the easy but deep camaraderie forged more than half a century ago on their way to becoming the biggest rock band on the planet.
"No, he is good — I take back what I just said about him," McCartney says, smiling wryly as Starr strolls back into the swank Las Vegas hotel suite and takes a seat next to his erstwhile other half in the Beatles rhythm section. The drummer had stepped out for a bottle of water during a short break between interviews surrounding the Ron Howard-directed documentary about the Beatles as a performing unit, "Eight Days a Week: The Touring Years."
McCartney had started relating an infamous remark by jazz drummer Buddy Rich to a reporter, but was interrupted. Finishing the thought, with Starr back at his side, McCartney related that "Buddy kind of made fun of Ringo for not being real technical."
Flashing the signature sharp Liverpool wit in response, Starr shot back, "Yeah, but I always thought he sounded like rats running around a [drum] kit."
The friendship created some 60 years ago among four lads who grew up blocks apart from one another is one that's also front and center in the documentary that opens nationally in mid-September.
The Oscar-winning director Howard joined the two surviving subjects of his film at the interview, often sitting back and listening to their banter with as much interest and enjoyment as any longtime fan.
"Eight Days a Week" chronicles the astonishing wild ride the Beatles were on during the first half of their eight-year life as a group, through the height of Beatlemania. Howard, who vividly recalls watching their live U.S. performance debut in 1964 on "The Ed Sullivan Show" just before he turned 10, agreed to direct the documentary in hopes of illustrating to a new generation just how extraordinary the group and their journey was.
See the most-read stories in Entertainment this hour »
"I felt it was incumbent upon me to try to do two things," Howard, 62, explained. "One was to honor the fans who really would know the difference — the really dedicated fans, of which there are zillions.
"But I also thought it was even more important to try to tell a story that would convey to people who really have no idea — I'm thinking of the millennials, I suppose; people who have grown up with the music and think they know something of the story — the intensity of the journey and the impact they had."
That's a big part of what appealed to Howard to sign on in 2012 to direct his first documentary, although he subsequently took on another doc, "Made in America" released in 2013.
Much of the 95-minute film is built on crowd-sourced material ferreted out over a long period. Those efforts date back to the early 2000s, when a film archivist company, One Voice, One World, asked Apple executives to commission them to locate footage from fans who were taking advantage of increasingly popular home-movie cameras flooding the market around the time Beatlemania erupted globally in 1964.
The project stalled, then was revived a few years ago by Jeff Jones, the head of the Beatles company, Apple Corps Ltd., who brought in producer Nigel Sinclair to see it through for his Los Angeles-based White Horse Pictures. Sinclair had been a producer of the 2006 Martin Scorsese-directed Bob Dylan documentary "No Direction Home" and the 2011 George Harrison life story, also directed by Scorsese, "Living in the Material World."
Along with the crowd-sourced footage, "Eight Days a Week" — being distributed by Abramorama — incorporates new interviews with McCartney and Starr along with archival interviews of John Lennon and George Harrison and other material provided by Lennon's widow, Yoko Ono, and Harrison's widow, Olivia Harrison.
A giant blur
For the inner-circle participants, the making of the film turned into an opportunity to revisit and clarify some facets of what often was a giant blur when they were in the midst of it.
"The stuff you remember when you see the footage, and the old photographs, it helps," Starr, 76, said from his seat on the couch next to his former group's bassist.
I knew about their anti-war stances later. But I had no notion [about their position on racial equality]. That was courageous stuff at that time.
— Ron Howard on the Beatles
McCartney quickly picked up the conversation saying, "It jogs all the memories. That's one of the joys about seeing the film."
Both pointed to the section of the film that discusses the rider in the Beatles' concert contracts specifying that they refused to perform in segregated venues while touring the U.S..
"One of the great things for me" about the film, McCartney, 74, said, "was all the civil rights things that we'd always naturally had an empathy with, just because we had loads of black friends and of all our [musical] heroes, many of them were black. To see in the film that we actually put it in our contracts … we didn't remember that. I was very impressed with that. It was very cool."
It was a revelation to Howard as well.
"I didn't know anything about that," said Howard, who also is one of the film's producers along with Brian Grazer, his Imagine Entertainment production company partner, Concord Bicycle Music CEO Scott Pascucci and Sinclair. "One of the big surprises to me was how clear they were about it, how matter of fact. I knew about their anti-war stances later. But I had no notion [about their position on racial equality]. That was courageous stuff at that time."
One big challenge in creating "Eight Days a Week" was the two-pronged mission of trying to educate relative Fab Four neophytes while simultaneously giving die-hard Beatles enthusiasts enough to take in that they haven't seen or been reading about for decades.
Among many scenes that should be new even to the most ardent Beatles fans is the footage of their final concert at Candlestick Park in San Francisco on Aug. 29, 1966. That was the moment they quit touring to focus on advancing their music in the recording studio, a career sea change that yielded such watershed albums as "Sgt. Pepper's Lonely Hearts Club Band," "The Beatles" (a.k.a. The White Album) and "Abbey Road."
Sinclair asked Howard if he'd be interested in taking part when they were working together on the 2013 film "Rush," about Formula One race car drivers James Hunt and Niki Lauda that Howard directed. Part of that process was a call sent out to Beatles fans worldwide by way of traditional media outlets and social media platforms soliciting film footage, photos or recordings any fans kept of the group from the short few years they spent touring the globe from 1963 to 1966.
"A proverbial little old lady called in. She said 'I went to Candlestick show and I sat in Row 8 and I took my camera,'" Sinclair recalled during a separate interview in Las Vegas. "She said, 'Naturally I filmed all of the last song and all of the end of the show. I've got it in a can. It's under my bed, I'm not sure if it still works. Would you like me to send it to you?'
"We realized that she didn't realize she had something she could probably sell, so we actually explained to her that we would pay her for it," Sinclair said. "We sent somebody up to San Francisco to pick it up, because we didn't want to lose it, and it was the Holy Grail. For our story, we wanted to capture the boys running off the stage for the very last time in history. So we have a lot of things like that."
Howard's role in the film helped facilitate much of that, Sinclair said.
"One of the many things that Ron brought to the table is that he is a beloved man in America," he said. "Ron had people come up to him in the street and [they would] say 'Mr. Howard, I'm so glad you're doing the Beatles film.' Ron said, 'Of course the subtext is "And don't screw it up."'
Another potential treat for fans who have seen plenty of Beatles performance footage is the quality of the companion audio in the performance segments. Giles Martin, son of original Beatles producer George Martin, has worked with Abbey Road studio engineers to bring the most out of available recordings, some of which were taken directly from mixing boards at the Beatles concerts and not previously available.
(As a companion to "Eight Days a Week," a 30-minute film of the Beatles' 1965 performance at Shea Stadium in New York is being screened in various theaters.)
"We're making good inroads and pushing the technology and the music as far as we can," Martin told The Times. "I really want people to hear what it was like seeing the Beatles."
It's already made a positive impression on at least one person familiar with the band.
"We never really heard the Beatles," said McCartney, referring to the screaming that accompanied their performances, which George Martin once equated to the volume of a jet aircraft. "We've certainly never seen them, because we were never out front. But I'd hear whoever I was standing nearest, whatever amp they were playing. … So it is kind of nice now to hear us mixed properly."
It just got depressing [during the touring years] because you couldn't do what you wanted to do.
— Paul McCartney
Howard made no apologies going into this project from a starting position as a Beatles fan, saying, "I had an overall understanding of the story, but what I didn't know about was the intensity of the journey, and how in this short, short period of time, they made these transformations as people and as artists at the same time that the world was transforming."
Even the choice to stop touring struck Howard as a bold artistic move, one that both Beatles look back on now as inevitable — although it added a giant question mark to their future at the time. George Harrison said "I guess I'm not a Beatle any more" after the final concert in San Francisco.
"The Beatles wanted to be the best at everything," said Chris Carter, host of the long-running "Breakfast With the Beatles" radio show in Los Angeles. "They wrote the best songs, they made the best records, but they weren't putting on the best stage shows at that time — they couldn't under those conditions. So it makes sense that they chose to quit performing to focus on the recording studio."
Noted McCartney, "You couldn't give your best under those conditions. But the nice thing is, we didn't lose it. Because when we came back to the roof," referring to their famous set in 1969 atop Apple's offices, "we were still that band. But it just got depressing [during the touring years] because you couldn't do what you wanted to do."
"I'm not putting it down in any way," Starr said. "They screamed, that was part of this experience. But the experience for us got less [rewarding], because we're musicians."
That was all great grist for the story Howard wanted to tell.
"One of the things I didn't anticipate was how, I thought, kind of courageous the choice was to leave, because that's how they were making [most of] their money," Howard said. "They were hugely famous; this is what everybody wanted. Yet their creative integrity was what was driving them, and their sense of what's worthy of their time, just as people on the planet."
Follow @RandyLewis2 on Twitter.com
For Classic Rock coverage, join us on Facebook
ALSO
The Beatles' 1965 Shea Stadium film due in theaters in September
1966 could be rock 'n' roll's most revolutionary year, thanks to the Beatles, Dylan and the Beach Boys
Paul McCartney looks forward and back again at world tour kickoff in Fresno
---
UPDATES:
2:26 p.m. This story was updated to note that the documentary's producers also include Ron Howard, Brian Grazer and Scott Pascucci.
Get our L.A. Goes Out newsletter, with the week's best events, to help you explore and experience our city.
You may occasionally receive promotional content from the Los Angeles Times.