Rising rap star Big Sean has a surprising method for dealing with fame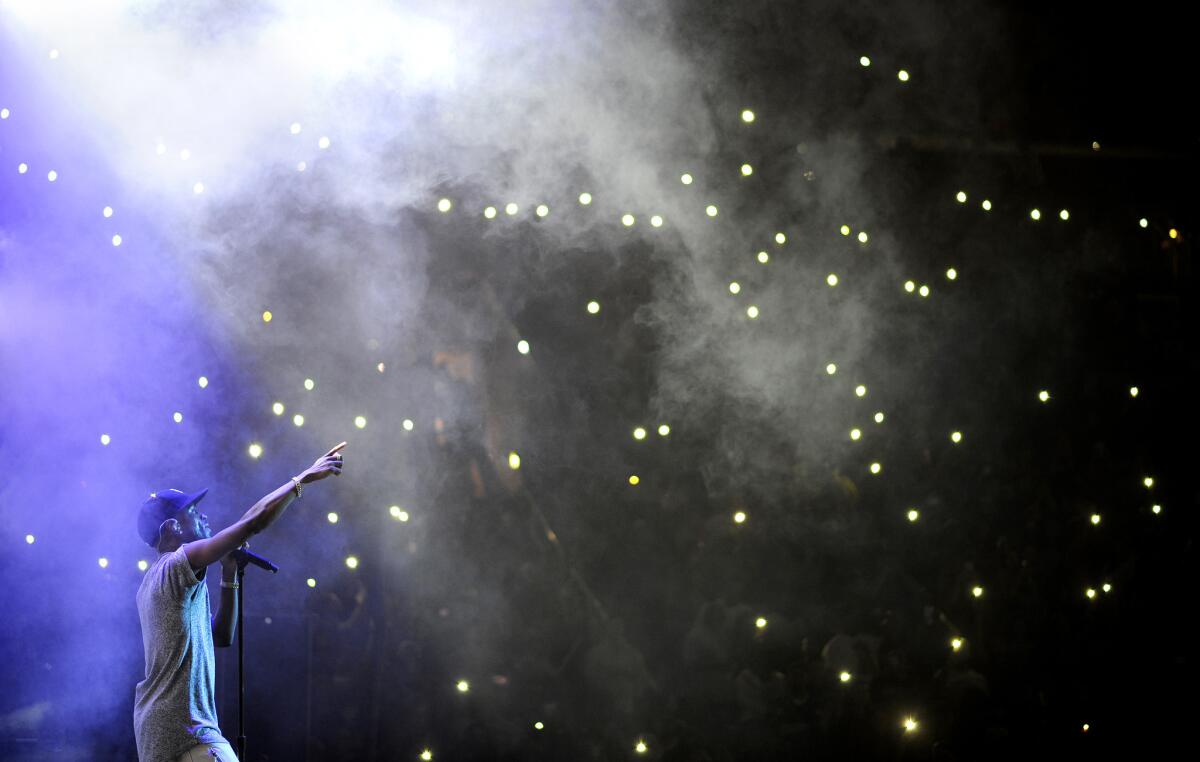 Hours before Big Sean performed for a sold-out crowd at Staples Center, he was alone on his tour bus in deep meditation.
The image is likely surprising to those who got their introduction to the 27-year-old Detroit native only through "IDFWU," a corrosive kiss-off anthem with an unprintable title that dominated pop radio, spawned Internet memes and went double platinum.
"It gets my day right … and brings my vibrations up," he said of his daily practice. "It has changed my whole life."
And the good vibrations are working. The rapper, born Sean Michael Anderson, has been on an upward trajectory for months.
Dressed in a fitted black T-shirt, jeans, olive-colored sneakers and a Detroit Tigers cap, Anderson is standing between trunks of equipment as a crew prepped for his sound check.
Last week's show was the fifth in a tour that's taking him, Compton rapper YG and headliner J. Cole to arenas and amphitheaters across the country. Anderson is still buzzing from the previous night's show in Las Vegas as he noshes from a plate of enchiladas and rice (cooked by YG's mom), but a peek at the nearly 20,000 empty seats hours before his L.A. set leaves him awestruck.
"It's a surreal thing," he said. "It's been such a major year for me. Everybody is really happy and excited. I'm excited too."
Big Sean definitely isn't an overnight success. After impressing Kanye West with freestyle verses at a Detroit radio station in 2005, he scored a deal with his G.O.O.D. Music imprint two years later.
Mixtapes followed before his 2011 debut, "Finally Famous." The album yielded a handful of Top 40 hits, and standout verses on G.O.O.D. Music singles "Mercy" and "Clique" (the latter originally his own demo) pushed him further in the spotlight.
But then came the sophomore slump.
"Hall of Fame" didn't make much of a splash in 2013, with a number of its singles stalling. Even worse, rap fans and critics buzzed more about a nonalbum track — "Control," which featured collaborator Kendrick Lamar's controversial verse putting Sean and his contemporaries on notice — than the project itself.
However, Anderson began mounting a comeback last September when he released a batch of incendiary new music to the Internet.
One of the surprise tracks — released after it was announced that he'd signed a management deal with Jay Z's Roc Nation — was "IDFWU."
Built around a bouncy DJ Mustard beat and West's well-placed sample of D.J. Rogers' soulful "Say You Love Me, One More Time," the gloriously profane breakup anthem became a breakout hit — even if he had no idea of its potential.
"I didn't know until I started playing it for people," he said. "I played it for Jay Z and Beyoncé, and Jay told me, 'Every day that you don't drop this song you're missing out.' "
The song's success built anticipation for his third album, "Dark Sky Paradise." Released in February, it is his most inspired and cohesive work to date.
Largely recorded at his Hollywood Hills home, the album showcases a more confident Anderson. The tracks are more focused and personal, the flow tighter.
Although the album arrived as his stock had gone up with mainstream audiences — a smash hit and a fleeting romance with pop diva Ariana Grande helped — it's the first project to fully deliver on the hype that began with West's initial stamp of approval.
"Since 2011, when my first album came out, there's been a lot of people who have come and gone — so many," Anderson said. "The fact that I'm still here and have a lot more to prove and say comes from my whole perspective changing with my music.
"When I first started, I wanted to be famous. I wanted to be on the radio and be popular. It's cool having the song of summer … but I want to make songs that people can feel for years to come."
Inside his dressing room, the scent of lavender from multiple candles hangs in the air. He is playing the video game "Call of Duty" and discussing his beloved late grandmother who continues to inspire him and the string of high-concept music videos he recently released for his fans and paid for out of his own pocket. In conversation he's warm and open, a departure from the typical guardedness that comes with fame.
The rapper is spending most of the summer on the road, but he wants to keep building momentum. He's outfitted his tour bus with a recording studio and confirmed he's "secretly" working on his fourth album. "I'm working like crazy," he said. "I feel like I'm just getting into the stride now."
He will likely head back on the road for a solo tour — after he recharges, he said — but he's also focused on his community.
The namesake foundation he runs with his mother continues to assist Detroit youth, and he recently made good on the promise to his alma mater, Cass Technical High School, to build a recording studio if students raised their ACT scores. Last month he unveiled the Sean Anderson Studio of Infinite Possibilities.
His latest single, "One Man Can Change the World," underscores that desire to make a difference beyond the charts. Inspired by his grandmother — a Women's Army Corps captain in World War II and one of the first female African American police officers in Detroit — the single is a far stretch from the club bangers and anthems expected of emcees.
"I was happy I got to talk about her on that song. To have her voice on the same song as Kanye and John Legend, I felt she deserved that. She passed away right before I got to play it for her, but I'm sure she heard it one way or another," he said.
Having navigated a bumpy road to stardom, Anderson is conscious of his good fortune, which he poured into the appropriately titled single "Blessings." He admits there's been some tough lessons as his profile rose, but he points toward the spiritual findings he's gained from Deepak Chopra's "The Seven Spiritual Laws of Success" and the Toltec wisdom teachings of "The Four Agreements" as tools to navigate the uncertainty of fame.
"I don't know what the future holds. I'm just going to keep doing my thing," Anderson said. "You can't measure success in anything but happiness. It's not about how much money you make or anything. It's about how happy you are."
He then flashed a smile and got ready for the 20,000 fans who awaited.
Twitter: @GerrickKennedy
ALSO:
Bobby Brown's rocky life in spotlight hits tragic note with daughter's death
Eminem spits 6-minute freestyle rap on Trump, Cosby, Caitlyn, more
'Keith Richards: Under the Influence' doc due Sept. 18 on Netflix
Get our L.A. Goes Out newsletter, with the week's best events, to help you explore and experience our city.
You may occasionally receive promotional content from the Los Angeles Times.