What would Brian Wilson change about 'Pet Sounds'? He reflects 50 years later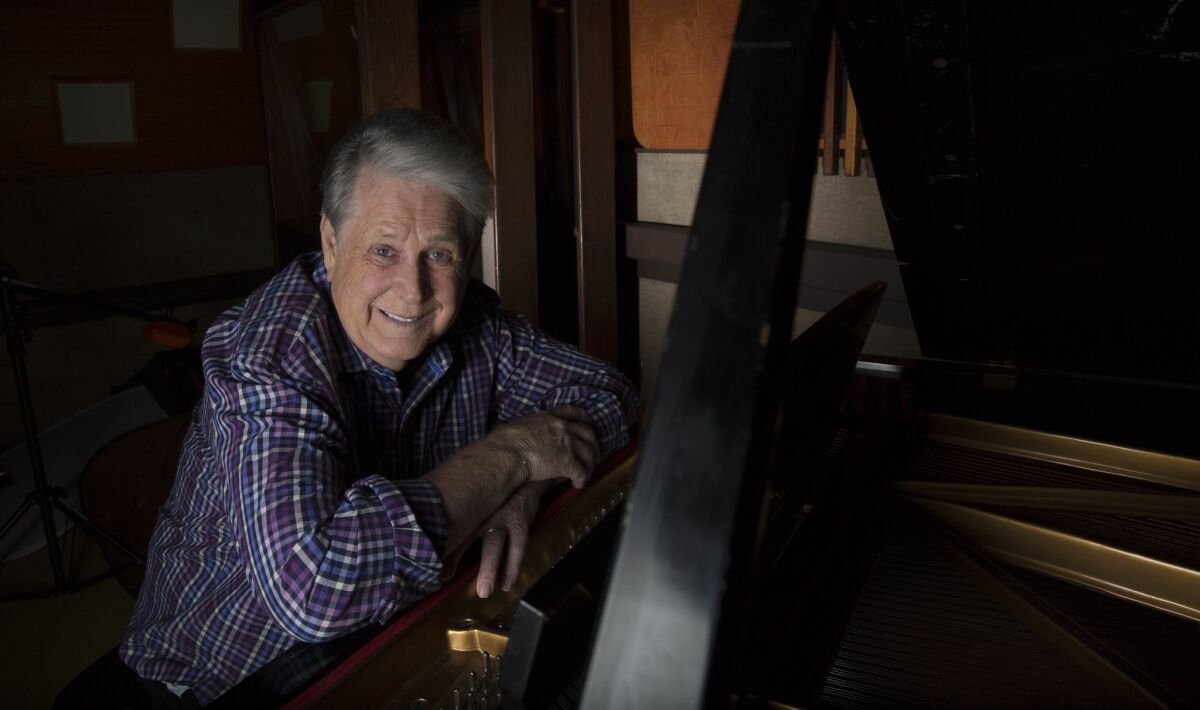 Brian Wilson was doing his best to be a good sport.
While talking to a reporter and then posing for a photographer, he often appeared to be enjoying himself about as much as he would on a visit to his oral surgeon.

For the record:
11:09 a.m. July 8, 2016An earlier version of this article said Paul Dano earned an Academy Award nomination for "Love & Mercy." He received a Golden Globe nomination. Also, the studio where "Pet Sounds" was recorded is on Sunset Boulevard, not Hollywood Boulevard.
About 15 minutes into the interview, when asked how he felt about producer George Martin's description of him as a "one-man Beatles," Wilson stood, extended his hand, smiled sincerely and said, "Thank you very much for the interview." He then walked over to have his portrait taken.
The mood changed dramatically, however, when Wilson moved to a Steinway & Sons grand piano.
Sitting at the keyboard in a recording studio is where Wilson appears most at ease. The sometimes strained expressions on his face while a photographer was snapping his picture gave way to a relaxed and natural smile. Wilson was home at last.
Wilson will lead his Brian Wilson Band in a homecoming performance of "Pet Sounds" in its entirety on Sunday at the Hollywood Bowl, along with what figures to be a generous complement of other Beach Boys and solo material.The album has long been considered his and the Beach Boys' musical masterpiece.
Sharing what was on his mind while making "Pet Sounds," Wilson said, "I wanted to try something new."
Wilson was speaking just a few days after he turned 74. He rifled through a series of chords at the piano within the space once known as Western Recorders, the same Sunset Boulevard recording studio where he, the other Beach Boys and a raft of top studio musicians in the early months of 1966 did the bulk of the work on "Pet Sounds."
"I was tired of making surf songs and car songs. I wanted to grow musically," Wilson said of the work.
Grow he did.
On "Pet Sounds" Wilson dramatically expanded his – and pop music's — vocabulary, employing a vast array of instruments not generally associated with rock music at the time.
There's the gorgeous French horn melody that opens "God Only Knows," a thundering timpani rhythm that ignites "I'm Waiting for the Day," the sonorous bass harmonica that fills out "I Know There's an Answer," the delicate flutes coloring "Sloop John B" and the disarming string section interlude in the middle of "Don't Talk (Put Your Head on My Shoulder)."
A reprint of a 1966 interview from L.A. radio station KRLA-AM (1110), included in the book with the new "Pet Sounds" four-disc box set, found Wilson speaking even more expansively about his desires at the time he was working on the album.
"Popular music — in the form of Top 40 — has to expand and has to gain much more widespread respect as a result of someone making an art out of that kind of music," he said in that interview. "There are enough elements to work with now.
"There is a widespread acceptance of new and unlimited instrumentation in this business, that we have reached the spot where there is an infinite amount of things you can do," he said a half century ago. "Now it's really just up to the creative people."
The 50th anniversary "Pet Sounds" tour has put Wilson in front of considerably younger crowds than had been the norm, notes Bruce Solar, a senior executive with the Agency for the Performing Arts, the booking firm that arranges Wilson's concert schedule.
Solar cites last year's "Love & Mercy" biopic as partly inspiring the recent round of dates dedicated to "Pet Sounds."
"It felt like the right time to do the record in its entirety — and it was an anniversary," Solar said.
In addition to shows of his own, Wilson also has headlined the recent Primavera Festival in Barcelona, Spain and the Northside Festival in Brooklyn and next weekend tops the Pitchfork Festival in Chicago. Those bookings have put him on bills with contemporary acts such as LCD Soundsystem, Radiohead, PJ Harvey and Sigur Ros — a far cry from anything resembling rock oldies celebrations.
"These are shows that draw hipster kids," Solar said.
Actor Paul Dano earned a Golden Globe nomination for his portrayal in "Love & Mercy" of 23-year-old Wilson during the time he was working on "Pet Sounds." The film depicts the period of artistic exploration as one of drama-laden personal crises.
Wilson himself describes the "Pet Sounds" time in his life as "a creative experience, actually. We slowed down a little bit and took two months to get [most of] 'Pet Sounds' down.
"It wasn't a luxury," added Wilson, his head still full of thick hair, which has turned over the years from bleached blond to shades of salt and pepper. "It was just more relaxing."
"Pet Sounds" brought forth a more deeply personal set of songs, for which Wilson collaborated for the first time with lyricist Tony Asher. The two, he remembers, met at a party.
"He told me he worked at an advertising agency, and said he was good with words," Wilson recalled. "He said, 'So if you ever need a lyricist…. I said, 'Let's do it.' He came over to my house and we wrote 'God Only Knows' in two hours."
With that breathtaking ballad as a launching point, he and Asher crafted most of the core songs for "Pet Sounds."
Today, Wilson rarely cites "Pet Sounds" as his personal favorite among the Beach Boys albums, often singling out 1968's low-key "Friends" album. On this day, however, it's a different choice, indicating how his preferences can shift from day to day or year to year.
"I like 'Summer Days (and Summer Nights)' – that's the one I like the most," he says of the 1965 album that included a powerhouse mid-album stretch of future Beach Boys classic songs: "Girl Don't Tell Me," "Help Me Rhonda," "California Girls," "Let Him Run Wild" and "You're So Good to Me."
The latter, Wilson said, is one of the few non-singles that are in the part of the current shows following the "Pet Sounds" performance, along with "Wake the World," a deep track from the "Friends" album.
And is there anything about "Pet Sounds" he has reconsidered over the last 50 years, anything he's felt compelled to tweak or revise in any way?
"No," Wilson said of the album that consistently has been voted one of rock's all-time greatest, both by fans and music critics. "Everything's great."
randy.lewis@latimes.com
Follow @RandyLewis2 on Twitter.com
For Classic Rock coverage, join us on Facebook
---
Your essential guide to the arts in L.A.
Get Carolina A. Miranda's weekly newsletter for what's happening, plus openings, critics' picks and more.
You may occasionally receive promotional content from the Los Angeles Times.