Review: Britney Spears is back in control on her sexy new album 'Glory'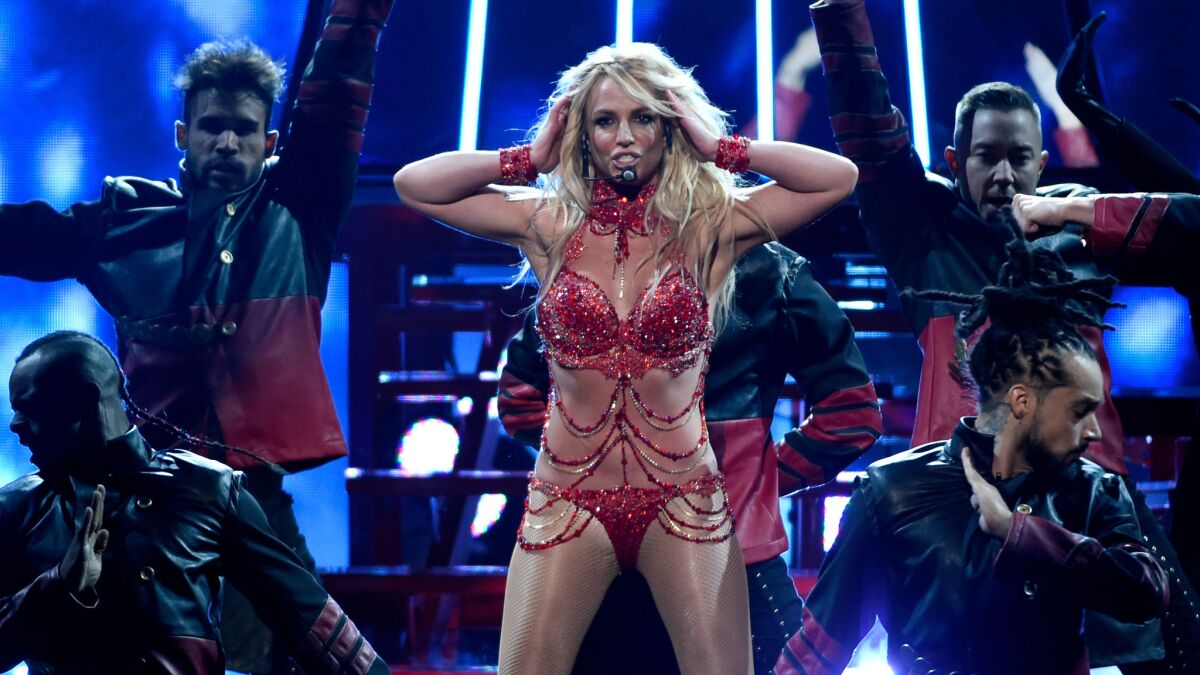 "Here's my invitation, baby / Come feel my energy," Britney Spears purrs to open her new album, "Glory," and what a welcome offer that is.
Throughout the 2000s, no one made better — or weirder — pop records than Spears, who achieved instant superstardom in 1999 with "…Baby One More Time," then spent the next decade slowly imploding as the celebrity-industrial complex closed in around her.
The process wasn't pretty to watch, not least because watching implicated the watcher. But the music Spears made even at acute moments of crisis — especially at acute moments of crisis — was thrilling: songs like "Toxic" (an allegory about fame as a "poison paradise"), "I'm a Slave 4 U" (duh) and, most vividly, "Piece of Me," a sneering indictment of Big Gossip that still hits harder than the umbrella she once used to whack a paparazzo's SUV.
And then there was "Britney Jean."
Released in late 2013, just before Spears launched a much-hyped residency in Las Vegas, the album was promoted as the "most personal" she'd ever made. In fact, it was the dullest: a monotonous set of generic EDM tracks, overseen by will.i.am of the Black Eyed Peas, with little of Spears' trademark intensity or dark humor. (One exception was the winningly creepy "Perfume," about a woman determined to "mark my territory" before her boyfriend encounters his ex.)
Yet something unexpected happened in Sin City: Spears found redemption. Her show was a hit, which seemed to buoy the singer just as her personal life — or at least the version of it she presents on Instagram — regained a measure of stability.
Now Spears is back at 34 with an album that carries her one-of-a-kind electricity without depicting her as a victim or an avenging force; here she seems in control, a grown woman having a laugh on her own terms. The result? For the first time in a decade and a half, feeling Spears' energy doesn't register as an act of vampirism.
Which isn't to say, of course, that she's not acting for our delectation. Her ninth studio record, "Glory" is almost entirely about sex, with the listener cast in the role of "you" in scenarios as varied as "Slumber Party" (not a song about her young sons), "Do You Wanna Come Over?" (duh) and "Private Show," in which the singer play-by-plays her "spectacular" strip-club routine.
"Work, work it / Boy, watch me work it," she moans over a slinky digital doo-wop groove. "Slide down my pole / Watch me spin it and twerk it."
OK, so the lyrics aren't that hot — something even a hater couldn't have claimed about a track like "Piece of Me," which ingeniously rhymes "lifestyles of the rich and famous" with "Oh my god, that Britney's shameless."
But even when the songs are providing her with flimsy messages, Spears on "Glory" sings with real style and attitude, as in "Make Me…," in which she switches between a breathy murmur in the verse and a euphoric falsetto in the chorus, and "What You Need," a surprising neo-Motown jam in which she comes far closer to Amy Winehouse than anyone would ever have predicted. (More surprising still, Spears takes up Spanish and French somewhat convincingly in two bonus tracks on the album's deluxe edition.)
As a whole, the performance is a vast improvement over her flat, robotic delivery on "Britney Jean"; indeed, it's the very performed nature of the singing — with Spears' full battery of signature vocal tics — that makes "Glory" such a good time.
Is this proud employee of the Planet Hollywood Resort & Casino really putting in work after hours at the Spearmint Rhino? It seems unlikely. But Spears, who's set to perform Sunday night on MTV's Video Music Awards, invites you into that fantasy in "Private Show," and she never lets you forget that it's her simulation.
Her studio collaborators help. Having evidently sensed that thudding 4/4 beats do nothing for her, Spears turned this time to nimble young songwriters and producers including Justin Tranter, Julia Michaels and the Swedish duo Mattman & Robin (the last of whom are protégés of her original creative partner, Max Martin).
In craftily detailed tunes like "Invitation" and the jumpy "Do You Wanna Come Over?" they restore some of the sonic invention that once defined Spears' biggest hits — and provide her with a colorful environment to do her thing.
"That was fun," Spears says at the end of "What You Need," and she's right: It was.
Twitter: @mikaelwood
ALSO
Review: Coldplay goes big — well, bigger — at the Rose Bowl
FYF Fest: Tame Impala's Kevin Parker is making behind-the-scenes moves toward pop
Demi Lovato and Nick Jonas on their joint summer tour: 'This isn't just a fiddly-diddly concert'
---
Get our L.A. Goes Out newsletter, with the week's best events, to help you explore and experience our city.
You may occasionally receive promotional content from the Los Angeles Times.