FYF Fest: Tame Impala's Kevin Parker is making behind-the-scenes moves toward pop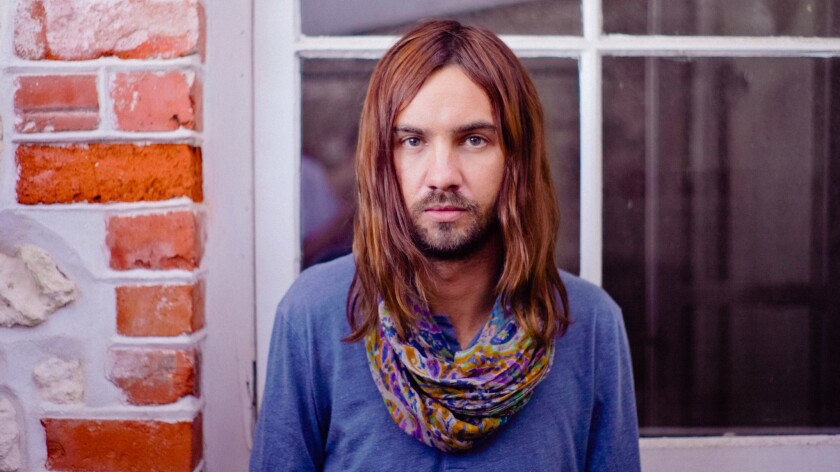 Long-haired, guitar-clutching frontman is a job in which Tame Impala's Kevin Parker has excelled. Yet these days, the 30-year-old musician from Australia is spending more and more of his time in a different role: behind-the-scenes enabler for some of the world's biggest pop stars.
In May, Mark Ronson (of "Uptown Funk" fame) posted a photo on Instagram showing Parker — whose psych-rock band is set to play this weekend's FYF Fest — in a recording studio with Lady Gaga. The R&B singer Miguel recently recruited Parker to remix his song "Waves" and appear in the track's video. And there among the sleek Top 40 hits on Rihanna's latest, "Anti," is her version of "New Person, Same Old Mistakes," a spacey funk jam from Tame Impala's most recent album, "Currents."
"It's kind of always been a secret fantasy of mine, the idea of writing a song and then not having to be the face of it," Parker said. "To be the guy pulling the strings — it's something I've always wanted to do."
Based in Perth, Tame Impala serves up trippy but catchy songs that have attracted a devoted following. "Currents" debuted last year at No. 4 on the Billboard 200 chart, and Saturday night the group will perform on the sizable main stage at FYF, just before the hugely popular Kendrick Lamar takes over the annual festival in Exposition Park.
The band's music video for "The Less I Know the Better" is even nominated for a prize at MTV's Video Music Awards, scheduled for Sunday in New York.
But now Tame Impala's leader is looking to flex his skills outside the group.
Parker isn't the first dude from a rock band to move into songwriting and production. Before he helped set off the teen-pop explosion of the late 1990s, Max Martin played in a hair-metal group called It's Alive. In the early 2000s, Tim Armstrong of the punk band Rancid began working with Pink.
There's also the case of Miike Snow, the Swedish-American trio whose members go back and forth between making their own music and creating tunes for the likes of Bruno Mars and Katy Perry.
Few, though, have found success as quickly as Parker, who co-produced "Perfect Illusion," a new Lady Gaga single due out in September.
"When Kevin told me he was doing more production, at first I was really excited for him," recalled Ronson, a friend of Parker's since he toured Australia with Tame Impala in 2011. "But then I was like, 'Oh no — he's gonna take all our jobs.'"
Speaking last week by phone from Australia, where he'd just boarded a plane to make his way to Los Angeles, Parker identified "Currents" as a turning point in his career.
"I remember thinking when I was making it that it was gonna open a lot of doors for me," he said of the album, Tame Impala's third studio record. (As with the first two, Parker wrote, recorded and produced the music largely by himself, then taught his bandmates the songs in order to play them on the road.) "It's kind of open-ended stylistically," which he felt would enable other artists to hear possibilities in what he does.
Indeed, "Currents" goes far lighter on guitar than Tame Impala's earlier, more rough-edged stuff, with bass, synths and vocals dominating tunes like "Let It Happen" and the tellingly titled "Yes I'm Changing," where Parker sings, "There is a world out there, and it's calling my name."
He said he actually wrote "New Person, Same Old Mistakes" with an R&B singer's voice in mind, but later decided to sing it himself. "So hearing Rihanna's version, it was kind of like the song had finally ended up where it was supposed to be," he said.
Asked how the presence of a pop star impacted his creative method, Parker said the difference had less to do with handling a celebrity than with simply handling another human.
"I was working with somebody the other day, someone I'd just met, and it was going really well," he said, declining to name the artist. "And I realized that was the first time I'd ever written lyrics with someone else. I'd literally never sat down with someone and gone, 'OK, this is the sentiment of the first verse.…'
"It's always been this completely internal thought process for me, so to suddenly find myself speaking out loud — it was kind of weird."
Yet he was quick to point out that he's been struck by how "free" the pop world is, how open to experimentation he's found his high-profile collaborators to be. "There's no prejudice," he said, a welcome shift from the indie-rock scene, where stylistic borders are more tightly policed.
Ronson, who drafted Parker to contribute to his 2015 album "Uptown Special," said he expects his friend to do well in this new sideline because of his ability to recognize the potential in an unlikely idea.
As an example, he pointed to the "strange, atonal" bass line in the creeping "New Person, Same Old Mistakes," which he said was "something I'd certainly never think to write."
"He takes a tempo that's not the norm for a festival-slaying song," Ronson added, "and it becomes one of the biggest tunes of the year."
Not that Parker can see the turns lying ahead in his own busy future.
"I literally have no idea what's around the corner in 2017," he said with a laugh. "A fortune teller could tell me anything and I'd believe it."
Twitter: @mikaelwood
ALSO
France's Air revives its 'slow motion music' for a visit to FYF Fest
FYF Fest: 10 acts that make it worth braving yet another music festival
Frank Ocean's minimalism sets 'Blonde' apart from recent releases by Beyoncé, Rihanna and Kanye West
---
From the Emmys to the Oscars.
Get our revamped Envelope newsletter, sent twice a week, for exclusive awards season coverage, behind-the-scenes insights and columnist Glenn Whipp's commentary.
You may occasionally receive promotional content from the Los Angeles Times.