Hip-hop collective Brockhampton puts a new spin on the 'boy band' concept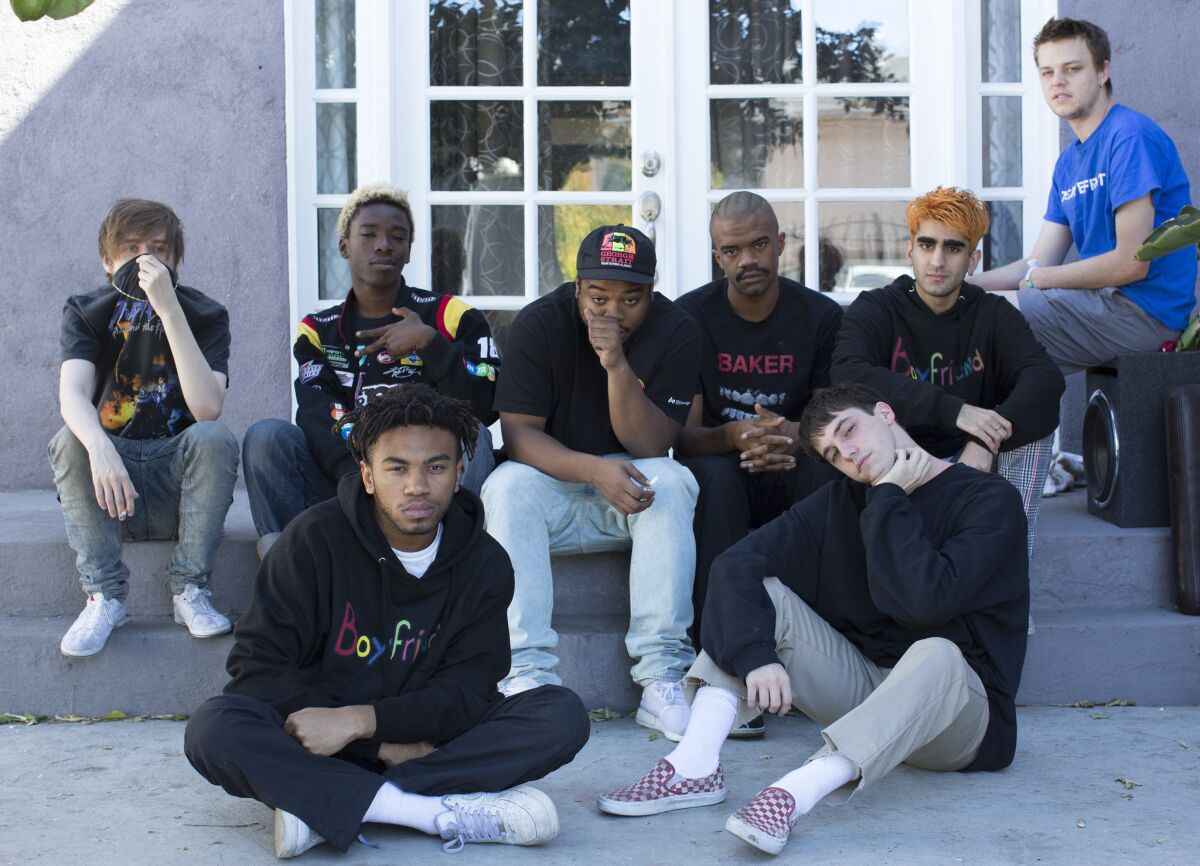 The house on a quiet South L.A. street would almost have been inconspicuous if it weren't for the annihilated piano lying outside the front steps. Inside on this late summer day, booming beats filled the home, the sounds coming from the back room, which had been turned into a makeshift studio.
Sitting in an almost meditative state was the orchestrator behind the recording session — Ian Simpson, better known by his stage name Kevin Abstract. The 21-year-old is the mastermind behind Brockhampton, the 14-member hip-hop creative collective.
Abstract says he was inspired by the film based on Facebook's creation story, "The Social Network," in which the boundaries blur between work and recreation.
But instead of Harvard dropouts working together on a tech product, Brockhampton is a group of young men of color — rappers, producers, artists and designers from around the world creating on their own terms.
"If we were all in one house working on all these different things, it'd be really cool and we could make something really special," he said of the concept for the home/workspace.
It's working. Brockhampton is on the verge of a breakout with more than 38,000 followers on SoundCloud. Over the summer, it released a pair of albums, "Saturation" and "Saturation II," and also starred in "American Boyband," a documentary-style show for Viceland.
Brockhampton will play at this weekend's alternative hip-hop music festival, Camp Flog Gnaw Carnival. And like many things millennial-related, Brockhampton was born on the internet.
After moving from Corpus Christi, Texas, to a Houston suburb as a high school freshman, Abstract was the new kid with no friends. Bubbling with creative energy (he's been making music since 2007), he posted on a Kanye West fan forum asking if anyone wanted to collaborate.
He received about 60 responses.
"I feel like I would have been able to be the creative I am anywhere in America just because I have access to the internet," Abstract said. "I figured it out at a young age I could meet as many young people online and try to form my own family or my own record label group."
Over Facebook, the group traded beats and raps. But it felt aimless, Abstract said, so the most dedicated decided to consolidate and move to Texas. In 2016 they relocated to L.A., the group now 14 men in their early 20s.
The Brockhampton house, which has recently been relocated from South L.A. to North Hollywood, is all art all the time. During an earlier recording session, 21-year-old Merlyn Wood, from Austin, Texas, stood at a microphone in the center of the room, ad-libbing at the top of his lungs.
Later, Ameer Vann, a 21-year-old rapper from Houston, work-shopped a phrase on a large whiteboard with Abstract. Producer Romil Hemnani, a 22-year-old from Connecticut, sat in front of a keyboard, mixing and matching various beats that fill the house.
Members floated in and out of the room, some offering feedback, others hanging out on a mattress lining the back wall. Abstract estimates that the group creates seven to eight songs per day, oftentimes shooting accompanying videos in the front of the house.
"Anyone in this group could wake up tomorrow and say I'm going to be a solo artist," said Brockhampton's 25-year-old rapper Dominic Michael Simpson, who goes by Dom McLennon. Still, he said, "it wouldn't make sense if we didn't do it together because we all have a vision that ends with the world being a better place."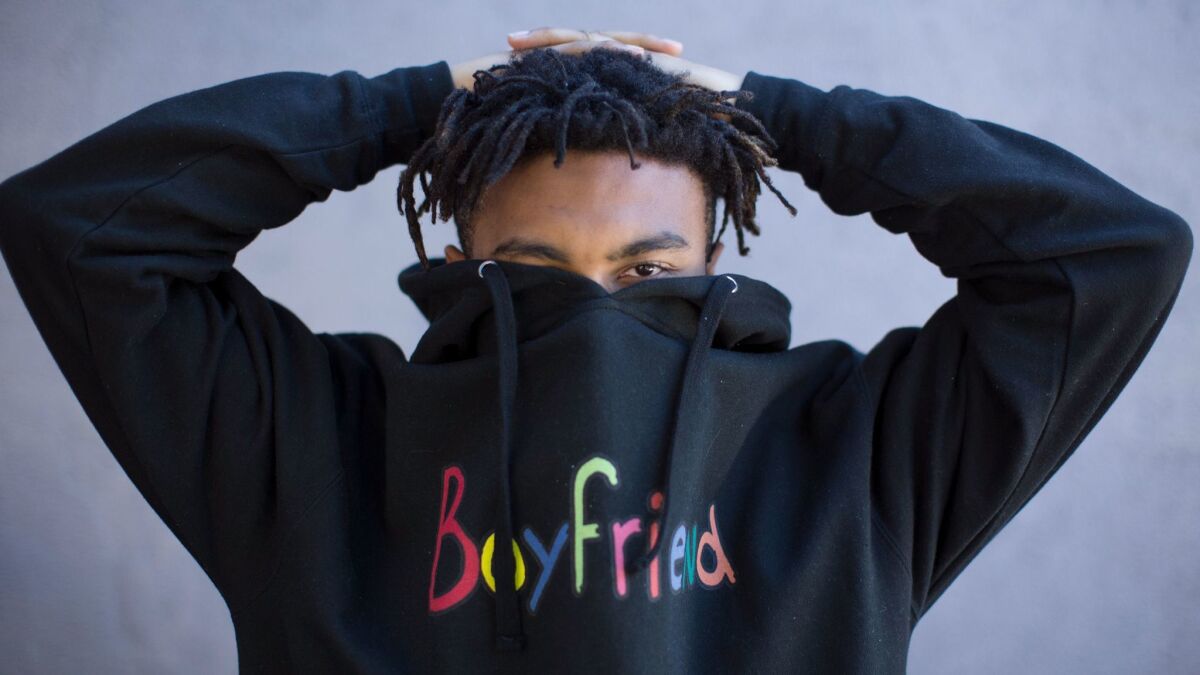 In the two years since Brockhamptoon crystallized in 2015, the act built up a cult following the same way it was created — by tapping into internet culture. All of the act's work has a homespun, offbeat feel, as evident by its self-directed videos on YouTube or its infectiously funky beats and quirky verses.
Brockhampton's first mixtape, 2016's "All American Trash," was followed by its debut album in June titled "Saturation." Two months later, "Saturation II" was released. The group's songs are refreshingly open, with tracks such as "Junky" addressing sexual identity and family relations. "I told my mom I was gay, why … she ain't listen?" raps Abstract.
The act aims to celebrate each members' individuality, building an inclusive community for those who feel like they don't quite fit in.
As a queer artist, Abstract addresses his sexuality with the same bravado as someone like Lil' Wayne. He says it's a way to help normalize who he is and help others feel comfortable in their own skin.
"My goal isn't to be this queer icon or anything," he said. " I just want to be Kevin Abstract and exist and help as many people as possible who are struggling with whatever they're struggling with."
Abstract also hopes to change the narrative surrounding boy band. He embraces the term, which often is associated with corporate-controlled and constructed acts.
His end goal for Brockhampton is for the collective to achieve the fame of the biggest boy bands of all time, rivaling One Direction and 'N Sync.
"I've never seen a boy band that had members who look like us," he said. "Kids of color, from all over the world and met on the internet."
Get our L.A. Goes Out newsletter, with the week's best events, to help you explore and experience our city.
You may occasionally receive promotional content from the Los Angeles Times.