K-pop's innocent image is shattered by the 'Burning Sun' scandal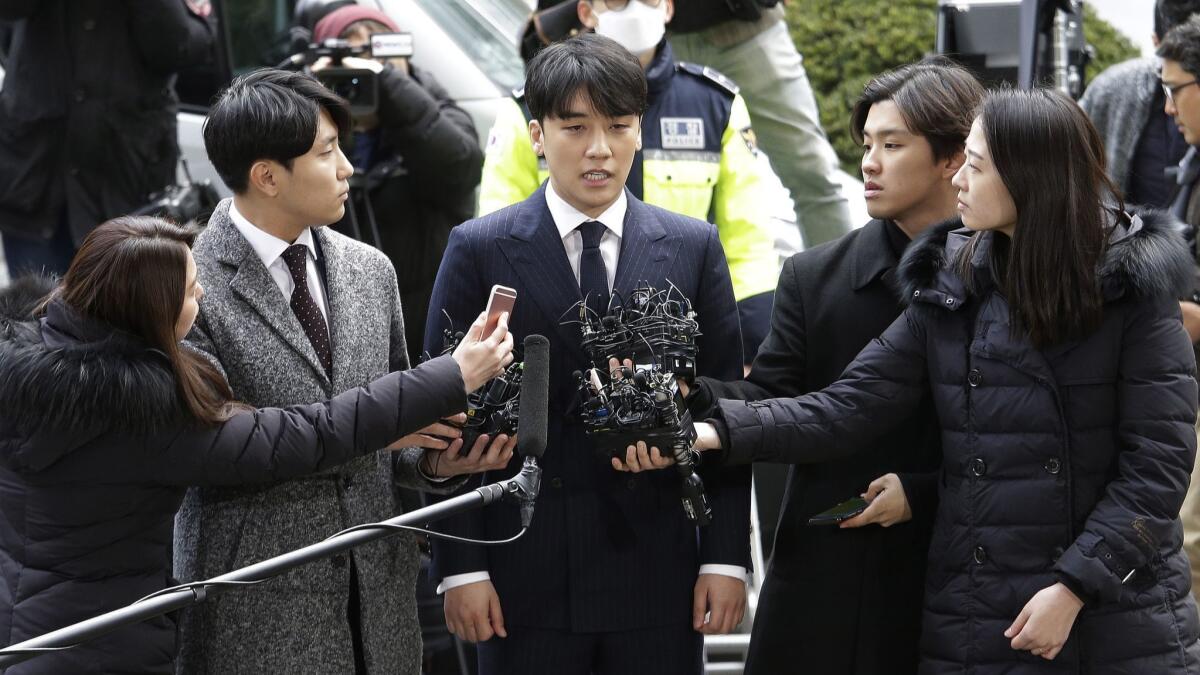 This year should have been a victory lap for K-pop.
In 2018, the band BTS scored two chart-topping albums in the U.S. The group Blackpink will play one of the most anticipated sets at this year's Coachella Valley Music and Arts Festival.
Yet over the last several months, the PG-rated, relentlessly upbeat genre has been ruptured with scandal: charges of sex crimes and surveillance tape, swapped over illicit message chains shared among K-pop superstars.
READ MORE: K-pop's K-porn problem -- Growing scandal highlights South Korea's spy-cam epidemic »
The scandal is known as Burning Sun, after the ritzy Gangnam-district nightclub where many of the alleged crimes took place. It's likely ended the careers of K-pop stars including now-former Big Bang member Seungri. Stocks for major South Korean entertainment firms plummeted as fans — who often invest in favorite labels — sold off their stakes in disgust.
Seungri's music in Big Bang was rooted in hip-hop, buffed to a glossy electronic sheen. They shaped a generation of young fans and helped K-pop cross over to America. While the full scope is still emerging, Burning Sun already appears to be K-pop's Altamont: the moment when a subculture's aura of innocence was shattered.
The moment reflects larger discontentment in South Korean culture at large, in which women are victimized in corporate, social and familial life. The young women driving the Korean pop culture scene known as hallyu always knew that the cultivated innocence of K-pop hid darker realities. The Burning Sun scandal may be a catalyst to change by reassessing K-pop's pristine image.
"This scandal demonstrates how women are being treated as objects in Korean society," said CedarBough Saeji, a postdoctoral fellow in Korean studies at University of British Columbia and a scholar of contemporary Korean culture. "K-pop is choking with sexual objectification. The message seems to be that women are valued for being sexualized props. It really disturbs me that some of the women spoken about in the chats between Seungri, [TV star and guitarist] Jung Joon-young and others may have been fans discarded and demeaned by the men they adored."
In late January, after closed circuit television footage of a man's assault at Burning Sun circulated, South Korean news outlets published text messages allegedly from Seungri, one of the nightclub's board members, asking staff to hire prostitutes for investors. Seoul police charged Seungri with mediating prostitution and other crimes. Soon after, outlets alleged that several K-pop celebrities had shared sexually explicit hidden camera footage from inside the club in a private message group. Some messages allegedly discussed raping women at the club.
K-pop stars including CN Blue's Lee Jong Hyun, FT Island's Choi Jong Soon and Highlight's Yong Junhyung have all left their groups or admitted to watching or participating in chats about the footage.
South Korean President Moon Jae In called for an investigation, saying, "If we fail to clarify the truth behind the cases that occurred within the privileged class, we will not be able to talk of a righteous society."
YG, Seungri's label, said in a statement to South Korean press that "Seungri is said to be part of various allegations and controversies…We bow deeply to offer our apology for causing disturbance to many people, including our fans."
The scandal has revealed a sordid underbelly in the strictly mediated industry, where K-pop stars' personal lives are rigorously controlled by their record labels, with no room for dissent or screw-ups. The modern K-pop "idol" management system first arose after the major label SM Entertainment ran damage control after a breakout star was caught with marijuana. It's likely no coincidence that the Burning Sun allegations echo a larger problem with furtive spy-cam porn in South Korea.
"K-pop fans are both shocked and dismayed, but I think for many it is almost cathartic since the visage of K-pop, and Korea's entertainment industry in general, is so tightly based on a sense of propriety and clean-cut personas," said Tamar Herman, founder of the K-pop site KultScene and a journalist who covers K-pop for Billboard.
"This is a whole other beast, since it's not about one man's bad temper or sexual assault, but almost an industrialized state of things where many powerful men were enabled and bolstered up by their status to partake in illegal activities."
The behavior standards for conduct are higher in K-pop, but the ferocity of some fanbases lead some to stick by their idols regardless of their transgressions. After the scandal broke, hundreds of Big Bang fans gathered at a rally in Indonesia to support Seungri in spite of the allegations.
"K-pop fans are often fiercely loyal and devoted. Having said that, there's of course a wide variety of responses, but I'd say that there's still a tendency to downplay the seriousness and the significance of the transgressions," said John Lie, a professor of sociology at UC Berkeley and author of "K-pop: Popular Music, Cultural Amnesia, and Economic Innovation in South Korea."
"K-pop stars are believed by many of their fans to be kind and gentle, unlike non-K-pop stars, and K-pop managers seek to maintain the myth. The current scandal is shocking only because most people, including K-pop fans, are oblivious to the systemic problems in South Korean life, especially in matters of gender inequality and the widespread commodification of sexuality."
Similar cases have rippled across Korean culture before, like actress Jang Ja-yeon's death from suicide after claiming that several high-ranking entertainment executives abused her. The once-respected theater director Lee Yoon-taek was imprisoned on sexual assault charges, and the poet Ko Un, once considered a candidate for the Nobel Prize in literature, was accused of sexual harassment by several younger female writers.
Hidden-camera footage in public restrooms and other intimate settings has become an epidemic in the country. In 2018, tens of thousands of women protested illicit hidden-camera footage under the banner of "My Life Is Not Your Porn." "Filming women (or men) without their consent is such a serious issue in Korea that you cannot buy a cell phone that doesn't make a shutter sound when you take a photo," Saeji said.
The Burning Sun scandal shows that such predatory entitlement permeates even into the realm of elite K-pop stars.
RELATED: Where is K-pop going in 2019? »
"I think most stars, anywhere in the world, enjoy privilege and feel entitled to all sorts of indecent activities," Lie said. "It's just that K-pop stars are not supposed to partake of them."
Misogynist attitudes, like those described in the Burning Sun allegations, have to some degree inspired a new wave of rebellion from South Korean women. Cho Nam-joo's novel "Kim Ji-young, Born in 1982," about the domestic misery and mistreatment of a young woman, has reportedly sold one copy for every 50 South Korean citizens.
But defamation laws are much more strict in South Korea than in the U.S. and could short-circuit any "Mute R. Kelly"- style reaction against artist misconduct.
"Feminist leaders in Korea are doxxed severely. It is very difficult to lead a feminist movement unless protected by anonymity," Saeji said.
For now, the fallout from Burning Sun has been severe for artists, labels and fans alike. Stocks of South Korean entertainment firms plummeted after the scandal broke, with five major K-pop firms losing nearly 18% of their value in the weeks after the news.
The roiling scandal has been driven by social media, which helps expose wrongdoing but also provides K-pop fans with new distractions. Several editors of top K-pop fan and news sites declined to comment for this story, and while the fan culture is eager to know the truth, much work is yet to be done. KCON, the annual confab for K-Pop fans and scholars in downtown L.A. and New York, will likely address the Burning Sun causes and fallout for years to come.
"The hallyu industry is only capable of change and introspection if the culture that it is shaped by, South Korea, does so as well," Herman said. "But I truly don't think this is an industry problem as much as it is a societal problem."
For breaking music news, follow @augustbrown on Twitter.
Get our L.A. Goes Out newsletter, with the week's best events, to help you explore and experience our city.
You may occasionally receive promotional content from the Los Angeles Times.