Review: Nirvana reunited at Dave Grohl's Cal Jam. The result was complicated
Pop Music Critic
Rock 'n' roll history came to life Saturday night when Dave Grohl resurrected his band Nirvana as the grand finale to the second-annual Cal Jam festival.
From his seat behind the drums — where he first found fame before moving on from Nirvana to form Foo Fighters, in which he's the frontman — Grohl drove his old bandmates Krist Novoselic (on bass) and Pat Smear (on guitar) through half a dozen Nirvana songs, including "All Apologies" and "Smells Like Teen Spirit," with help from two guest singers: Joan Jett, the pioneering female rocker, and John McCauley of Rhode Island's Deer Tick, which has performed as a Nirvana tribute band.
The vocalists were filling in, of course, for Nirvana's brilliant but troubled frontman, Kurt Cobain, who died by suicide in 1994. But they were also demonstrating the group's reach and influence, showing the high esteem in which it's still held nearly 30 years after it revitalized rock with a blend of singsong melody, ugly distortion and lyrics about confusion and self-doubt.
The Nirvana reunion was just one part of Cal Jam's overall argument that rock can function as both museum piece and living ritual at a moment when the electric guitar has never been less crucial to the pop conversation.
Along with carnival rides and a musical lineup mixing veterans like Iggy Pop with inheritors such as Greta Van Fleet, the festival had an actual museum housing Foo Fighters artifacts to entertain the tens of thousands of fans who'd trekked to Glen Helen Regional Park in San Bernardino.
And for its headlining set (right before Nirvana's reunion), Foo Fighters played its hits in reverse chronological order, starting with "Run" and "The Sky Is a Neighborhood," from last year's "Concrete and Gold," and concluding with "This Is a Call," the first track on the band's 1995 debut.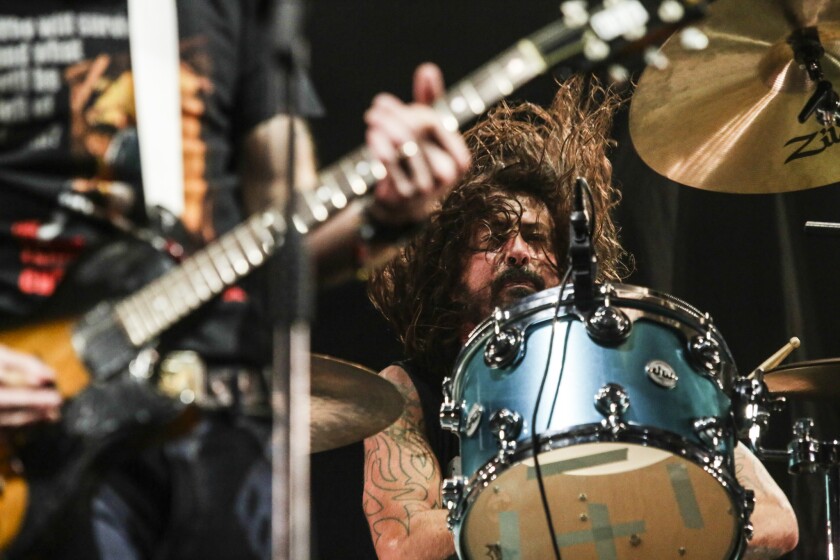 "Tonight we're going through the years," Grohl told the crowd. "Going way back."
As had been widely rumored on social media, that journey into the past led inexorably to Nirvana, which played in a tight cluster near the lip of Cal Jam's main stage, in front of Foo Fighters gear that had been quickly draped with large pieces of fabric.
This wasn't Grohl's first time reviving Nirvana. In 2014, he got the band back together to celebrate its induction into the Rock and Roll Hall of Fame; after performing at the Rock Hall's official ceremony (with guests including Jett and pop star Lorde), Nirvana bashed out more songs (with more guests) at a tiny heavy-metal bar in Brooklyn.
Now, as then, the idea was clearly to channel Nirvana's scrappy, punk-inspired spirit — to set up a contrast with the flair for arena-rock spectacle that Grohl went on to develop with Foo Fighters.
And indeed, the surviving members caught some of that old energy in "Serve the Servants" and "Scentless Apprentice," which opened Nirvana's set just as those songs did the band's gloriously corrosive 1993 album, "In Utero."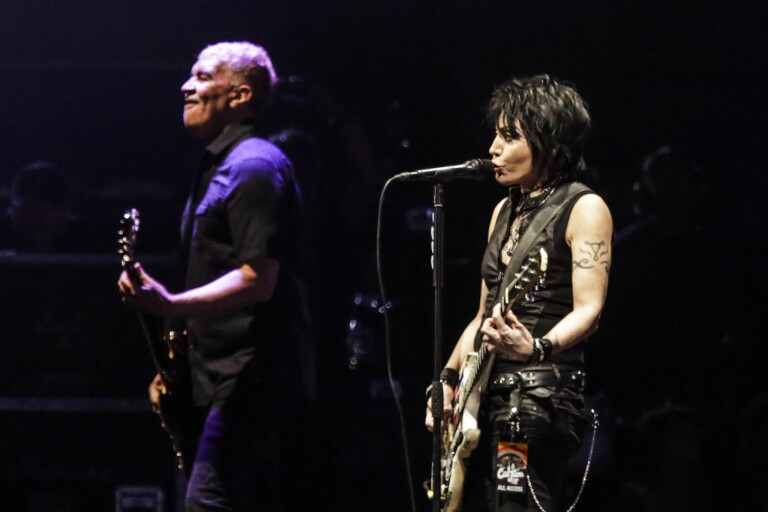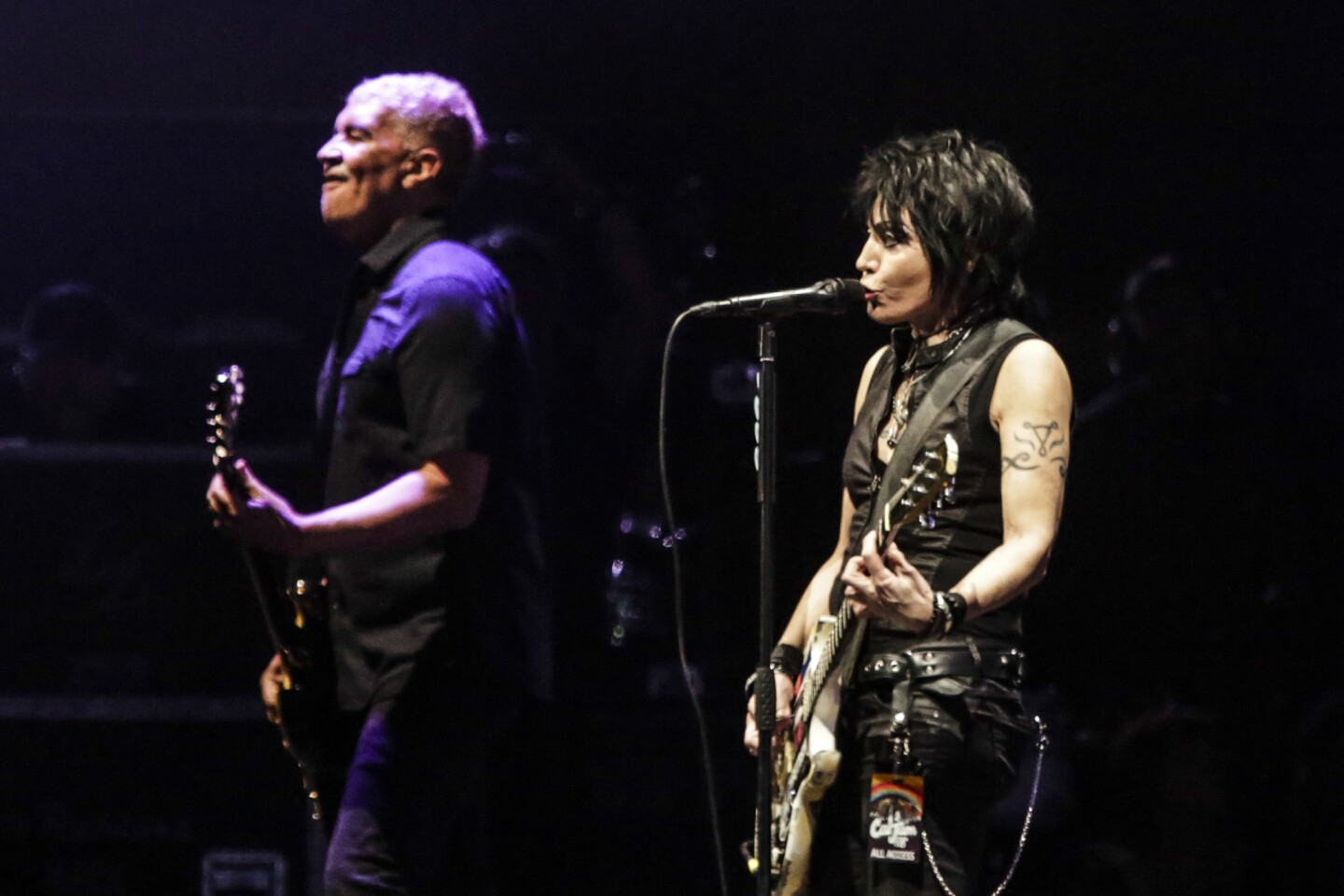 Pat Smear and Joan Jett play Nirvana's hit song "Smells Like Teen Spirit" at the Cal Jam festival at Glen Helen Regional Park in San Bernardino on Oct. 6, 2018.
(Maria Alejandra Cardona / Los Angeles Times)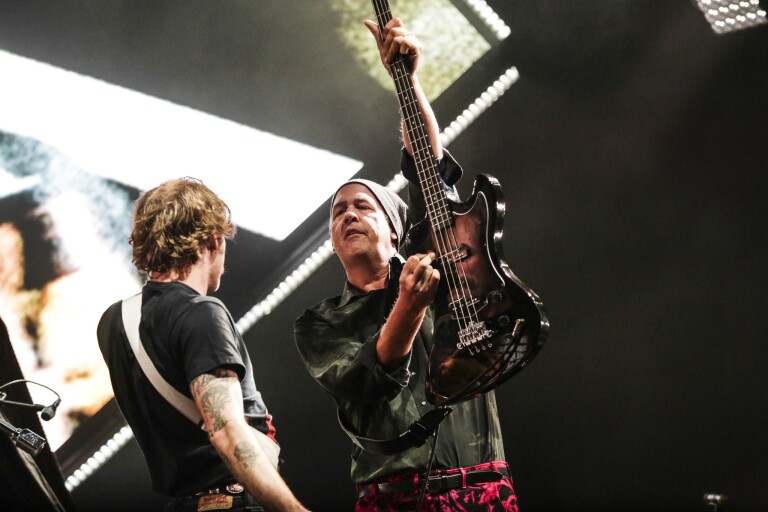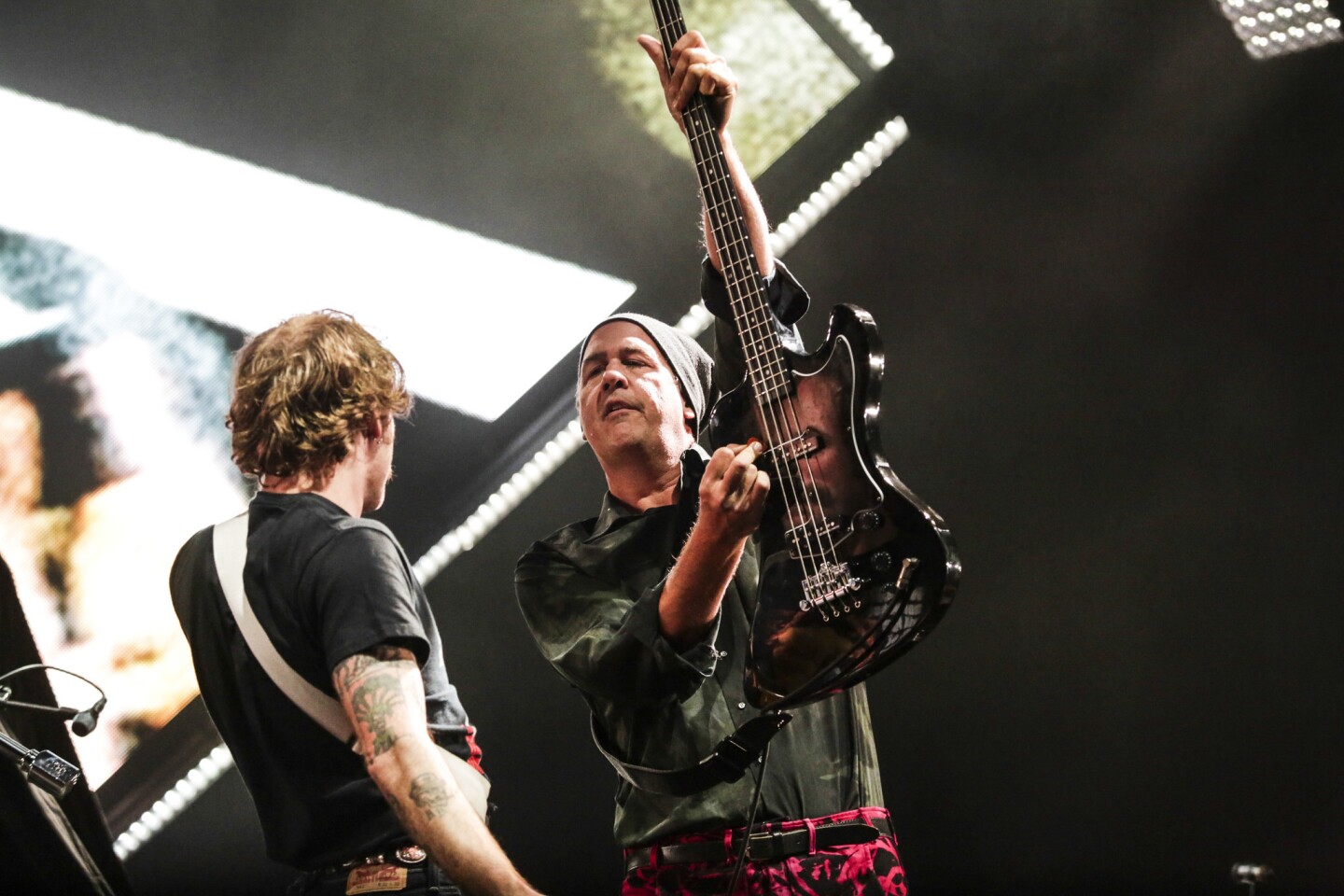 John McCauley, left, from Deer Tick and former Nirvana bassist Krist Novoselic play at the Cal Jam festival.
(Maria Alejandra Cardona / Los Angeles Times)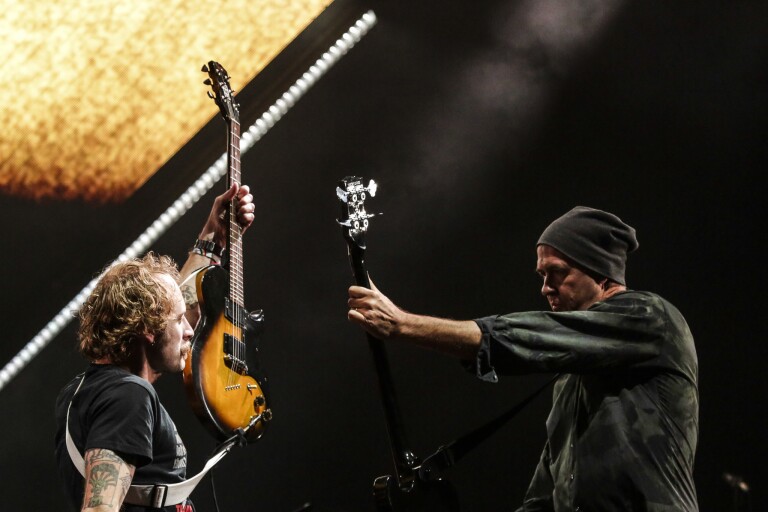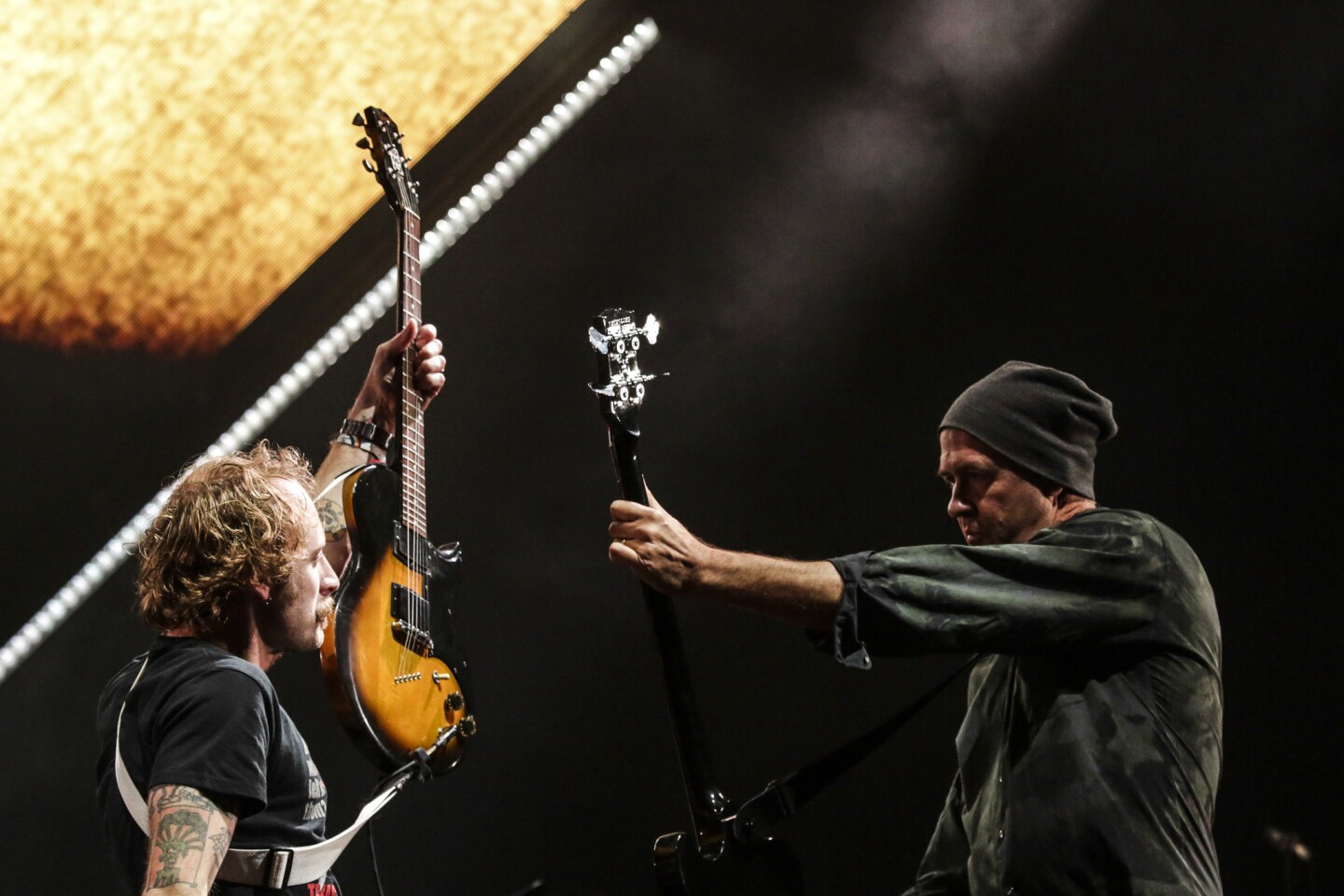 John McCauley, left, from Deer Tick and former Nirvana bassist Krist Novoselic perform.
(Maria Alejandra Cardona / Los Angeles Times)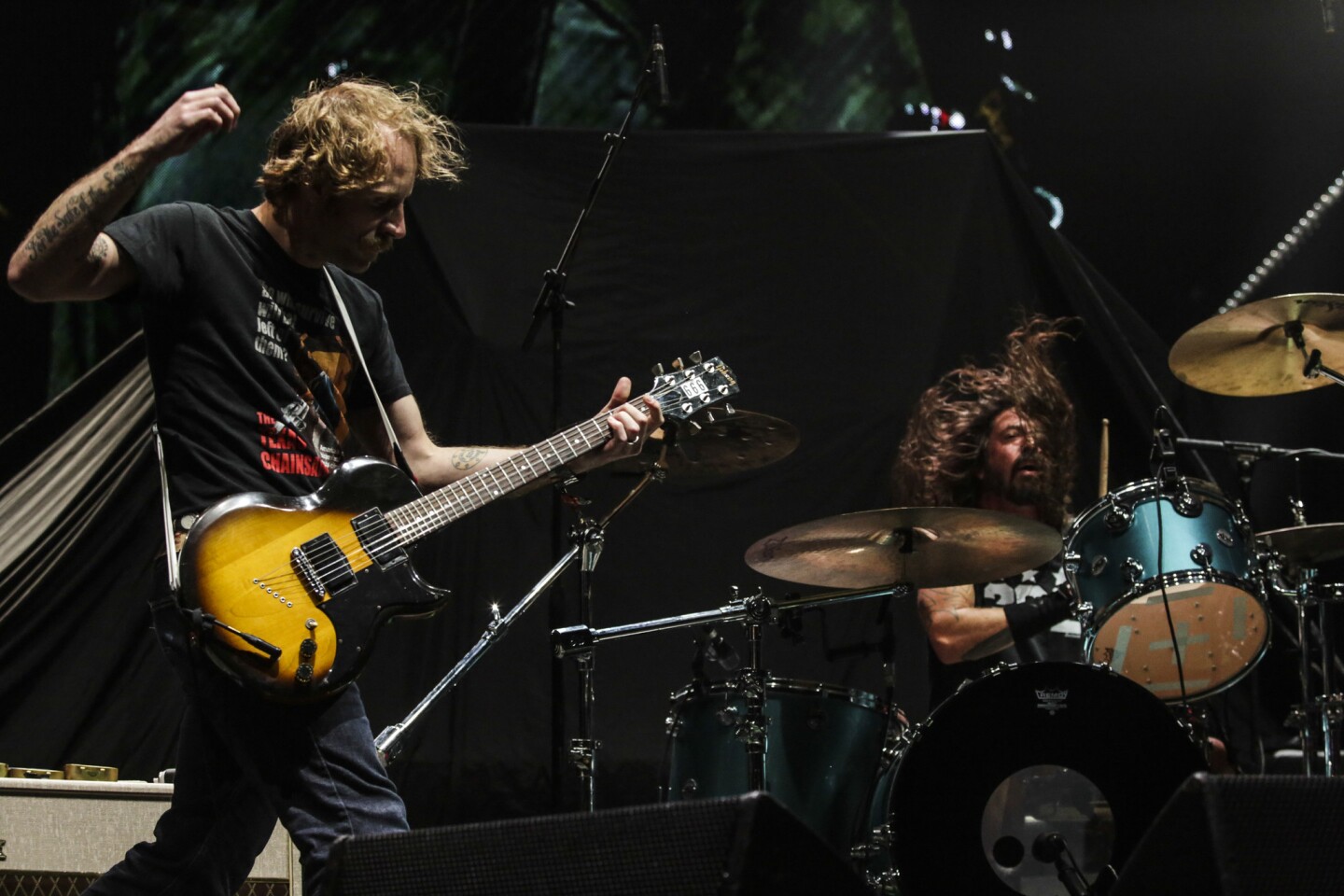 John McCauley, left, and Dave Grohl play as Nirvana at Cal Jam.
(Maria Alejandra Cardona / Los Angeles Times)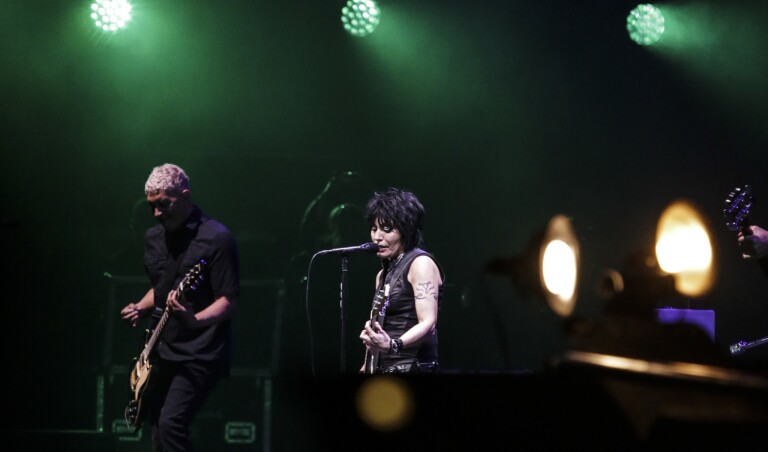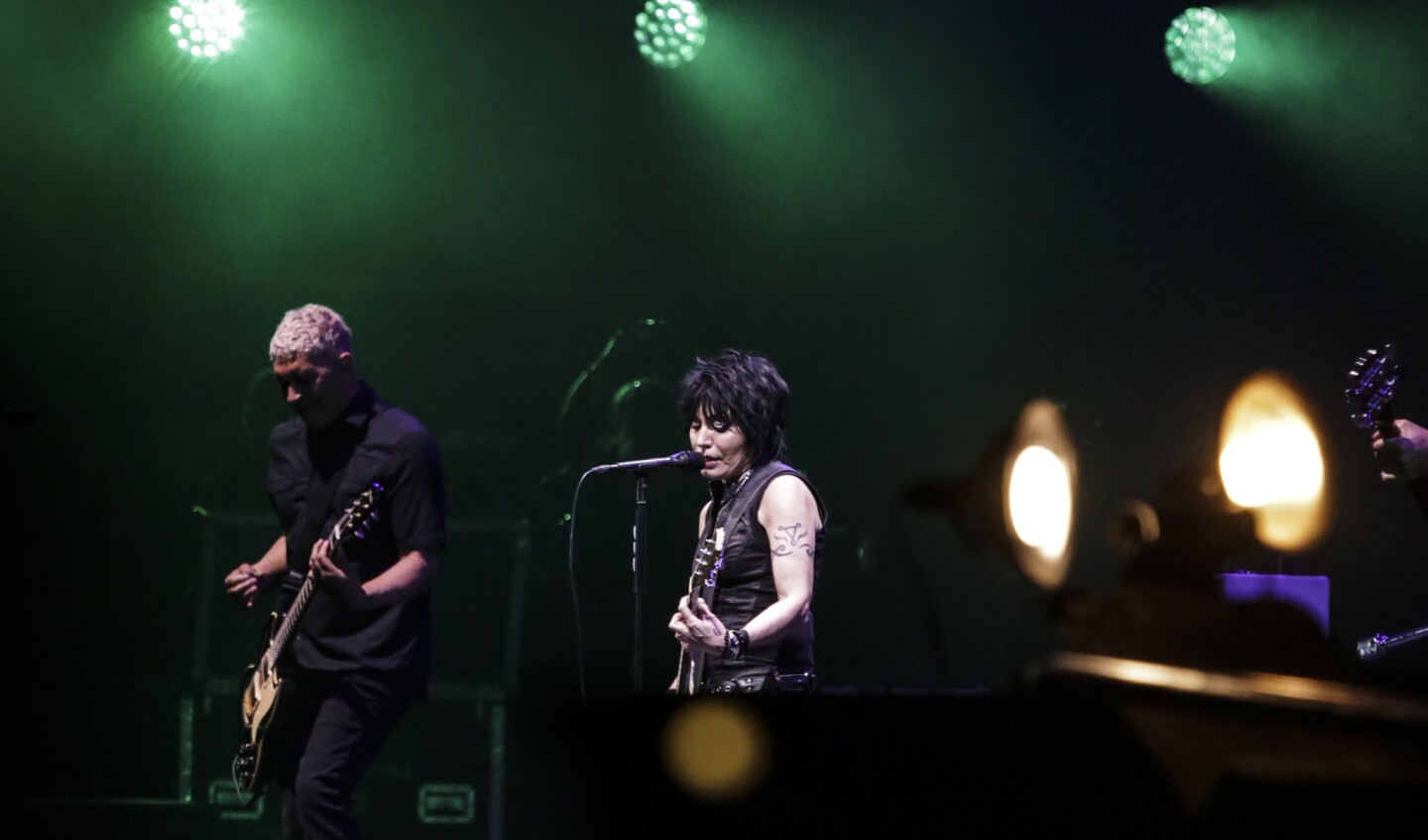 Former Nirvana guitarist Pat Smear and Joan Jett perform.
(Maria Alejandra Cardona / Los Angeles Times)
With McCauley nailing Cobain's sneering whine — and 49-year-old Grohl pummeling his drums as hard as he did when he was in his 20s — this version of Nirvana came remarkably close to sounding like the real thing.
And yet it was easy to feel squeamish about the circumstances. "In Utero" was basically Cobain's howl of misery from his unwanted position in the rock-star vortex, and here they'd become high-five fodder at an event built around the conviction that rock will never die.
Ditto "In Bloom," the third tune McCauley sang (and sang well), in which the narrator looks askance at those singing along to "all our pretty songs."
Artists don't get to choose their audiences, or their legacies. But Cobain would almost certainly have cringed had he been able to envision a scene even as well-meaning as this one.
Jett's presence was more reassuring, in part because her not-a-white-man identity felt like a fulfillment of Cobain's lifelong determination to disrupt conventions of masculinity in rock. (At the Rock and Roll Hall of Fame, all four of Nirvana's guest vocalists were women.)
More important, though, Jett made room for herself — for her blunt-edge guitar playing and her cool, imperious vocal tone — in "Breed" and "Smells Like Teen Spirit" in a way that McCauley didn't in his songs; this wasn't celebrity karaoke but a lesson in how to extract fresh meaning from a beloved text, not unlike those Cobain provided when he covered favorite songs of his.
The show ended, as "In Utero" does, with a tender rendition of Nirvana's great alt-rock ballad "All Apologies," for which the band brought out Brody Dalle of the Distillers to play bass while Novoselic switched to accordion.
The music was warm and enveloping — a peaceful finish to a night full of happy memories. But the words carried Cobain's suspicions from the grave as they rang out over Cal Jam.
"I wish I was like you," Jett sang. "Easily amused."
Twitter: @mikaelwood
---
The complete guide to home viewing
Get Screen Gab for weekly recommendations, analysis, interviews and irreverent discussion of the TV and streaming movies everyone's talking about.
You may occasionally receive promotional content from the Los Angeles Times.