California Sounds: A closer look at the Los Angeles-area artists headed to the Grammys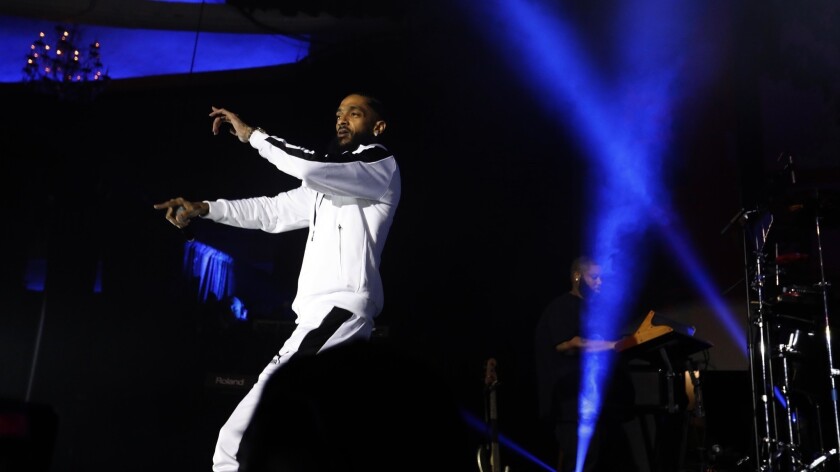 One of the less obvious storylines in the race for Grammy Award glory is the role geography plays in this year's prominent races. The eight nominees in the record of the year category, for example, represent a half dozen North American metropolitan areas — and one rural German town.
Cardi B (New York), Childish Gambino (Atlanta), Post Malone (Dallas), Drake (Toronto), Brandi Carlile (Nashville), Lady Gaga (New York), Kendrick Lamar (Los Angeles) and Zedd (Kaiserslautern) confirm the essential role that musical regionalism plays in the evolution of popular music.
By that measure, Los Angeles-generated sounds are noticeably lacking this year across the dozens of categories. Only one area artist, Lamar of Compton, earned nominations in the four major categories. Angelenos were locked out of best new artist and all of the pop music categories, to say nothing of jazz, country and blues.
Where did our people succeed? Rock, electronic music, hip hop and R&B. Below, a rundown of Los Angeles-area (non-Lamar) artists vying for ceremonial glory.
Tokimonsta, "Lune Rouge" (Young Art). Nominated in the dance/electronic album category for her "Lune Rouge," the Koreatown-based artist born Jennifer Lee faced a life-altering hurdle in making it.
A rare, sudden-onset neurological syndrome left her unable to appreciate, or even register, music. It took two years to regain her musical balance, and "Lune Rouge," a precisely structured, intricately layered electronic album, was the product.
Anderson .Paak, "Bubblin'." (Aftermath/Interscope). Oxnard's versatile singer, rapper, producer and entertainer has yet to achieve a level of fame equal to his skills, but the Grammy nominations have accrued.
Nominated as best new artist two years ago, .Paak is up for rap performance against a field that includes Cardi B, Drake, Lamar and Travis Scott. A win is hardly assured, but "Bubblin'" is a victory in itself.
Fever 333, "Made An America" (Roadrunner, 333 Wreckords). Formed in Inglewood less than two years ago, the aggressive rap-core trio offered its L.A. bonafides from day one with a debut performance at Randy's Donuts. (Warning: The below video contains cussing.)
Not that they lacked the attention. The band was founded by former Letlive vocalist Jason Aalon Butler and had a built-in fanbase in the wait. Platform constructed, Fever 333 earned its first nomination in the rock performance category for its protest song "Made An America."
Miguel, "War and Peace" (RCA). San Pedro's best R&B-rock futurist landed a pair of nods, one for urban contemporary album for "War & Peace," and the other for its single "Come Through and Chill."
A polite come-on tailor-made for the times, the track earned its attention for lines including this casual gem about would-be romantic competition: "Last thing I wanna do is get you jammed/ Especially if he's a fan/ He'll probably never wanna hear my ... again/ And I need every single SoundScan."
Deafheaven, "Honeycomb" (Anti- Records). Managing to sound both ear-shatteringly aggressive and spine-tinglingly velveteen, the Silver Lake-based, San Francisco-born trio has been a polarizing force on the metal scene.
Its 12-minute marathon "Honeycomb," which earned a metal performance nomination, illustrates Deafheaven's strength: Melding metronome-busting speed metal runs that suddenly and with great fanfare open into spiraling movements, as if coming upon a grand, candlelit cavern after days spent spelunking in darkness.
Nipsey Hussle, "Victory Lap" (Atlantic). The South Los Angeles rapper and roller rink owner earned his lap in 2018, as well as a nomination in the rap album category. The clip for the title track from "Victory Lap" finds the self-described "Slauson Boy" zipping across water, spliff in hand on the bow of a boat, and elsewhere roaming a South L.A. residential neighborhood.
Let's be real here: Compared to the competition, Hussle's rap album isn't the buzziest (Cardi B), most poignant (Mac Miller), most popular (Travis Scott) or Kanye-connected (Pusha T). It is, however, one of the least likely, and most deserved, album to earn a nomination.
Weezer, "Pacific Daydream" (Atlantic). When you realize that Weezer's 11th studio album was its lowest charting release in 23 years, the logic behind this year's cloying, deservedly maligned all-covers "Teal Album" makes much more sense.
"Pacific Daydream" seemed doomed from the start, arriving as it did accompanied by a press release in which Weezer singer and songwriter Rivers Cuomo described its sound as if "the Beach Boys and the Clash fell in love by the ocean and had one hell of an amazing baby." (Joe Strummer would never have set a combat-booted foot on a beach with Mike Love.)
Still, they got a Grammy nomination out of "Pacific Daydream" as well as at least one clever video.
Jay Rock, "Win" (Top Dawg). The Watts-born rapper, singer, songwriter and producer landed a trio of nominations this year, including two for "King's Dead," from his Black Hippy-compadre and label-mate Kendrick Lamar's soundtrack to "Black Panther."
The third is for his track "Win," a lock for victory — at least in a world where a song with the refrain "All I do is win, win, win" couldn't possibly lose. Is that this world? Not if fellow nominees including Drake, Travis Scott and Eminem have any say in it.
Beck, "Colors" (Fonograf/Universal). Those members of Beyoncé's hive still stinging from Beck's "Morning Phase"-driven album of the year victory over "Beyoncé" should know that the two aren't competing this year — so can let it go already. The artist born Beck Hanson is nominated for three trophies for work from his album "Colors."
The titular song, with a fantastic video directed by Edgar Wright, was produced, like most of "Colors," by hitmaker Greg Kurstin. Its seamless, crystalline work earned Beck and his team three Grammys, for engineered album (non-classical), alternative music album and pop solo performance (for the song "Colors").
For tips, records, snapshots and stories on Los Angeles music culture, follow Randall Roberts on Twitter and Instagram: @liledit. Email: randall.roberts@latimes.com.
---
From the Emmys to the Oscars.
Get our revamped Envelope newsletter, sent twice a week, for exclusive awards season coverage, behind-the-scenes insights and columnist Glenn Whipp's commentary.
You may occasionally receive promotional content from the Los Angeles Times.