Review: Camp Flog Gnaw was a carnival that couldn't escape the real world's anxieties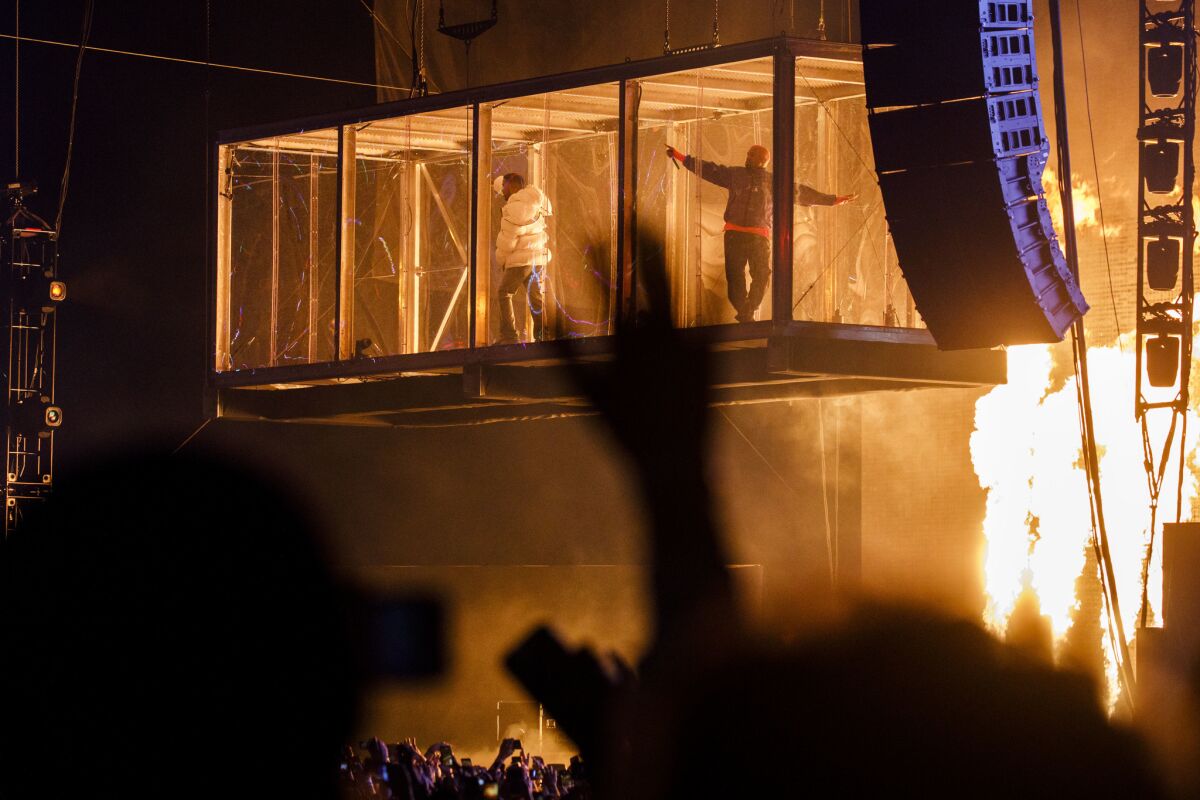 Pop Music Critic
"It's been a crazy week," Kanye West said, and here for the first time, perhaps, was an understatement of the facts from one of music's most grandiose personalities.
The rapper was onstage late Sunday night with Kid Cudi, his partner in the duo Kids See Ghosts, to close this year's edition of Tyler, the Creator's annual Camp Flog Gnaw Carnival.
And as West suggested, his performance at the end of the two-day festival followed a stretch of exceptionally grim news in Southern California — first the deadly mass shooting at a bar in Thousand Oaks, then the wildfires that forced an estimated quarter of a million people (including West himself) from their homes.
So what he wanted to do, he told the audience, was just have a good time with his final song.
But instead of "Touch the Sky" or "Good Life" or any of West's other modern-classic party songs, he and Kid Cudi played "Ghost Town," about putting your hand on a stove to see if it bleeds.
"Nothing hurts anymore!" West howled with something like glee over layers of sludgy psych-rock guitar. Then: "I feel kind of free."
Kind of free, he sang — a vivid expression of the troubled grasp for ecstasy that defined Camp Flog Gnaw, which drew a crowd numbering in the tens of thousands to the smoky grounds surrounding Dodger Stadium.
With an impressive lineup that included Post Malone, Lauryn Hill, SZA, ASAP Rocky, Brockhampton and Tyler, the Creator (known as the ringleader of the Los Angeles hip-hop collective Odd Future), the event in its seventh year was designed as in the past to resemble a carnival.
Thrill rides including a Ferris wheel and the trusty spinning Himalaya enticed brave showgoers, while old-fashioned games like a ring toss promised plush-toy prizes; vendors sold funnel cakes and candy apples along with the standard SoCal-festival fare of bacon-wrapped hot dogs and Korean-barbecue rice bowls.
Yet for all the happy escapism that Camp Flog Gnaw was offering, the music kept evoking real-world anxieties, as when Pusha-T recalled a friend's murder in "Santeria" or when Raphael Saadiq delivered a once-cheerful line from one of his R&B hits — "It never rains in Southern California" — as ash from the Woolsey fire drifted through the air. Here disposable breathing masks replaced the Wild West-style bandannas that are a familiar sight at the dusty Coachella festival.
Several acts, including ASAP Rocky and Playboi Carti, exhorted folks in the audience to form mosh pits that ended up carrying more than a whiff of masculine aggression. Pusha-T channeled the same energy when an explicit insult directed toward Drake, with whom he's been involved in a long-running feud, flashed across a video screen behind him and triggered a brutish chant in the crowd.
Which isn't to say that Camp Flog Gnaw felt like a football game.
Again and again, artists described the show as a safe space for misfits — "a place for all the weird kids to hang out," according to Will Smith's son, Jaden Smith, who drew cheers during his performance by referring to Tyler as his boyfriend.
Later, Billie Eilish — a 16-year-old L.A. native following Lorde's path to left-field pop stardom — thanked her fans for sticking with her as she "bombed this set."
A visible (and highly excited) figure in the front row for many of the festival's performances, Tyler's own set of rap and soul music combined furious emotional spasms à la Eminem with moments of the radical sensitivity for which Odd Future has become increasingly beloved.
Brockhampton, which half-jokingly calls itself a boy band, was similarly contradictory: six young men stomping around the stage accompanied by proudly chaotic beats — then apologizing profusely that they couldn't do all the songs they'd hoped to (due to what the group said was a crowd-control delay called for by the L.A. Fire Department at a festival with a tightly scheduled livestream).
A handful of gentler, more even-keeled acts appeared at Camp Flog Gnaw, including the English up-and-comer Jorja Smith and Majid Jordan, a Canadian duo with ties to Drake; both doled out sleek R&B tunes that recalled stuff from the 1980s by the likes of Sade and Lionel Richie.
But even the smoothest surfaces hid turmoil below: In Rex Orange County's song "Best Friend," this impish young Brit sang sweetly about feeling so lonely at a party that he can't help but check his phone.
For Kids See Ghosts, performing in public here for the first time, such worries were front and center as West and Kid Cudi ran through seven startlingly honest tracks from the duo's debut album that came out in June. And as on the record, their meditations on mental health sounded great Sunday, with booming drums and off-kilter textures like the vintage Louis Prima sample in "4th Dimension." Yet Kids See Ghosts' live presentation — in which West and Kid Cudi bounced around inside a see-through shipping container suspended over the stage — was deeply vexing. Not least because the transparent material reflected so much light that from the crowd you often couldn't make out their forms inside the thing.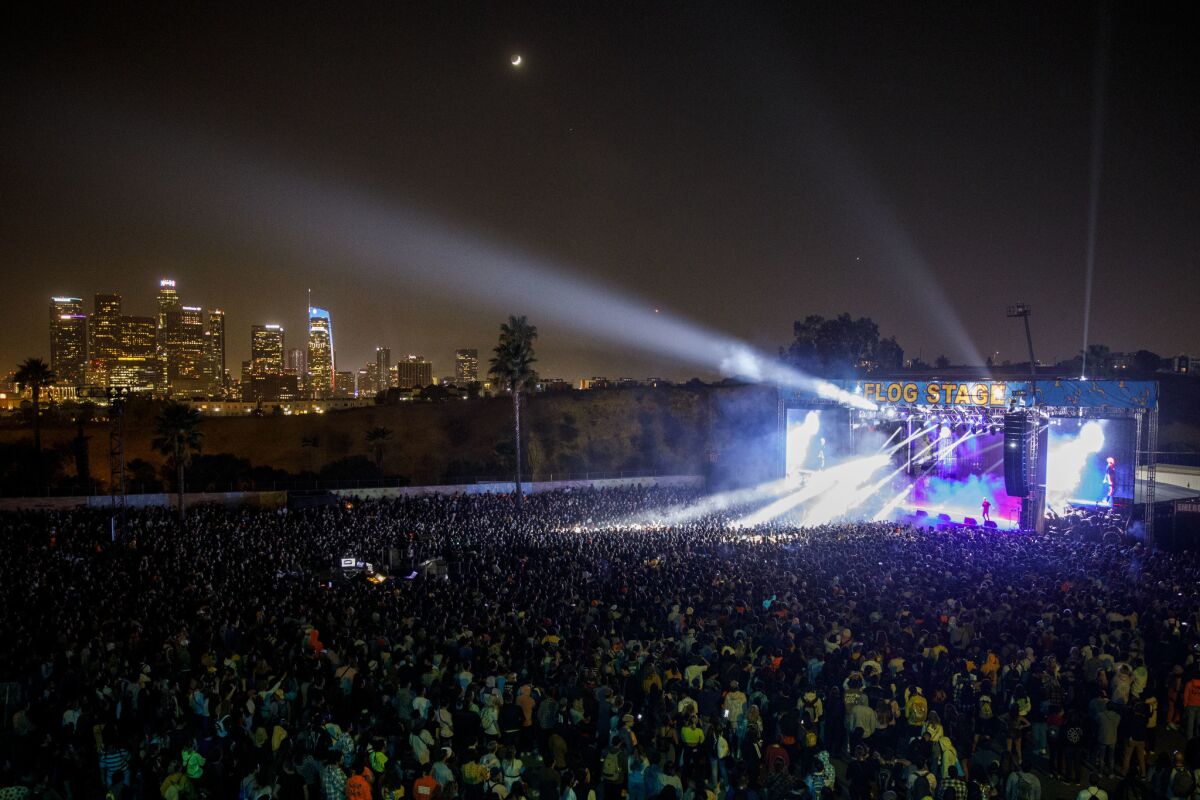 Indeed, much of the group's show seemed geared to those watching Camp Flog Gnaw at home on YouTube, where viewers were treated to close-up shots from cameras inside the box.
That's certainly a novel way to rethink the concert experience; it's also one with something to say about the alienating effect of technology that keeps making it easier for us not to leave the house — and to float conspiratorial political ideas, as West has done lately, without having to look anybody in the eye.
But at a festival where so many seemed eager to shake off the bad vibes of the past few days, Kids See Ghosts was making it awfully hard to feel a connection to the humans onstage.
Twitter: @mikaelwood
---
UPDATES:
7:10 p.m.: This article was updated with additional details regarding Brockhampton's performance.
---
Get our L.A. Goes Out newsletter, with the week's best events, to help you explore and experience our city.
You may occasionally receive promotional content from the Los Angeles Times.