Review: With triumphant El Rey show, Charli XCX prompts a question: Why isn't she even bigger?
It was the afternoon of Charli XCX's debut L.A. outing of her new "Pop 2" mixtape, and the British pop rebel posted a picture of herself outside a Staples office store opposite the El Rey Theatre on Thursday.
The cheeky Instagram caption read: "pop 2 at staples tonight. ultimate success. (obviously kidding — don't go to the wrong venue)."
It was a taste of XCX's humorous yet knowing approach to the pop machine. As big a fan of the state of pop as she is an instrumental figure in the genre's advancement, she's candid about where she stands.
Perhaps that post was her nod to Lorde, who headlined Staples Center the night before. But you had to wonder: What would the world look like had it been Charli XCX instead?
The pop sensation, 25, has always stayed closer to the underground than the mainstream. She is adored by the screeds of respected musicians who have worked with her, inluding Tove Lo, Carly Rae Jepsen, Rostam Batmanglij, Rita Ora, Caroline Polachek of Chairlift, Mykki Blanco, Brooke Candy and Bibi Bourelly.
And all of them either performed onstage Thursday night or were in the wings or dancing on the balconies as if they were all gathered for one of XCX's legendary Hollywood house parties.
Her "Pop 2," which was released like a last-minute XCX-mas present at the bitter end of 2017, secured her reputation as a visionary ahead of her time.
But in pop music that can also be a poisoned chalice. She's been on the scene twice as long as the arena-filling Lorde and still finds herself in the supporting role. Last year, she opened for Halsey; this year she's doing the same for Taylor Swift. When will the bridesmaid become the bride? Could it be in 2018?
At El Rey, XCX proved that it certainly should be. Opening with lead single "Outta My Head," it wasn't XCX who bound out onstage but instead a casual Lo in a sporty-looking wedding dress. XCX followed her in the first of three outfits: a puffy two-piece that one onlooker described as being "like a feather boa ate her whole body."
From visuals to song production to the way she employed every inch of the stage, XCX understands how to be a pop star the way Mick Jagger mastered how to be a rock star. She takes her job — of ensuring everyone has fun — seriously.
XCX displayed a welcome bravado, but the key to her vision was that the show was bigger than her. The realization of "Pop 2" as a live experience highlighted its key theme: collaboration.
It came in all shapes and sizes, from avant-garde pop purveyor Candy and trans rapper Blanco, to the Aaliyah-aping Abra and Canadian treasure Jepsen (who won the biggest cheers of the night and offered up her own "Cut to the Feeling" as a an extra treat).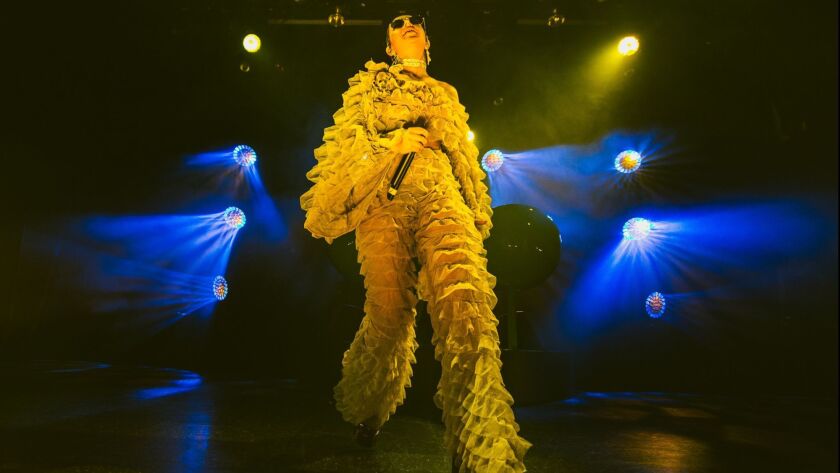 What's most remarkable about every iteration of XCX's live shows is that they're fully formed departures from whatever came previously. The 2014 Sucker tour saw her play with a full punk band. Her collaborative headline gig with Sophie in support of the "Vroom Vroom" EP, also at El Rey, two years ago was an industrial rave.
Thursday night, she powered through songs exclusively from the "Number 1 Angel" and "Pop 2" mixtapes. Her biggest hits — "I Love It" (with Icona Pop), "Boom Clap" — would have felt redundant next to them. The show was its own hit parade and often brought to mind the gay night Mustache Mondays at L.A. club the Lash. It was full of semi-naked boys in pink suits buzzing around their queen bee.
As a statement, however, it was purposeful and powerful, particularly for women and the LGBTQ community. How often do you see a female pop star building an entire show around celebrating her so-called competition? The joy on XCX's face upon welcoming her guests felt like a middle finger to the traditional (and misguided) narrative that there's room for only one woman in the room.
Before departing with one last banger, "Girls Night Out," she performed "Boys" — one of last year's best pop songs — and received a standing ovation. She held back tears, visibly moved. It was as bizarre as it was real, further proof that XCX's journey to the top is just beginning.
---
The complete guide to home viewing
Get Screen Gab for weekly recommendations, analysis, interviews and irreverent discussion of the TV and streaming movies everyone's talking about.
You may occasionally receive promotional content from the Los Angeles Times.