Laugh all you want, but remember: Charo slays at flamenco guitar too
Entertainer Charo packs in the fun for Hollywood Bowl performance
We have to go up to the pink room, Charo insists. "Right now! Let's go!"
It's pink, all right, with a little round platform perfect for Charo to strike pose after pose, thrusting her hips, shaking that famous mane of cascading curls and bangs, and squealing the catchphrase she has taken all the way to the bank:
"Cuchi cuchi!"
That's how Charo welcomed a reporter and photographer into her stately Beverly Hills home earlier this month. It turns out the pink room is Charo's playground. Sparkling with sequins from candy-colored dresses with billowing skirts and short hemlines, it's the Technicolor background to the Spanish entertainer's long and surprisingly durable career.
Throughout four decades, Charo has evolved from fixture on Johnny Carson and other talk shows and Las Vegas headliner to featured actress on "The Love Boat" and, more recently, a guest star in movies and on reality shows. At 66 (some reports suggest she's older), she occupies an odd place in pop culture: legend and punchline.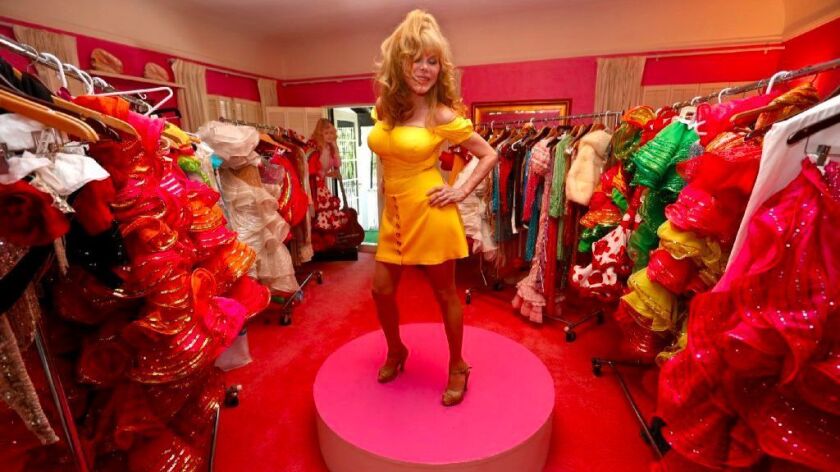 But don't "misconscrew" her, as Charo is fond of quipping in her live performances. Like Dolly Parton, she is a savvy, self-made artist guided by her own vision. She's no dumb blond — she just plays one on TV (and everywhere else she's invited).
It's not a stretch to say that, as a high-profile female entertainer of Spanish heritage who first charmed American audiences in the 1970s, Charo opened doors for Latina actresses such as Sofía Vergara, Salma Hayek and Eva Longoria.
"When I meet younger Latinas, I get always the same question: 'How did you make it?' I made it because I resolved my problems with comedy, with making people laugh," she says. "The American audience loves something original. Either they love you or they hate you, but they will learn your name and they will talk about you. Don't come to this country copying people. You got to be yourself."
On Sunday, Charo will remind fans how she got famous in the first place: as a respected and classically trained flamenco guitarist. Charo will open for and perform with Pink Martini, the globe-trotting orchestra that dips into jazz, classic pop and Latin music, at the Hollywood Bowl.
"It's great that she had a career on 'The Love Boat' and talk shows, but those have largely distracted from her musicianship," says Thomas Lauderdale, Pink Martini's founder. "I think very few people understand what a fantastic musician she is, what an awesome flamenco guitarist she is. But anyone who sees her live leaves blown away.
"There are a number of fans who know her history, but Charo is a new concept for a lot of people who are going to her shows now," he adds.
She has returned to TV in recent years, including "Celebrity Wife Swap," and this year she appeared on "Dancing With the Stars" and portrayed the Queen of England in "Sharknado 5: Global Swarming."
Charo doesn't know when she became the caricature that she has been keen to play up, nor does she care. She knows why we're still talking about her in 2017. Plenty of fellow entertainers have parodied her, most memorably Carol Burnett, but you don't have to crack a joke about Charo; she's probably already told it herself.
"If I talk fast, nobody knows what the hell I'm talking about," she admitted on "Good Morning America" in April, referring to her famously thick accent. (Bette Midler once joked in a comedy routine that she had to give up speed because she finally started to understand what Charo was saying.)
"Whatever I am, whoever I am, to me that was just the beginning," Charo says, noting that she was hungry early on to showcase her talent. "I can swear to you that it never happened because I went into a bedroom and opened my legs. It came from work, work, work."
She'd rather talk about her music, even if she's not asked enough about it. As a young girl, Charo studied guitar in Spain under Andrés Segovia, a giant of modern classical guitar. She has released several albums – some traditional, others salsa- and disco-oriented – since the '70s and plays guitar for at least three hours every day. (She can shred with the best of them.)
Coinciding with Sunday's Hollywood Bowl performance, Charo has a new album, "Guitar on Fire," coming out soon, and she thinks it's her finest work. She plays a track at full volume for her recent visitor, erupting into an effusive dance complete with air guitar. She leans in to talk about how the sounds of her childhood, specifically Gypsy musicians, informed her latest songs.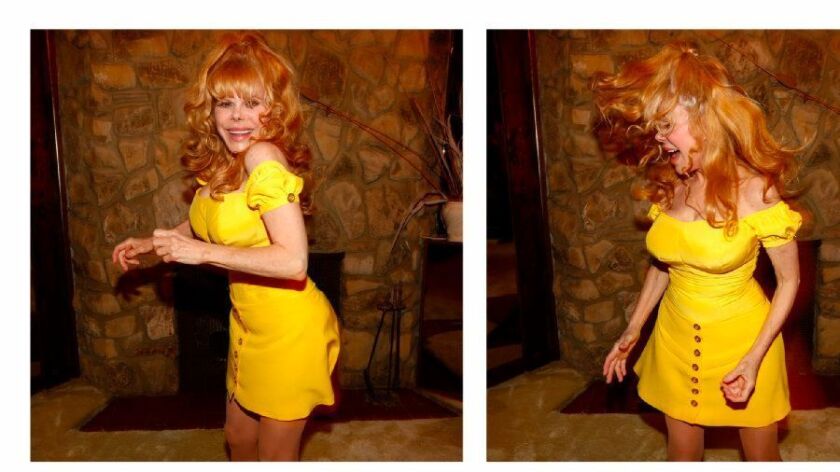 Still, her persona looms large. It took nearly 30 minutes for Charo to settle into this interview, finally dispensing with the zingers and booty bumps to focus on the less glamorous aspects of her biography.
Born in Spain (her full name is María del Rosario Mercedes Pilar Martínez Molina Baeza), she came to the United States in the mid-1960s on a temporary student visa but was a minor and couldn't work. She went back to Spain and returned with a work visa.
While still in her teens and singing on a Spanish children's TV show, she was discovered by Xavier Cugat, the Spanish-born bandleader who was pivotal in popularizing Latin music in the U.S. in the 1950s. Cugat was in his 60s when he married a teenaged Charo. Even after all these years, it remains a sensitive subject for her.
It's a long story, but she maintains the marriage was a business arrangement, a way for her to enter this country legally. "We had great respect for each other," she says. "Whatever you read about him, he was a gentleman and a half and a best friend."
A word about her Beverly Hills home: It's not what you might think. It's elegant and understated, a nod to both her homeland and California's legacy of Midcentury Modern design. There are few clues that such a larger-than-life entertainer lives here. Well, just above the bar near her kitchen hangs a vivid painting of Charo smoldering in the '70s. (Or was it the '80s? She's been a bombshell for most of her life and rarely changed her look.)
Charo shares her home with Kjell Rasten, her Swedish husband of nearly 40 years. As her manager, he looks after Charo as much as one possibly can. How does he keep up with her? "I don't even try," he admits, seemingly exhausted just by the prospect. Their lone child, Shel Rasten, is a musician in his own right.
Charo's older sister Carmen — and that's exactly how she's introduced — also spends a lot of time at the house and designs and makes most of Charo's outfits. They came to the United States together as teenagers, the only family they had in a strange new land. With her own pile of golden hair, Carmen bears an uncanny resemblance to her sister, whose boundless energy she considers a key asset. "Charo needs people," she says. "Without an audience, she'd die."
As for "cuchi cuchi," Charo came up with that. And even though she delivers her signature line with a pelvic swivel and her hands behind her head, she swears it was never meant to be sexual. Carmen relays how her little sister befriended a dog on their grandparents' farm. He had been hit by a car and had a snaggletooth that protruded, so they called him "Cuchillo" (Spanish for knife). The injured pup wiggled back and forth, and little Charo would emulate his movements but couldn't quite manage his full name. And thus was born "cuchi."
Call her the "Cuchi Cuchi Girl" or whatever you'd like. Charo doesn't mind being known for various reasons but says there has been one common thread in her story.
"I never let them change me," she says. "I remember one time they wanted me to play the girl next door. I said, 'I'm not going to be the nice neighbor. All my neighbors hate me because at 3 in the morning I'm playing music and making paella and screaming.' I am not your girl next door."
----
Pink Martini and Charo
Where: Hollywood Bowl, 2301 N. Highland Ave.
When: 7 p.m. Sunday
Tickets: $17-$196
Info: www.hollywoodbowl.com
Follow me on Twitter @jreedwrites.
---
Your essential guide to the arts in L.A.
Get Carolina A. Miranda's weekly newsletter for what's happening, plus openings, critics' picks and more.
You may occasionally receive promotional content from the Los Angeles Times.