After suffering a tragedy, music became a 'life raft' for Chasms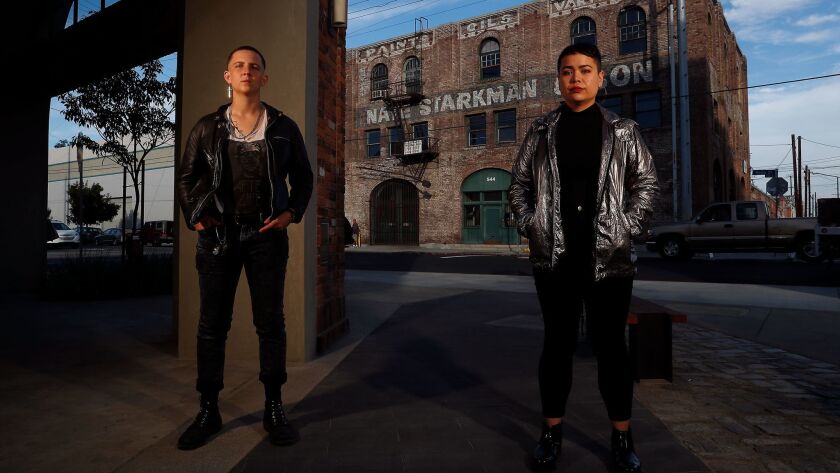 A few weeks ago, Shannon Madden of the L.A. experimental band Chasms went to see "Mother!," the latest film from director Darren Aronofsky. She'd watched Aronofsky's "Black Swan" with her brother, Griffin, years ago, and they both had a thing for his dark, surreal movies. She thought he'd want to know all about the new one.
"I just started casually texting him to tell him I was going to see it," Madden said. "It didn't feel like it'd been a year."
Griffin Madden was one of the dozens of young artists and music fans who, nearly a year ago, died in the fire at underground Oakland art space Ghost Ship. The scope of Chasms' loss in the fire was especially staggering: Griffin, other friends and collaborators like Cash Askew and Cherushii, dozens of DIY-scene peers, and the feeling that their hometown of the Bay Area was a hopeful place to live and make music.
All lost in one night.
After the Ghost Ship tragedy, the duo of Madden and singer-guitarist Jess Labrador moved to L.A. to start over. Their headlining show Nov. 30 at Zebulon isn't their first in L.A. since the fire, but it is a reckoning with how art and grief and hope intermingle as time moves on.
"The fire happened in a place where people had gathered to share music with each other," Madden said. "I'm still figuring out how to reconcile with that."
When the band first got news of the fire a year ago, Madden said she turned her phone off for days to mourn her brother and figure out what to do. She and Labrador each woke up to hundreds of texts and e-mails and didn't know how to start answering them.
"People just didn't know how to connect with us," Labrador said of the overwhelming confusion and sadness in their scene in the days that followed. "Our old lives were so tapped out. We needed to feel like we had something to look forward to."
They agreed that playing music was the best — maybe the only — way to keep some kind of normalcy after a loss that nearly unmade the world for them.
In January, the duo opened for black-metallers Deafheaven and noise-rockers Health at the Echoplex, just weeks after Ghost Ship. For fans who knew their circumstances, it was a remarkable set, just because they played it (they also performed at last month's Cloak & Dagger festival in downtown L.A.).
"We played shows the week of the fire. We didn't know what else to do with ourselves but play, " Labrador said.
"Ever since the fire, our attitude has been to play our [butts] off," Madden added. "There's something about being on the road, sleeping head-to-toe and having a shared purpose. We gravitated to these songs as a life raft."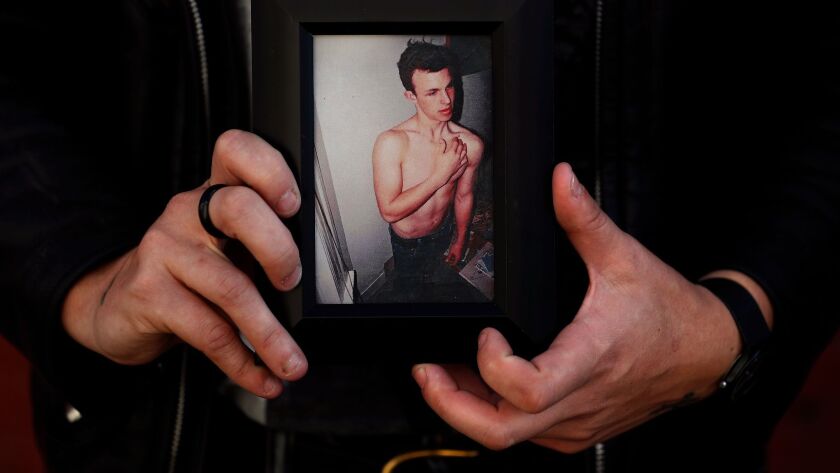 Chasms' 2016 album, "On the Legs of Love Purified," was released just weeks before Ghost Ship. Songs like "Black Ice" and "Beyond Flesh" were already elegiac productions, centered around Labrador's high, pure voice and oceans of distortion and reverb. Live, the two play like conjurers, coaxing enormous sounds from their guitars while locked in a trance onstage.
But after Ghost Ship, their music's liminal sadness turned into something else. Their songs now had a feeling somewhere between comfort and freedom, a kind unveiling about what music really meant to them when everything else seemed destroyed.
They've been writing again in recent months, and at their label Felte's showcase Thursday at Zebulon, they'll play some new music inspired by the hypnotic space of dub reggae and the melancholic, after-hours techno moods that Ghost Ship fans went looking for that night.
"It's definitely made me feel more like 'Make whatever you want to make, you have nothing else to lose anymore,'" Labrador said.
In the meantime, though, their proximity to Ghost Ship means that music and pain are woven together for them, in both practical and mysterious ways. Like many DIY showgoers now, they're compulsive about noting the fire exits at venues and questioning promoters about safety. In a time when gunmen can kill 58 at a country festival in Las Vegas or 89 at a show in Paris, death seems to haunt live music, and Chasms feels that acutely.
But they also recognize the fire as a symptom of a larger problem of cities failing its artists, its poor and its young people.
"Ghost Ship was an expression of the desperation to put on shows there," Madden said. "If there's a way to improve spaces, cities have to allocate the funds. They can't co-opt this case for their own agenda. Make spaces safer but not at the expense of music."
For them, even if they don't believe L.A. is much superior in that regard, it is a clean, hopeful break with the recent past. The move put some distance between them and just about the worst thing that could happen. And on Nov. 30, they'll step onstage and play those songs again, with so much still left to look forward to.
"There's something about music that makes people do whatever it takes," Madden said.
♦ ♦ ♦ ♦ ♦ ♦ ♦ ♦ ♦ ♦
Chasms with Odonis Odonis and Houses of Heaven
Where: Zebulon, 2478 Fletcher Drive
When: Thursday, 8 p.m.
Cost: $8 — $10
Info: https://zebulon.la
For breaking music news, follow @augustbrown on Twitter.
ALSO:
---
Inside the business of entertainment
The Wide Shot brings you news, analysis and insights on everything from streaming wars to production — and what it all means for the future.
You may occasionally receive promotional content from the Los Angeles Times.