Chris Stapleton on drinking, hobnobbing and letting his songs 'get some age on 'em'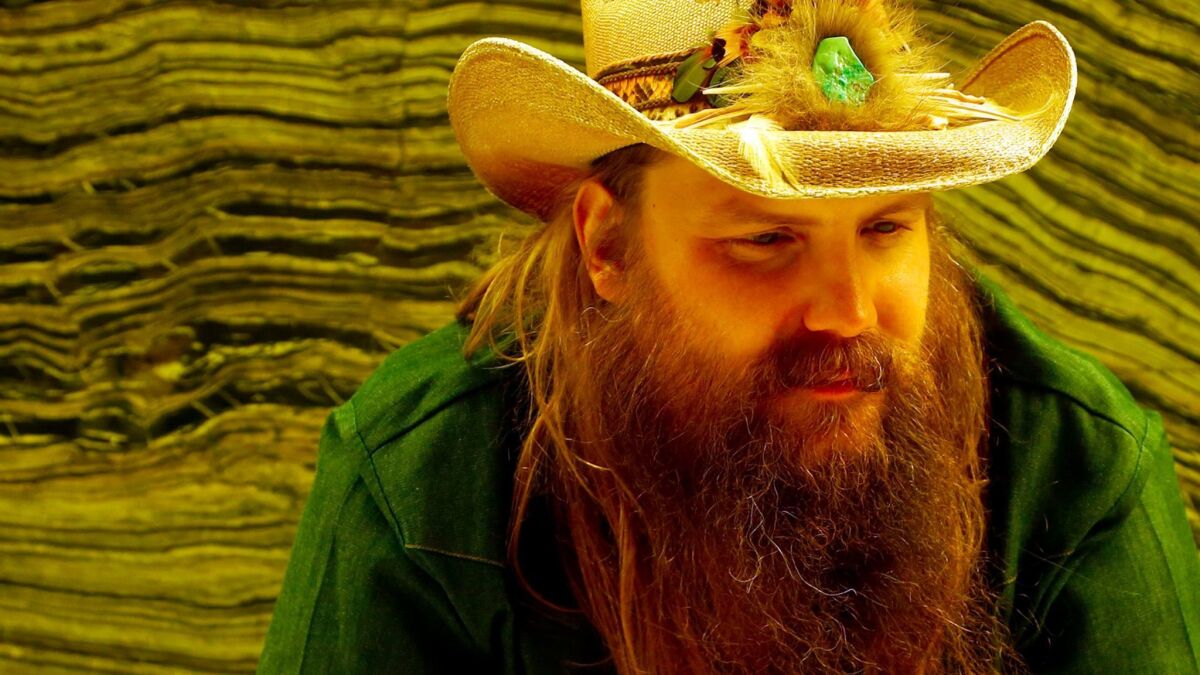 Pop Music Critic
Chris Stapleton doesn't have much use for beer.
The country singer was kicked back in a Beverly Hills hotel suite when his wife, Morgane, offered a round of cold ones to a small group of folks gathered on a recent afternoon.
"You don't drink beer," Morgane said, gesturing to her husband as she handed out bottles. Asked why in the world not, Stapleton shrugged.
"Just not into it," he said, then he chuckled. "It wasn't for lack of trying. But I like bourbon. I'll stick with that."
Clinging to the hard stuff after giving the softer stuff a try: The preference tells you something about this impressively bearded 39-year-old, who spent a decade writing hit songs for mainstream country acts — Luke Bryan, Kenny Chesney, Darius Rucker, Lee Ann Womack — before striking out on his own in 2015 with "Traveller," a solo album proudly modeled on the 90-proof work of Waylon Jennings and Willie Nelson.
Those influences alone didn't set Stapleton apart. Even in its most pop-oriented eras, Nashville has always maintained a healthy traditionalist wing, one populated by artists like Jamey Johnson, another impressively bearded singer and songwriter whose 2010 album "The Guitar Song" was a favorite of critics and tastemakers.
But the success Stapleton found was unique. After being named album of the year at the 2015 Country Music Assn. Awards — a ceremony in which Stapleton performed a duet with Justin Timberlake — "Traveller" topped the Billboard 200 on its way to sales of nearly 2 million copies, according to Nielsen Music.
Now Stapleton is back with his follow-up, "From a Room: Volume 1," which came out this month and debuted at No. 2. On Saturday night he'll perform at the Forum in Inglewood — a dramatic step up from the El Rey Theatre, where he played just 18 months ago.
True to his steadfast tastes, though, Stapleton hasn't shaken up his style. If anything, "From a Room" — titled in honor of Nashville's historic RCA Studio A, where he made it — is even more old-fashioned than "Traveller," with songs about tough luck and broken love set against warm, rootsy arrangements that could've been crafted in 1976.
Though the renditions on the album were newly recorded, the tunes themselves predate those on Stapleton's debut; they were part of a large stockpile he drew from too for "From a Room: Volume 2," due later this year.
That approach was partly a matter of logistics. Given his busy schedule since "Traveller," he simply hasn't had much time to write of late. But Stapleton also said that going back to older songs is a "good litmus test" for judging their quality.
"It's easy to write something in a day and think it's the best thing you've ever done," he said. "It's a lot harder to write something that's been around for 10 years and you still want to sing it.
"Letting the songs get some age on 'em — that was really cool."
How do you have these songs stored? Sheet music? Recorded demos?
We had, like, a Dropbox of songs. And they're all stored on a giant system at the publishing company. We can go, "Hey, send us this one." But you also have your favorites that you just know, that have always been there.
Like what?
On this record, "I Was Wrong." I played that song for years, I just never recorded it. Or "Whiskey and You" on the last record.
Tim McGraw recorded that before you did. What's it like to reclaim one of your songs?
You know, I don't ever think of it as reclaiming it.
You're just offering your interpretation.
Right. And that's the way I feel about other people doing songs that I write. I know I wrote them and technically they belong to me. But I don't feel like that — I feel like you put a song out in the world and somebody can do a version of it that's nothing like what you would do with it.
You change up your own songs too onstage.
Oh, yeah — I'll flip a song on its head, change the tempo, change the meter.
Is that a way to preserve some spontaneity as your shows get bigger?
It's a constant struggle. If we're trying to create anything out of a show, it's a feeling of intimacy, which is easily lost as you get more and more people and they're farther and father away. We still set up like we would in a club that holds 500 people. But now you can't see all of them; you can't hear what they're saying.
What have you made of the overall experience of fame — of becoming an object of public scrutiny?
I like privacy a lot. It caused me to move a couple times, but hopefully we're in a fairly private place now. We have more security things than we used to have. You've got to: Most people are great, but some are weird, and unfortunately they ruin it for everybody.
You don't strike me as the type of dude who got into music to hobnob.
No. I like the music. But it's a great feeling when people show up to a show. And I like the attention — I'd be a liar if I acted like I didn't. It feels nice to be recognized. But sometimes you want to go to your favorite dive restaurant and just sit there and have a meal.
Do you get phone calls now that you never used to get?
I talked to Elton John on the phone the other day — that was just the weirdest thing ever. They're trying to put together a tribute record to him and Bernie [Taupin], and he wanted us to do something on it. That blows my mind, because to me Elton John does Elton John songs, and that's the only person that should really do them. I told him as much.
The other night you did a bit on Jimmy Fallon's show: you and Fallon and Kevin Bacon impersonating ZZ Top in a performance of "Legs."
Comedy, man — that's difficult stuff.
Not a natural instinct for you?
I wouldn't say natural, no. But I raised my hand, and I certainly had a good time with it.
Plus you got to play a ZZ Top song.
I've written songs with Billy Gibbons, and just to be in a room with him — he's a cool cat. He walked in and handed me an autographed 8-by-10. First time I met him. If anybody else had done that to me I might've thought it was not cool. But he did it and I was, like, "Awesome — thanks."
Chris Stapleton
Where: The Forum, 3900 W. Manchester Blvd., Inglewood
When: 7 p.m. Saturday
Tickets: $35-$70
Info: www.fabulousforum.com
Twitter: @mikaelwood
ALSO
The Beatles' best album is really its worst. 'Sgt. Pepper,' we need to talk
On the road with Billy Joel: The Piano Man talks Trump, L.A. — and new music?
Chris Cornell had one of rock's great voices — and one of its most curious minds
Get our L.A. Goes Out newsletter, with the week's best events, to help you explore and experience our city.
You may occasionally receive promotional content from the Los Angeles Times.