Chris Cornell had one of rock's great voices — and one of its most curious minds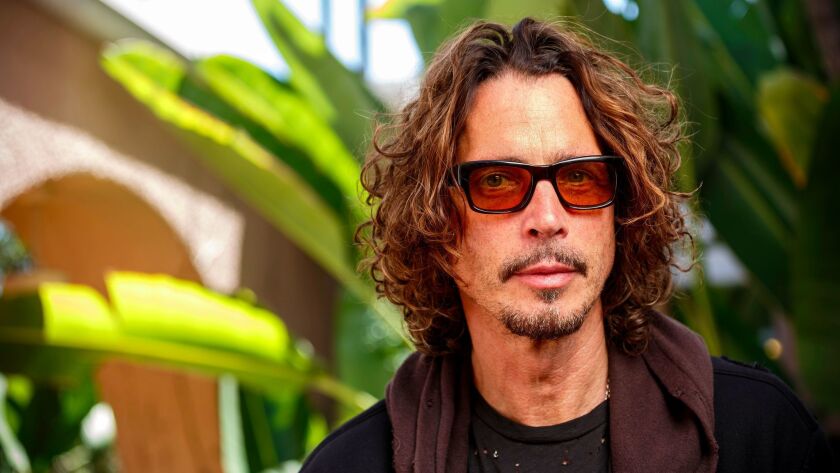 Pop Music Critic
No matter its setting, the voice is what hit you first: that brawny yet soulful wail, grounded in sorrow but always reaching upward for a way out of the muck.
Chris Cornell, who died Wednesday at age 52, reportedly of suicide, was one of the great rock 'n' roll singers — an octave-jumping belter who rose to fame as part of the 1990s' scruffy grunge scene but whose powerful instrument put him in league with the grandstanding rock icons of an earlier era, including the Who's Roger Daltrey and Robert Plant of Led Zeppelin. (According to reports, Cornell ended a concert Wednesday night in Detroit, mere hours before he was found dead, with a rendition of Led Zeppelin's take on the gospel traditional "In My Time of Dying.")
With his long-running Seattle band Soundgarden, Cornell brought a rough sensuality and a philosopher's tone to brutish hard rock; only he could have made a chart-topping pop hit out of the impenetrable lyrics of the group's best-known song, "Black Hole Sun": "In my eyes, indisposed / In disguises no one knows."
Yet Soundgarden, which broke up in 1997 and reunited in 2010, was just the beginning of a career that kept taking unexpected turns. Almost as impressive as Cornell's voice was his musical curiosity, an open-minded spirit that set him apart from more rigid grunge stars like the late Kurt Cobain of Nirvana and the late Layne Staley of Alice in Chains.
For his first solo album, 1999's "Euphoria Morning," Cornell lowered the volume, offering up a kind of psychedelic folk-rock heavily influenced by the Beatles. In 2001, he teamed with three members of Rage Against the Machine to form the supergroup Audioslave; here he was yowling over loud electric guitars again, but with a fresh rhythmic agility that hinted at R&B and funk.
Audioslave made three albums before the band split, which led Cornell back to solo work. But he didn't merely pick up where he'd left off. "Carry On," from 2007, featured a moody cover of Michael Jackson's "Billie Jean"; "You Know My Name," his James Bond theme from "Casino Royale," showed off the dapper crooner hidden beneath his long rocker's locks.
A few years later he went truly off-script with 2009's "Scream," recruiting the hip-hop producer Timbaland for a collection of oddball pop-soul songs that set his gritty vocals against perky, intricate digital grooves.
"Scream" earned harsh reviews and sold miserably. It disappointed Cornell's core following and failed to entice many new fans. (On Twitter, Trent Reznor of Nine Inch Nails famously wrote that the album gave him "that feeling you get when somebody embarrasses themselves so badly YOU feel uncomfortable.")
To his credit, though, Cornell never made the record disappear the way musicians including Billy Corgan have done with some of their work in the digital-streaming era. I don't know if he was proud of the album, exactly, but I suspect he took pleasure in the proof that he was willing to pursue a left-field idea to its conclusion.
I spoke with Cornell on several occasions over the last 15 years or so, and each time I recall being struck by his belief in whatever project was at hand. He was a dabbler but not a dilettante; his commitment invariably ran deep, whether to the formation of Audioslave or to Soundgarden's 2012 comeback album, "King Animal," which he told me was the first to capture the band's ferocious live sound.
"Hallelujah!" he said, sprawled in a Beverly Hills hotel suite. "We finally did it right."
Still, the singer never seemed more engaged than he did during a lengthy phone conversation for a magazine story in which he annotated his sprawling catalog. Speaking from Paris, where he opened a restaurant with his wife in 2006, Cornell told a publicist he wanted to keep talking after she'd jumped on the line and asked me to wrap it up; later he did the same thing again, and then again one more time.
Asked to assess the full sweep of his music, he'd taken a few steps back in his mind and happily gotten lost in the view.
Twitter: @mikaelwood
---
From the Emmys to the Oscars.
Get our revamped Envelope newsletter, sent twice a week, for exclusive awards season coverage, behind-the-scenes insights and columnist Glenn Whipp's commentary.
You may occasionally receive promotional content from the Los Angeles Times.