Coachella is the canvas. The art is the spectacle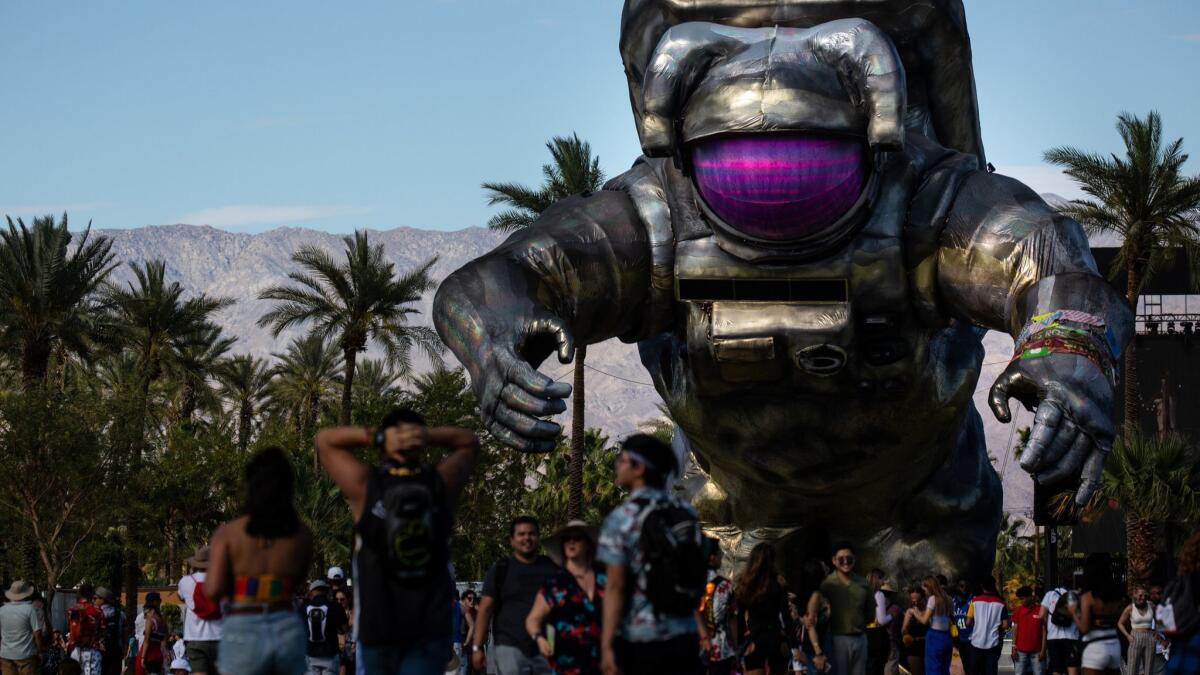 There's no predicting how anyone might react to a huge piece of art, and right now a young man in khaki shorts is losing all composure on the top level of the Spectra tower at the Coachella Valley Music and Arts Festival in Indio. He's pacing, stomping, shouting, ecstatic.
"Whoa! This is so sick!"
He made it all the way up the spiral walkway seven stories up, taking in the late afternoon landscape through multicolored acrylic panels, overcome with joy and maybe chemical enhancement, until white-shirted security men gently escorted him out and back down to earth.
Watching from nearby is artist Patrick O'Mahony, creative director for Newsubstance, the Leeds, England, studio that created the tower that first premiered at last year's Coachella. Crowd control is not O'Mahony's specialty, but he looks more amused than concerned about the overstimulated festivalgoer.
"Luckily, when we finish designing, we hand over to people with more skills than us in dealing with the public," says O'Mahony, whose technicolor tower is just one of six large-scale artworks on the grassy fields of Coachella. "I don't think there is any other festival in the world that gives this kind of prominence to artists. We were really keen to be part of it."
FULL COVERAGE: Coachella 2019 »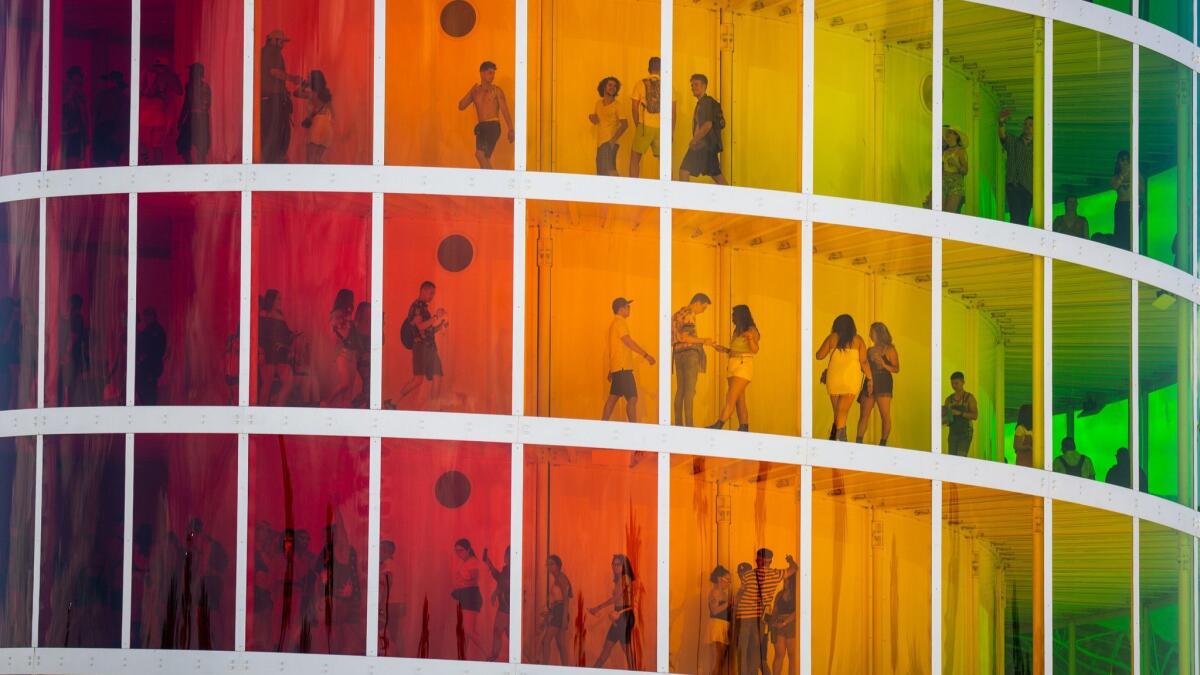 Art has been a tradition at the festival from its 1999 debut. During its earliest years, most pieces were repurposed from the annual Burning Man gathering in the Nevada desert. The festival now commissions original work from around the world, while continuing to collaborate with several Burning Man artists.
"As the scale of the site has grown, we've increased the scale of the art as well," says Coachella's art director, Paul Clemente, who has been involved with artwork at the festival for most of its two decades, beginning as a volunteer before becoming its main curator in 2007. "We're really looking for exciting artists that we want to be in the trenches with for a year and be an enjoyable experience."
Without overtly saying so, the festival is marking its 20-year history with a mixture of new large-scale art pieces and a handful of others that echo some of the most popular works from the recent past.
So the 2019 chapter has seen the return of the hyperactive hippos of the artist duo Dedo Vabo and another 36-foot tall astronaut from Poetic Kinetics gliding over the grass.
After a monthlong construction in 2018, Spectra was left standing on the fields of Empire Polo Club. "So the rest of the year you have horses out there and this big structure sat in the middle," says O'Mahony. It will remain standing at least until the 2020 edition.
"These are the defining images of 2019," adds Clemente, who has already begun thinking about art for next year. He will convene a small pool of artists to develop ideas for a final four or five pieces in 2020.
"It's a great canvas: It's green, lush, and the sky," says Poetic Kinetics leader Patrick Shearn of creating his kinetic artworks for the wide-open Indio setting. "Anything that breaks the skyline is something they're looking for — and spectacle.
"For years, the local Burning Man scene was a big part of it," adds Shearn. "Paul Clemente was one of us and it was easy for him to meet and understand us. As the festival grew, they've been able to go international, which is wonderful."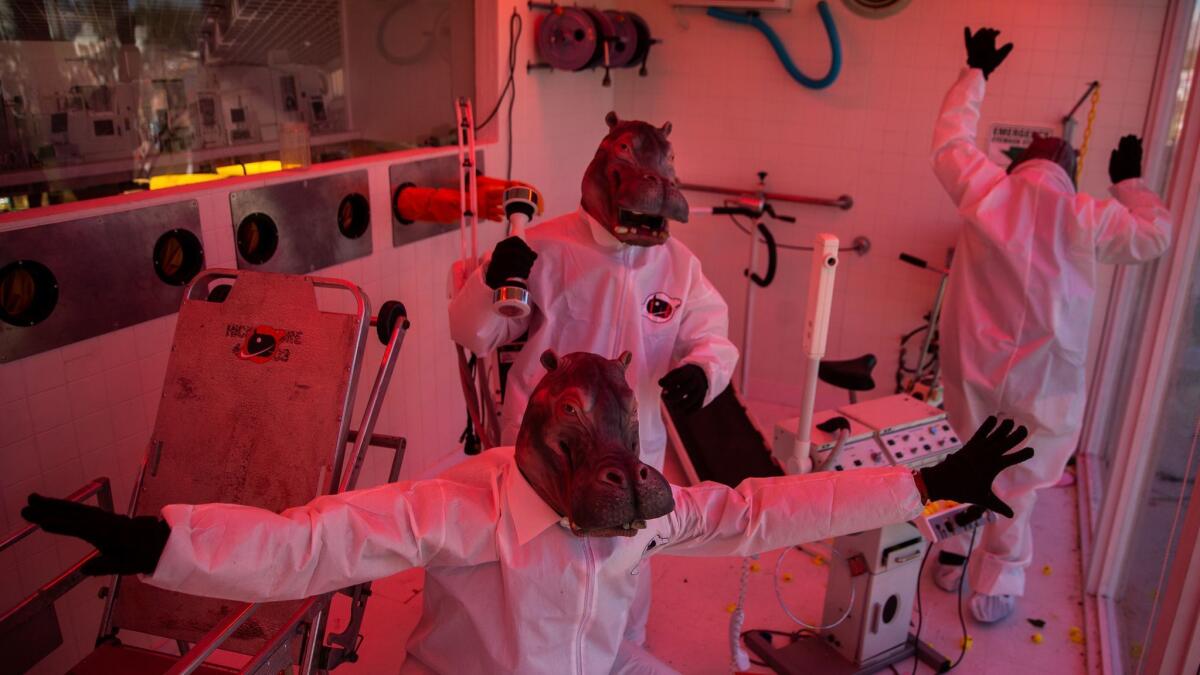 In 2014, Poetic Kinetics brought to Coachella the iconic "Escape Velocity," a giant white-suited astronaut that became the most photographed subject at that year's festival. This week, in a kind of sequel, Shearn brought a new astronaut piece called "Overview Effect," its spacesuit now stained with color and other artifacts from a journey across the stars.
The interactive artwork, with an 8-foot-wide video screen serving as the space helmet's visor, rolled slowly across the grass. Last weekend, the face of retired astronaut Chris Hadfield appeared on the screen, speaking of watching the world from orbit, followed by filmmaker David Lynch, who intoned: "Experience the source of all space and all time, and realize that the individual is cosmic."
The "Overview Effect" title refers to the profound change of perspective that astronauts experience seeing the Earth from space and in context with the larger infinite of the universe.
"This is all we have, we've got to take care of this thing," says Shearn, describing the layers of messages offered by the tower astronaut, including climate change. "As an artist, I want to do anything I can. There's not a lot of opportunities to get in front of 125,000 people with any kind of message."
The original spaceman was purchased by the Science Museum of Minnesota, where it currently fills a large room. Coachella has already purchased "Overview Effect" outright, on top of already offering artists "the best budget around," says Shearn.
Keeping with a space travel theme is "H.I.P.O. (Hazardus Interstellar Perfessional Operations):" a huge rocket with launchpad/space station, populated by performers dressed as hippos clumsily working the controls, unspooling computer tape and generally leaving piles of destruction. Last weekend, fans might have spotted a crushed hippo stuck to the bottom of the giant spaceman's boot.
"If we can collaborate with other artists it makes it more fun," says Vanessa Bonet, one half of Dedo Vabo. The hippo installation requires more than 200 cast and crew to maintain a nonstop 12-hour performance each day at Coachella. The rocket is as tall as the historic Redstone 3 rocket that helped usher in the U.S. manned space program in the 1960s.
The hippos have appeared before at Coachella, most recently dressed in office attire at the hugely popular "Corporate Headquarters" in 2015. The hippos first appeared a decade ago as part of an installation in a downtown Los Angeles storefront. Now they've gone into space, smashing and grunting at every turn.
Fans crowd around the rocket, watching the hippos perform behind the windows, taking snapshots or otherwise staring blankly. "There's always a level of confusion. We're expecting that because our pieces are a little odd," says Bonet.
Her Dedo Vabo partner, Derek Doublin, adds, "We actually relish that. We like to hear 'What is going on with this? What does this mean?'
"It's really become a museum for large scale art out here."
Get our L.A. Goes Out newsletter, with the week's best events, to help you explore and experience our city.
You may occasionally receive promotional content from the Los Angeles Times.