Why Coachella 2004 was so important — and a lost opportunity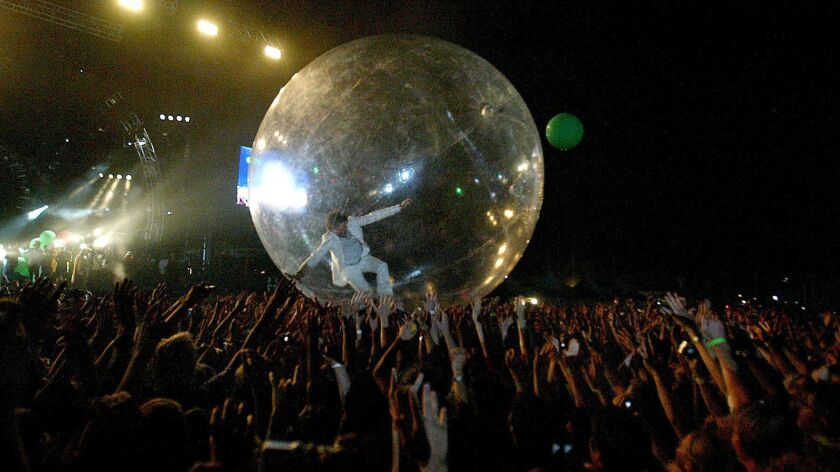 Wayne Coyne understood that something weird had happened the night before when he saw the newspaper. There on the front page was an epic photo of the Flaming Lips singer, caught during the band's ecstatic performance at Coachella, as he rolled over the heads of fans in a clear plastic "space bubble."
The year was 2004, and the Lips still saw themselves as an outsider-psychedelic-punk-art-rock band from Oklahoma City, using gear held together with duct tape. Much of the band and crew wore furry costumes and other cartoonish outfits onstage, while Coyne stumbled inside his bubble, making music that was delirious and sincere.
"We still couldn't tell if people thought it was cool or if it was just stupid," Coyne says now of their Coachella debut. 'Then you find out the next day that it was really a success."
FULL COVERAGE: Coachella 2019 »
The band's performance was one of the defining moments of the festival that year, as Coachella fully arrived as a major cultural event that generated global attention. Also during those two days were Radiohead and the reunited Pixies, two of the most influential artists in alternative rock, plus a packed, 12-song set from the electronic music godfathers of Kraftwerk.
The Times' critic Robert Hilburn called Coachella that year "the premier pop music festival in the country." And a Rolling Stone headline read: "America's Best Music Festival."
"For me that was a turning point," says Paul Tollett, co-founder of the festival and president of Goldenvoice Productions. "Once Radiohead gave you the stamp of approval, you've arrived. Every band started to call at that point."
Once Radiohead gave you the stamp of approval, you've arrived. Every band started to call at that point.
— Paul Tollett
After the near-ruinous ticket sales at the inaugural festival in 1999 just five years earlier, 2004 was Coachella's first sellout, with about 60,000 people a day. The universal acclaim was for a lineup of more than 80 acts that also included pop-goth hit-makers the Cure, the French sci-fi duo Air, and adventurous rockers Wilco and Le Tigre.
The reunited Pixies played at dusk on the main stage, as the guitars of Black Francis and Joey Santiago landed like thunder-cracks across the desert floor. Being at Coachella meant the band was finally facing the kind of massive, appreciative crowd that eluded them in the U.S. before breaking up in 1993.
A frenzied press conference onsite earlier that day was an indication that things were different from the band's first run as a ground-breaking band known mostly to musical taste-makers.
Pixies drummer David Lovering recalls being surprised that so many even knew the lyrics well enough to sing along. "To see people that were singing along, I was like, 'Hey, I haven't seen that before,' " Lovering says. "That was something else. Then Radiohead — it was a fantastic night overall."
Radiohead was already at a peak moment, touring behind the band's newest release, "Hail to the Thief," and opened its 20-song Coachella set with the complex beats and fragile howls of that album's "2 + 2 = 5." The U.K. band's soaring, post-millennial angst helped set a high standard for festivals to come.
Backstage, each dressing room was prepared by Goldenvoice to somehow reflect the band's image, and for the Lips that meant décor suggesting a kind of Dr.-Seuss-in-space theme. On the wall was a painting of a fuzzy alien character that Coyne now has hanging in his living room.
When the Lips played the second night, Coyne wasn't sure his dream of emerging in a "giant space bubble" would work. "When we went to do it at Coachella," Coyne recalls, "we didn't really tell anybody, because if we did, we thought they probably won't let us do it."
Fortunately, Coyne didn't need to use the knife in his pocket to cut himself free from the plastic. The bubble has been a frequent prop for the Lips for many years since.
The 2004 festival was a defining moment, yet there was a brief chance that it could have been even more of a landmark event. In those early years, Coachella was strictly a two-day concert, but Tollett got an unexpected offer: David Bowie.
The forward-leaning superstar, whose work in the 1970s had influenced so much of the alternative rock and electronic music that defined Coachella, was going to be available in Southern California that week. But the festival was still years away from expanding to three days in the desert.
"I didn't think I could go three days back then," says Tollett. "It just never crossed my mind. At the time, I should have jumped on it. I should have grabbed a third night of David Bowie. That's really the one that got away."
---
The complete guide to home viewing
Get Screen Gab for weekly recommendations, analysis, interviews and irreverent discussion of the TV and streaming movies everyone's talking about.
You may occasionally receive promotional content from the Los Angeles Times.