Coachella at 20: Looking back at every festival
Generations of musical history have unfolded on the grassy acres of the Coachella Valley Music and Arts Festival, this week marking two decades of action in Indio.
The show has evolved in surprising ways since it began as a desert setting for the best alternative rock, hip-hop and EDM of the moment. No single timeline could contain its full story, but some moments have been especially meaningful, and co-founder and president of promoter Goldenvoice Productions Paul Tollett helps weigh in on how the festival evolved.
1993
Coachella pre-history: Two hours outside Los Angeles, Pearl Jam headlines a concert on the grounds of Empire Polo Club. The site is still mostly about polo matches, without the concert infrastructure that Coachella regulars have come to know, but it leaves an epic impression on Goldenvoice leaders Tollett and Rick Van Santen. Over the next several years, they talk about starting a European-style music festival.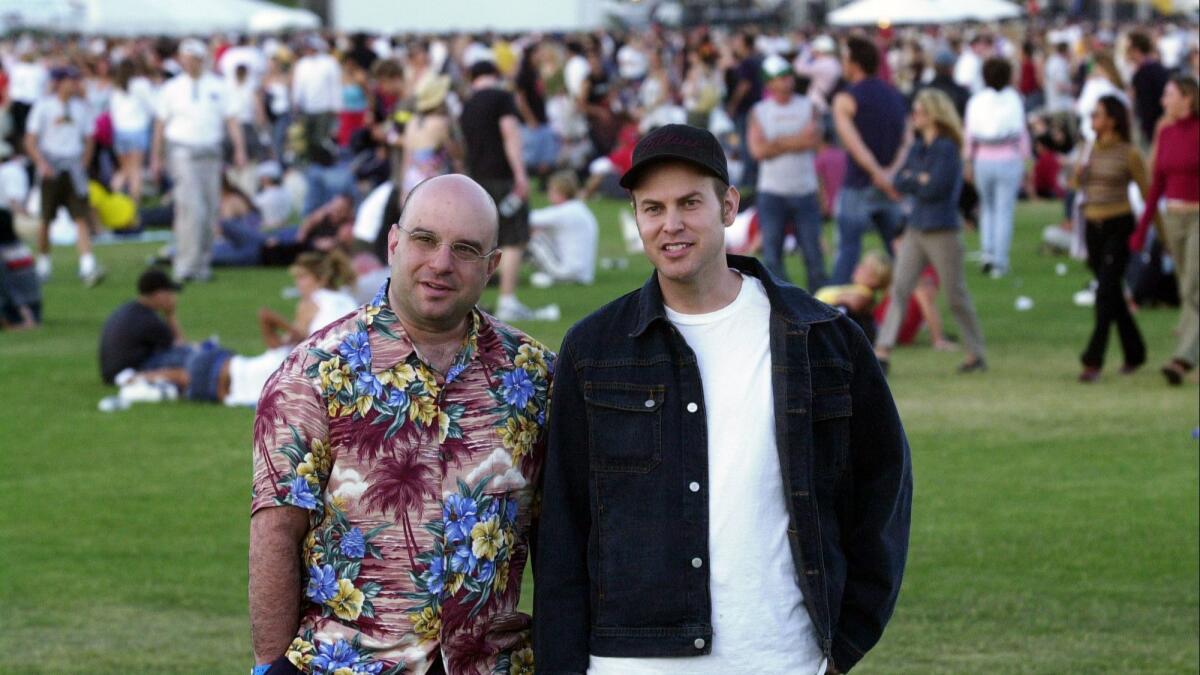 1999
The first Coachella arrives during a scorching weekend in October, created as a space for forward-looking pop sounds ranging from Beck and the Chemical Brothers to the harder rocking Rage Against the Machine and Tool. It was a lineup that mostly ignored the pop charts, tapping into an adventurous audience of musical connoisseurs that Goldenvoice had cultivated for nearly two decades of concerts across Southern California.
The show unfolds on the wide-open spaces of Empire Polo Club as a notably humane, fan-friendly event – in stark contrast to the catastrophic 1999 chapter of the Woodstock festival months earlier, which closed with rioting, fires and sexual assaults. Unfortunately for Goldenvoice, that terrible scene on the East Coast hurt ticket sales for Coachella, adding to major losses that threatened the company's future. (Goldenvoice was eventually bought by Anschutz Entertainment Group in 2001, allowing Coachella to continue.) But those who made it out to Indio experienced something special.
"The first one was great," says Tollett now. "I like the first one a lot. There were some mistakes for sure, but it was different for people."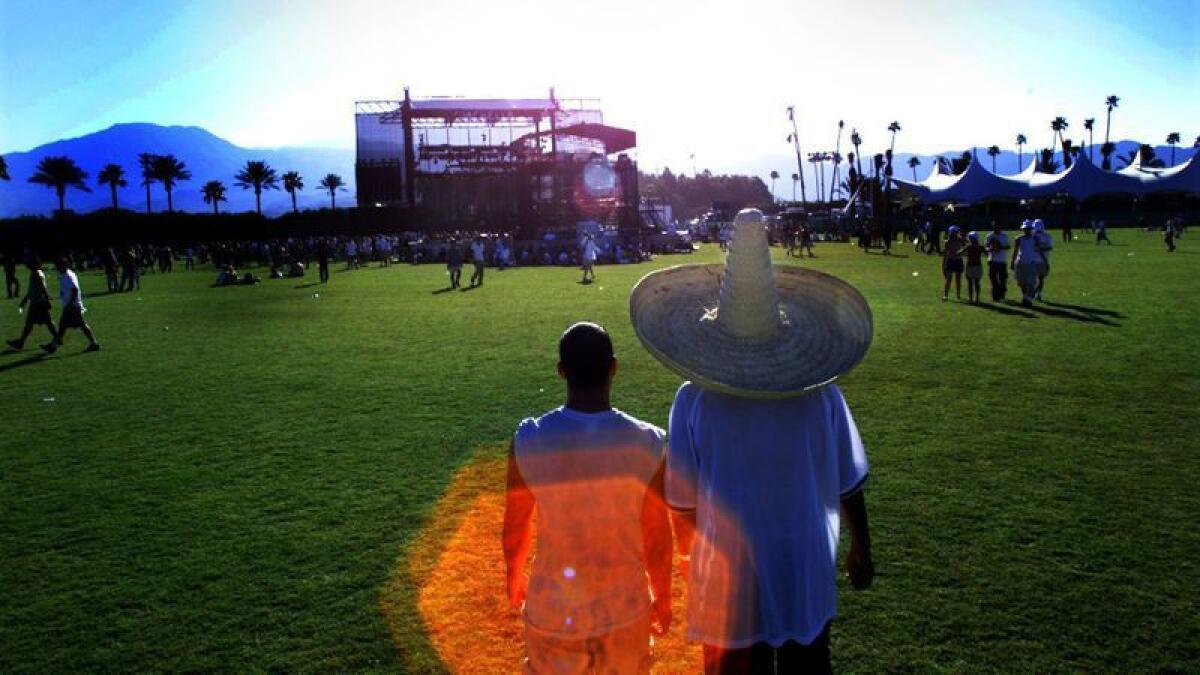 2001
After a pause, the festival regroups and draws about 30,000 as a one-day event, this time in April to avoid the scorching heat of Year One. The headliner: Jane's Addiction (with Red Hot Chili Pepper Flea on bass), the first of many reunions that would unfold there.
"The second year we were struggling for talent, and Jane's hadn't played in a long time," says Tollett. "When we announced that [reunion], people were excited. I remembered that trick: 'Oh, people seem to like that.' To me, it isn't so much about the reunion than it is finding something that hasn't played in a while. I'm not looking to put bands back together. I just want fresh."
When we announced that [reunion], people were excited. I remembered that trick: 'Oh, people seem to like that.'
— Paul Tollett on getting Jane's Addiction back together
2002
The festival comes back as a two-day getaway. Dave Grohl does double duty: newly behind the drum kit for Queens of the Stone Age, then also leading his Foo Fighters on the main stage. Bjork makes a dazzling entrance — the first and one of just four female headliners to lead Coachella — amid flashing lights, and an explosive new band called the Mars Volta (led by refugees from the disbanded At the Drive-In) make a startling debut.
With a lineup that also included main stage sets from Oasis and the Prodigy, Coachella is just as noteworthy for the smoothness of its operation and outdoor sound quality that was remarkably consistent to the back rows. And Coachella reaches another milestone as Tollett announces the festival will turn a profit for the first time.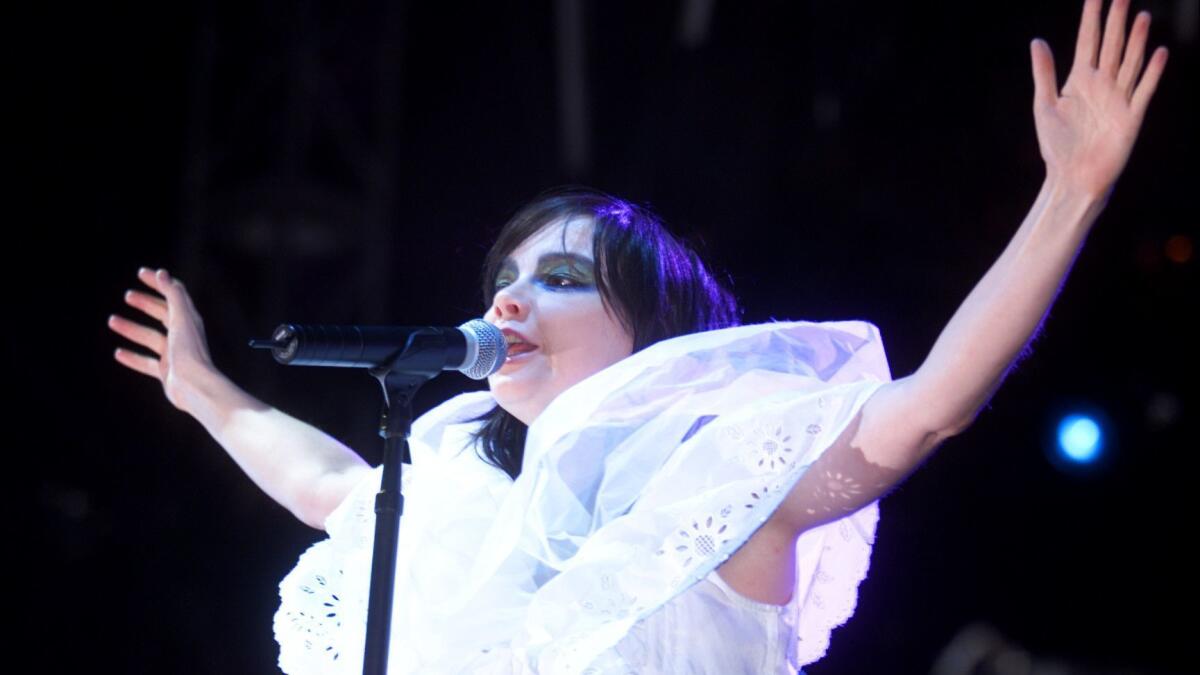 2003
Now on solid ground, Coachella is back with a wildly diverse talent pool led by the Beastie Boys and more than 75 acts of cutting-edge sounds from the past and present. The reunited Iggy and the Stooges, blazing upstarts the White Stripes and a joyously snarling Hives turn up the rock, while N.E.R.D. (including a rising young pop phenom named Pharrell Williams) and Groove Armada get fans dancing.
Beastie Boy Adam Yauch fearlessly takes a moment to protest the widening Gulf War, and hears a few scattered fans shouting "Shut up!"
FULL COVERAGE: Coachella 2019 »
2004
The year Coachella fully arrived as a world event. With a lineup led by Radiohead and the Cure, plus a reunion of the Pixies, the festival sells out for the first time. And in the dance tent, Kraftwerk signifies Coachella's reach to the foundations of electronic music.
2005
Nine Inch Nails leads another weekend of cutting-edge sounds, colliding aggression and hurt. Bauhaus frontman Peter Murphy arrives to the stage hanging upside-down, vampire-style, singing "Bela Lugosi's Dead." Best new artist of the weekend is M.I.A., among a lineup ranging from punk militants Gang of Four to the Chemical Brothers.
With 50,000 fans a day (tickets are $80 for one day, $150 for the full weekend), the festival is clearly here to stay.
2006
Not being beholden to mainstream sounds has led Goldenvoice toward some fiery young artists, and in 2006 none were more compelling than Daft Punk atop a pyramid of light and rapper Kanye West (making his first appearance). Coachella was by now such a dependable gathering of music that many fans scrambled for tickets before the lineup was even announced, ultimately drawing a healthy 60,000 fans each day.
But for this year, Tollett tried another experiment, announcing pop diva Madonna as an act in the Sahara tent. It was the "Vogue" singer's first ever appearance at a music festival, and it was typically controversial and filled with attitude, as she continued her midcareer love affair with EDM. Her abbreviated 30-minute concert might have seemed like a lark, but she'd made history again as Coachella widened its soundscape to include the universal pleasures of pop.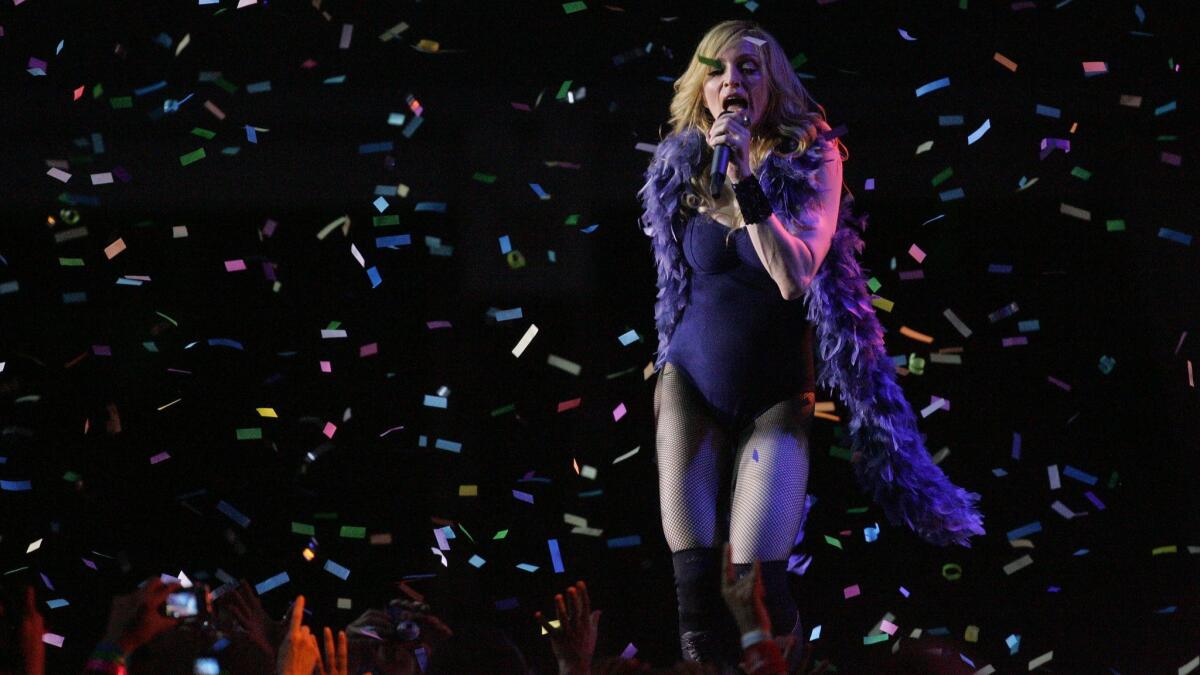 2007
In its eighth year, Coachella expands to a three-day weekend for the first time, without altering the mixture of sounds designed to excite the musical connoisseur. The bill includes a reunited Rage Against the Machine, Bjork, a fast-rising Amy Winehouse in peak form, actress Scarlett Johansson singing with the Jesus and Mary Chain, Air, Tiësto and a young band called the Arcade Fire making its second appearance and leaving a fast impression on the Outdoor stage.
"That was one of my favorite performances of all time for sure," Tollett remembers of the Arcade Fire, who returned to headline in 2014. "On the second stage, you could feel the band getting gigantic that day. Every five minutes more people started showing up. It had this electricity."
Meanwhile, the all-country Stagecoach Festival is born, another annual weekend in Indio. Other events would follow, including the Big 4 (for thrash metal) and the classic-rock summit Desert Trip.
That was one of my favorite performances of all time for sure.
— Paul Tollett on the Arcade Fire's appearance at Coachella in 2007
2008
This was the year of Prince, a late edition to the 125-act roster of rock, soul, hip-hop, EDM and more.
It was also the festival's worst ever year financially since Coachella's Year 1. That hardly mattered to the fans in attendance eating up multiple genres of music, from the reunited trip-hop act Portishead, M.I.A. (this time on the main stage with a hit, "Paper Planes"), Sasha & Digweed, Cafe Tacvba and Fatboy Slim.
On Night 2 was Roger Waters, delivering a vibrant classic-rock set of Pink Floyd epics. When his two-story inflatable pig somehow escaped with the breeze and floated away, Waters watched and said, "There goes my pig." Two couples found the pig two miles away, donate the $10,000 reward to charity and happily accepted lifetime passes to Coachella.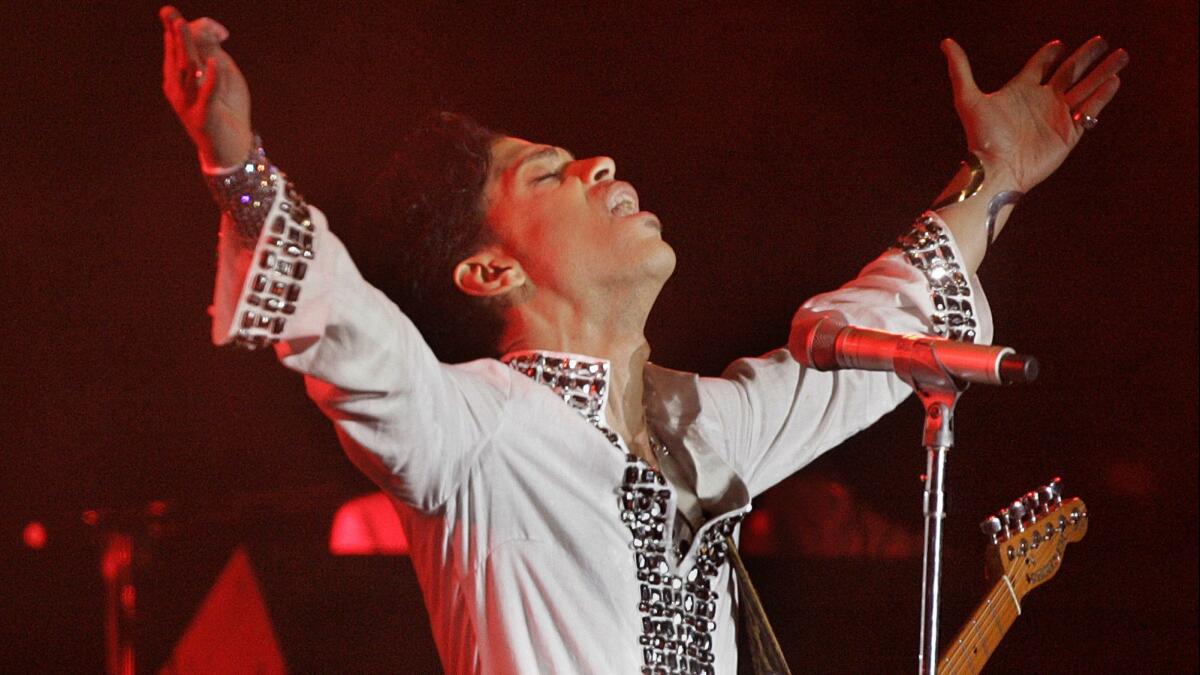 2009
In its 10th year, Coachella reaches beyond its alternative rock/hip-hop/EDM comfort zone by putting a Beatle at the top of the bill. Paul McCartney delivers a big Friday night performance of pop music classics and right up front was a trio of first-generation female Beatles fanatics, holding up a banner of devotion while waiting through earlier sets by younger acts like Franz Ferdinand and Airborne Toxic Event. Beatle Paul responds to the moment with an especially moving concert, dedicating songs to John Lennon, George Harrison and his late wife, Linda McCartney. (The night fell on the anniversary of her death.) McCartney said, "It's an emotional day for me, and that's good."
After that, McCartney returned frequently to the Coachella polo grounds. "He comes back pretty much every year," says Tollett, who also included Macca in 2016's all-star Desert Trip. "To him it's just part of seeing a lot of new music. I remember him watching Amon Tobin, with all the 3-D projections. He hadn't seen that at a show. It was fun to watch him see something for the first time — someone who you would think had seen everything. Coachella showed him some new things. I love that."
Also, organizers respond to the growing costs of attending (admission, travel, hotel, partying) by introducing a layaway plan for tickets.
He comes back pretty much every year ... Coachella showed him some new things.
— Paul Tollett on Coachella's relationship with Paul McCartney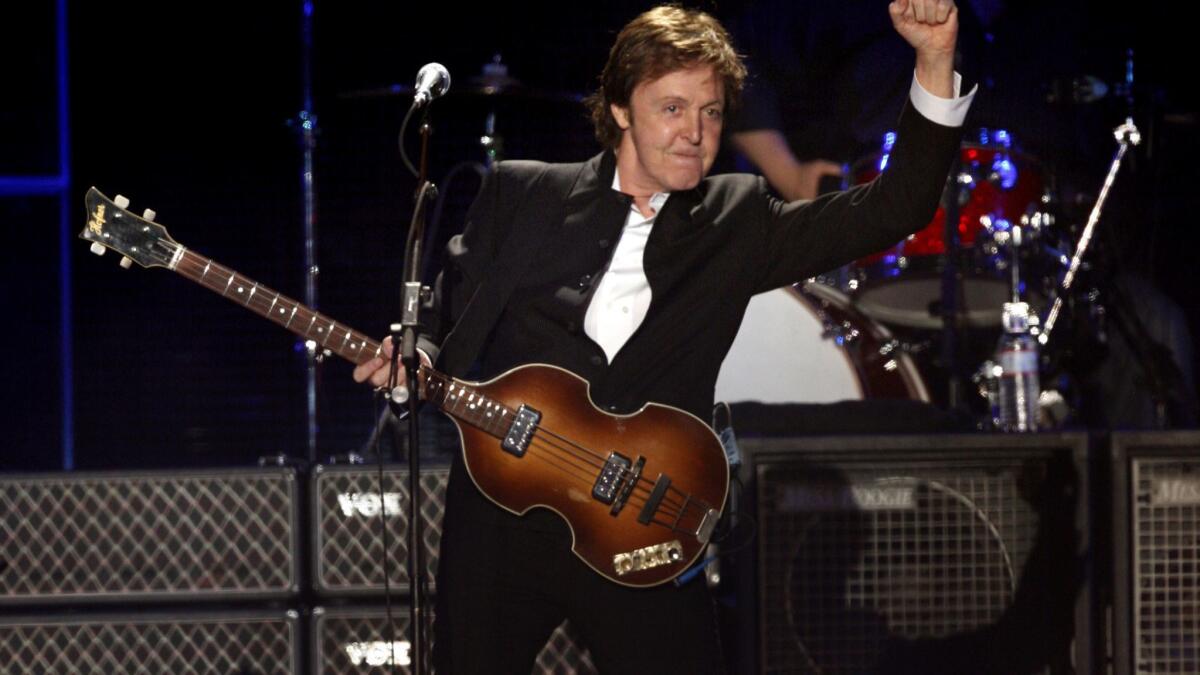 2010
This was a year of highs and lows as festival organizers coped with the unexpected side effects of soaring popularity and their own ambitions as one of the world's leading music festivals. At the top was a searing performance by Jay-Z, arriving in black leather and shades, ripping through "99 Problems" and "New York State of Mind," and joined on a duet of "Young Forever" by his wife, Beyonce. (The couple were also spotted wading into crowds to watch other bands.) Jay-Z was part of a first-rate lineup that also included Gorillaz, deadmau5, Thom Yorke, Them Crooked Vultures and Orbital.
Problems emerged during an imperfect storm of planned expansion (6,000 additional three-day tickets sold) and a tidal wave of skulduggery: unprecedented numbers of "sneak-ins, fence cutting, counterfeit wristbands, counterfeit tickets," as Tollett described months later. Fans accustomed to the festival's high comfort level reacted with complaints and heartbreak. The following year, Coachella fought overcrowding with more space, fewer people and with a new ticketing system of electronic wristbands difficult to counterfeit.
2011
Kanye West closes the festival with a Sunday headlining show that Tollett remembers now as "pure art." Like Jay-Z the year before, West took full advantage of the setting and the stage to go big, delivering a night of songs both confrontational and inviting, from "Can't Tell Me Nothing" to "Hey Mama." He brought along a troupe of dancers in flesh-colored leotards and indie rocker Bon Iver (aka Justin Vernon) for secondary vocals. Even on a weekend that included PJ Harvey, Ms. Lauryn Hill, Cage the Elephant, the Black Keys and Robyn, West left a lasting impression.
Pure art
— Paul Tollett on Kanye West's 2011 Coachella performance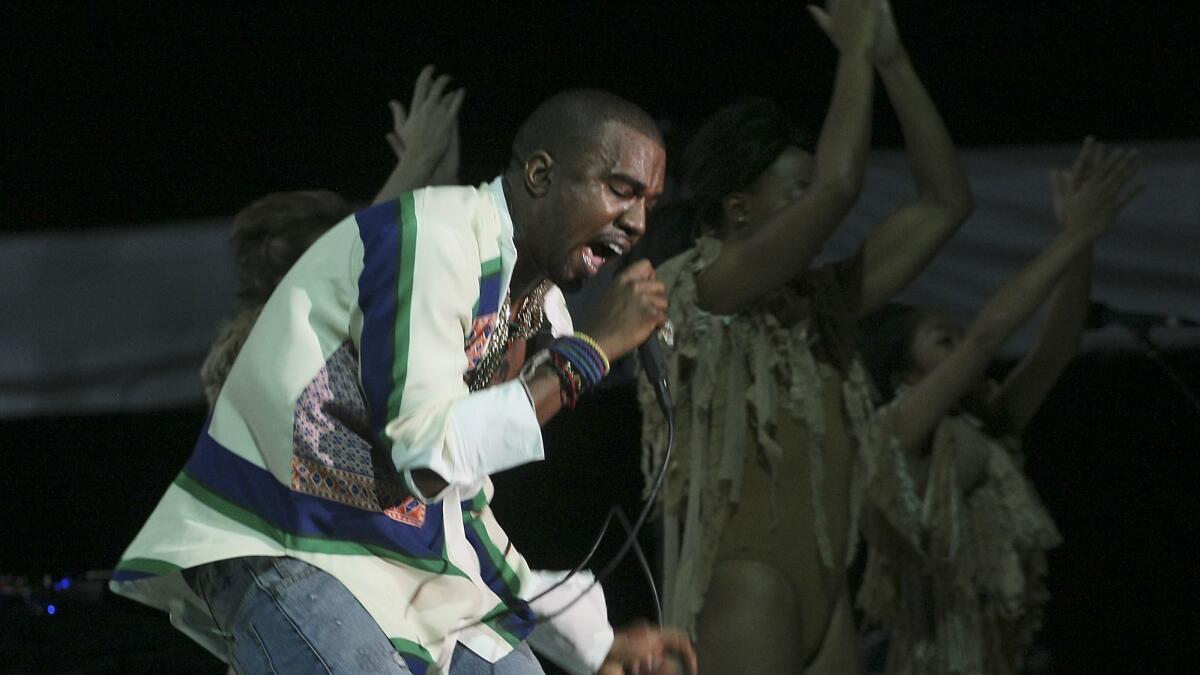 2012
As Coachella became a dependable sell-out each year, Tollett sensed a genuine problem as a result: all the fans who couldn't get tickets. His solution was to add a second weekend with the identical lineup.
"People thought, 'Oh, you're really going for it. You're just trying to get more money.' But at that the time, there was 90,000 who wanted to go who couldn't go." What about a third weekend? "There's been discussions," Tollett says with a laugh, "but I think two is enough."
There were other experiments this year, including the one-time voyage of the Coachella Cruise. More memorable was a headline set in Indio with Snoop Dogg and Dr. Dre, who brought along an unexpected friend: the late Tupac Shakur, in hologram-like form, sharing the California love one last time.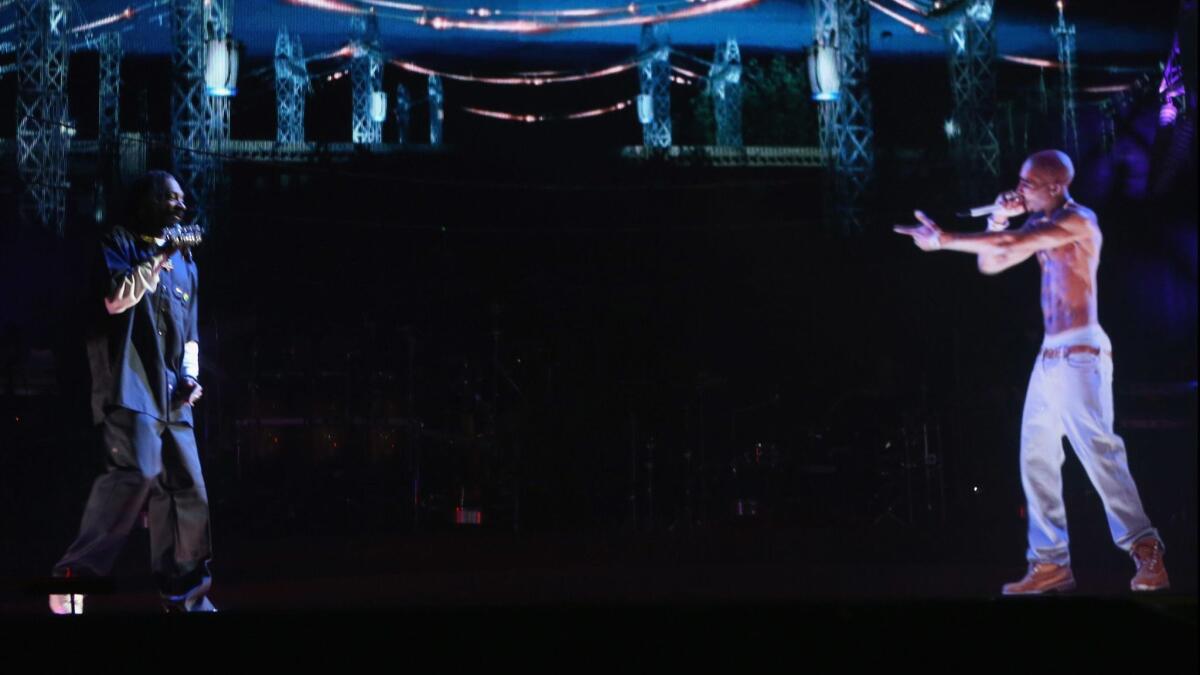 2013
Phoenix rises to play on the main stage, headlining with Blur, the Stone Roses and Red Hot Chili Peppers, who were back for a second round in Indio. But no one burned brighter than Nick Cave, erupting twice a weekend while playing individual sets with the Bad Seeds and Grinderman. Trent Reznor was also back, this time with How to Destroy Angels, his band collaboration with Atticus Ross and Reznor's wife, vocalist Mariqueen Maandig. There was danceable art-rock from Grimes and folk rock from the mysterious Rodriguez, newly celebrated in the documentary "Searching for Sugar Man."
2014
Another year of acts from down the bill in previous years return as major players: Pharrell, Queens of the Stone Age and, headlining the main stage on Sunday, the Arcade Fire. Just as epic were the festival's giant art pieces, particularly the most-photographed "Escape Velocity," a 36-foot-tall, 57-foot-long, 40-foot-wide astronaut that hovered above the festival grounds. Created by the artists of Poetic Kinetics Inc., the astronaut's face mask lit up with video projections of faces of various musical artists.
2015
"Music is sacred!" declared Jack White from the main stage this year, helping lead the festival's hard-rocking contingent with the likes of AC/DC and, further down the bill, hardcore heroes Antemasque, Off! and Drive Like Jehu. At this late date, electric guitar remained a central ingredient at Coachella, but just as remarkable was how strong the lineup was in other genres, with Action Bronson, Azealia Banks and trip-hop queen FKA Twigs shattering easy genre boundaries, while Steely Dan showered its crowds with cranky, half-serious wisecracks about the state of the world. Meanwhile, out on the field stood a living art piece: a small corporate tower where hippos in business attire performed office tasks and lost their cool in the desert.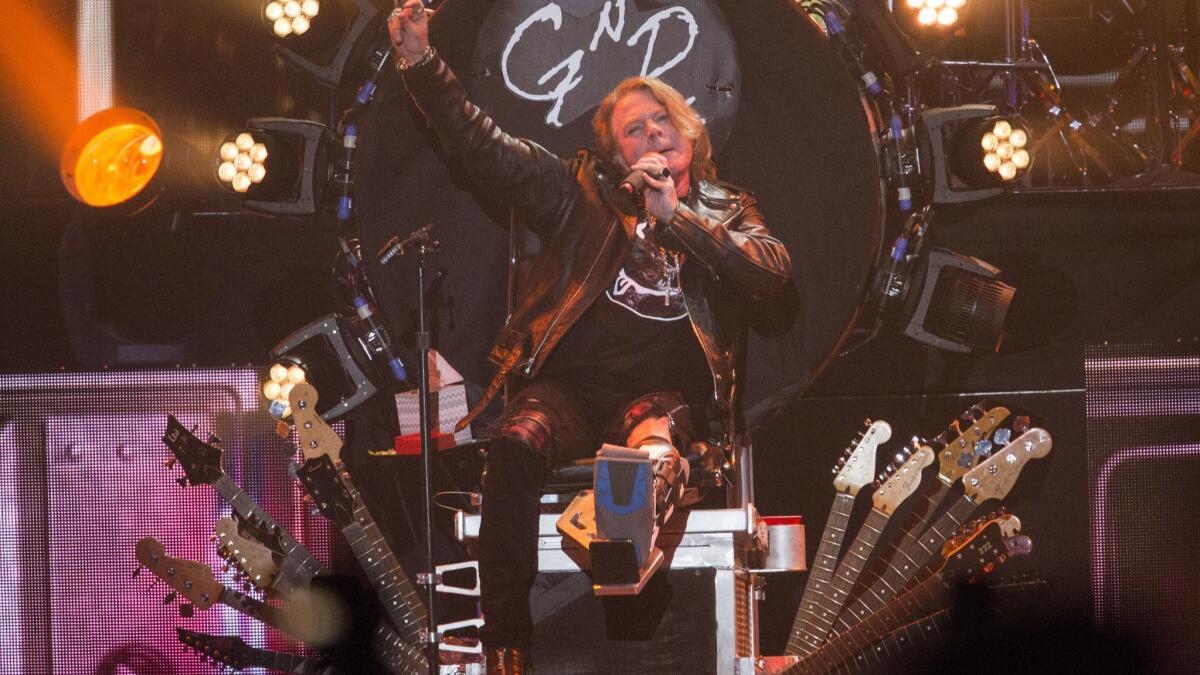 2016
Coachella's role in reconvening major acts reaches peak shock value with the announcement that Guns N' Roses — featuring the classic lineup of Axl Rose, Slash and Duff McKagan — would headline. There was also the welcome return of LCD Soundsystem just a few years after dissolving. "A lot of them come from our history of promoting," Tollett says of his ongoing mission to reunite bands. "Even LCD Soundsystem — we just felt like, 'Why would they go away? They're so good, they're so current, their sound is being ripped by everybody— they should be playing.' So you contact them, and go slow, and try to get them comfortable. For some bands it's not about Coachella. It's just, 'Please get back out there, make some new songs."
During Weekend 2, Ice Cube's fiery set on the main stage delivers a full reunion of surviving members of gangsta superstars N.W.A — with Dr. Dre, DJ Yella and MC Ren — in celebration of 2015's acclaimed biopic "Straight Outta Compton."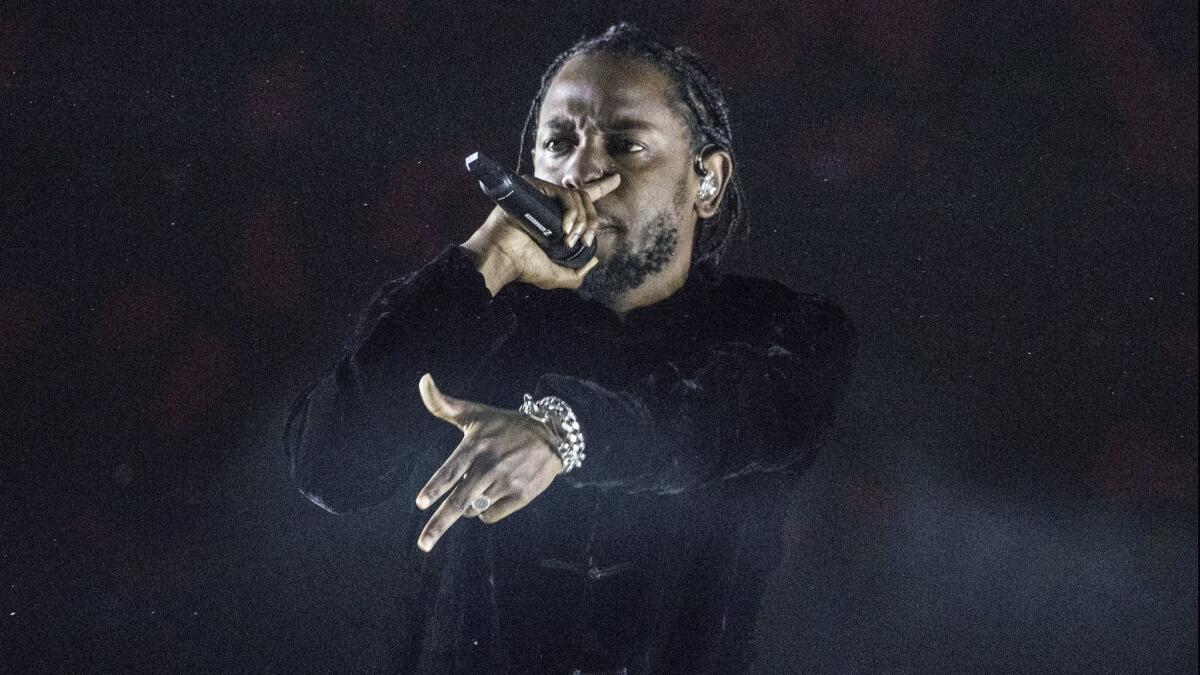 2017
While another year of Coachella history was made on the main stage by Kendrick Lamar (a year away from his Pulitzer Prize for "Damn.") and Lady Gaga (stepping in for a pregnant Beyoncé), Goldenvoice reserved one corner of the polo grounds to echo its roots on the SoCal indie-rock scene. The Sonora tent debuted as an air-conditioned getaway that was like a DIY rock club within Coachella, booked by an astute 25-year-old curator named Rene Contreras. Like Tollett himself, Contreras began as a young booker of shows; they first met when Contreras was 14.
2018
After a false start in 2017, this was finally the year of Beyoncé. Tollett recalls her set as "so fun and cerebral at the same time. It takes a lot of work to be that ambitious, to execute it." Her concert would be discussed for months after, but the influence of Coachella is by now being felt in other ways. The Coachella name appears in surprising places. Oscar-winning "A Star Is Born" was partially filmed on the grounds of Coachella/Stagecoach, and the festival is name-checked in the "Black Panther" movie. "That's kind of funny for a Marvel movie, and what that movie represents culturally," says Tollett of the recognition. "It just made us feel so good."
That's kind of funny for a Marvel movie, and what that movie represents culturally.
— Paul Tollett on Coachella being referenced in "Black Panther"
2019
Now 20 years in the making, Coachella returns for two weekends led by Childish Gambino, Tame Impala and Ariana Grande. It's an of-the-moment lineup, following decades of the ebb and flow in music, popular and otherwise. Even if attendees from earlier years grumble that things are not the same, Tollett sees his mission as flexible but unchanging.
"Every generation after you is always different: 'Oh, these people!' The baby boomers could not deal with Gen X. Gen X could not deal with the millennials," says Tollett, with special appreciation for those who have been coming all along. "I think they look at it and go: 'Ah, cool, that's what it is now.' You can go to Coachella and watch three days worth of music and pretty much be caught up for the year."
Get our L.A. Goes Out newsletter, with the week's best events, to help you explore and experience our city.
You may occasionally receive promotional content from the Los Angeles Times.