Why Ariana Grande is the perfect choice to headline Coachella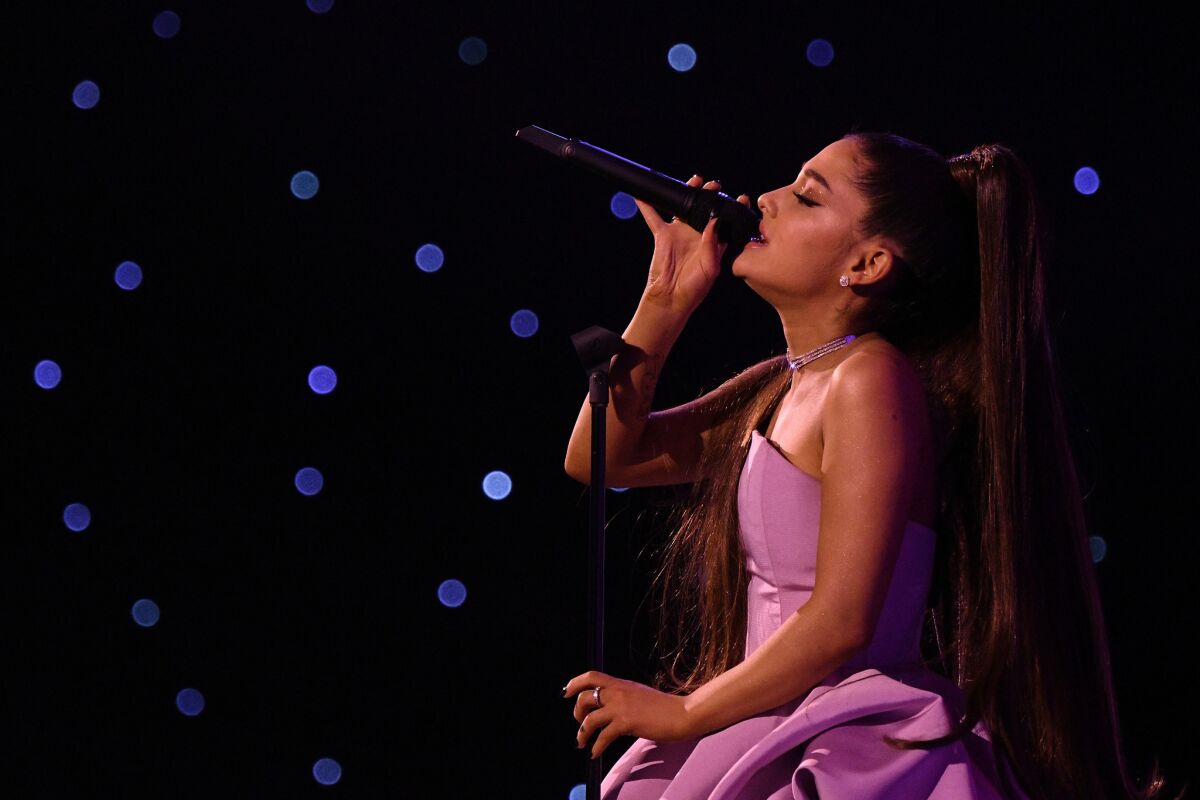 Pop Music Critic
So was she booked to replace Justin Timberlake or Kanye West?
When rumors began circulating several months ago regarding the lineup for this year's Coachella Valley Music and Arts Festival, those two superstars were regularly reported to be atop the bill.
But it's Ariana Grande whose name jumps out from Coachella's poster, not Timberlake (who's said to have dropped out after an injury to his vocal cords) or West (who failed to come to an agreement with the festival over a stage design, according to TMZ).
As announced late Wednesday, the 25-year-old singer will headline Coachella's 20th anniversary edition along with the Australian psych-rock band Tame Impala and Childish Gambino, the musical alter ego of actor Donald Glover.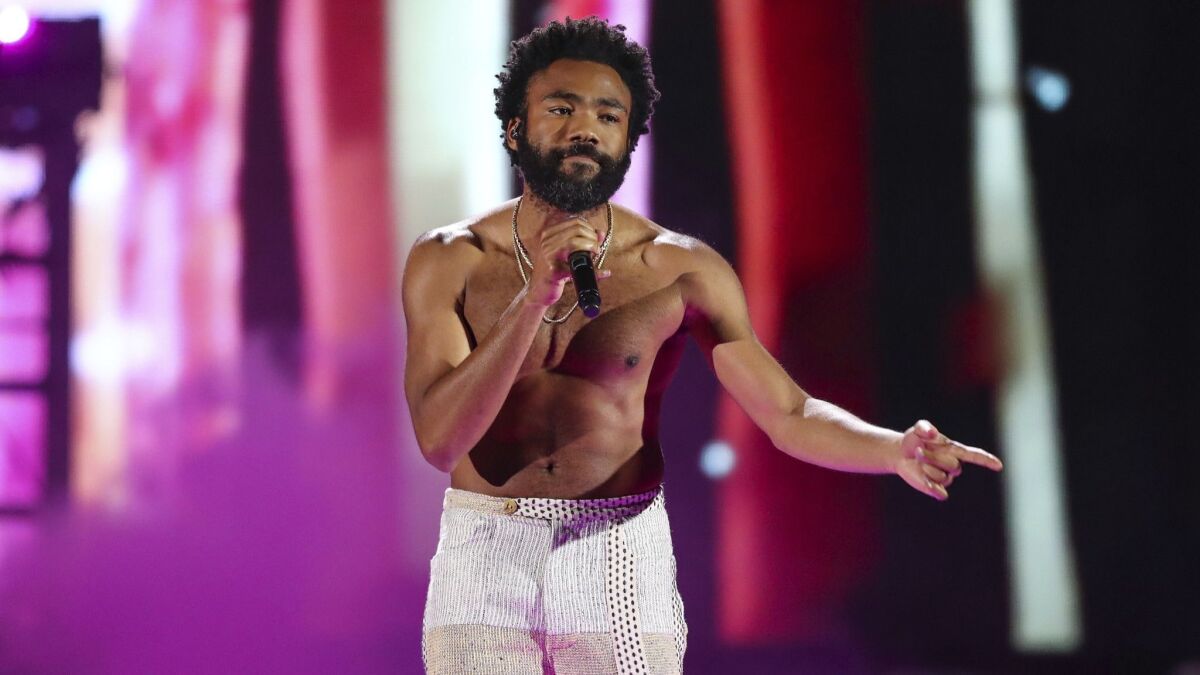 Coachella 2019: Yes, Idris Elba is DJing Coachella — and other takeaways from the roster announcement »
The two-weekend show, set to run April 12-14 and April 19-21 at Indio's Empire Polo Club, will also bring Janelle Monáe, the 1975, Solange, Aphex Twin, Zedd, Khalid, Kid Cudi, Diplo, Ella Mai, Bad Bunny and an estimated 250,000 fans to the desert a few hours east of Los Angeles.
Many tickets were snapped up in advance, even before Goldenvoice, the festival's Los Angeles-based promoter, had revealed the lineup. But remaining passes are set to go on sale Friday morning starting at $429 — and going way up from there for various VIP packages.
Grande's unexpected appearance invites speculation as to how and when she entered the careful mix of talent at the world's most closely watched musical event.
If she was drafted at the last minute to fill in for West or Timberlake, though, then Coachella got more than it bargained for: As naturally attuned to the internet as she is versed in the methods of old-fashioned razzle-dazzle, Grande comes to the gig with a uniquely expansive skill set that means she'll basically be doing the jobs of both men by herself — and without anyone fearing that her set will suddenly morph into a Trump rally or a used-flannel convention.
The savvy choice of Grande indicates Coachella's determination, two decades after its birth as a scrappy alternative-rock festival, to keep afloat in the ever-accelerating waters of modern pop.
Almost everything about the music industry has changed since 1999, from how we listen to how successful acts are made (and paid). And Coachella, which is what passes these days for a legacy institution, wants to reflect those changes rather than risk being seen as out of touch.
That's one reason the show in 2018 went without a single rock headliner for the first time — the other, of course, being that no rock band on earth stood a chance of living up to Beyoncé, who last year blew minds in what might've been the greatest Coachella performance of all time.
Coachella 2019: Childish Gambino, Ariana Grande and more continue the festival's move toward the mainstream »
Grande, only the fourth woman to headline the annual event, isn't at Beyoncé's level of cultural importance or intellectual ambition. But more than any of her peers, perhaps, she symbolizes the speed at which music moves now.
After all, it was a mere two years ago — before a suicide bomber attacked a concert of hers in Manchester, England — that Grande was being written off by many as a lightweight teeny-bopper idol; today she's widely viewed as a source of deep emotional wisdom, thanks to her catchy and philosophical "Sweetener" album and its instant chart-topper of a postscript, "Thank U, Next."
By booking such a transformational figure — and in a coveted slot where Coachella has historically put a marquee reunion — the festival is saying it's committed to going with the flow while still exercising the high-toned curatorial vision that makes it worth scrutinizing in the first place.
Indeed, for all its variety, this year's bill feels sharper than those from the last couple of years; you get a real sense that acts were selected not just to cover assorted demographic bases but to form a comprehensive picture of pop as it's happening on the ground (or at least on people's smartphones).
There's Childish Gambino, as adept a visual storyteller as any in music at a moment when millions of fans encounter songs like his "This Is America" through videos on YouTube. There's the contingent of fast-rising Latin acts such as Colombia's J Balvin, Spain's Rosalía and Puerto Rico's Bad Bunny, the last of whom dominated streaming services in 2018 with sleek, witty singles including "Mia," a duet with Drake, and "I Like It," his smash collaboration with Balvin and Cardi B.
And then there are Blackpink, the first female K-pop act to play Coachella; Billie Eilish, one of the festival's youngest performers at 17; and Kacey Musgraves, the country star whose latest album, "Golden Hour," demonstrates that once-hidebound genre's appetite for outreach. (Overall, the strides toward gender balance are encouraging, even if the idea of two female headliners in one year remains mystifyingly out of reach.)
Coachella's hip-hop slate includes exciting newcomers like the rowdy Sheck Wes; Juice WRLD, who seamlessly blends rapping with pop-punk guitars; and 070 Shake, known for her scene-stealing vocal contributions to West's album "Ye." Compton's YG is also on the bill — a welcome showcase for a veteran who never sounds bored with himself.
This year's third headliner, Tame Impala, suggests that the folks at Goldenvoice (if few others) see life yet in rock. But unlike previous bill-toppers such as AC/DC and Guns N' Roses, the group is hardly the in-defense-of-tradition type; Kevin Parker, Tame Impala's mastermind, holds down a healthy sideline writing and producing for the likes of Lady Gaga and Travis Scott.
Weezer will be in the desert as well, behind an upcoming album it's described as a willful departure from its classic sound, along with the 1975, the wily British group that can't seem to decide whether it wants to kill rock or rescue it.
Not so long ago that was the kind of choice a band would have been required to make. But that's not true anymore, when to survive is to adapt and to thrive is to stay open.
This impressive lineup understands that.
Twitter: @mikaelwood
Get our L.A. Goes Out newsletter, with the week's best events, to help you explore and experience our city.
You may occasionally receive promotional content from the Los Angeles Times.