The xx on the Chainsmokers' 'Closer': 'Doesn't this sound a bit like us?'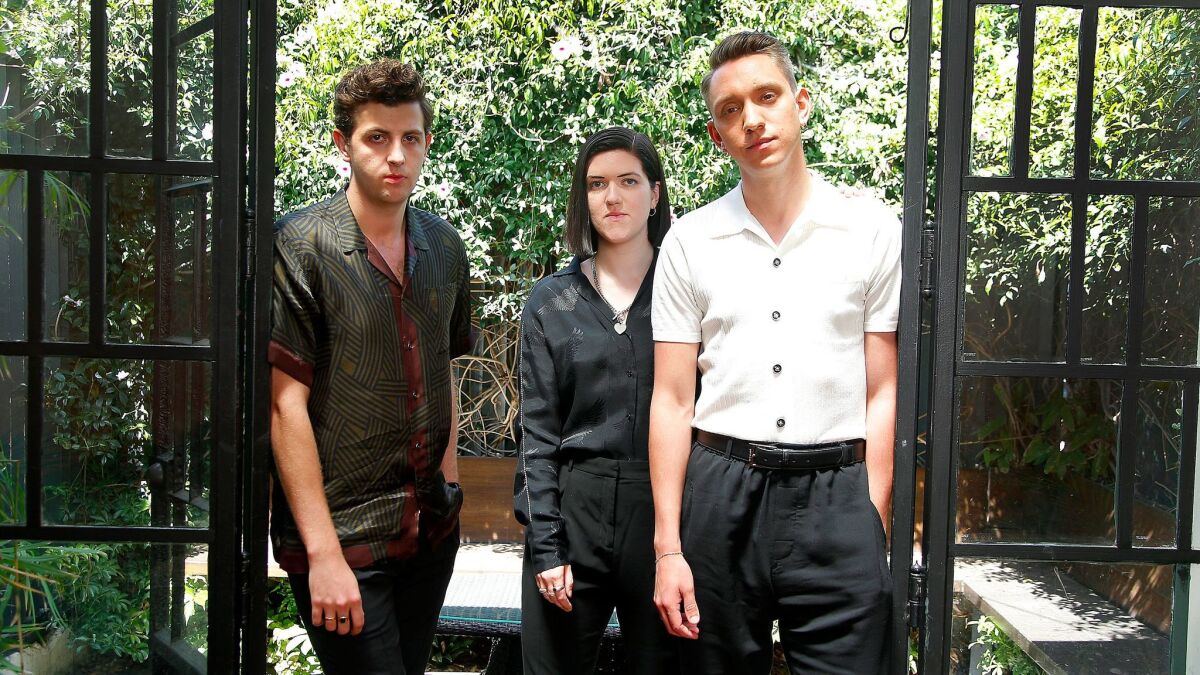 Pop Music Critic
To make their third album, the members of the xx wanted to get out of their native London to see how a change of scenery might affect the trio's music.
And that didn't mean a simple visit to the English countryside.
Singer-guitarist Romy Madley Croft, singer-bassist Oliver Sim and multi-instrumentalist Jamie Smith — childhood friends known for developing a melancholy electro-soul sound — ventured much farther from home, recording in Reykjavik, Iceland; Marfa, Texas; and a studio attached to a luxurious, glass-walled home set high in the Hollywood Hills.
"It had the views and the swimming pool and everything," Madley Croft recalled of that last spot during a recent return trip to Los Angeles. "I kind of felt our teenage selves would be laughing at us a little bit — like, 'I can't believe you're here.'"
The sunny surroundings represented a clear shift from the urban gloom evoked by the band's first two records: 2009's "xx," which won Britain's Mercury Prize, and "Coexist," from 2012.
But with the aptly titled "I See You," the musicians, all in their late 20s, were making "a conscious effort not to be as dark and moody and in the shadows as we're perceived to be," Madley Croft said. "We were trying to show a little bit of the lightness we share as friends."
They succeeded. "I See You," released in January, displays an appealing new side of the xx, with sprightlier rhythms (as in the clubby "I Dare You"), more expansive arrangements (the brass-equipped "Dangerous") and sturdy melodies that feel informed by time Madley Croft put in between xx albums writing potential songs for pop stars.
In "On Hold," the album's surging lead single, you can even hear a recognizable sample of — could it be? — Daryl Hall singing "I Can't Go for That (No Can Do)."
Preceded by a buzzy performance on "Saturday Night Live," "I See You" received rave reviews and debuted at No. 2 on the Billboard 200, the band's highest chart placement in the U.S. It also led to a spot at the Coachella Valley Music and Arts Festival in Indio, where the xx played an impressive set last week and will appear again Friday night.
Yet if the scale of the band's music has grown, the xx hasn't sacrificed the sense of intimacy — of two people exchanging confidences — that still defines songs sung in close harmony by Sim and Madley Croft.
As they played "I Dare You" at Coachella, the vocalists exchanged a look that communicated how in sync the two were even before a crowd numbering in the tens of thousands. Later in the show, Madley Croft sang the stripped-down "Performance" by herself, after first admitting how nervous she was to do it; when the song was over, Sim whispered something in her ear that made her smile.
In part, it was the idea of playing stages as big as the one at Coachella that inspired the xx to open up. On tour for "Coexist," the trio found itself in larger and larger venues that forced it to adapt its older, more skeletal songs to suit those rooms.
"We were remixing ourselves, essentially," Madley Croft said, seated with her bandmates in a suite at the Chateau Marmont. "So this time when we were writing the music, we were imagining that if we were going to be on those stages again, let's have some songs that can kind of live up to that."
Other acts were already demonstrating that that could be done. Last year the Chainsmokers topped Billboard's Hot 100 singles chart with "Closer," which essentially beefs up the xx sound — gentle beat, swelling synths, breathy male-female vocals — to the dimensions of modern EDM.
"When I first heard that song, I was in a car with some people and I kind of wanted to go, 'Doesn't this sound a bit like us?'" Madley Croft said.
By that point, she'd spent a spell in L.A. writing with some of the producers and songwriters responsible for creating the tunes that eventually end up on Top 40 radio.
"I just wanted to see behind the curtain, to see how it all works," said the singer, who ended up with a credit on the track "Fingertips" by OneRepublic. Sim said the experience left Madley Croft with an "ability to edit" that helped the xx sharpen the songs on "I See You."
"You came back with a welcome ruthlessness," he said, which seemed to make his bandmate blush.
Asked if they too were interested in that line of work, Sim and Smith shrugged.
"I would love to do it as the three of us," Sim said. "The three of us with one artist."
Whether or not we're ever treated to the sight of Selena Gomez featuring the xx, the band's members — who named their first album "xx" to avoid putting their faces on the cover — are slowly warming to the increased visibility that accompanies pop stardom.
Madley Croft, for instance, said she's begun writing about her personal life, including her recent engagement, on social media.
"I was quite nervous to do it, but people have said to me, 'Oh, it's great to see you're in a relationship with a woman and it's not a big deal,'" she said. (For his part, Smith, the group's quietest member, said, "I definitely wouldn't want anyone to see all my Snapchats.")
There's also the matter of the band's wardrobe, which has gradually moved away from the all-black outfits they once favored.
"It's not like we ever had a rule about it," Madley Croft insisted with a laugh. "It just started and then kind of stayed that way."
Sim, who was wearing a cream-colored shirt, said, "Romy thinks I act like a scared wife. Before shows I'll be like, 'This shirt — is this OK?'"
"I'm not going to tell you off if you want to wear the cream shirt," she replied. "Jamie's got some fun shirts. But, you know, it kind of has to be like, Jamie's going to wear the fun shirt tonight."
Twitter: @mikaelwood
ALSO
Bigger size, more stars: How Coachella's expansion affected the fest
A king shares his crown as Kendrick Lamar brings 'Damn' to Coachella
Lady Gaga's Coachella performance was an absolute thrill — until it wasn't
---
Get our L.A. Goes Out newsletter, with the week's best events, to help you explore and experience our city.
You may occasionally receive promotional content from the Los Angeles Times.