Unraveling the mystery behind L.A.'s striking music duo Collapsing Scenery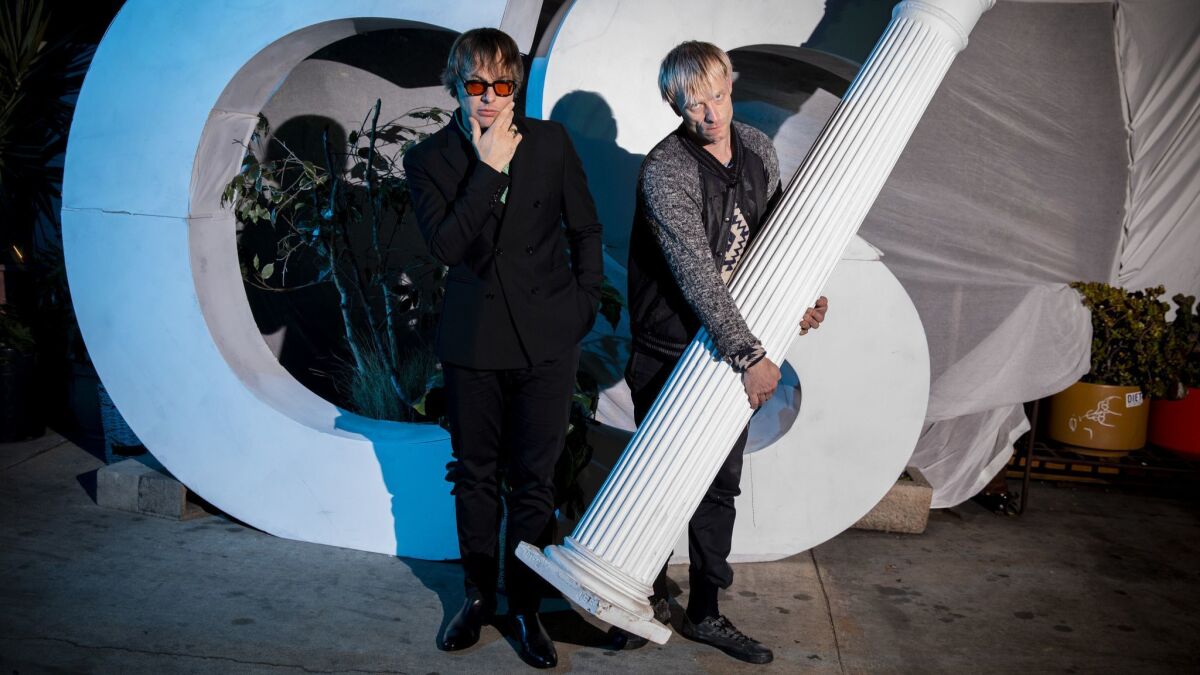 The co-founder of experimental electronic team Collapsing Scenery would prefer people to not dwell on who's behind the mask. He would like his identity to not become a thing.
But you've most certainly heard the erstwhile Reggie Debris' music with his other band. It's markedly different than the rhythm-based aggro-skronk the artist builds from vintage electronic gear with collaborator Don Devore as Collapsing Scenery.
The pair just added another few works to their continually fascinating oeuvre, a set of cover songs: Randy Newman's "Let's Burn Down the Cornfields," featuring a wild solo by New York no wave saxophonist James Chance, as well as a take on the proto-punk band the Modern Lovers' "Modern World." As is already the norm, Collapsing Scenery issued wild videos to accompany the release — often jarring clips that explore dark themes.
This story will honor the artist's request not to focus on his work as Mickey Madden, bassist for Maroon 5, even though when performing as Collapsing Scenery he seldom hides his face and doesn't wear KISS makeup — and despite that, the revelation might add a beguiling new dimension to a prominent act often ignored when contemplating contemporary L.A. music.
"The decision was made before we even started that we wouldn't go there," Devore says after Debris politely declines to speak on the subject. They're sitting next to each other at Cacao Mexicatessen in Eagle Rock. Devore explains that the music they make "is so its own thing that you don't question anything" regarding the connection. If Debris had his way, it wouldn't be mentioned at all.
Too late, but the request is admirable. It's also understandable, considering the act's rough-hewn, noisy and experimental leanings.
On Monday, Collapsing Scenery will conclude its May residency at Zebulon in Frogtown, the last in a series of immersive gigs that features both visual and audio workouts. The show follows a series of singles, remixes and EPs dating back to the group's establishment in 2013, each more curious than the next.
The two met in Los Angeles but reconnected in London while each was touring. New York-based Devore had witnessed a lot during his time on the Los Angeles music scene, having played with highflying early '00s punk band the Icarus Line, indie guitar band the Lilys and rockers Amazing Baby. Most recently, he co-founded the New York-based electronic group Historics.
"It started as a kind of concept," says Debris, "of just doing something where we were away from our main instruments — actually digging into new gear." The goal he adds, was "to play electronic music without the computer."
"Only hardwire," Devore interjects, saying that it took them "a few years to learn the gear without lying about it." For warmth, they connect their machines to amplifiers normally reserved for guitars, and when recording they make sure to mike the room as a way to texture the music with natural acoustics.
Visually, they texture their videos with shock and awe. For "Let's Burn Down the Cornfields," they enlisted the young director Kansas Bowling, says Debris between bites of a duck taco. Best known for "B.C. Butcher," a comedic horror film for Troma Entertainment that stars, among others, Kato Kaelin and Rodney Bingenheimer, Bowling harnesses B-movie energy in service of gore.
An all-female reimagining of "Lord of the Flies," the campy "Let's Burn Down the Cornfield" video stars a cluster of marooned girls, a pig's head, blood and buzzing flies. Debris and Devore play war-scarred soldier-observers.
For "Modern World," also directed by Bowling, Collapsing Scenery plays two uniformed high-schoolers who encounter a knife-wielding, black-robed assassin. He attacks them and slashes their throats. Devil-girl cheerleaders arrive to drag their bodies into a cave, where Satan awaits.
As all this happens, "Modern World" rolls along, its synth-driven rhythm propelling the chorus: "I'm in love with the U.S.A./I'm in love with the modern world/Put down your cigarettes/And drop out of high school."
Last year the team hired noted photographer and experimental filmmaker Richard Kern to make a typically titillating video. It features Collapsing Scenery standing in an apartment and blankly observing its scantily clad tenant and her lover. It's disconcerting on any number of levels.
Says Debris, whose identity is easily discoverable with a few minutes of internet sleuthing, "The visual component of the band has been something we've been pretty zeroed in since the get-go."
He adds, "We don't want anything to look haphazard by accident."
♦ ♦ ♦ ♦ ♦ ♦ ♦ ♦ ♦ ♦
Collapsing Scenery
When: 9 p.m. Monday
Where: Zebulon, 2478 Fletcher Drive, L.A.
Tickets: Free
Info: https://zebulon.la/
---
Get our L.A. Goes Out newsletter, with the week's best events, to help you explore and experience our city.
You may occasionally receive promotional content from the Los Angeles Times.