Phoebe Bridgers and Conor Oberst clandestinely make an L.A.-inspired album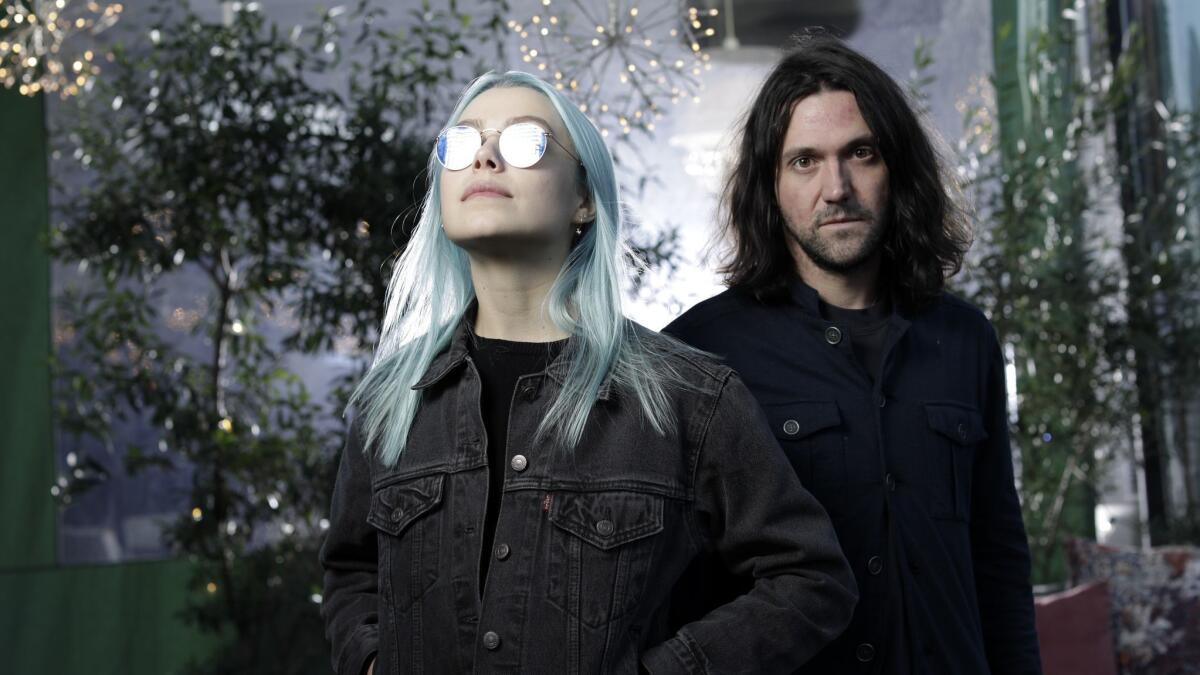 Back in October, Conor Oberst and Phoebe Bridgers shared a bill out at Pappy and Harriet's in Pioneertown, Calif.
The two had collaborated before, on a duet of Bridgers' song "Would You Rather" from her 2017 debut. But outside, in the chilly night air, Bridgers' spare songs about the haze of memory and her macabre nightmares took on an expansive new power.
Oberst, the Bright Eyes founder famous for his hyper-intimate, richly orchestrated style, let his hair down with his Mystic Valley Band, evoking the '70s cosmic-country barnstormers who would make a long weekend of dropping acid out in the crags there.
It turns out the two would soon regularly be sharing stages.
Bridgers, 24, and Oberst, 38, have a surprise new band, Better Oblivion Community Center, and a full self-titled album to go with it, which was released early this morning on streaming and download platforms (a physical edition is due Feb. 22). Though the two are prolific songwriters, with myriad side projects of their own already, this is something different for both of them.
It's a shared top billing between two of the country's most acute songwriters, one who grew up listening to the other's music, and another who was transformed by hers after the worst years of his life.
"When I'm [writing] by myself, I'm just constantly stressed, always second guessing myself," Bridgers said. "It's making me look to all my friends. If I finish a song, now I'll send it to Conor and be like 'Is this stupid?' And he's like, 'Well, that one line is stupid, but the rest of it is rad.' "
On the patio of the Atwater restaurant Momed, the two have a well-worn rapport, both much funnier in person than their more morbid songs might suggest.
They first met in a quintessential L.A. music-scene setup:
"My phone was off because I was in an escape room for my friend's birthday with Jackson Browne, and I got this message from my friend Kyle [Wilkerson, of concert promoter Sid the Cat], saying there was a secret Conor Oberst show," Bridgers said. "Clearly he was trying to bait me."
Their musical generation gap was slight but just enough for occasional ribbing. Bridgers is a seasoned meme lord and once posted the melodramatic opening lines from Oberst's song "At the Bottom of Everything" superimposed onto the inscrutable Dr. Bronner's soap label to troll her band mate.
"My friend found [that image] on the internet and texted it to me, and it just crushed me," Bridgers said.
Joked Oberst, "The only time [age] ever enters my mind is when she's explaining a meme to me. Yeah, that made me feel old."
There are evil things about [L.A.] that make it into songs when we're feeling emo, but then there are awesome things about it that are just so beautiful.
— Phoebe Bridgers
But when it comes to music, they understand each other implicitly. On a writerly level, there may not be any bigger fans of each other's work. Each is a deep student of classic rock and folk but attuned to the vulnerability and the grim humor needed to get by in contemporary America.
"I feel like I hear a lot of people making singer-songwriter music, and a lot of it is bland and I connect with very little of it," Oberst said. "But there's a quality of her writing that cuts right to the bone. I don't think you can listen to [Bridgers'] 'Funeral' and have a heart and not be moved. And the quality of her voice is so unique, she can sing anything and it'll be captivating."
Oberst's albums "were so deeply important and I attached so much to them, but I was stoked that you weren't like a broody, clove-smoking guy," Bridgers said. "I write serious songs but don't want to be considered self-serious. I've met a lot of my heroes that had this vision of themselves that they're trying to project on everyone.
"But you," she said, turning to Oberst, "were jokey and awesome and encouraging, and that does inform those songs that had some mysticism around them as a kid."
Together in this new band, their songs bring back a bit of that mysticism, writing about life in L.A. with a jaundiced humor that sometimes finds a profound melancholy (Bridgers grew up in Pasadena, Oberst has owned a home and lived here off and on for years).
"My City" stares into the concrete bottom of the L.A. River to find meaning and comes up more lost than ever — "Looking out on the river bend / Looking out on a thing that isn't…Today was a smoking sky / Today was a civic menace."
On "Forest Lawn," referring to the cemetery, a place for nostalgia and grief turns out to be kind of sweet too: "The two of us side by side, asleep while the teenagers drink till dawn / Please tell me it's true."
The project comes at a helpful time for each of them. Bridgers is coming off her lauded solo debut that earned the same kind of generational-talent praise that Oberst received in the early 2000s. Her supergroup Boygenius landed atop many best-of 2018 lists as well, and while she definitely feels the weight of expectations on her next record, this unexpected detour took some of the edge off.
"It's important to be surrounded by people who have had that same experience, people like Conor and Julien [Baker] and Lucy [Dacus]" Bridgers said. "It's really daunting to put out a solo record, which is something that we all could share."
For Oberst, this quick and freewheeling record comes after some difficult years, during which he lost his older brother, suffered a painful brain cyst that sidelined a tour and is just now emerging from the fallout of a false rape accusation online (the accuser retracted her comments in a notarized public statement).
Music remained a lifeline to him through all that, and echoes of it show up occasionally in songs like "Service Road." "Thought that he was doing better / A notice of final eviction and he just laughs," Oberst sings. "Always had a sense of humor / Still joking till the bitter end."
Even in this relatively upbeat side project, there was room to grapple with feelings like that, which helped to center him again.
"Writing tends to improve my mental state for sure," Oberst said. "I don't think of it as catharsis, but as a human you have a lot of feelings that are swirling around. It definitely for me has always been a way to organize it and deal with some things that would be hard to otherwise."
The two will take the band out on the road this spring. But for now, Better Oblivion Community Center has been, like the start of their friendship, maybe a kind of escape room as well. A way out from some of their old habits in songwriting and a new way to see and write about this strange, daunting city.
"L.A.'s got this weird dystopian vibe, but it's also sweet and like a small town and I love it," Bridgers said. "There are evil things about it that make it into songs when we're feeling emo, but then there are awesome things about it that are just so beautiful."
For breaking music news, follow @augustbrown on Twitter.
Get our L.A. Goes Out newsletter, with the week's best events, to help you explore and experience our city.
You may occasionally receive promotional content from the Los Angeles Times.