Q&A: Adam Levine talks Maroon 5's 'V,' 'The Voice,' Proactiv, more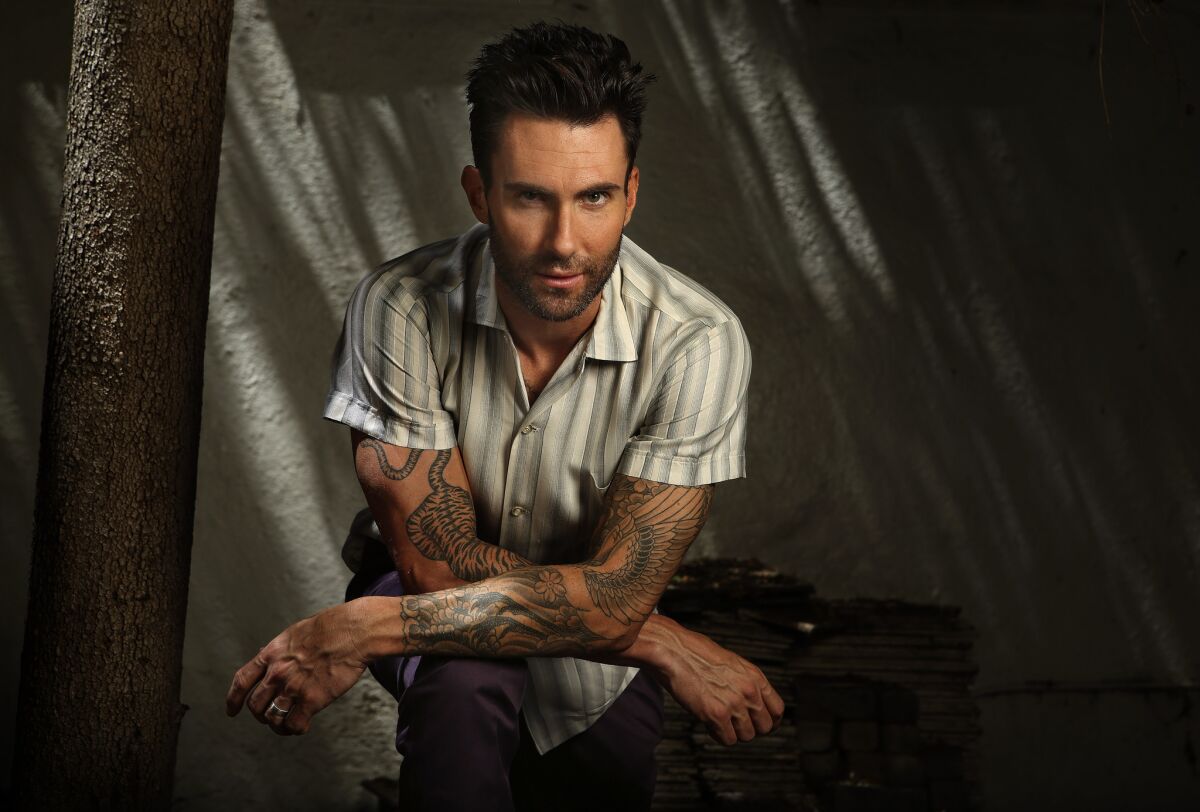 Adam Levine has a driving range in his front yard, though it's unclear how often he gets to use it. The 35-year-old frontman of L.A.'s Maroon 5 was at home in Encino recently preparing for a weekend jam-packed with promotion for the band's new album, not to mention final rehearsals for a performance on MTV's Video Music Awards. And after that? Meetings related to Levine's other job as a coach on NBC's "The Voice," which begins its seventh season on Sept. 22. His golf swing, in other words, would have to wait.
Maroon 5's fifth studio disc, "V," due Tuesday, follows 2012's "Overexposed," which sold more than 1 million copies and spawned four top 10 singles. Those are impressive statistics for any act, but for Maroon 5 they're also a validation of its decision — unusual for an ostensible rock band — to recruit some of pop's highest-profile songwriters and producers.
For the first time in Maroon 5's history, you collaborated with Top 40 wizards like Max Martin and Benny Blanco on "Overexposed." They're back for "V."
If it ain't broke, don't fix it. Honestly, it's a huge relief for me, because for a long time it felt like making an album was this daunting task, and I had to be at the center of it. It wasn't fun anymore.
Because you were trying to do it all?
I was trying to control it all. But if you want to be a band that's going to be around for 20 or 30 years, you're going to have to change what you do at some point. We developed a really nice system on the last record — we found songs we were passionate about, developed them and put our stamp on them — and I think we all started to enjoy ourselves in the studio. This time we kept it going but looked for different types of songs.
And from some different songwriters. "Sugar" was co-written by Dr. Luke, who's known for huge hits by Katy Perry and Britney Spears.
The second I heard that song, I was totally blown away. It was a really cool opportunity to go in a direction that I've always wanted to go in — kind of bridging the gap between things that I love about soul and funk and Prince but also very poppy. I'd never been able to quite master that idea.
His approach suggests that although strong songwriting is timeless, the way it's delivered evolves with taste. It says that great rock bands adapt.
Every single one of them. [In the '60s and '70s] it was all about capturing the feeling of the live performance on a record. That's not the way it is right now. Even the most organic songs on the radio, there are no drum fills, because they're trying to create the consistency of an electronic beat.
As slick as the songs are on "V," many of them still have really biting lyrics about soured relationships.
To me there's something so sickly sweet about so much pop; it has to be subverted in some way. I hesitate to use the word "edge," because it's not like there's anything edgy about Maroon 5. But if I don't add my personal edge to it, it tends to get very soft. Max Martin, Benny Blanco, Ryan Tedder — those guys' No. 1 priority is: What's gonna hit? My No. 1 priority is: How is it gonna hit? And my No. 2 priority is the same as theirs.
"The Voice" will start airing again soon. Is the show still fun for you?
It's really fun. I was working with somebody yesterday who's making a guest appearance — I'm not supposed to say who — and they were saying that being on the show made them realize they actually had stories to share that could help people along in their careers. I don't think you stop to realize you have this wealth of experience until you're forced to. Granted, the money I get paid to do it is amazing. I'd be lying if I said that weren't a big part of it. But it's not the biggest part.
Did you think the show would last as long as it has?
No. I thought it'd be a risk and a paycheck.
When you're assessing these projects — TV stuff, your Kmart clothing line, your collection of Adam Levine fragrances — how do you decide what's a smart move?
Can I control this? There's not a single one of my contracts that doesn't have full creative control, because if you lose creative control over things like that then you're in big trouble. Listen, the fragrance? Not very successful — didn't do what we wanted it to do. But do I think it smells good? Do I think it was designed well? Do I stand by what I did creatively? One hundred percent.
Does that go for the commercial you did for the acne treatment Proactiv?
I had horrible cystic acne all over my face when I was 14 years old. If I was one of these people who've done [a Proactiv commercial] who'd never had a zit in their life — where they had to paint one on their face — I wouldn't have done it. It wouldn't have made any sense.
Fun fact: If you start Googling "Adam Levine Proactiv," Google will suggest "Adam Levine prostate."
Wow. Because of that picture, right?
You'll be relieved to know it's because of the picture.
That was unexpected. My manager called and said, "Hey, Cosmo U.K. [magazine] wants you to take a picture with them for prostate cancer awareness." He said, "Lenny Kravitz did it; Ewan McGregor did it. It's for a good cause, but you have to be naked." I was like, "Great." So we did it, and then it wouldn't leave me alone.
People thought of that picture when they heard your name.
It seems like the kind of calculating move someone would make to get attention. But the truth is that — no offense — I can't stand doing press. I hate red carpets. I don't like photo shoots. And this picture just blew up on the Internet.
That type of reaction doesn't make you gun-shy about whatever the next thing is?
If I cared about what people thought, I'd be in a lot of trouble. Consistently not caring about that has been very good for me so far.
Twitter: @mikaelwood

---
Your essential guide to the arts in L.A.
Get Carolina A. Miranda's weekly newsletter for what's happening, plus openings, critics' picks and more.
You may occasionally receive promotional content from the Los Angeles Times.