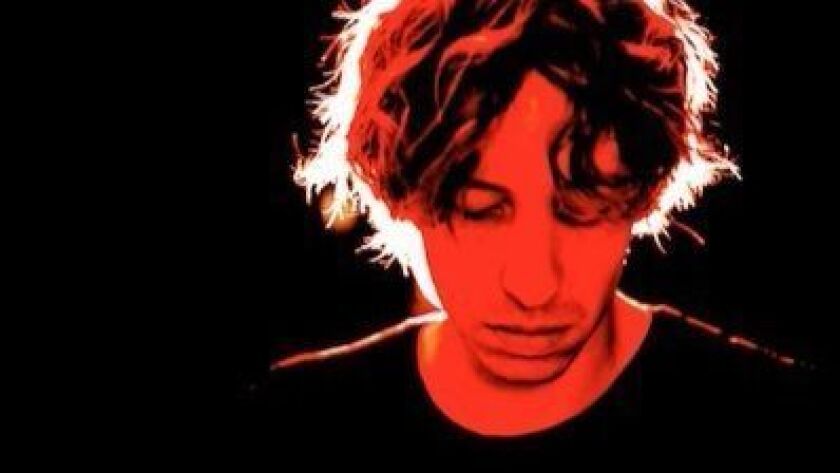 In the very early hours of April 1, Daniel Avery stood in the middle of a thicket of fans at Lazaro's Latin Lounge near USC. You could barely see him: the London-based DJ was playing on the floor, deep into a five-hour set in the ambient glow of the venue's untouched '80s neon.
People danced, people wandered, but Avery held that floor in a way that few DJs can do for an hour, let alone five.
With his new LP, "Song for Alpha," Avery finally has a proper followup to his excellent 2013 record, "Drone Logic." And with that show at Lazaro's (an early effort from the new FYF Fest-alumni team This Is Who We Are Now), he helped kick off one of the more interesting new concepts in underground L.A. club music.
We spoke to him about bringing reflective moods into warehouses, how to plan a marathon set and what Avicii's death means to DJs today.
"Song for Alpha" is your first full-length in five years. Do you feel like all that time and change is evident on the new record?
The truth is that I haven't stopped working during this period. Alongside the touring I made enough music to fill 10 albums but I had to wait a long time for the final structure to form. I'm of the belief that ultimately music finds you and it cannot be forced. You can set everything up, you can build your spider web, but sometimes you have to sit and wait.
I don't believe my ambitions have changed at all in this time. My aim has always been to create something honest that represents the culture I love but this time I wanted to share my experiences from the transient edges in addition to those moments lost inside the strobe light.
The first thing that struck me about the record is how meditative and moody a lot of it is. What felt interesting or meaningful about slowing things down, and asking more from a listener than a traditional club record would?
I've always been fascinated by albums and everything that surrounds them. Listening to an album requires patience from the listener but, if you give them the time they deserve, your favorite records become a part of your life.
We live in a society obsessed with immediacy but I'm not interested in that. All of the most worthwhile art takes time to fully unveil itself. If you can find a space to take a breath and give yourself up to music, then the rewards are so much greater. The world outside can become irrelevant for as long as the needle is on the vinyl.
Were you at all nervous about taking that more ambient direction? A lot of artists might have come out with a big, populist statement after so much time between albums, so what felt true and convincing about this approach?
That's exactly it: This was the only approach that felt true. "Drone Logic" was made over five years ago and I would be seriously worried if the new album sounded exactly the same. My life has changed considerably in these interim years and I realized early on that a direct sequel held no excitement for me. The album, like any work, had to represent my mind as it is now: quieter, somewhat less urgent and more concerned with the dynamics of light and dark.
How do you see this record in relation to your live sets? There are a lot of beautiful tracks that might not be obvious fits for a late-night warehouse.
This record was born out of the nightclub but I wanted it to be more than a techno album. There are prevailing elements of that world throughout, even on the quieter moments: the warm depth of a kick drum, the walls of reverb, the unapologetic repetition… but this is only a part of its makeup.
I love that scene but I sometimes find its reliance on monochrome aesthetics to be stifling. I was keen to allow the colored lights in through the window. There's a strong visual element to the album too — a London studio called Flat-e made a video for every track and brought a whole new dimension to the sound. We are currently working on ideas of how to transfer that to the live setting beyond simply projecting the images behind me. I'd like it to be much more enveloping than that.
On this recent tour, you were playing pretty long all-night sets. How do you mentally and logistically prepare for that? Do you leave a lot of room for improvisation, or do you have to go in with a plan?
It's my absolute favorite thing to do and I wish every gig could be in this format. They are the kind of gigs I feel like I've spent my life preparing for.
The only thing I know in advance is that the night is going to begin with ambient and drone music and end as an acid rave but everything else happens organically and in reaction to the feeling in the room. It's a trip to see people come in early and lay on the floor only to be crawling the walls later on. To me it all represents the same energy and my goal is to draw a line between all of those moments.
Specifically to the L.A. show – what did you make of that night? Lazaro's Latin Lounge is pretty wild, and the show came from a really interesting new team of promoters. Established places like Fabric have been brought to the brink and cities are putting new scrutiny on the underground post-Ghost Ship. So what should be important to promoters throwing shows like that?
I loved every second. All of the best nights feel like a combined effort from everyone involved. Obviously the promoter and the artists are important but they are only pieces of the bigger whole — everyone inside contributes to atmosphere and that night felt particularly special.
We had control over every single aspect: We tailored the sound, brought in all of the production, no VIP area, no backstage, DJ booth in the middle, beautiful artwork — all of this makes a difference. The communal experience is everything; clubbing is not about idol worship. The nights where everyone puts their soul on the line are the ones that'll stay with you the longest. That's the only thing that really matters.
Avicii's death definitely shook up people from all over the electronic music world. I think a lot of DJs and musicians are re-examining the toll that the road and commercial expectations can take on their mental and physical health. How do you stay healthy and preserve your well-being during a gantlet like this?
That was a particularly rough loss for the whole community. DJs have a role to play in allowing others to escape their daily lives at the weekend. It's a responsibility but it is still only a role. The Daniel Avery you see on stage is something of a character, it has to be in order for me to stay sane.
There are some artists who choose to live their lives online like an open diary but I couldn't do that. Furthermore, while I might be in the minority these days, I still believe in the power and the beauty of mystery. The stage curtain is there for a reason and I find solace in the shadow it casts.
For breaking music news, follow @augustbrown on Twitter.
---