A weird, lovely night at David Lynch's Festival of Disruption
"Disruption" is just about the hoariest cliche in contemporary culture, but few artists can better claim the term than David Lynch. The director, musician, meditation activist and onetime local weatherman has upset the dreams of more filmgoers than almost any living director, with a career spanning unnerving classics like "Mulholland Drive," "Eraserhead," "Blue Velvet" and a soon-to-be-revived "Twin Peaks" series on Showtime.
On Saturday and Sunday, at the Ace Hotel and surrounding environs in downtown L.A., Lynch threw his own Festival of Disruption, a genre-expansive event of music, film, talks and theater made all the more Lynchian for sounding like a culty "Thought Leader" event. The headliners included Robert Plant, St. Vincent and even Mel Brooks, but everything passed through a filter of Lynch.
And as "Twin Peaks'" special agent Dale Cooper might have put it, on Saturday, there were many damn fine cups of coffee to be had.
The festival was a benefit for Lynch's eponymous foundation, which promotes the practice of transcendental meditation, a technique that has earned fans from pop figures including Oprah, Katy Perry, Russell Brand and even Rupert Murdoch. Throughout the weekend, onstage imagery and video alluded to its positive effects for healing PTSD-affected veterans and trauma victims.
TM's omnipresence at the festival only added to the sense that that, whatever the wide-ranging aesthetics of the acts, Lynch's eye was everywhere.
Attendees pack the Theatre at Ace Hotel for David Lynch's Festival of Disruption on Saturday. The event featured music from Robert Plant and St. Vincent along with an array of talks and film screenings.
(Barbara Davidson / Los Angeles Times)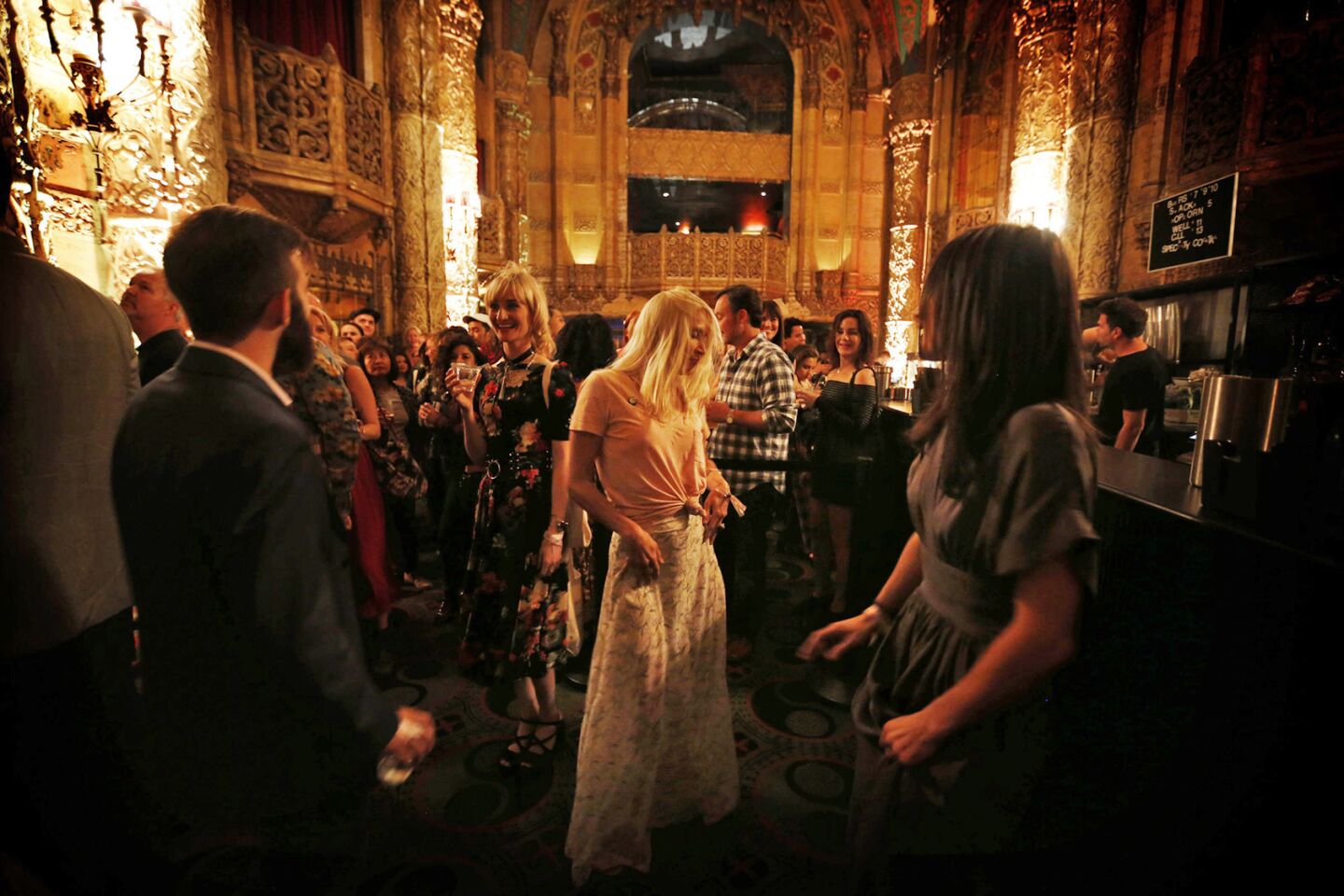 David Lynch's Festival of Disruption on Saturday. The festival's name refers to a quote attributed to Maharishi Mahesh Yogi: "Life is a festival of disruption."
(Barbara Davidson / Los Angeles Times)
The musician St. Vincent, also known as Annie Clark, performs at the festival.
(Barbara Davidson / Los Angeles Times)
Dancers perform during St. Vincent's set at David Lynch's Festival of Disruption.
(Barbara Davidson / Los Angeles Times)
The Theatre at Ace Hotel in downtown L.A. hosted the Festival of Disruption.
(Barbara Davidson / Los Angeles Times)
The David Lynch film "Blue Velvet" is shown at the festival on Saturday.
(Barbara Davidson / Los Angeles Times)
"The human brain has 60,000 thoughts per day; 80,000 if you're stressed, and if you're in the West, you're stressed. Meditation can be a tool to look inward," said Jessica Harris, the foundation's executive producer for live events, as she leaned over a table in the Ace's Segovia ballroom. "Musicians go into that same space when they're creating -- they go into another world."
By day Saturday, most of the exhibits were decidedly otherworldly. A virtual-reality exhibit from director Chris Milk looked to the deep future; a talk with the legendary Brooks looked back at his incomparable career in humor. At the nearby Well gallery, as a harsh, noise-serrated John Malkovich short played on a projection loop, Blondie guitarist Chris Stein hung out behind a curtain next to a new series of his photographs. They often captured his frequent and perhaps favorite subject: Debbie Harry, posing in the throes of lost downtown New York City decrepitude, setting dinner on fire, laughing with Joey Ramone or simply leaning on a wall next to a giant spider.
"There's a romance in decay," Stein said. "Nostalgia is a trap, and nobody had any clue what was going on at the time. But I do appreciate ['70s New York] more in retrospective. There was a time when you took your life into your hands walking around with a camera."
Of course, with Lynch, you sometimes take your life into hands watching what comes out of his camera. Before the concerts, Lynch's own photography exhibit focused on still lifes of L.A. entropy and weird glamour. A string of interstitial short films, including a pain-inducing commercial for the pain reliever Anacin and a video for Nine Inch Nails' "Came Back Haunted," set the mood for the show to come -- spooky, funny, and technically masterful.
First off, U.K. electronic producer Jon Hopkins married steel-toed techno with lovely ambient passages. He's worked with Coldplay, Brian Eno and Herbie Hancock, but at the Ace, he went all-in for a set of mind-frying club music punctuated with melancholy piano work. Hopkins has cited meditation as a key driver of his work, and he made as good an argument for its efficacy as anyone could.
St. Vincent used a more intimate framework for her set -- just her and a guitar, with a multitasking pianist and sampler on the side stage and a trio of costume-changing dancers splaying around a living-room stage set. Dressed in a Daytona Beach-style bikini babe airbrushed shirt, she looked droll as hell while sounding piercingly beautiful on stripped-down version of songs like "Teenage Talk" and "I Prefer Your Love."
Most of Plant's classic rock peers were out in Indio headlining the Desert Trip festival all weekend, so it's poignant that the Led Zeppelin frontman chose to spend his Saturday headlining this festival. Plant and the Sensational Space Shifters sounded marvelous on his newer cuts like "Turn It Up," weaving African desert guitar lines into American blues and '70s arena-rock howling.
But a cover of the Zep staple "Black Dog" got turned inside out, with its tumbling riff cut off at the seams to make it sound eerie and open. Recognizable, but uncannily weird and new -- a perfect way to sign off of a night of David Lynch.
For breaking music news, follow @augustbrown on Twitter.
Get our L.A. Goes Out newsletter, with the week's best events, to help you explore and experience our city.
You may occasionally receive promotional content from the Los Angeles Times.